If you run a customer-oriented online business, then you would be aware of the fact of how important it is to automate your business so the customers could reach your website whenever they need it.
No matter you own a hotel, a hairdresser shop, a saloon, or whatever business it is, you must be able to take online appointments to stand out from the competition.
Thankfully, it is no more a difficult task to add an online booking system with the help of Bookly Pro. Bookly comes with an appointment and reservation system that allows the customers to book their appointment online by using the booking calendar, available time slots, and online or on the spot payment options.
Bookly Pro is highly successful across the world, and more than 20,000 businesses have automated their online booking and reservation services with the Bookly so far.
Bookly Pro WordPress Booking Plugin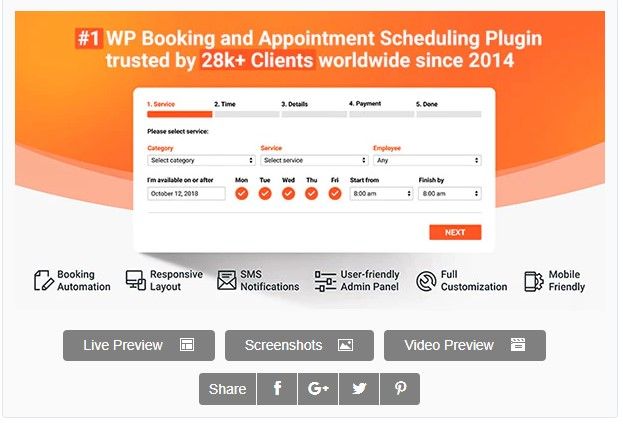 Bookly Pro is an add-on feature of Bookly plugin, and to avail of this feature, you have to buy Bookly plugin. Bookly is a worldly renowned booking plugin with a unique user-friendly solution for online appointments and bookings.
It comes with a sleek admin area with lots of handy tools to shape your website according to your brand requirements. The intuitive admin area helps you manage different schedules for each of your staff members and schedule the appointment dates according to daily, weekly, and monthly dates.
You can set each staff member service price, working days and hours available so the users could easily walk through the booking process and reserve an appointment according to their convenient time.
Once they are done with the reservation process, a confirmation email will be sent to them. Also, if they enable notifications, then they will receive a reminder notification about their upcoming reservation.
Bookly Pro Key features
Beginners friendly Cpanel with multiple exclusive booking features and booking forms options
Create various booking forms that will appear in the booking calendar, and customers can select their required services.
A reminder SMS and email notification will be sent to the staff member and the client about the upcoming appointment
Multiple calendar views are available where you can divide your workload with hourly, daily, weekly, and monthly modes.
Bookly comes with highly mobile adaptive layouts that fit fine on any mobile device.
The multilingual facility will display your web content in any local language.
WooCommerce integration helps the users to use WooCommerce payment gateways to receive their payments.
Work efficiently with the help of two-way synchronization of Bookly Pro and Google Calendar integration.
How to set up appointments using Bookly Pro plugin
Bookly Pro is ideal for users who need a flexible booking system that could cover overseas clients from all around the world. Especially if you need an appointment plugin that could show the time zones and let the customers select an appointment with the help of available time-slot, then Bookly pro will never let you down. Moreover, the multilingual facility with Locotranslate feature will make your booking system an out of the box experience for your customers. The customers have to follow a five steps procedure to make an appointment, and that's it.
Here is the step by step procedure to be followed by your customers during the appointment booking.
Step 1: Choose the desired Service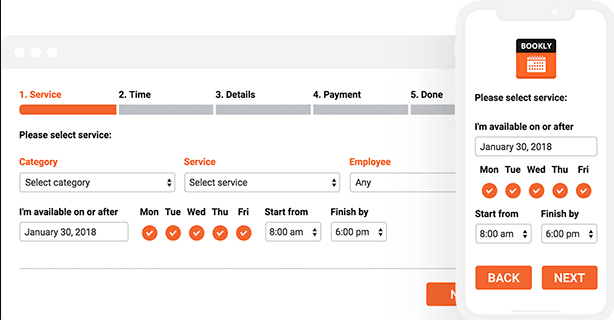 When the customer lands on your booking page, he will be asked to enter the following information to get the appointment.
Desired services
Desired staff member
Desired time and date.
Also, there is another useful Add-on feature that comes with Bookly Pro is to "Add the Group Booking Add-on" that allows the customers to get a booking for a group. Along with this, another useful Add-on feature is "Service extra" that enables the customer to add any extra services along with the appointment.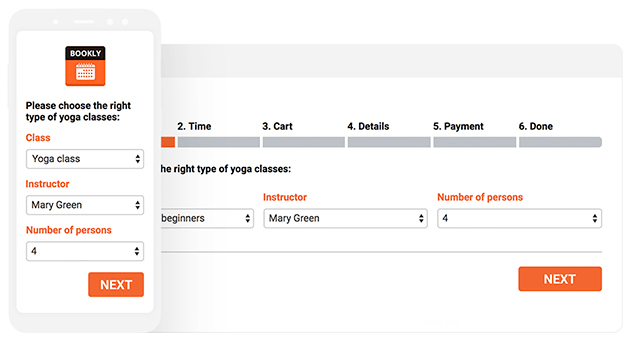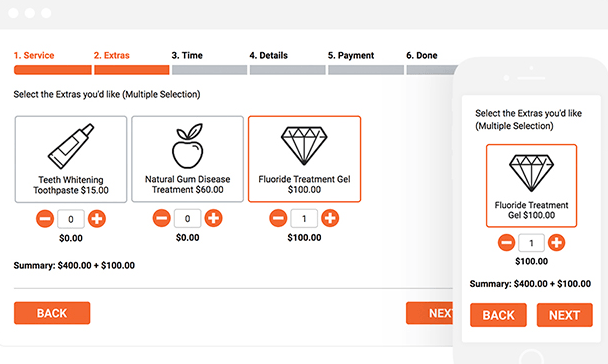 Step 2: pick a time from the list of time slot
Bookly Pro is a comprehensive booking plugin that works smartly by allowing the customers to choose a time from the available time slot. When you click on the Time tab, you can see four options.
Show calendar: you can choose which Calendar style should be visible to your clients. There are three modes available.
Show blocked time slots: you can switch on this option to show which time slots are not available for booking.
Show each day in one column: this option helps your customer check which time slot is available for reservation per day.
Show time zone switcher: This feature allows the clients to choose their respective time zone so they could select the time slot according to their local time zone.

Step 3: Book multiple sessions in one click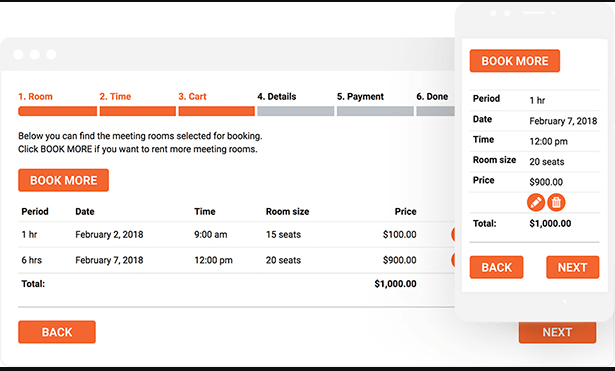 If you add another add-on feature the "Cart add-on" this feature will enable your clients to choose various appointments at a time and if they like to book more appointments then right after step 2 the book more option will bring them back to step1 while keeping the current booking in their cart. And if you have installed another "chain appointment Add-on," then the clients can book different reservations at one time.
Step 4: Add Customer Details
The customers will add information like their phone numbers, Name, email addresses, and addresses. Which can be further used for marketing purposes. The customers can leave their comments here also to describe their appointment experience.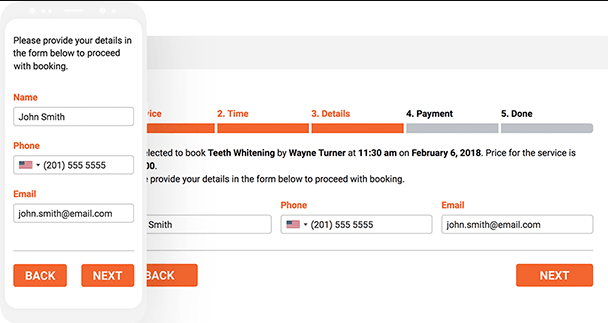 Step 5: Payment options
Bookly Pro comes with more than ten payment options, and they can choose whichever payment option they like to go with. At this point, you will be able to offer them free coupons, or if you are offering any free services, then this step will be skipped. The customers can choose to pay locally or via their credit cards or PayPal account.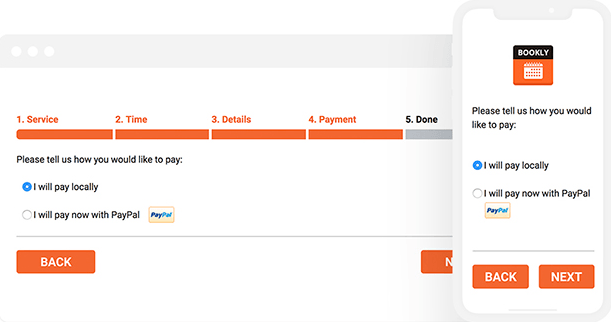 Step 6: Booking confirmation
Once the customer has made his appointment, he will be sent a confirmation email and SMS along with all the details about the appointment. This is a critical step so that your customers get confirmed about their bookings. Another option here is for the customers who leave their booking procedure to finish later, and if you enable, pending appointments feature, they can start right away where they went.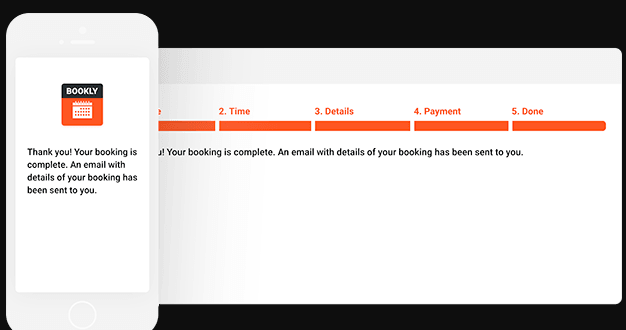 That's it, and you are done with your booking procedure. Bookly is no doubt the best tool available to make your appointments flexible and offer multiple choices to our customers, so they keep ongoing.
Bookly pro pricing
Bookly plugin comes with free and Pro versions. And most of the basic features are available with the free version. The only limitation is that only one service provider can be added with no more than five services to be offered.
The pro version is available for $89 with six-month support and lifetime free update. You can purchase more add-ons to customize the plugin according to your business needs.
Summing up
Bookly Pro has implemented a system that is a savior for many businesses across the world. Now people don't need any conventional method to book their appointment via phone call; they can access the website whenever and wherever they like to contact. In most businesses, they have noticed a growth in online bookings from 0% to 50%.
Moreover, people are finding it convenient to install the Bookly Pro plugin rather than hiring a developer to create an online booking system for their system. Overall, it is best for many online businesses who like to automate their booking system moreover, the WooCommerce integration allows the users to receive payment easily through WooCommerce payment gateways.