If you are looking for the best image optimizer WordPress plugin to improve your website performance, then you have landed on the right place. In this article, we'll discuss 3 best image optimizer WordPress plugins to attain better speed and performance of the WordPress website. "A picture speaks a thousand words" you must have heard this proverb, and it is true; we all use images for advertising, visualizing, and for explaining the overall content idea of our blog post and pages. But if we use too many images, then this will not only decrease free space on our web server but also increase the website's page loading time. Eventually, you will lose your visitors over time.
Therefore, you need a smart WordPress image optimizer who could fix this hitch ideally, and while you conventionally upload the images, it automatically optimizes them in a fuss-free manner, in the background.
This guide will help you out in finding the best WordPress image optimizer plugins, and we will discuss the salient features of each one as follow
Key features
Interface
Performance and pricing
ImageRecycle: Image and PDF Compression Plugin
Recommended

The best WordPress image optimizer will make your website lightweight, enabling it to run smoothly by shrinking the image's size without compromising the image quality.
ImageRecycle has a WordPress plugin but for once let's focus on their PHP Script. The PHP script offers the same features as the plugin and is specially designed for websites that use servers run by PHP. The best thing about this PHP script is that it works on autopilot, and it's a standalone installation, which means all you have to do is to upload a folder or file on your database and start the PHP script interface to compress all the images and PDF; as a result, your task will be done in a Huss-free manner.
Key Features:
The best key feature of this PHP Script is its compatibility, which enables the finest integration with any CMS or 3rd party plugins. You can easily compress and optimize any image using this PHP Script in Prestashop, October CMS, Craft CMS
The PHP Script Works best with extensions like Shopify, Magneto, Joomla, or any WordPress extensions.
It is highly compatible with working any WordPress Plugins or any media gallery. The plugin works in a highly advanced way; it will locate the image in the server folder and upload the folder, then compress it smartly and replace it after optimization. Another key feature is that any new pdf/jpeg/png file uploaded in these folders will automatically be checked and enlisted for the process of optimization
You can easily compress images from WooCommerce plugins or another CMS.
The PHP Script focuses on reducing the image size but not the quality because you can get worse quality as a result of massive compression. The PHP Script image optimization process starts with a smart diagnosis of checking the image quality; if the image size is equally good enough to as that of the desired compressed image, then it will instantly skip the optimization process.
The PHP Script algorithm propagates two levels of compression for images, whereby you can preserve the original quality of the image and reduce the size at the same time.
You can optimize your web image by choosing the "Best saving" or "Lossy" Optimization level by compressing the image up to 80% and getting the same visual image identical to the original one.
Or, you can go with the "original quality" or "lossless" optimization level, which is the best fit for modifying images layer and preserving the original image data. The image can be compressed up to 20%.
Another exciting feature of PHP Script is that you can choose the optimization process to work in the background while working on another task. Once you launch the optimization process in the background, you can keep an eye on the ongoing process and continue to work on another assignment at the same time. Later on, you'll be notified by an email when finished.
Cron task: this feature allows you to optimize the images by using the ImageRecycle servers rather than any other server resources. You can stay focused on your work while the image compression process will continue to perform its task.
The WordPress image compression will improve your website performance by reducing the storage amount for your images and PDF. The CDN bandwidth charges will also be reduced the same way.
Get a one-month media backup and restore your original images with a single click.
Allow you to filter your optimized/un-optimized data by keeping a record of the date, file name, and status.
Allow you to choose the media type for optimization like; jpg, png, gif, pdf to Lossy/Lossless/ none compressed.
Get high-quality PDF compression designed especially for the optimization of web-based publications; you can achieve a high-quality PDF ranging from 10% to 95% depending upon setting used to get the PDF quality.
Interface/installation process:
No matter which CMS are you using on your WordPress, this is a highly compatible plugin that serves all CMS run by PHP exceptionally well.
PHP Script is a user-friendly plugin which is regarded as a standalone installation. The process of optimization is so simple that anybody who is not tech-savvy can use it without any discomfort. All you have to do is to upload a folder/file on your server and then start the optimization process to compress the files. What is required is a PHP506+ version only, and there is no obligation of any database server.

You can place this folder anywhere on your server, all you have to do is to upload it and then unzip the folder, and there you go!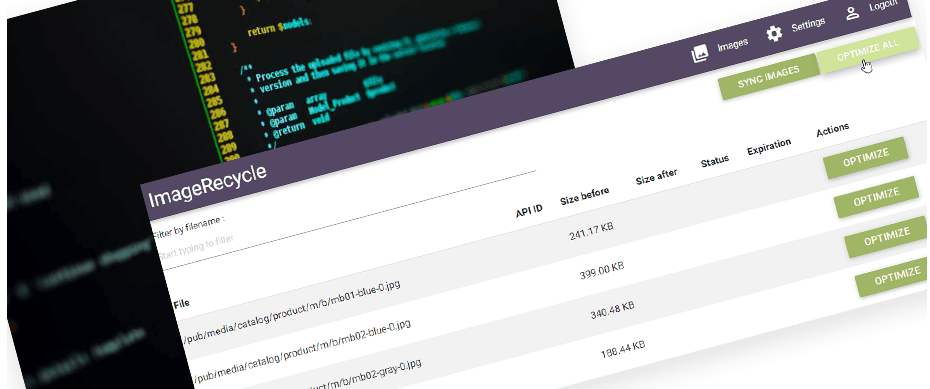 Get a detailed demo of "how to compress and install images using PHP Script" here.
Pricing and performance:
Get a free test service for 15 days which will allow you to use this service to compress images automatically, later on, you can switch to one-time membership or get more quota plan. There are no hidden charges for any membership plans. Moreover, you can access all of the tools and services from one account and can be used for multiple websites and sub-accounts.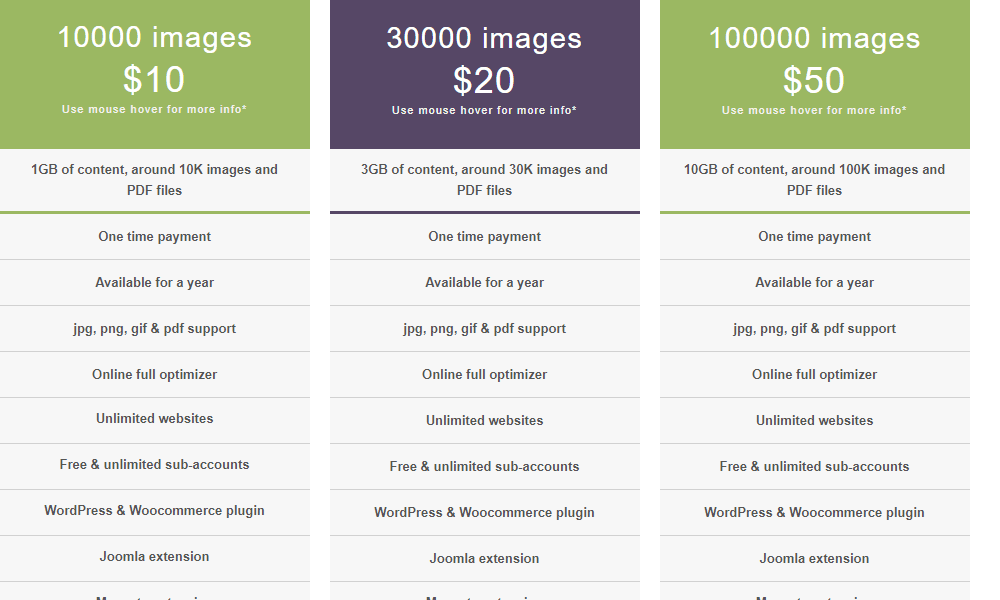 Performance
Look out the stunning results of the PHP script compression for multiple media types. Observe the visibly reduced image size without worsening the image quality.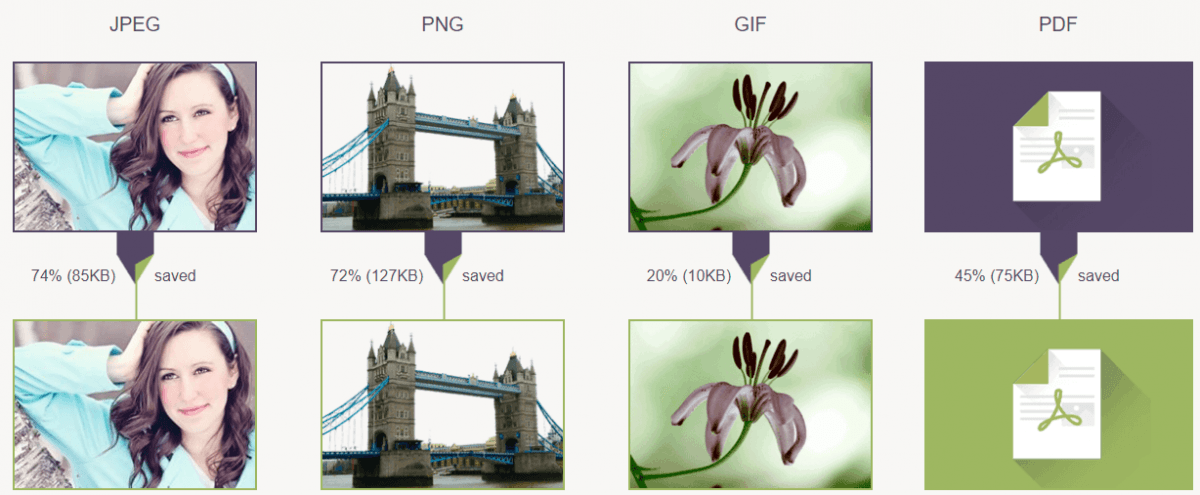 ShortPixel image compression

ShortPixel is another popular and crowd favorite image optimization plugin for WordPress. Currently, ShortPixel is available in two versions, as updated in 2019.
ShortPixel image optimizer: instantly reduces and resizes the image automatically.
ShortPixel Adaptive images: This version comes with an exciting feature as it focuses on the user's device and resizes the images adaptively according to the resolution supported by the tools. It actively resizes and compresses to the high-resolution image on a Retina screen, and for a Smartphone device, it will resize to the low-resolution image.
Key Features
ShortPixel image optimizer
The image optimizer WordPress plugin can utilize multiple levels of lossy or lossless compression to compress the image automatically.
Conveniently resizes the image dimensions to the maximum level as required.
Supports and compress images of different formats JPG, PNG, GIF.
Correctly Resizes and compress PDF for web-publications.
Keep a backup record of all the original data.
It offers multiple image thumbnail sizes to choose from for compression.
Other then JPG, PNG, GIF formats, it also allows WP format.
ShortPixel Adaptive images
This plugin uses global CDN to serve up the images.
Owns a smart ability to resize the images by identifying the visitor's gadget dynamically.
The plugin can crop the image radically without spoiling the original visual.
Interface/ installation process
It's fairly easy to install the ShortPixal plugin.
Once you are done with the installation and activation process, the next step is to get the API key, and you can get this API key by simply putting your email in the interface. The generated API key is re-useable on multiple sites, and this will ease your life if you are running a network of various sites.
After activating your API key, you will enter in the setting zone where you can
Get your desired compression level by choosing the two levels of compression along with the lossless compression.
You can choose whether to resize the thumbnails image size (these thumbnails are already created by WordPress automatically).
It allows you to keep a backup of your original data or delete the EXIF data.
You can adjust the max dimensions to resize the images automatically; moreover, you can preserve the original aspect ratio and set the max-width to avoid any further cropping of the image.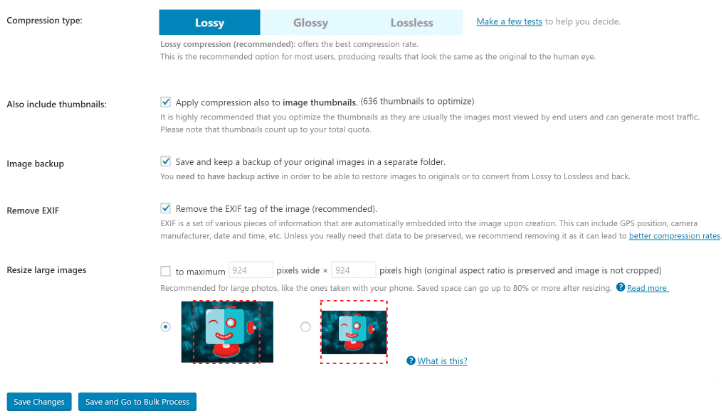 Performance
ShortPixel comes up with a few choices
It will automatically optimize the new images when uploaded.
You can choose to optimize the images by selecting one by one image manually.
Or, you can choose to optimize all the bulk images accessible on your server.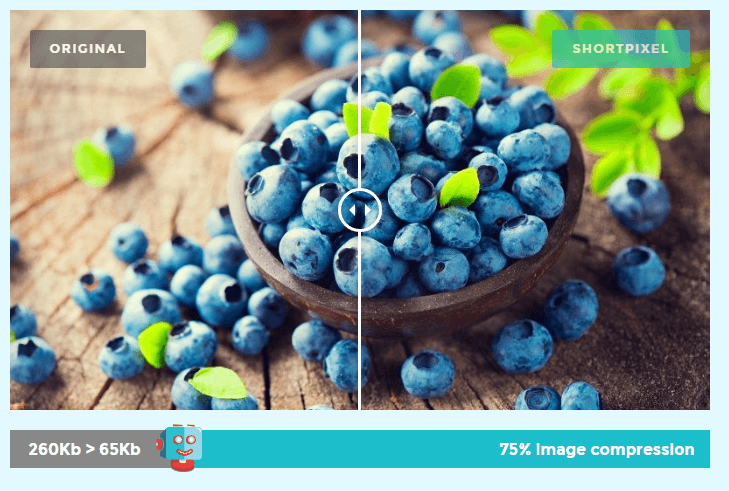 Pricing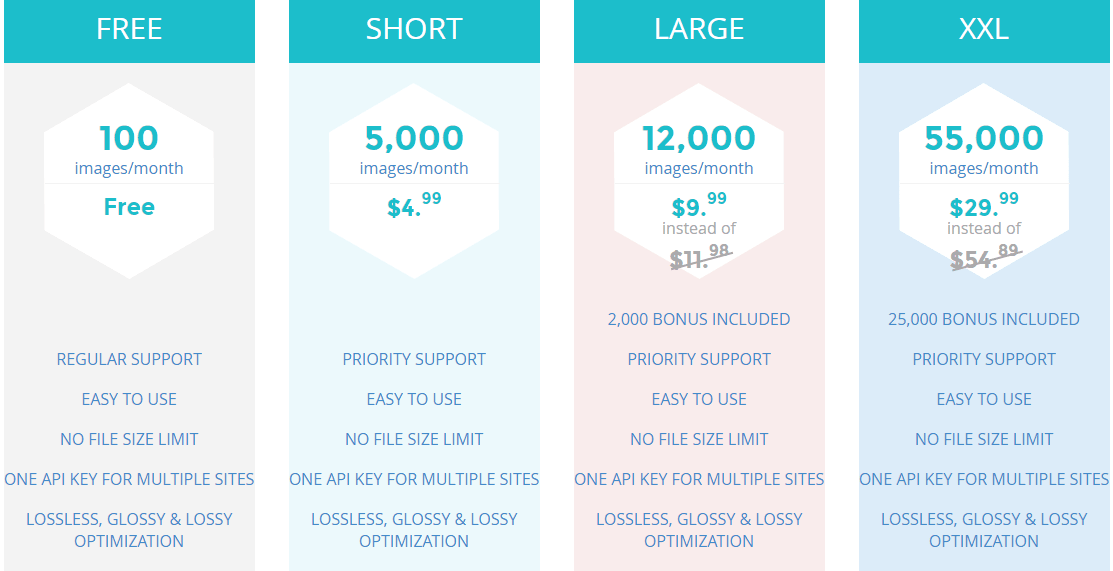 ShortPixel offers some of its data free every month, and after you consume this free data, you will have to buy a plan according to your needs.
You can enjoy up to 100 free images with no size limits for a whole month; after that, you can choose a monthly subscription or one-off image optimization credits. The lowest subscription goes for $4 for 5000 images per month, while the cheapest subscription plan costs you $9 for 10000 images.
You can use your ShortPixel account across multiple websites with the same API key and utilize all of the given data.
Imagify