Are you looking for a WordPress file manager plugin that will help you organize your WordPress website files easily and quickly? Are those random images, apps, movies, and loads of files giving you a hard time?
Don't worry!
WordPress is accompanied by various WordPress file manager plugins that will help you manage your files quickly and easily. So, if you want to search for a particular file in an accumulated jumble of files, WordPress file manager is your only savior. There is wide range of options available in WordPress repository, but for your convenience, we are enlisting the best 8 WordPress file manager plugins.
So, without further delaying, let's look at the best ones below:
WP File Download, file manager
Recommended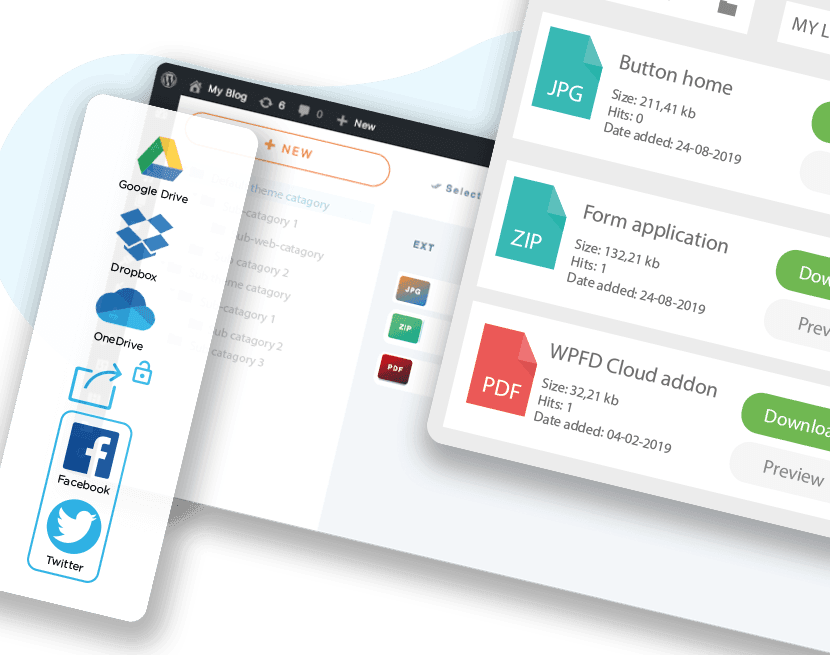 WP File download is a powerful, robust file manager plugin that has an easy to use interface with remarkable features. So, those of you who want to like to keep it mild or those who want to add in spice; WP File download serves all. It is perfect for newbies and developers both.
So, now managing files on your desktop file browser is no more a hassle; you can simply change the order and levels of file category with drag and drop option or with order files. Yes! That's it.
Everything will save with AJAX. Moreover, if you want to move or duplicate files, drag and drop files or copy, cut-and-paste one or several files in a stance with one click.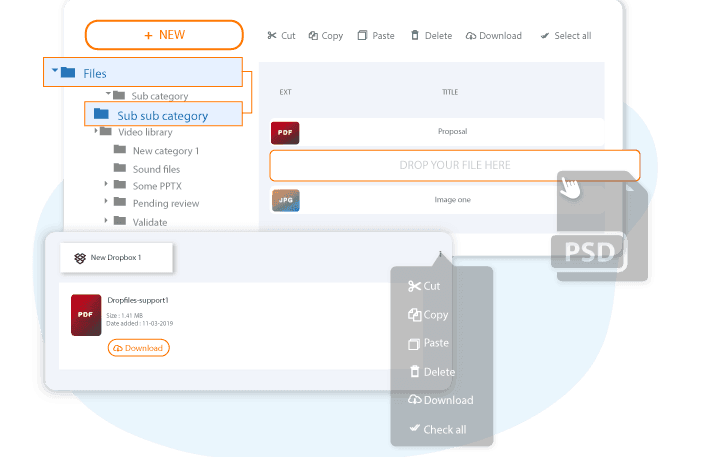 This remarkable WordPress plugin can quickly help you create a file category, drag and drop your files and insert a file category or a single file directly to your content. It is also offering four contemporary themes that can change the way you make your files available to your user. So, opt for standard listing, Google Drive like Table Or, Accordion Tree; it all depends on your needs and desires.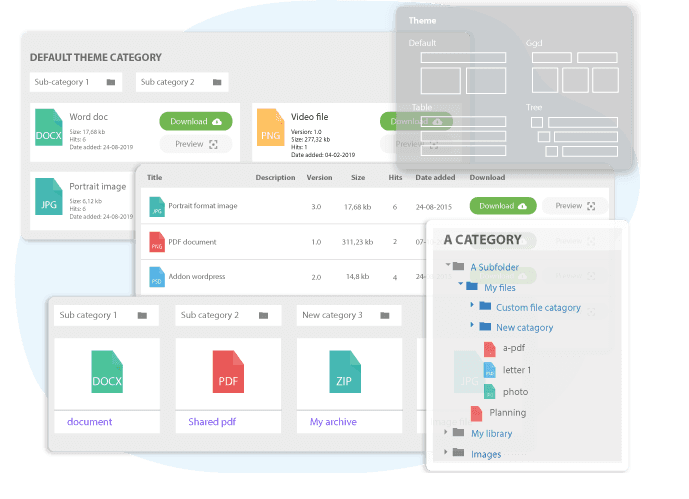 We recommend WP File download for its intrinsic features, especially download statistics dashboard option. With the help of this tool you can track the files downloaded, filter your statistics using a file category, and export the statistics to .csv file. That's not all!
Let's look into some of its features below:
Features of WP File download
Offers limit file download access, file visibility, and file management
It fully integrates with WordPress Gutenberg Editor
Users have full-liberty to apply the design that fits with their WordPress theme.
Offers flexible and advanced file search engine option
A flexible email notification system is activated when users upload a new file, edit files, removes file, edits file information, and download files.
Allows users to import existing files from the server and WordPress
Easily update, restore files with a single click
That's not all! Learn more about WP File Download.
Price
Starting from $ 29 for a plugin and six-month support and update
WordPress Download Manager Pro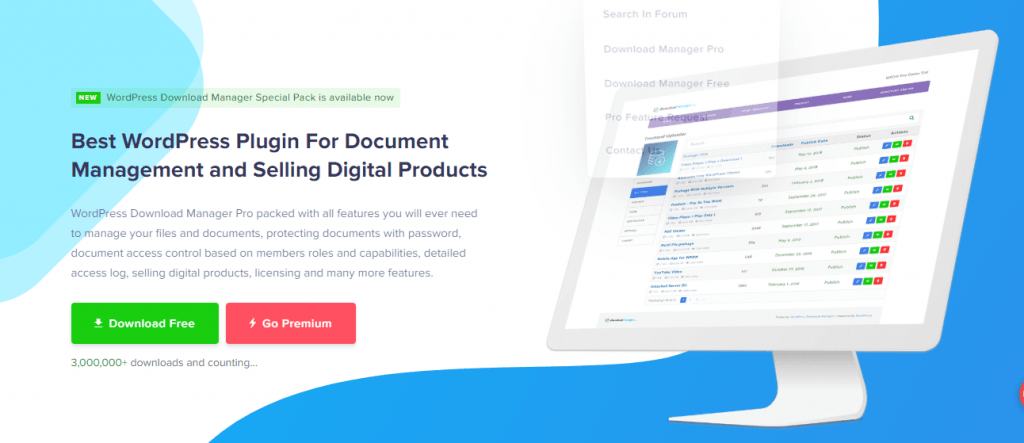 WordPress Download Manager Pro comes up with a free version, but it's premium version is just rocking. With the help of its pro version you can easily manage, track, control your files downloads and documents. It not only protects your documents with passwords, and you will give document access control. It is another recommendable premium file manager plugin you can rely on after WP File Download.
Let's look into some of its features in detail:
Features of WordPress Download Manager Pro
Allows users to use multiple files with a single entry
Offers access control to users to download files
Enable users with full package password protection option on either every file or a complete package
Users can track downloading file stats
Provides custom templates option for its users
Users can upload all their files using FTP; bulk import option.
That's not all! Download WordPress Download Manager Pro.
Price
$ 59 for a single site
Download Monitor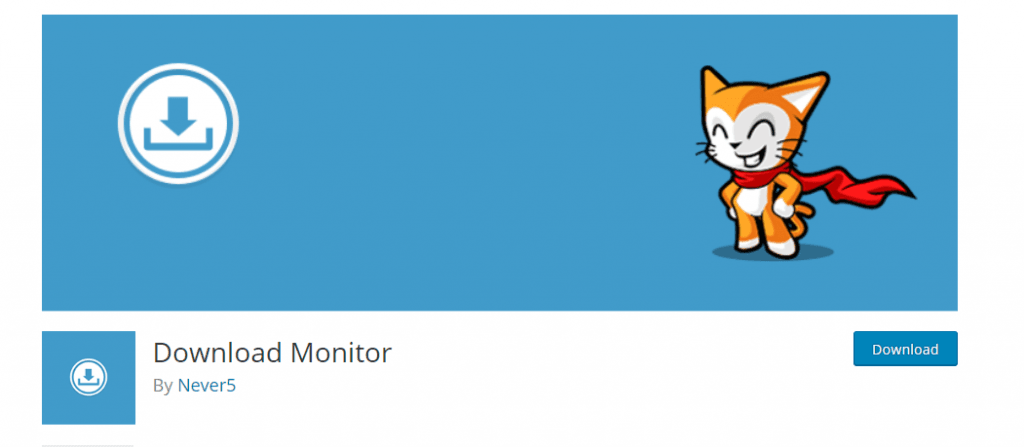 Download Monitor is another free WordPress file manager plugin that has attained a 4.4-star rating out of 5-star rating along with more 100,000 active installations. So, if you are looking for a simple interface that can help you upload and manage downloadable files, you have it all in here. You can easily insert download links into posts, logging downloads and selling downloads! Let's look into some of its features in detail:
Features of Download Monitor
Allows users to track download counts
Offers a quick add panel for users to add files during editing posts
Enable users to add multiple file version to downloads
Offers wide range of shortcodes to output downloads; plain text links, buttons, and boxes
It also provides wide range of extensions; page add-on, email lock, CSV importer, and gravity form lock.
Price
Freemium, $39 / Extension
CM Download Manager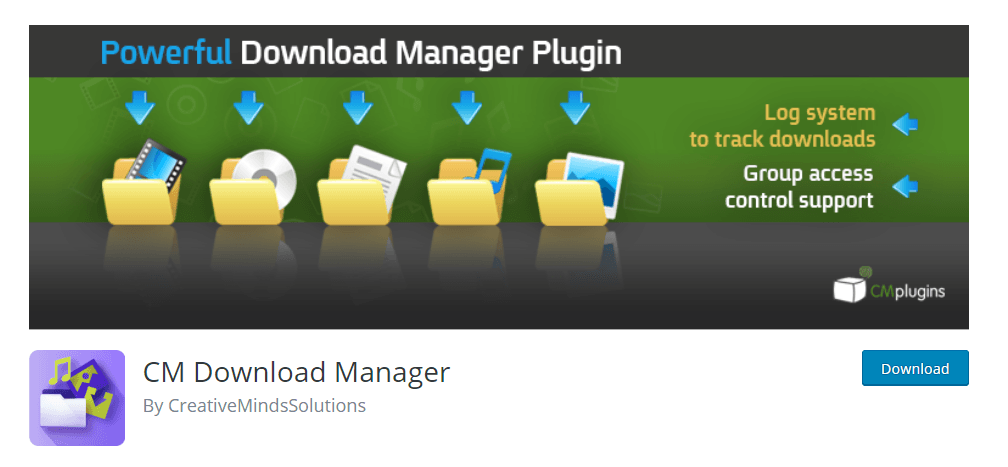 CM Download Manager is a comparatively new plugin with more than 800 active installations but a powerful file manager plugin. It allows users to upload, manage, track and support documents, media files in a directory listing structure for others to use and comment.
It comes up with a free version and premium version; its free version serves the purpose well; however, if you want to get extra whistles and bells, head on to their premium version. Want to know what they offer?
Features of CM Download Manager
Offers multiple file upload options, where each file can have its title, can be zipped automatically and downloaded separately.
Enable users with social media registration integration that integrates with Facebook, Google+ and LinkedIn
Users offer a view restriction option, password protection, and upload restriction options
Offers various shortcodes and log statistics
Price
Freemium, $39 for one site
Easy Digital Downloads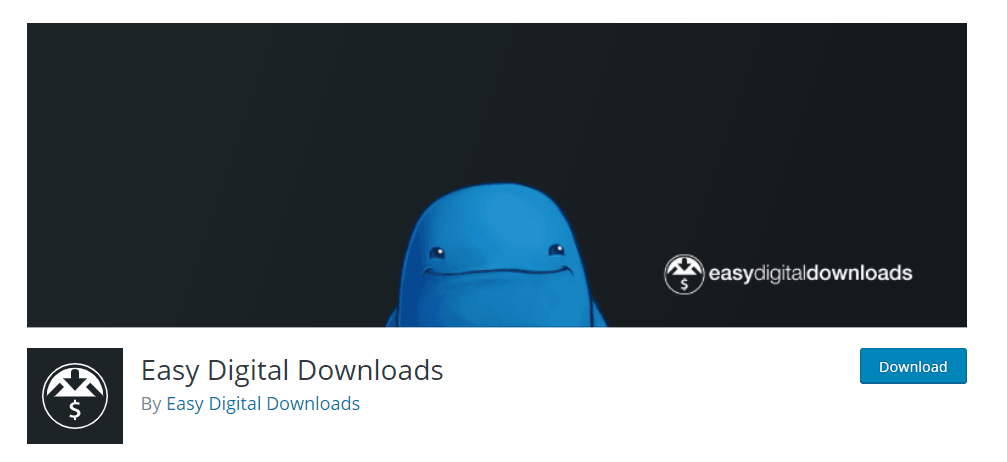 If you are looking for a free WordPress file manager plugin, Easy Digital Download is a powerful plugin you can rely on. It can help you manage multiple file downloads per downloaded product. Users can monitor download activity tracking and keep updated about downloadable files. They can easily track data, time, an even IP address of all purchases and download files. However, if you want a complete e-commerce solution for any digital download, it is the best option. What's more? It has attained a 4.8-star rating out of 5 and enjoys more than 60,000 active installations.
Let's look into some of its features in detail.
Features of Easy Digital Downloads
Allows users to manage multiple files per downloadable products with a different price range
Offers a cart system for purchasing multiple downloads
Users can view purchase history
Provides the ability to re-download files with unlimited file download option.
It offers full data reporting options and comprehensive access control to its users.
That was not all! If you want to know more about Easy Digital Downloads or download it, click below.
Download Easy Digital Downloads. However, if you want to try their premium version; click here
Price
Premium: Personal Pass; $ 99.00, Extended Pass; $199.00, Professional Pass; $299.00, All Access Pass; $499.00.
Advance File Manager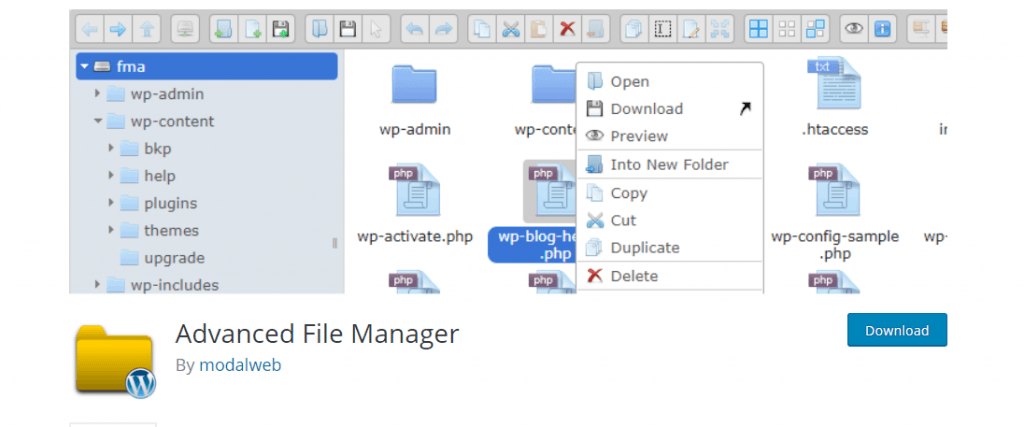 Advanced File Manager is not a real file manager that allows final user to download them This is a file manager for site administrator that want their server file from WordPress admin. That being said that's a robust user-friendly file manager that is best for developers and newbies. With the help of this plugin you can edit, delete, upload, download, zip code, and do numerous other multiple file operations too. So, if you face a hard time dealing with Cpanels and FTP process, your worrying time is over. Since with the help of this plugin, you can access files inside and outside the WordPress root directory. Moreover, it has attained 4.8 star rating with more than 20,000 active installations.
There is a lot more….
Let's look into its features in detail.
Features of Advanced File Manager
Allows users to edit root directory path
Offers shortcodes for logged-in and non-logged users with multiple attributes
Drag and drop file upload support option
Allow users to upload directly to the folder with chunk file upload and folder upload option.
Offers file manager shortcode options; access for logged-in and non-logged in users, user roe restriction, private folder path, hide files, personal folder, theme language, and many more.
Price
Free

Conclusion
We have compiled the best WordPress file manager plugins you can rely on, both free and premium ones listed. Every file manager plugin enlisted within the article offers download tracking, group collaboration, and file managing capabilities. However, if you ask us, we would recommend WP File Download; it provides wide range of features that serves newbies and developers both. If you are a newbie; you can try their basic plan, however if you want to grow your business to undistinguished heights; get their WordPress bundle for unlimited sites and unlimited support for $ 169 only.
Let us know which WordPress file manager plugin did you chose? Let us know in the comment section below.