The beginnings are always beautiful.
Everything seems neat and organized; as if it has been put together well. But bummer!!!
It's only a matter of time that the whole canvas will change.
It's the same old story… with WordPress site too. It is all neat, pretty and manageable in the beginning. Once you start posting content such as you start composing posts and pages; the WordPress media library will start getting crowded and cluttered pretty quickly.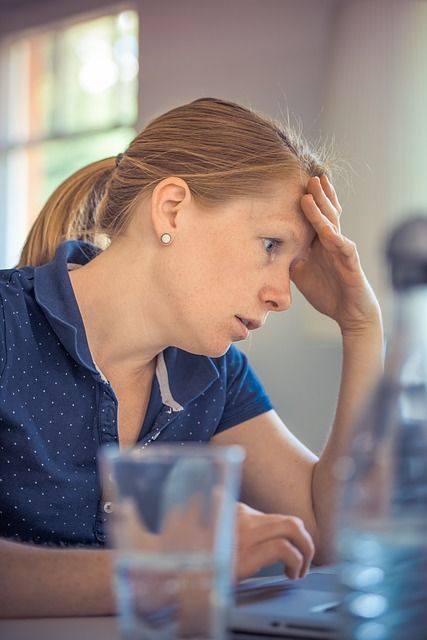 If left unattended, the clutter will soon reach a point where it would be a Herculean task to put everything in its place, in an organized manner. This is because there are multiple media files that you upload for every post and page you create. WordPress, on the other hand, cannot handle all these files efficiently when it is in its default state. Although, media library runs quite efficiently despite all this clutter. But if you ever have to locate old files, it will be a nerve-wracking task.
So, why not make it neat and organized?
There is an elegant solution to this. You can install media folder plugins to organize your files. These plugins allow you media files management easily, just like you organize files on your computer.
So, why not make it neat and organized?
There is an elegant solution to this. You can install media folder plugins to organize your files. These plugins allow you media files management easily, just like you organize files on your computer.
The dilemma still remains as how to find the best media library manager plugin? Well, we have listed down criteria for your guidance:
3rd party compatibility
The ability to manage galleries
Search Engine Optimization
Search and filter engine for media
Based on these criteria, this article entails 6 handy plugins that can manage and organize your files efficiently and neatly.
WP Media Folder: folders, cloud and galleries > Recommended
This plugin is an amazing and reliable plugin to help you organize the WordPress media library easily and smoothly. The ability to use native WordPress media library with categorization for folders makes it popular for managing media.
WP media folder enables the sorting of media by file type, size, title, and even in custom order. You can filter the files as per your selection too.
WP Media Folder is compatible with third parties like WooCommerce and plugins, which are integrated with DIVI, Elementor, WooCommerce, Gutenberg and Beaver Builder. With "Replace Media" option, you can replace old media files with new ones. This plugin allows you to add a watermark to your selected images in the WordPress media library folders.
The ability of WP media folder to synchronize media with the server folder and gallery makes it stand taller than other media manager plugins. It can be integrated with advanced galleries, Google Drive, Dropbox, Amazon S3, PDF embed, and One Drive.
It allows you to uninstall the plugin without losing any media files at all. The media can be transferred from one folder to another, without any loss of data or risk of broken link.
With WP media folder, it is easy to manage duplicate files by automatic renaming files. Other features of this plugin are:
Compatibility with page builders
Ability to manage galleries
SEO features
Advanced search and filter
Enhanced Media Library
If you want an user-friendly yet powerful wordpress plugin media library, this plugin is your game.
It enables you to organize media files by categories, tags, or third-party taxonomies. You can sort files by date, title, or manually. With this plugin, you can use shortcodes to display media galleries based on different taxonomies.
The best thing about Enhanced Media Library is its ease of use because it is so plain and simple that there is no need of any technical knowledge to operate this. You can sort out cluttered media files within minutes. Additional file types such as PDFs, documents, and other formats can also be added to the media folder. Additional features include:
Create an unlimited number of categories
Organize by drag and drop
Media Library Assistant
For your WordPress, Media Library Assistant enables you to add images and other media files to your posts with the help of advanced shortcodes. With advanced search and filtering options, you can quickly locate where a particular image has been used. With media library assistant, you can see where images and downloads appear on the site. It is quite easy to find attachments/files in a particular category, as pages and posts are added to the site.
Media Library Assistant supports third-party collaboration as it works well with other plugins. Slideshows, thumbnail strips, and special effects can be added to your galleries without facing any problems.
This plugin is pretty intuitive and easy to use. One does not need to possess any technical knowledge to use this plugin.
WordPress Media Library Folder
WordPress is pretty pain in the a** when it comes to arranging media types with folders. That's where it starts falling apart.
Luckily, with reliable and efficient plugins, you can take care of this for your site.
WordPress Media Library Folders plugin developed by Max Foundry is a powerful tool for managing WordPress files and folders. It allows you to create folders in the media library so that you can keep your images organized. With this plugin creating folders in your media library is pretty simple and easy. You can manage your media files just like you do it on your computer.
With the ease of drag and drop, you can move, copy, rename, and delete files and folders with an easy interface. You can make files SEO Images by specifying ALT and TITLE attributes while uploading.
This file manager is pretty organized as there are folders for each year, which further have subfolders for months. This allows you to cluster files chronologically in a WordPress folder tree.
The Pro version of this plugin allows categorizing of folders. It also supports WordPress multisite. You can add images to third parties such as WooCommerce.
Media File Renamer
With WordPress host, you cannot change the name of pictures in photo library. There are many other edits which you need to make so that it can work normally. It seems like quite a bit of a task to only rename a file.
But, there is a solution for managing your files. Quite elegant one, we must say.
Frankly speaking, it can be really frustrating to rename a large number of files. This is where this plugin makes things easy for you.
Media File Renamer is quite easy and simple to use. After installation and activation of the plugin, you can go to Media> Library.
Switch to the list view mode to find a new column labeled 'Rename.' You can see the details like the status of your image, other media file names, and the title here.
For example, if a filename is IMG_7201.jpg and its title is "XYZ," then the option to 'rename' it will appear next to the file. Clicking on rename button will change the image file name to XYZ.jpg.
Media Library Categories
This plugin is ideal if searching relevant images is the biggest requirement of yours. With Media Library Categories plugin, you can allot categories and subcategories for your WordPress media management. You can edit this for one image as well as for files in bulk.
Using this plugin, you can add, edit, and remove categories from media files. With the help of category options & management in the Media Library, you can manage category of files individually as well as in bulk. Advanced search allows the filtration of categories in the media library. This plugin allows taxonomy filters, as well.
It is an ideal tool for managing categories in the WordPress Media Library. After activation, a dropdown of categories can be seen in the media library.
You can add tags and media taxonomies from 3rd party as well. The media category via admin can be controlled in the same manner as post categories. With advanced search, using custom taxonomy in grid and list view, you can filter files in library.

WordPress Real Media Library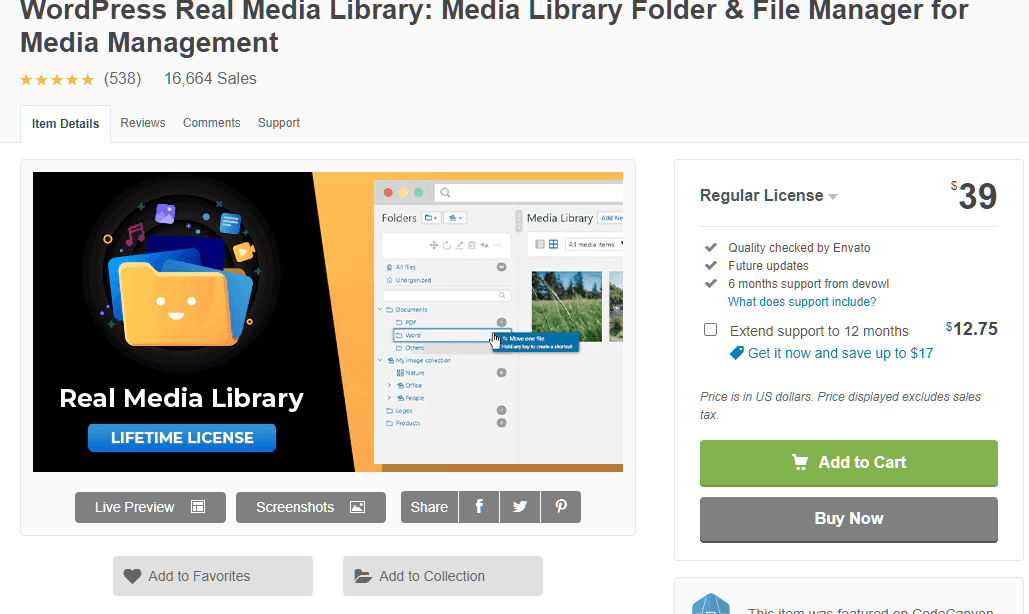 One of the other interesting Media Library Folder management plugins is the WordPress Real Media Library. The plugin comes in both free and pro versions. So, if you find them interesting, you can get started with their free version.
But, what do they have to offer? Let's learn below.
First of all, you get access to the ability to organize your uploaded files in folders so that you can access them in an organized way. In addition, you also get the ability to create galleries and collections. This means that you can completely optimize and organize your media library.
You can use the drag and drop feature to organize the media. It also offers the ability to rename files on the fly — which makes it easy to handle files. Moreover, you can also create shortcuts for easy access to some features.
To improve accessibility, folders are made accessible not only from the Media tab, but also from the Insert Media dialog. Overall, you get a complete package which lets you manage your media in the best possible way.
In short, the key features it offers include the following:
Drag and drop features
Complete folder and file management
Filter for easy media insertion
Custom image order
Upload files directly to folder
Wicked Folders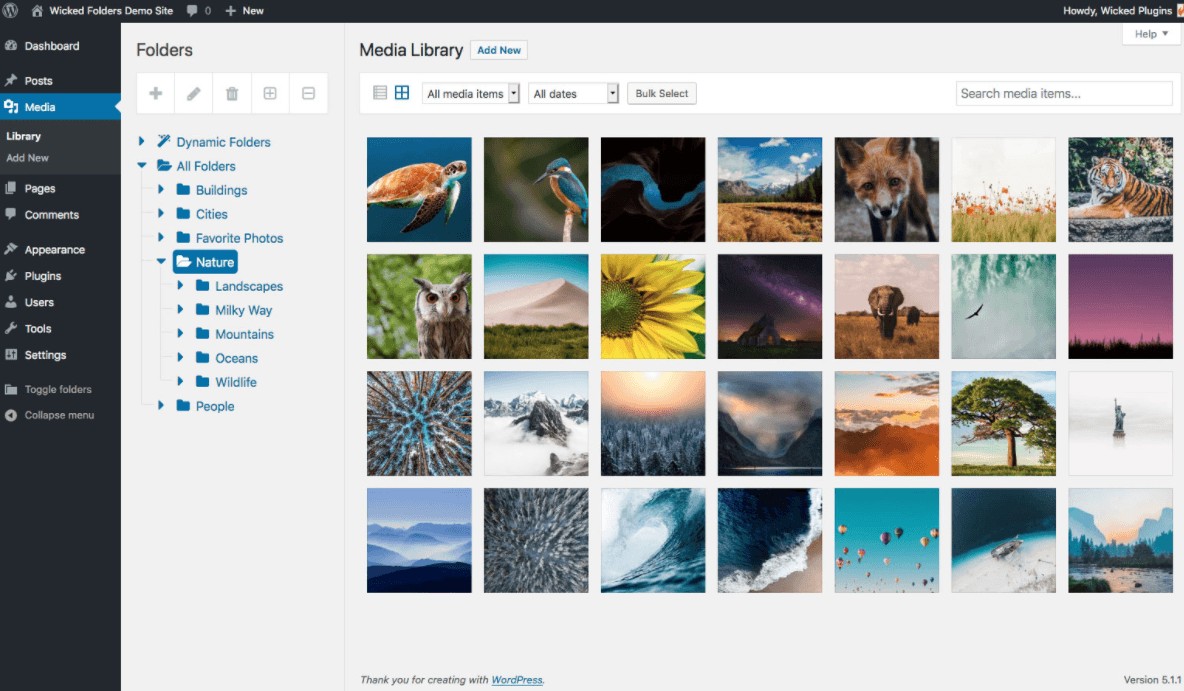 Wicked Folders is another interesting yet capable folder management plugin that you can use on your site. Just like other folder management plugins, Wicked Folders also offers drag and drop ability for you so that you can easily arrange files in the folders. Furthermore, you also get the option to arrange files based on their file types. For example, you can arrange .png files separately or .pdf files.
But, there is one drawback of the plugin, that is, it doesn't automatically sort media during upload. This means that you need to sort the media files manually — and that's a big con!
Apart from that, Wicked Folders is compatible with Visual Composer. However, that doesn't mean that it is compatible with other modern page builders.
The key features of Wicked Folders include:
Ability to organize in folders
Comes with a free version
Drag and drop functionality
Visual Composer and Gravity Forms compatibility
WordPress multisite support
The pro version starts at just $49.
Folders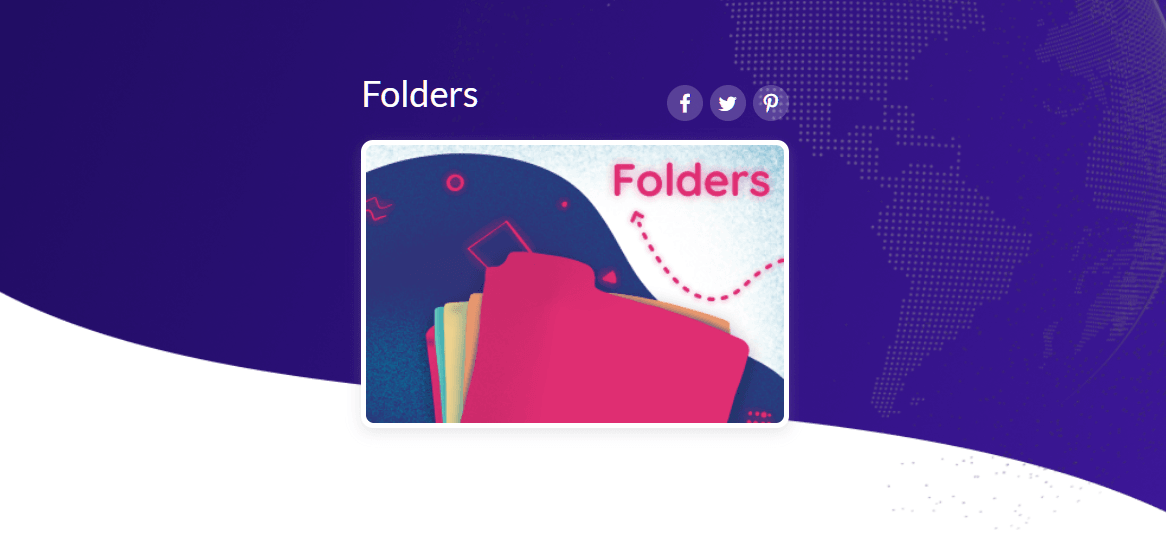 The last plugin that we are going to discuss is the Folders plugin. This plugin is best suited for those who are looking for a simple media management plugin. It lets you drag and drop files into folders. Also, the plugin is directly integrated with WordPress media library.
So, what are you going to miss if you choose Folders? Well, you are not going to set symbolic links, galleries, sorting by categories, and so on!
You will also enjoy the simple interface that the plugin has to offer. Overall, it is a good folder management plugin for those who are looking for a simplified experience.