Do you want to send magnificently crafted emails to your subscribers within the WordPress? Or looking out ways to get more in-depth insight into your email campaign with a better tracking system? If yes, then this tutorial is for you.
We'll discuss how the Mailster is better for you than other newsletter plugins. And how can you set up email campaigns to build a list of subscribers?
Now you can increase your email list right from your WordPress admin dashboard with Mailster plugin.
Let's dive into details;
Mailster a simple and affordable solution for your Email marketing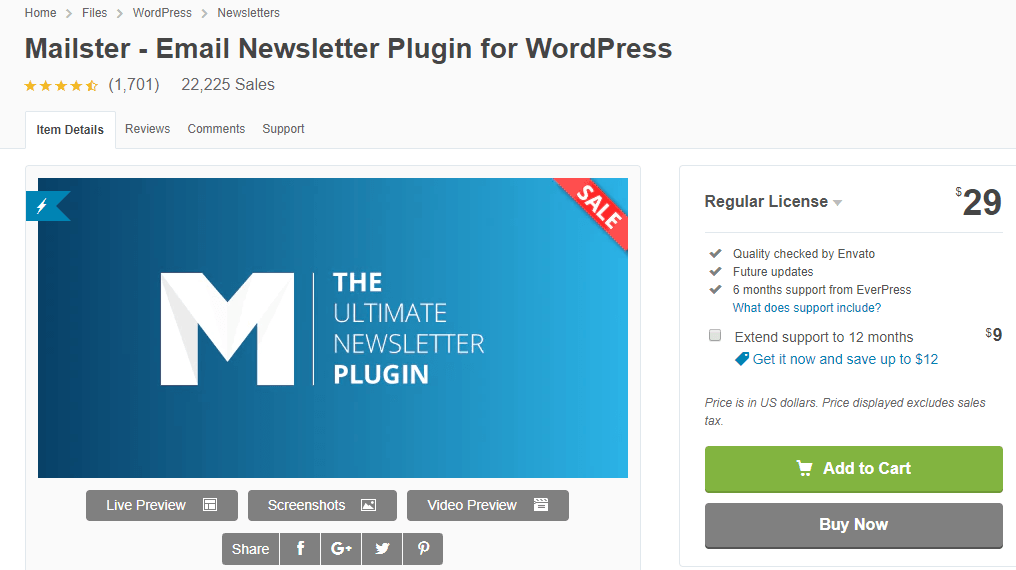 Mailster was known as "MyMail Email Marketing and Newsletter plugin" previously, and now they have re-branded and known by Mailster with updated and a much better version. Mailster is a far better email marketing service than Campaign Monitor and Mailchimp because you can purchase this plugin with onetime payment. At the same time, the other plugins require you to pay them a monthly fee and use a separate dashboard for each one. However, Mailster doesn't need any monthly or yearly subscription for ongoing services.
Mailster is the ultimate cost-effective solution that works like newsletter software built right on WordPress. It perfectly integrates with other form plugins like Ninja Forms and Mailster and uses the third party such as Mandrill and Amazon SES services to send your email campaigns.
Mailster Email Plugin key features
Mailster allows the users to manage and control the subscriber's list, creating a newsletter and carry out different email campaigns right from the WordPress dashboard
Some of the key features are as follows
Mailster comes with user-intuitive WordPress dashboard where you can customize Email Newsletter. Plus, you can set up automatic emails to send emails automatically to your subscribers on different occasions, such as when they sign-up or subscribe to your website or when any new blog post is posted.
A drag'n drop email editor will facilitate you in inserting information straight from your WordPress site. Or from any of your latest blog posts or you can use any of the pre-made templates or customize these templates to use them for any specific email campaign.
You can also grow your subscriber's list by creating opt-in forms, and segment your subscribers into different lists by using any of opt-in plugin. Mailster perfectly integrates with Gravity forms, Elegant themes, Convert plug and many of other form plugins so you could easily segment your subscribers into different lists.
Mailster also helps you in creating autoresponders by setting up email automation rules. Such as you can set an automation rule that if a customer purchases any product from your website then an automatic email with specific offers, which you set out previously, will be sent to the customer within the 24 hours.
The Mailster comes with a comprehensive built-in analytics dashboard that provides you great insight for your auto –responder and email campaign statistics. The subscriber and unsubscribed lists and many other statistics.
Get a quick overview of each email campaign with detailed statistics.
You can target your audience by sending the right Email at the right time.
Create unlimited subscribers lists with subscriber's info and quick overview.
Mailster is compatible with WooCommerce, Ninja forms, SendGrid, mailgun, Amazon SES and Sparkpost.
Multiple Template option with drag'n drop editor to edit your email description.
The WooCommerce compatibility lets you send any of your latest product info through the email campaign to your subscribers.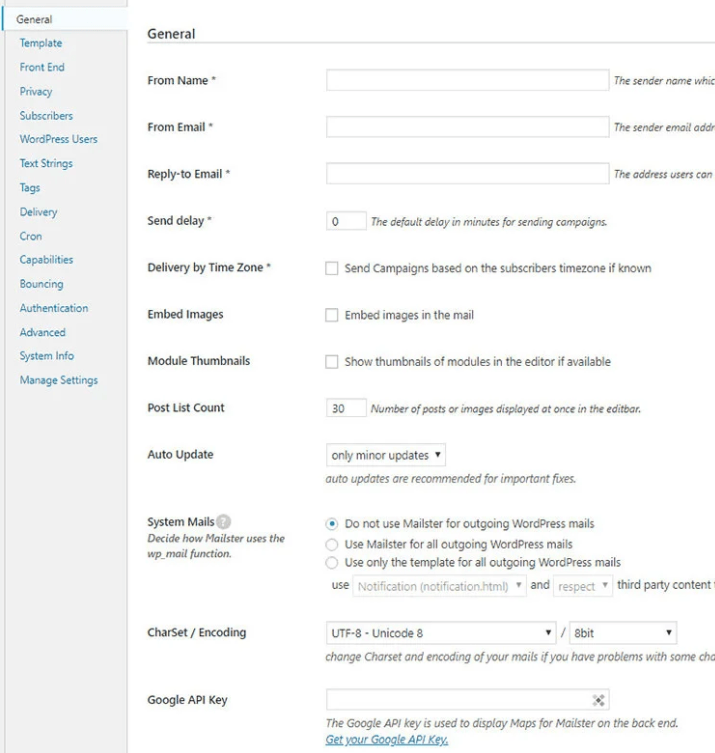 How to create a subscribers mailing list
Mailster facilitates its users in creating as many subscribers list as they want. You can create an unlimited subscriber mailing list and differentiate them either they have subscribed for a weekly or monthly newsletter or your specific product category. This option is beneficial in targeting the right audience for the right email.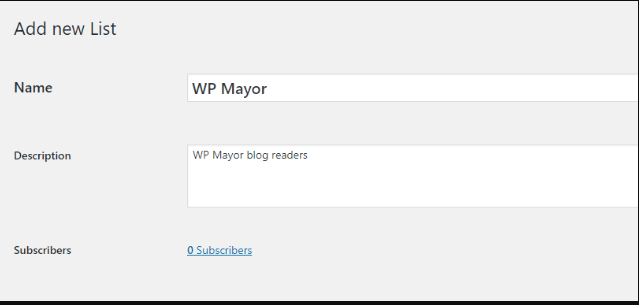 How to create your first Campaign using Mailster
Creating a new campaign using Mailster is as easy as you create a new post in your WordPress blog. To start new campaigns go to "New Campaign" in the "Newsletter" menu.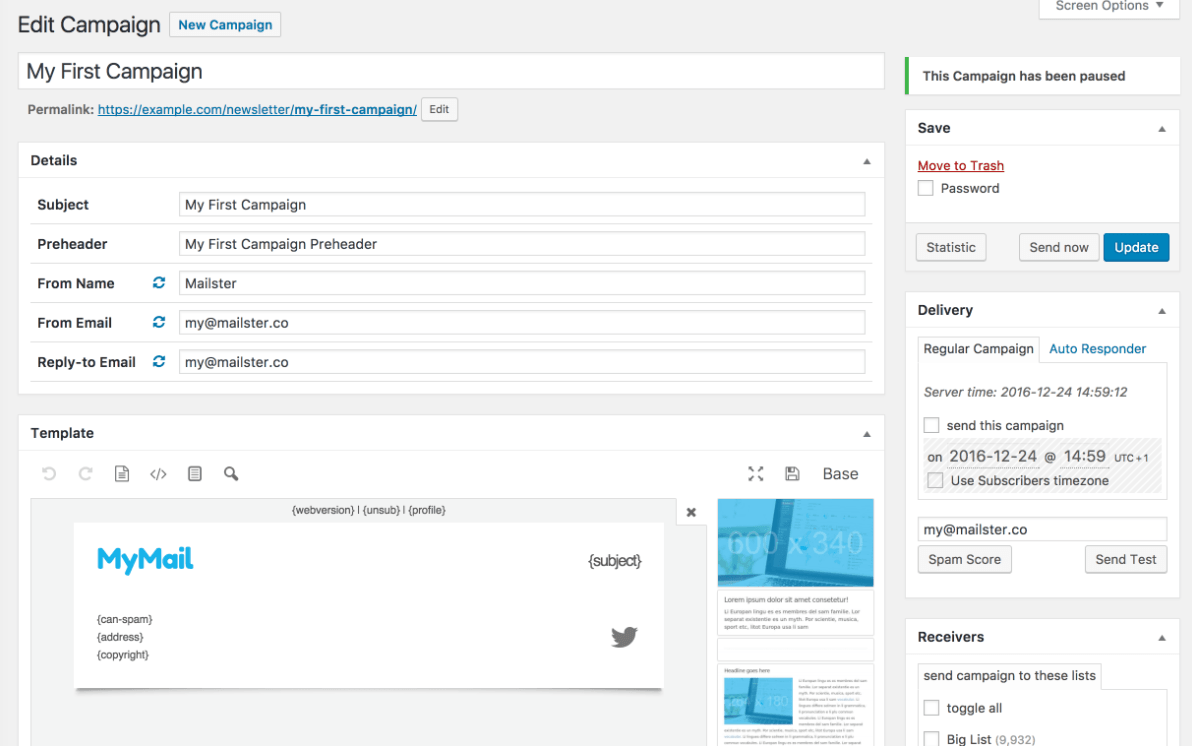 Edit the essential details regarding your email campaign. The name of your company, the subject of your email.

Also, you can edit the preheader to enter the campaign title. The sidebar lets you edit necessary settings
Which list to start the campaign
Tracking settings: the starting and ending date
Which products or text to be sent
Colours setting
Receivers details
The sidebar setting area lets you control the Delivery settings. You can set up the campaign sending time and date
Regular campaign: select a specific date and time to send the email
Auto Responder: choose to send the autoresponder email such as when a new subscriber sign up, or a new product is launched.
The Auto-Responder email campaign can be started at a specific time or on a particular action such as
When a new subscriber signs up
If any user unsubscribe the newsletter
When you publish a new blog post, a new product is launched
Any new campaign is launched
Send emails on a specific time, such as a monthly, weekly newsletter.
Also, you can change the colours of your newsletter. You can select any colour for your campaign and save it for later use. Moreover, you can change the background colour in the dropdown.
The Delivery options
The Delivery section is divided into two parts; Regular campaign and Auto Responder.
Regular Campaign
When you use any regular campaign, the email will be sent to each subscriber. You can select the receivers in the receivers meta box option. Make sure before checkmark the "Send this campaign" checkbox.
Otherwise, you won't be able to initiate your campaign. Also, you can pre-define any upcoming date when you want to send the campaign or you can send it immediately by hitting the save button.
Auto Responder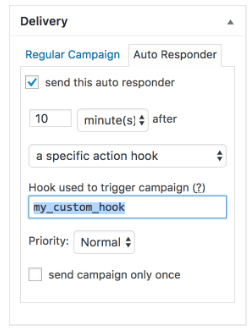 There are two options with the autoresponder email campaign. One is autoresponder with a " specific action hook" when a particular action took place, such as you send an auto-respond email campaign when you launch a new product or post a new blog. And if you select to send the campaign only once then the email will be sent for only once no matter how many times you click the send button.
You can send an autoresponder email campaign for specific actions such as on subscription or unsubscription. Suppose you want to send a welcome email to all of your newly subscribed visitors. Then you can trigger this autoresponder email with a welcome note or with the discount offer.
Receiver options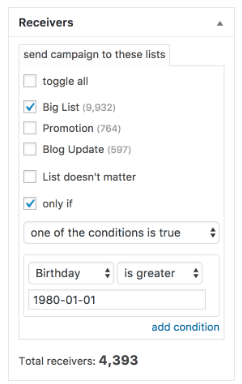 With the receiver option, you can limit how many receivers can receive the email. You will have the opportunity to send the email campaign to as many lists as you want to or you can also define users by selecting conditions.
Add the content to your email campaign
You can select any module to add content in your email by selecting it from moduleselector. You can rearrange modules to a new position. You can edit the content by clicking on the element which you like to edit.
Four types of content can be added to the email body.
Single text
Advanced HTML Text
Images
Buttons
Automatic insertion

The automatic insertion allows you to add the whole post with headlines, content, button with the link of the article along with the images.
Mailster Email plugin pricing
One of the most lucrative points to purchase the Mailster plugin is the freedom to work from your WordPress dashboard. However, along with this intimated feature, another well-liked feature is its one-time price.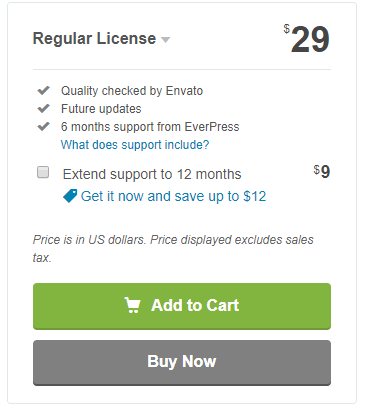 Most of the well-known email marketing plugins charge monthly fees that get increasing as the number of email subscriber's increase. However, this is not in the case of Mailster email plugin that will charge you a one-time fee of $29 with all future updates and six months support. The support can be extended to twelve months with the only addition of $9.
Do we recommend Mailster plugin?
Mailster is ideal for affiliate marketers or internet marketer because it supports you in promoting your business. Or you are a passionate blogger looking out ways to promote your subscriber's lists then you must try this cost-effective email marketing tool that is packed with amazing features also.
You can easily create, manage and monitor your email marketing campaign with deep-insight and detailed statistics for each campaign. Moreover, you can also create unlimited subscribers lists and manage subscriber's info right from your WordPress dashboard. Furthermore, if you already have any record of leads you can easily import them into your Mailster lists and start a new campaign to engage your audience.
Mailster has countless amazing features that stand it out from other competitors. Moreover, third-party integration enables the users to send bulk emails at a time without any fear of being undelivered or bounce back. You can easily integrate Mailster with Amazon SES or any other popular marketing services to multiply its effectiveness.