WordPress is a great source to build your online store, where you can access customers across all continents to sell your physical and digital products.
While, with WordPress, you can enhance your WordPress WooCommerce store functionalities in abundance, at the same time, you may need "something extra" in terms of product options to boost your sales.
When you have an array of products that need different labels for customers, the need to get an easy solution can't be undermined. Instead of relying on adding a bunch of different options each time using shortcodes, go for a rich-feature extra product options plugin. The extra product options plugin is a great resource to add extra product options such as fields related to text boxes, checkboxes, radio buttons, email fields, and date fields.
WooCommerce Extra Product options plugin offers multiple possibilities that you like to offer to your customers with the product pages. You can incorporate additional options such as checkboxes, radio buttons, date pickers, and many others. You can also incorporate conditional logic to display fields, and offer variable prices depending upon the customer's choice.
WooCommerce Extra Product Options Plugin

WooCommerce Extra Product options plugin lets the users provide extra options to the products when certain conditions are met. By default, WordPress allows you to define several parameters of your products such as price, description, category, and many others; however, it doesn't allow the customers to define the product. For example, if you add extra price field with any of your products, the extra choices made by the customers would affect the base price and also the overall price of the product. So with extra product options, you can provide extra options that a customer can choose.
With WooCommerce extra product options plugin, you can add custom fields as a predefined list. And these options will appear on the product page automatically based on the rules defined by the users in the setting area.
WooCommerce Extra Product options Key Features
WooCommerce extra product options are the easiest and one of the most convenient ways to add various fields or product pages options. You can achieve this task manually by adding custom codes. However, WooCommerce extra product options provide you an effective way to engage your customer by adding improved product options to your online store.
Powerful Form Field Builder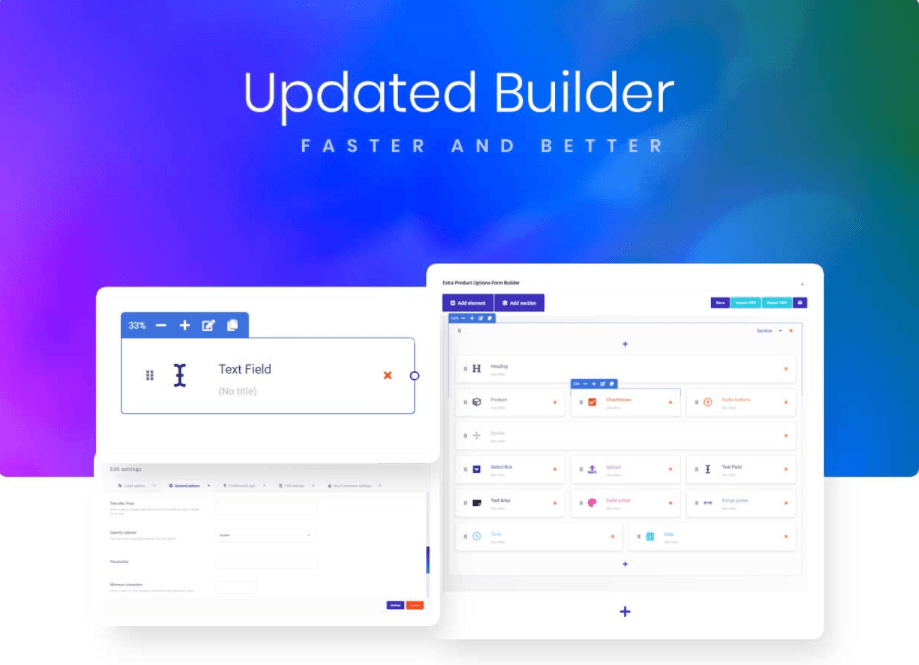 The WooCommerce Extra Product Options plugin comes with an intuitive and feature-rich form builder that presents you with a clean backend editor. You will get access to a clean canvas where you can just click on a button to "add sections", and then "add elements" within each section to create a rich product listing.
Here's a look at some of the available elements to add to the forms:
Text Fields
Text Area
Radio Buttons
Checkboxes
Upload
Text Area Fields
Hidden Fields
Select
Number
Telephone
Color Picker
Range Picker
Password
Time
Date
The form builder also supports exporting and importing data via CSV which should help to streamline your form building process.
Feature-Rich Control Panel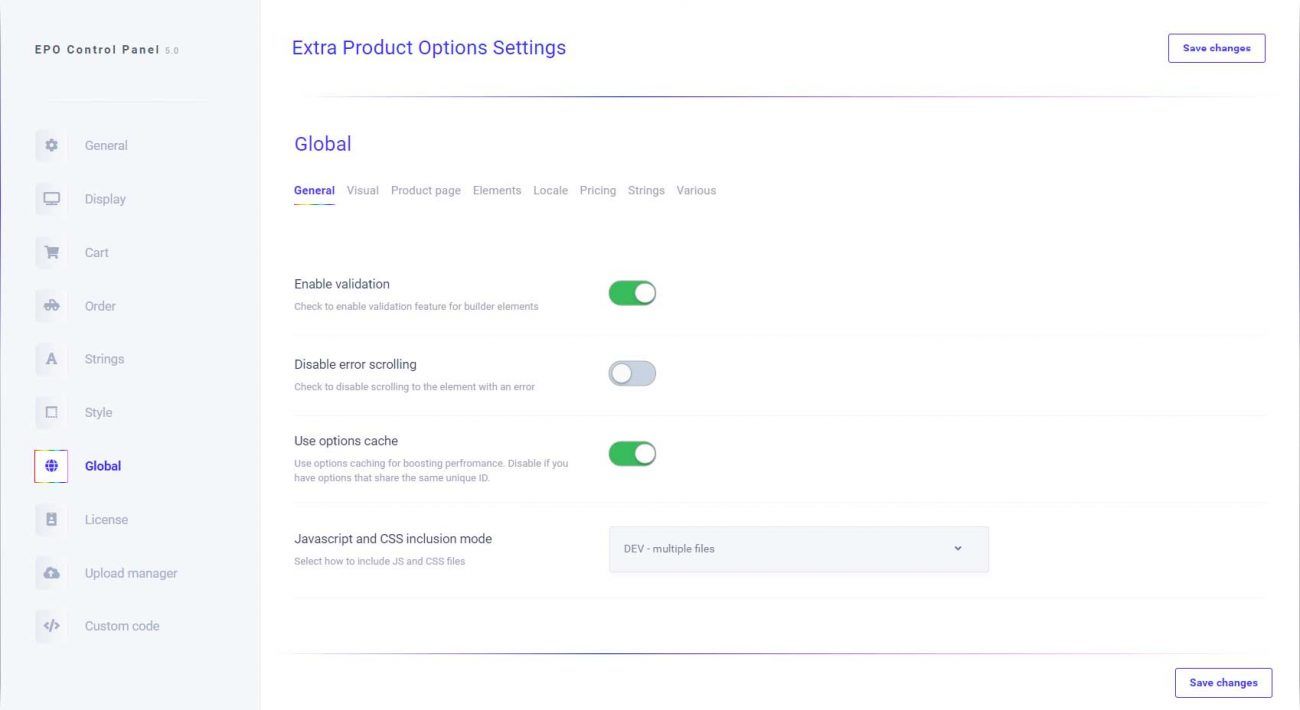 The plugin gives you access to a rich control panel with 100+ options neatly organized into various sections as follows:
General
Display
Cart
Order
Strings
Style
Global
License
Upload Manager
Custom Code
Over 70% of all the settings you see here are user suggested options, which means that the developer has taken the time to go through all the user reviews and feedback to make the plugin better and more helpful for its users.
Furthermore, all the settings and options you change on the plugin can be applied globally which is a godsend if you have tons of products and you wish to apply a set of settings to all of them.
You can apply global extra product options to all products of a single category or any specific category. You can even create a vast variety of options defined to a specific category or as per product with distinctive features.
Apply Math formula to calculate the price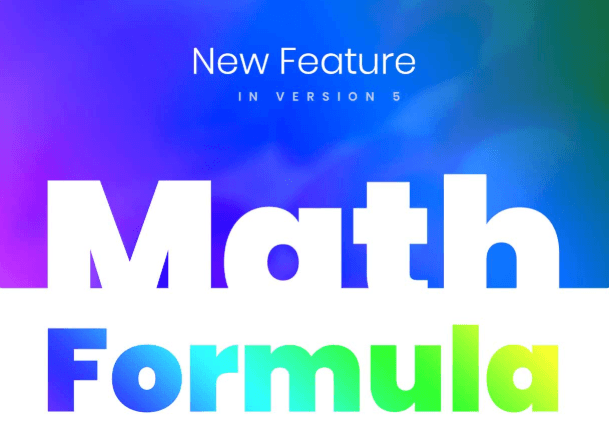 With the innovative feature of "Math formula," you can determine the price of the product based on the mathematical calculations. The mathematical formula is supported by PHP and JavaScript language.
Product as an option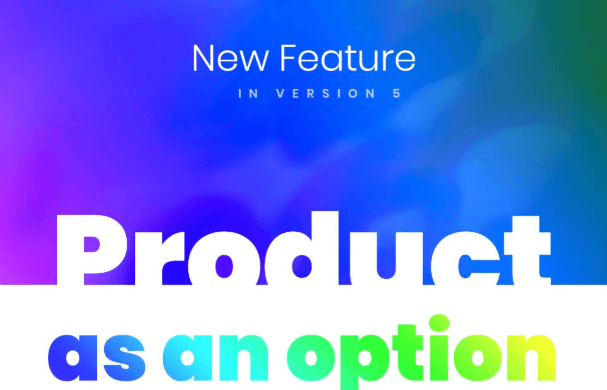 With the product as an optional feature, the customers can add any other product along with the main product to the cart by using any of the two options, either using product mode or product category. You can also choose three layout options: dropdown, radio button, and thumbnail.
Supports multilingual facility
The WordPress extra product options support a multilingual facility and ready to translate plugins options in any other language using WPML.
How to use conditional logic with WordPress extra product options plugin
What is conditional logic?
The conditional logic allows taking a decision based on an appropriate response. It means if the users take a certain step or click on a certain field, the next text field will appear automatically as a result of the selected field.
Let's assume you own a jewelry shop, and you provide personalized service and offer engraving on the selected jewelry purchased by the customer.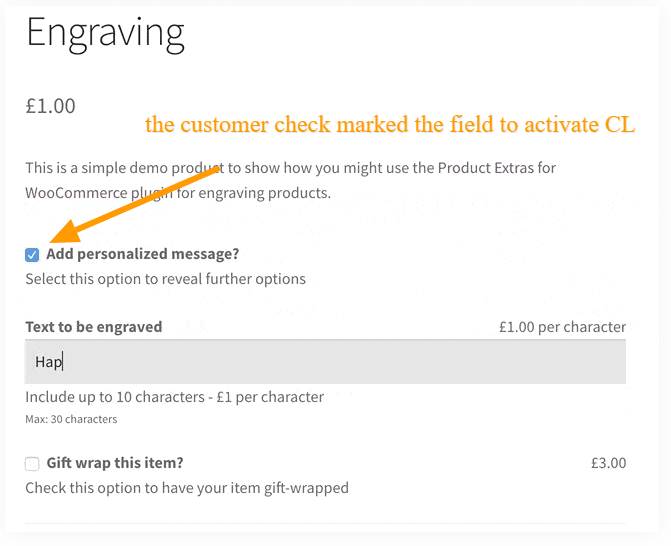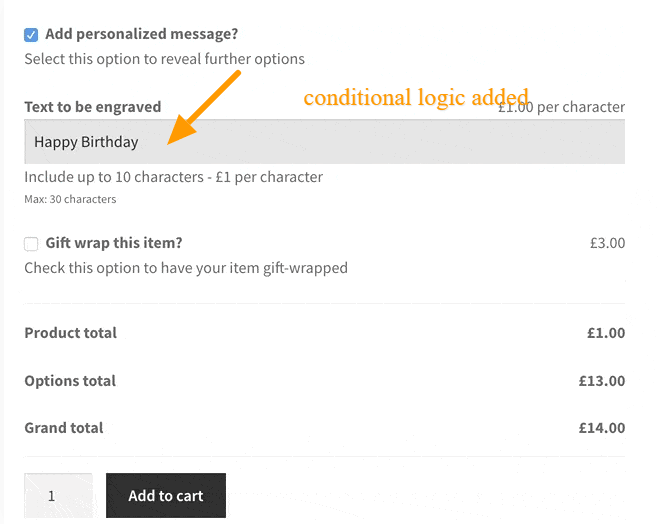 Once the customer added the text field with custom text needs to be engraved. The conditional logic comes into action by adding more features. The other fields include as Gift Wrap item increases the price to the main product.
That is how simply the conditional logic will work out.
Go to the Edit settings area and click on the conditional logic settings to set your conditional logic fields.
WooCommerce Extra Product options Pros
Supports many field elements; checkbox, radio buttons, select box, and many others
Apply field options globally or to a specific product
Hide add to cart option until certain options are not selected
Change the product image for radios and checkboxes.
Price per character feature for text-fields and text-areas.
Extra styling for radios and checkboxes
Conditional logic for fields and sections within the form builder.
Epic customer support
Compatible with any third-party plugins
Supports multilingual facility  
Access to lifetime free updates with new features and improvements.
WooCommerce Extra Product options cons
The plugin doesn't support CSV export
Documentation is not comprehensive, and beginners may find it difficult to get through
You can't manage inventory at all through this plugin, so don't plan on using it to replace any product options you need to track inventory for.
You can create bulk forms to apply to products, but, these bulk forms don't allow conditional logic or any ties into the existing product variations.
WooCommerce Extra Product Pricing
The regular license is available for $39 only. And there is no free version or any trial period offered by the tea. However, $39 is a reasonable price with all future updates and six months' support.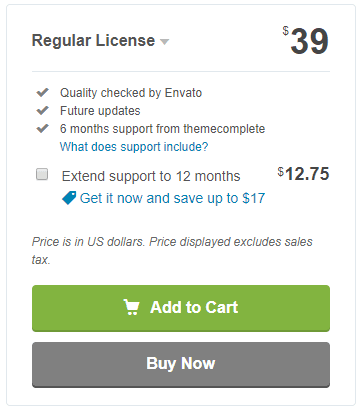 Is WooCommerce Extra product options plugin good to go?
The WooCommerce Extra Product options plugin allows you to create variable product fields comprehensively with lots of customization and flexibility. The Conditional logic feature enabled with the WordPress extra product options plugin helps you in creating options based on a user role. So, this plugin comes with all necessities to privilege the customer.
Moreover, it allows you to create your product pages according to your choice by adding custom product fields and sections. It's a great feature-packed plugin that works finely with all major third-party plugins such as Elementor, WPML, and many others. The plugin is a heavenly gift, especially for business-related to online bookings, online opticians, and online florist sort of business, which needs to customize their product's features concisely, and there is no better way to demonstrate the features of their products then using this plugin.