Visibility plays a vital role in increasing the conversion rate. Therefore, creating enticing and stunning pop-ups to grab your visitor's attention plays a crucial role in engaging web visitors.
It's a reality if you use pop-ups right way, you can trigger their actions to take the decision rightfully.
Moreover, eCommerce businesses can double their revenues by implementing targeted email list strategy. For this they can incorporate these important aspects wisely;
Offer an attractive incentive that makes people subscribe
A well-crafted opt-in form
To get it done right away, you can rely on convert plus. Convert plus can create stir up pop-ups using the right triggers and engage the visitors in a way they can't ignore. To get more leads and generate more email subscribers, you can customize Convert plus plugin with The7 plugin and create stunning pop-ups.
In this article, we'll talk about how you can install and activate Convert plus infusion with The7 theme.
We'll discuss how to enhance conversions and more subscription rates using Convert plus's pop-ups, header and footer bars, slide-in forms, sidebar widgets, in-forms, and social buttons.
Convert plus WordPress plugin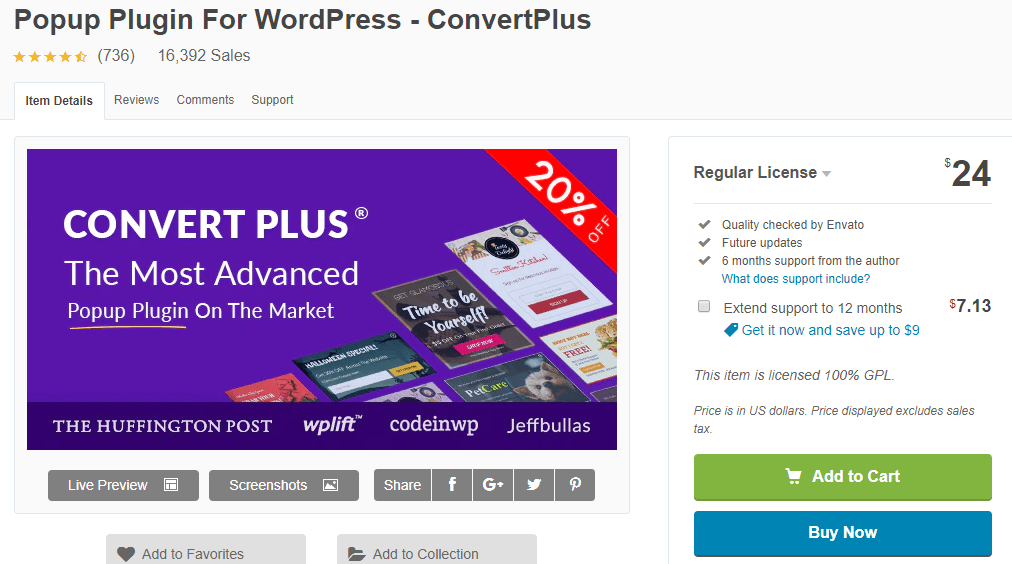 Convert Plus is a premium WordPress plugin being used by eCommerce websites to generate email lists and conversion optimization. More than this, the Convert plus offers multiple other advanced functionalities like conversion-friendly templates, real-time live editor, and built-in analytics.
Convert plus offers a variety of choices to catch user's attention by using a sequence of modules, such as slide-in bars, info bars, and a banner box. Other than this, Convert plus can do multiple other tasks as well.
keep back withdrawing visitors
Promote videos
Share recent updates in the form of info-bars
Redirect traffic to relevant posts and pages
Offer special deals to instantly subscribe
Generate social followers for future prospecting
Convert plus key features
Convert plus is an easy and effective way to build your email list with more targeted and focus oriented strategies. It comes with more than 10+ pop-up display positions, 12+ different visitor behavior triggers, and filters. The most interesting thing is it comes with more than 100 beautify crafted high converting templates.
Also you can convert the abandoning customers by showing them customized targeted offers at the moment when they are about to leave by using exit intent technology feature of convert plus.
The after scroll trigger feature will suggest your visitors what to do next when they end up reading your web content.
Build a strong relationship with the visitors by treating each visitors differently. Make custom-made offerings to returning visitors, loyal and new visitors to keep them engage and experience special privileged offers.
With import and export option you can create a single opt-in form for multiple websites and import and export them countless times to other websites.
Attractive display options
Convert plus offers attractive display options to grab the visitor's attention. You will have three modules options that can be applied; Modal pop-up, info bar, and slide-in module.
Model pop-ups
The model pop-ups are used to display offers, promote videos, and to build an email list.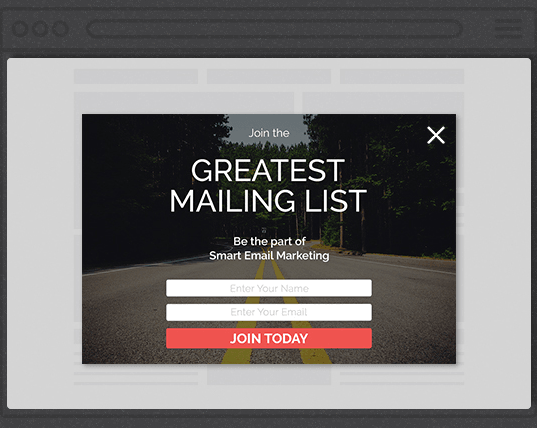 Video model pop-up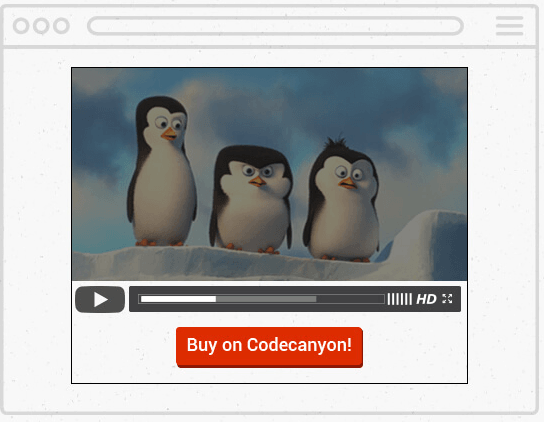 Video model pop-up is ideal for those visitors who like visual content. Or you can add a short video within your post or page to attract the visitor's interest.
Fullscreen pop-ups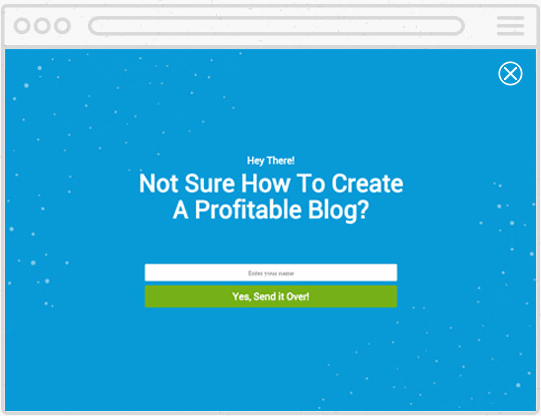 These kinds of pop-ups appear on the entire website and cover it so well that users can hardly skip the pop-up. These are mostly used to induce the users to sign up or move to another page.
Info bars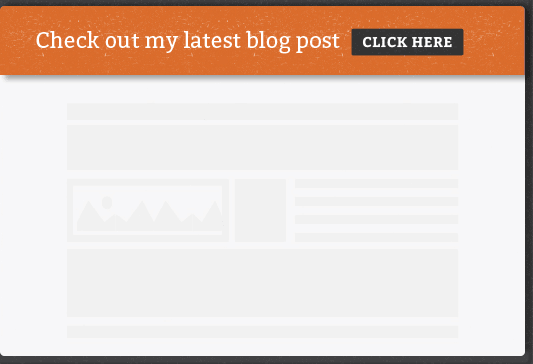 Info bars are used in the form of sticky bar either on the top of the page or at the bottom of your page. These are used to convey any upcoming event, new product launch or to make an enticing offer.
Slide-in pop-ups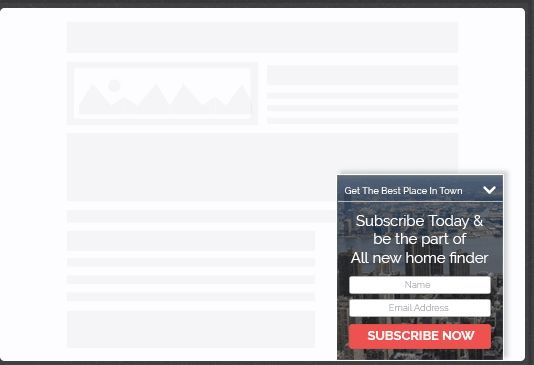 Slide-in pop-ups are displayed at the side of your webpage to ensure that it doesn't interrupt the users. Slide-in pop-ups are mostly used in the form of a small box, and these are recommended to put the users into action for social sharing and content recommendation
How to install Convert plus with The7 WordPress theme
Installing the Convert plus with the7 theme is no more a difficult task. You only have to do following task.
Head over to
WP Admin > The7 > plugins > Convert plus > click on install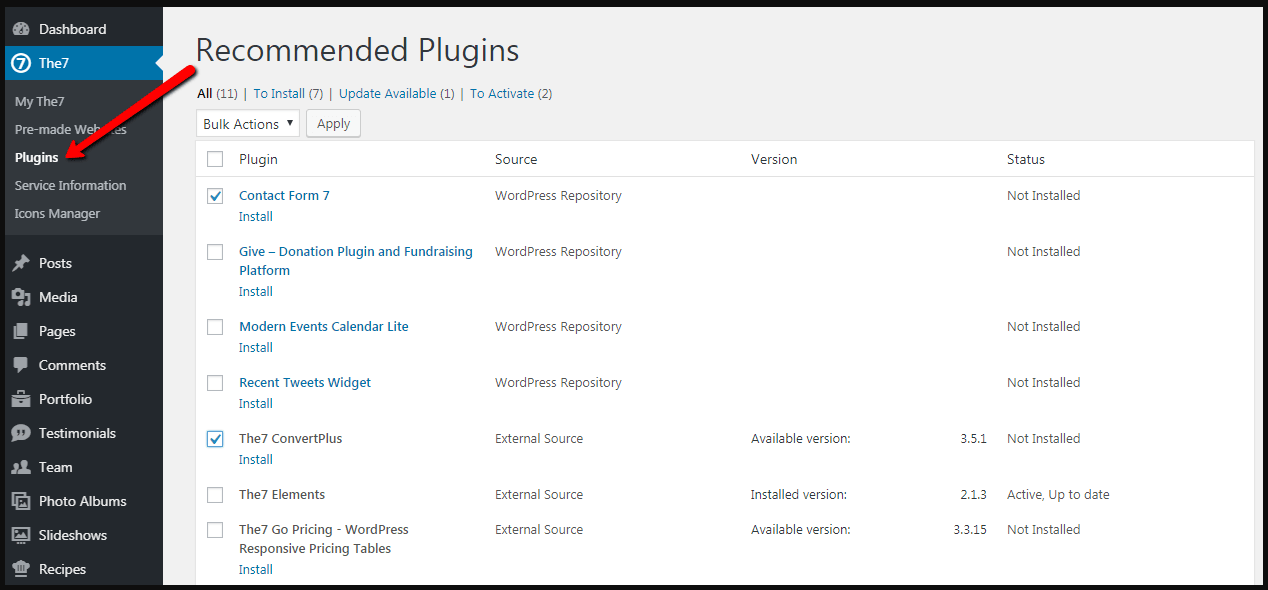 Once you have installed the Convert plus plugin, it will redirect you to the Convert plus's dashboard, where you can start your new campaign right away.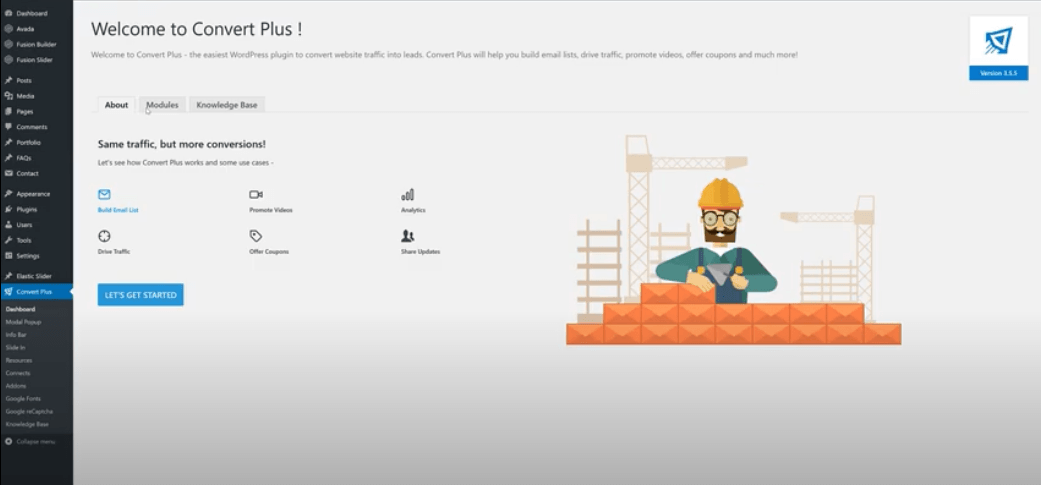 you can create three types of Convert plus modules; modal pop-ups, info bars, and slide-ins.
If you like to start with any of the three modules, you will find them in the left bar right under the convert plus dashboard icon.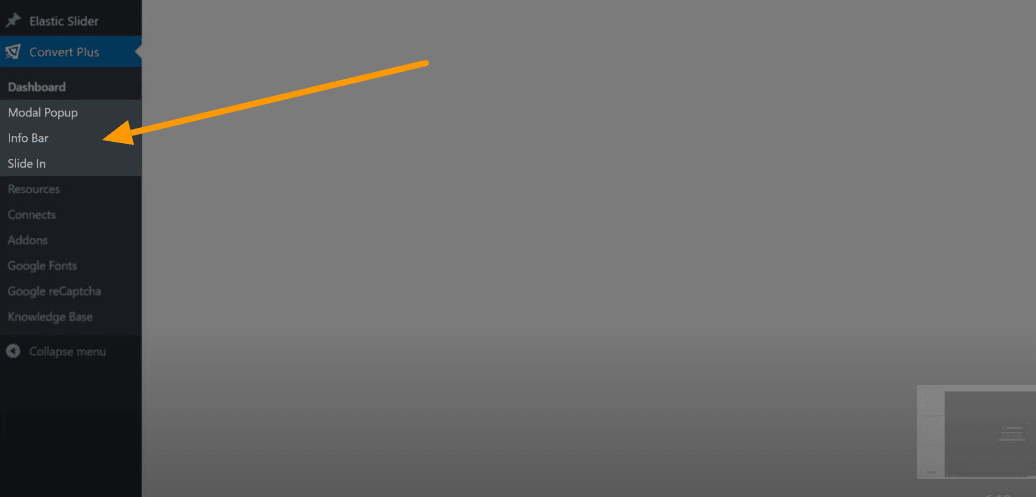 Let's find out how we can create a module with the Convert plus plugin. We'll start with a restaurant offering a discounted coupon on the first visit, and we'll create a customized modal pop-up for this offer using convert plus.
How to create a customized modal pop-up using Convert plus?
To create a modal pop-up, click on the modal pop-up icon in the left sidebar and click on the create new modal button.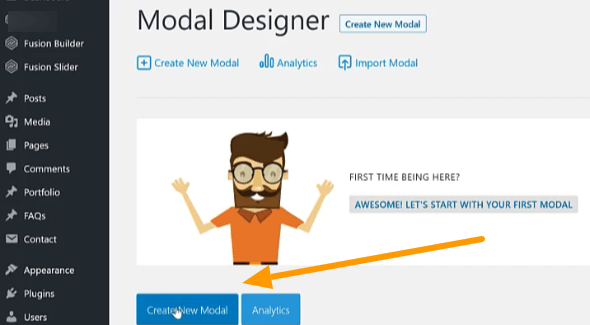 Once you click on the create new modal, it will lead you to the templates section where you can select any pre-made templates for your module. To create a module, I clicked on the offers tab and then selected the "first-order" template to work on.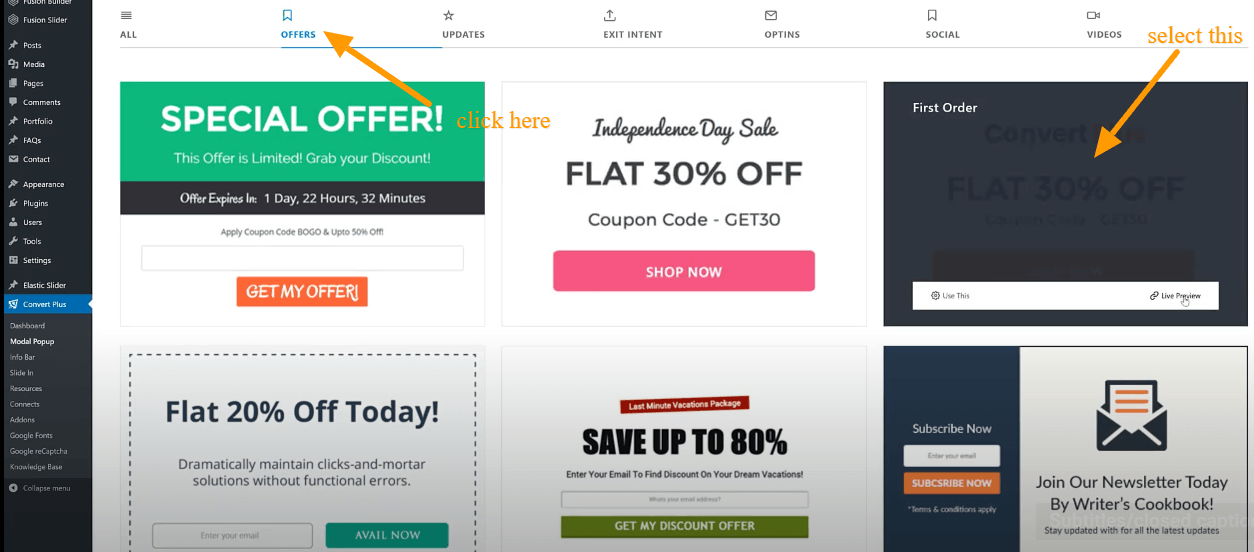 Once you click on the "use this" button, it will bring you to the design interface where you can edit the design template in your desired way.
Click on any section of the template, and in the left bar, you can edit that section. So, I have selected the name field, and I have changed the name of the template to "First order."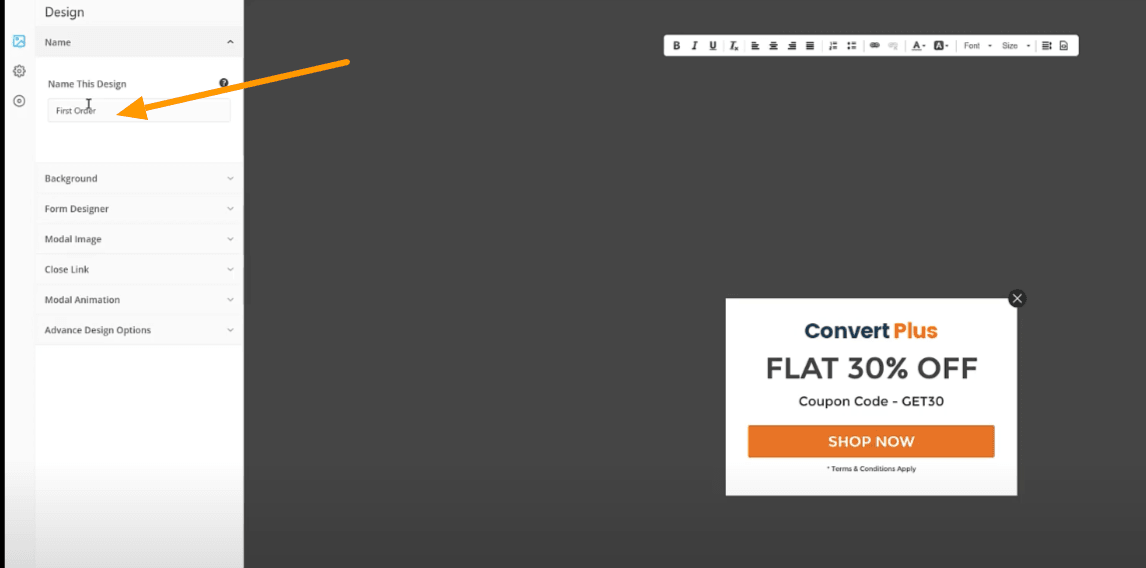 When you click on the Behavior panel, you will see a panel where you can control the behavior of the pop-up, such as when should you display it using the smart launch behavior. The smart launch shows when you like to launch the pop-up either when the user is about to exit or after a few seconds. I am going to use it after a few seconds of the smart launch option. And set the time after 5 seconds.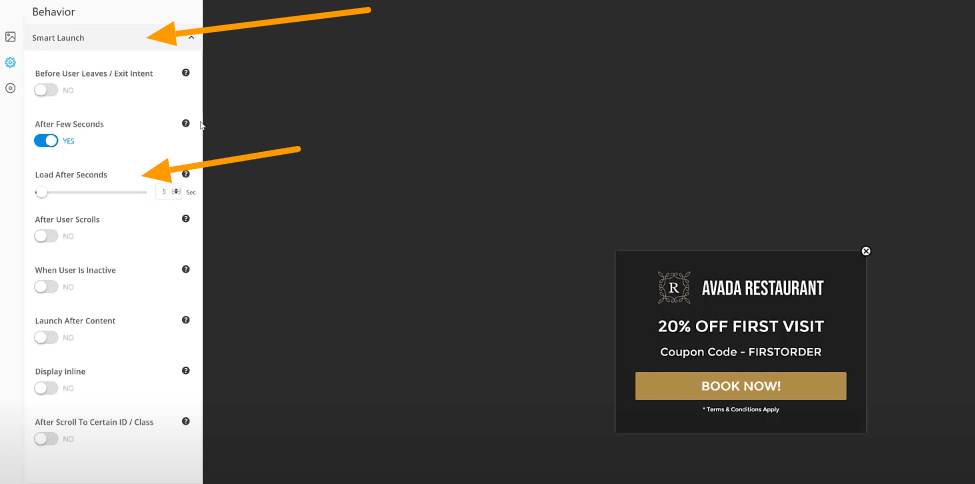 Underneath the smart launch options, there are plenty of others such as repeat control, target pages where you specify where these pop-ups will be launched. Also, the target visitors' options enable you to specify which visitors will see this pop-up and also on which devices you want to show them up. And once you are done with these settings, the next is submission panel where you'll select what leads should be collected and what sort of massages should it contain and the actions which should be taken after the submission.
Once you save your modal, it will lead you back to the model designer page where you can see your modal's status if it is activated or paused. You can enable it to pause it until the time you like to launch it.

Convert plus pros and cons
Pros
10+ pop-up display positions
12+ different visitor behavior triggers and filters
100+ beautifully designed templates
Reduce shopping cart abandonment
Promote special deals and offers using info-bars
Customized pop-ups compatible with mobile view
Target-based actions for new and old visitors
Integrated with email marketing plugins; Mailchimp
Exit-intent technology
Advanced after scroll technology to trigger visitors interest to visit more posts/ pages
Import/export modules on other websites countless times
Real-time analytics
Cons
Updates are not trustworthy, and sometimes it may screw up your site.
Plugin's dashboard is not intuitive, and beginners may find it difficult to operate
No design template updates; and the developers didn't change any template for the last two years
Convert Plus pricing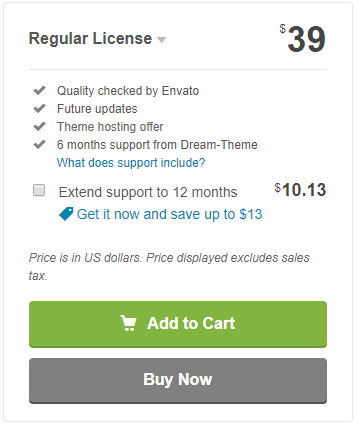 If you have installed The7 WordPress theme, it will come for free packed with the7 theme. However, if you are not using the7 theme, then you can purchase it from the themeforest.net for only $39.
Bottom Line
Convert Plus fusion with The7 WordPress theme is no doubt a great combination to generate more leads and achieve more email subscribers. You can easily customize Convert plus with your the7 theme and create dazzling pop-ups to convert your visitors into subscribers quickly. The best thing is that the Convert plus plugin comes with 100+ pre-made templates so you could swiftly start your campaign and start converting your visitors. Moreover, Convert Plus can be integrated with all popular mailer service providers and an in-built lead collector system so you could easily store and manage leads. Also, you can choose several display positions of your pop-ups depending upon the offer and wishes you want to display. So, overall, convert plus, and the7 theme combination is good to go for your business marketing strategy.