Social media marketing is an obligatory part of every successful online business.
No matter you are running an eCommerce store or a personal blog or related to any sort of business, integrating social media marketing can be a great source to drive potential traffic that eventually converts.
Also, sharing your content through social media has a significant impact on your Website SEO as well, because Google uses data from social media networks to rank your Website.
Whenever you get your content shared through social media, that will work as proof of trust by users because people don't share useless things until they find them relevant.
Over the years, sharing content through social media platforms like Facebook, Google, LinkedIn, and Pinterest has been gaining popularity to grow social media engagements, increase subscriptions, and followers. Now, many famous brands, restaurants, and food chains are targeting the customers directly so they could contact the customers directly and get noticed by potential buyers.
Now, with the "Easy Social Share Buttons" plugin, you can target your specific audience in no time.
There are multiple choices when finding a social media share button plugin. However, most of them do not offer personalization of social media icons; they are usually generic and lack translation features or support with a multilingual WordPress site.
With the "Easy Social share buttons" plugin, you'll have plenty of options on how to correctly show up your social share buttons at different places and with different styles.
Easy Social share buttons WordPress plugin

Easy social share buttons plugin is one of the hottest selling WordPress social media plugin with over 29,061 sales. It's maintaining a 4.67-star rate over the last period, which shows that it is still in user's "good books" for delivering exceptional functionalities.
Easy Social share buttons is a feature-rich plugin that offers plenty of extraordinary features that may help you in getting your unique combination.
With easy social share buttons, you can choose 28 distinctive places to display your social share icon. Also, you'll have an option to select your social share buttons layout out of 52+ pre-made templates.
Furthermore, you will enjoy some more functionality beyond using social share icons only with Email Opt-in and Live chat options.
Easy Social share buttons Key Features
Easy Social share buttons work perfectly fine with more than 50 social media networks, which are pretty massive as compared to any other plugins option. You can customize your icons with plenty of colors and styles and display them on any ideal location of your Website with more than 30 display options.
So, you'll have endless opportunities to promote your content via social media sharing options. Also, you can increase your visitor's engagements with detailed shareable options on almost all popular social media networks.
Social Sharing – Create unique, engaging social tools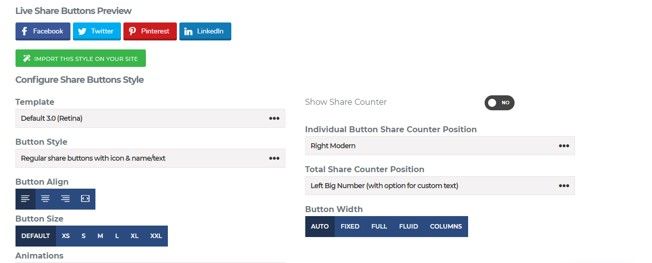 Easy social sharing buttons offers five different buttons styles and six different button sizes to create a stunning social sharing tool as per your brand's Website. Also, you can choose any button design and social network which you want on your list from the setting area. Moreover, you can set your preferences and reorder the social network list as per your choice.
On top of this, you can choose to display social media counter, statistics, and social media likes to encourage your visitors more sharing.
Another exciting feature is that you can activate animation effects to grab visitor's attention, and there is a preview option that lets you play with the social network icon and then pick your favorite one.
Next, you can drag'n drop the buttons to configure the order of your choice without leaving the screen.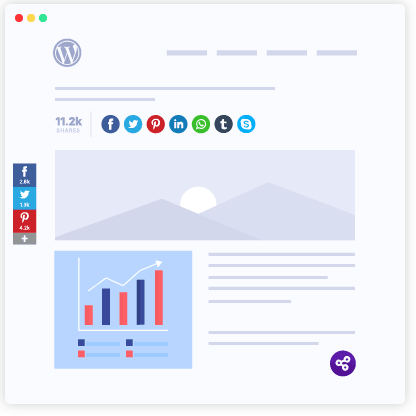 Create a shareable tweet to share your content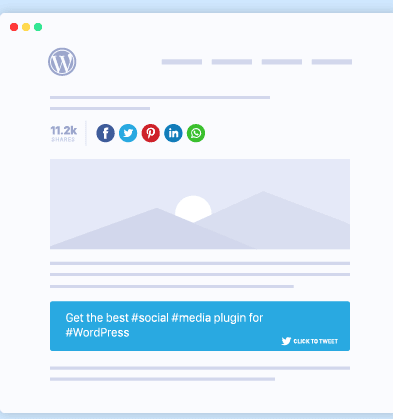 Most of the time, visitors find it difficult to describe your content in their own words, or they don't have time to type the text and then share on their Twitter account. You can create a shareable quote so visitors could quickly share your content with a well-described message on twitter.
Advanced Analytics – Optimize your social media interactions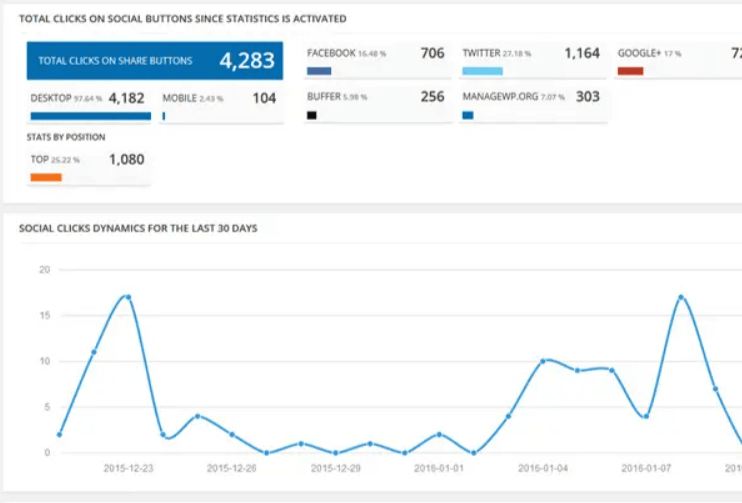 You need to keep a record of your social media interactions to sort out the best social network engagement working for your brand's progress. Easy social sharing buttons comes with an advanced analytics dashboard, so you could find out which social network is best in terms of engagements.
The advanced analytics dashboard gives you an overview of total numbers of clicks and social sharing buttons so you could plan which social network should you focus in the future to get maximum interactions.
Subscription form- increase your mailing list subscribers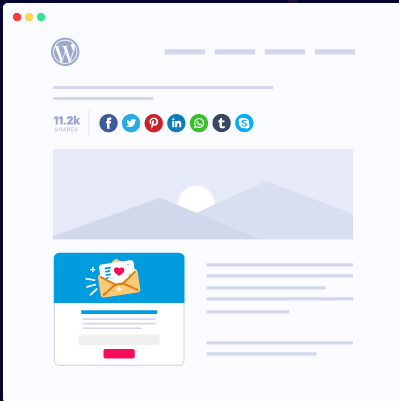 With easy social share buttons plugin, you can also enhance your mailing list subscribers. You can create infinite numbers of enticing custom subscription forms. Also, you can fit your forms anywhere, i.e., below the content or aligned with the content, or you can also put it in the form of a sidebar widget.
Social chat – chat with your visitors to increase engagement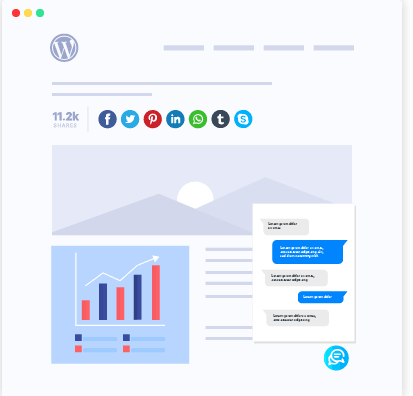 The social chat button is another excellent feature of easy social sharing buttons to engage with your visitors, and the visitors could access you through Facebook, Skype, Whatsapp, and Viber. The direct contact with the visitors increases their trust about product authenticity; also, you can improve your products/ services sale by quickly answering their concerned questions; hence, encourage them to make a purchase.
Top social posts
You have an option to display the best performed social posts by using a widget that displays your best performing posts to increase engagement.
Avoid negative social proof
Showcasing social media counter is a powerful tool to encourage visitors to share and purchase the product. However, if the total counter has not reached a certain amount to create a forceful image, you can hide the total counter until it arrives at your desired numbers of shares.
Social profile buttons
With the easy social profile buttons option, you can provide access to your relevant social network profile with a single click. This module lets your visitors find your presence on other networks and quickly become your follower. However, with these buttons, no counter is available to show.
Easy social sharing buttons pros
Easy to install with one click.
Easy social sharing buttons are compatible with more than 40+ social networking sites
It comes with "After Share CTAs," which means you can direct your visitors to subscribe, follow, or visit other posts and pages of your Website.
Allows media sharing
It comes with an option to create your shareable quotes so the visitors could quickly explain your content most favorably.
27+ built-in templates with visual template customizer
20+ automatically display positions.
Advanced analytics to counter you're your social networking performance
Create social profile buttons to display your social media presence
Compatible with Polylang and WPML
Optimized for mobile screens
Nicely integrated with WooCommerce, jigShow, or any Affiliate plugins
Included the Love icon to show how much your followers love your content
Show your Instagram feeds with eye-catching display options
Easy Social Sharing Buttons Cons
Easy Social sharing Buttons is jam-packed with lots of features-which is quite overwhelming for beginners, and they might find it difficult to operate
Documentation is not worthwhile; features are not well explained as per the perspective of beginners
No free version or any trail period.
Poorly optimized for Mobile usage
Straightforward Social Sharing Buttons pricing
Easy Social Sharing Buttons are available for only $22 with all future updates and six months' support. Price is exceptionally economical, and you can install it on as many websites as you want.
Wrapping up
Social media is an easy tool to access your direct clients; that's why almost all of the famous brands and multinational companies try to connect with their clients through social media. Also, social sharing is an incredible option to increase your business reach without boundaries. So, if you like to amplify your brand's reach and wish to increase your brand's popularity, you have to integrate social sharing options in your WordPress.
Although there are numerous free social sharing plugins available on WordPress repository, however, you'll never found so many functionalities and customization options as with the Easy social sharing buttons plugins. You can access more than 50 social media platforms with it and also incorporate social sharing buttons with your own unique brand's layouts. So, $20 is not a huge investment to enhance your marketing strategy. Give it a try now!