Shipping is a cumbersome job in eCommerce, and owners are, most of the time, bewildered at assembling shipping charges as per their product nature. The WordPress comes with a stubborn flat rate shipping option only, which allows you to only charge a fixed rate per product, per item, or shipping class. However, if your business involves dealing with products that drastically differ from one another and you deal with customers from distinct places, then this flat rate shipping method won't be enough.
In this article, we'll discuss how table rate shipping can be incorporated in your eCommerce business. So, you could provide a smooth shopping experience for your customers without any hassle.
Table Rate Shipping for WooCommerce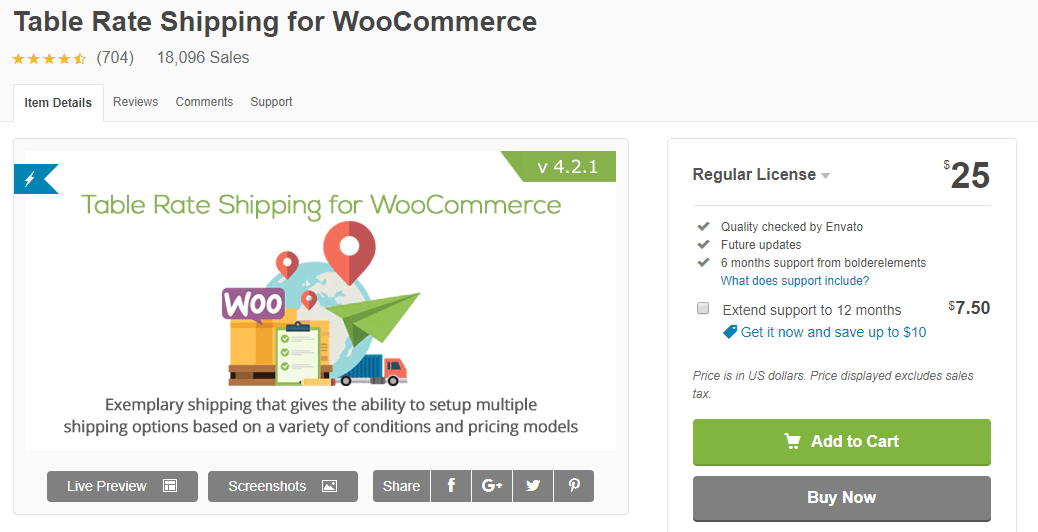 The Table Rate Shipping for WooCommerce plugin allows the users to set up rules and conditions to determine the shipping cost of the product at the checkout. Calculating shipping costs can get cluttered when not organized properly. So this plugin helps the users to set multiple rates for the customers depending upon the conditions settled by the admin. These conditions can include shipping destination, cart subtotal, item shipping class, price, Weight.
Table Rate Shipping for WooCommerce Key Features
You can set up multiple shipping rules for the customers, so they could choose the best available options according to their needs whenever they shop at your store. You can set shipping costs with more than 15 different parameters. Also, you can display different terms and conditions associated with each shipping method before a customer chooses the shipping method. You can set forth volume-based metrics or user-based controls.
Also, you can define shipping rates based on delivery location; it can be statewide charges or countrywide charges. Moreover, you can calculate shipping costs by calculating individual products or considering the order as a whole. Handling charges for each shipment can be added.
Provide informative choices and offer the customers to choose an option with a given description of each option.
Set shipping conditions and rates on the group of products based on; order, individual products, cart Line items, shipping class
Follows all WooCommerce shipping zones
Add multiple instances in each zone
Enable multiple conditions in each table row
Comes with multiple cost options; Flat price, percentage of subtotal, multiplied by Weight, length, dimensions, and numbers of products
Change the order of table rows with Drag'n drop options to control the priority of conditions and costs
Compatible with multiple other plugins; WPML, volumetric weight calculation and compatible with any theme
Compatible with currency switcher WooCommerce, Polylang
Comes with two more extensions to improve the functionality of plugin; shipping based on city name and price limitation
Pros and cons
Pros
Personalize table shipping rates based on factors

Per unit additional Weight

Country/ state/ zip codes

Produce manifold Free and Flat Rate shipping options based on conditions.
store owners can apply or remove shipping taxes on the packages
It also lets store owners create shipping rules based on the destination country.
Store owners can add extra handling charges to their shipping rates.
The store owners can export and import shipping rules directly to the plugin in the form of a CSV file.
Cons
the documentation is unclear, and beginners may find it difficult to handle
buggy at times; and you may face hurdles in setting conditions
No free version or trial period
No demo website to see the real changes
Pricing
Pricing starts at $25 with all future updates, and there is no trial period or free version.
Now, let's look into some other table shipping plugins for WooCommerce with some extraordinary features;
WooCommerce table rate shipping plugin

This plugin enables the users to create unlimited shipping methods and rules; also, the users can add custom details about each shipping method.
It also allows the users to set up the shipping charges as per destination countries, and they can create unlimited shipping rules. Also, the users can define if the taxes are included or excluded in the shipping charges. Moreover, you can set conditional free and flat rate shipping based on country name and product weight.
Pros and cons
Pros
Highly compatible with WooCommerce and supports all WooCommerce shipping zone
Displays the delivery dates on the cart page so the customers won't need to contact you to inquire about the delivery status.
Calculates and display shipping rates on check out and the cart
Shipping rates calculation is based on; product weight, product quantity, product price, the destination country, and product type
Cons
No comprehensive documentation
Need to install WooCommerce
Pricing
The basic version is free to download, and the premium version starts at $69 for a single site.
WooCommerce Advanced shipping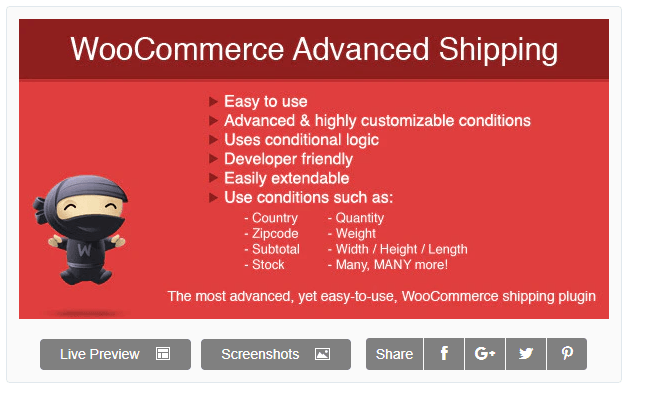 WooCommerce advanced shipping plugin is another great plugin that allows you to create your shipping rates based on conditions. The good thing is that you don't need to know the coding and you can simply create a rate table using the user-friendly interface. The table rates can be created on different conditions such as; weight, volume, country, state.
Pros and cons
Pros
Create shipping rates by using multiple shipping methods
Apply conditional logic to set rates
Shipping per country/ city/ zip code
Use volume-based pricing
Comes with two extensions; shipping zones and Advanced pricing
Cons
The plugin can be complicated for some beginners due to its nature with Conditional logic.
Documentation needs to be more effectively documented.
Pricing
The regular license price starts at $18 with two free extensions.
WooCommerce Weight based shipping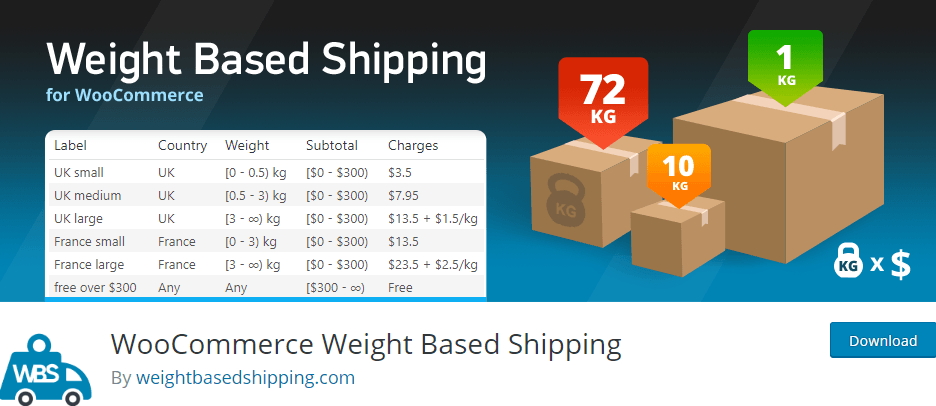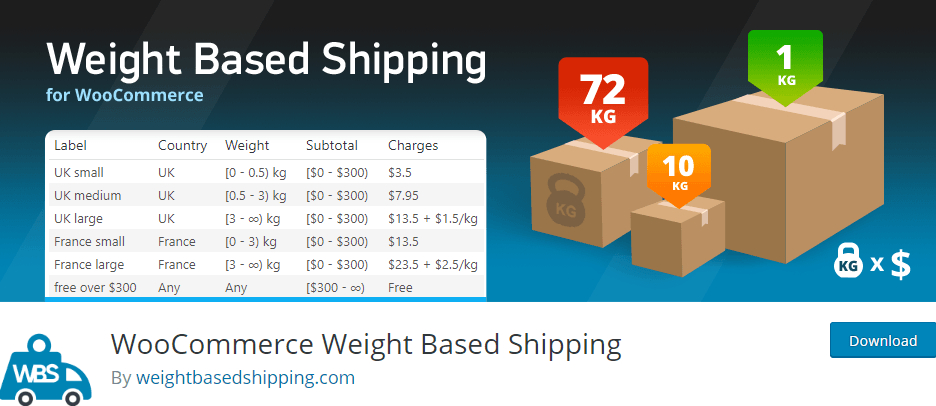 If you run a business that needs Weight based shipping method, then this plugin will work best for you. The WooCommerce Weight based shipping is a flexible shipping method that mainly calculates the shipping charges based on the weight of the order. Also, the plugin allows you to set multiple rules based on various conditions.
WooCommerce itself doesn't provide any customize shipping rates based on product weight. Therefore, being an important parameter, the Weight based shipping method should be incorporated flexibly, and the WooCommerce Weight based shipping focuses on the prime concern weight parameter as a primary criterion to determine the shipping cost and then keep into account other variables such as price and location.
Pros and cons
Pros
Create unlimited shipping rates based on the product destination and product weight
Calculates the rates dynamically once the Weight of the product increases
Set qualification rules for free shipping based on the weight of products
Cons
The plugin doesn't support shipping prices with tax inclusion.
The plugin is poorly documented and not user-friendly
Pricing
The basic version is free to download while there is a paid version that can be purchased for $19 for one site.
Why you should use table rate shipping?
With table rate shipping you can work efficiently by applying diverse shipping rules. You can have a better overview of all shipping options and can creatively sort out effective shipping conditions. Also the table rate shipping method let you create conditions to offer shipping discounts if you get more sales from any zone.
Moreover, you can set charges for the heavier products easily and also add handling charges. Also another great characteristic is that you can set free shipping conditions easily. So you have a number of options to handle a particular shipping scenario. You can settle strategy by keeping in view different aspects of your products, the price, location, customers' value, order value order subtotal or any other conditions.
Although all of above mentioned table rate shipping plugins works wonderfully well but Table Rate Shipping for WooCommerce plugin works the best because it comes with much flexible options and a all-inclusive pack of features as compared to other plugins. It allows you to add conditional logic, handling charges and also you can include tax costs in the shipping charges. It's the most comprehensive table rate plugin that offers incredible shipping options.
However, you can consider Weight based shipping plugin if you deliver products that need shipping charges based on the weight of the product. Or you can trust the WooCommerce Advanced shipping plugin if you need some advanced sort of options to cover the shipping costs.