Do you want to sell your WordPress pictures and earn a substantial income? Are you an independent, creative photographer and looking for a helpful tool to help you sell your image catalog?
If yes, then the Envira Gallery is the perfect choice for you. It will help you sell your photos easily with Woo Commerce integration.
Isn't that great!
Now, without further delay let's see how you can sell your WordPress pictures with Envira Gallery quickly and easily; without any hassle.
So, let's get started!
To get the best benefit out of something you need to invest. Similarly, to make money online through selling photos or photography; you need a reliable robust WordPress plugin. You need to install and activate Envira Gallery so you can start selling your photos and start earning high rewards in form of income.
Want to achieve?
Continue reading this article…
Within this article, we will help you sell your images, pictures, photographs, and your creative snapshots with the help of a robust WordPress plugin; Envira Gallery. This article entails all the reasons why you should opt for the Envira Gallery and not any other WordPress plugin. So, from downloading, activating to installing; we will help you get through this process with ease.
So without further delay lest get started with Envira Gallery
Get started with Envira Gallery
Install And Activate Envira Gallery Plugin
To install Envira on your WordPress site you need to download it either manually or through the WordPress plugin interface. So to install the plugin
Go to Navigate Plugins> Add New> Upload Plugins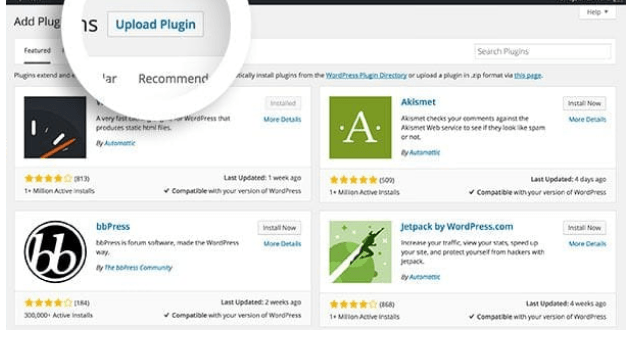 Now Install And Activate Envira Gallery .zip file
Upon activating; the plugin will become live on your site
Enter the License Key and you will have access to all the latest features, security patches, and add-ons of the Envira Plugin
You need to install add-ons of Envira Gallery: Click Envira Gallery> Add-Ons and install the ones you want to use or you have access to
Remember: you can only download those add-ons that are available on your pricing plan. There are 28 add-ons available, but only some are eligible for your license type and pricing package. We suggest that you install the WooCommerce Add-on and Watermarking Add-on for selling your WordPress pictures.
Want to know the Pricing Plan of Envira Gallery?
It's a must knowledge!
Pricing Plan Of Envira Gallery
Envira Gallery offers a five-tier pricing plan. Best for BOTH; newbies and professional users
Lite for $0; Helps users create simple, unlimited, standalone galleries on 1 site
Basic for $29; It is a perfect entry tool for newbies that will help them create unlimited, standalone galleries for 1 site with slideshows, protection, and custom CSS facilities.
Plus for $69; Perfect for power users and offers everything in basic and 17 pro-add-ons on 3 sites, password protection, watermarking, Instagram integration, and a lot more features
Pro for $99; Best to build a perfect gallery with 32 pro-add-ons, 5 sites and social sharing, deep linking, light rooms, and a lot more features than plus plan.
Lifetime for $299; It's a lifetime VIP plan for professional users and offers 32 pro-add-ons, unlimited sites, updates, client management, and everything in the pro plan.

Once you have decided your pricing package, downloaded and installed Envira Gallery; it's time to move to the next level.
It's time to create an image gallery!
So, are you ready? Let's roll-on!
Create Image Gallery With Envira
Log in to your WordPress Admin Dashboard
Navigate to vertical toolbar
Choose Envira Gallery> Add New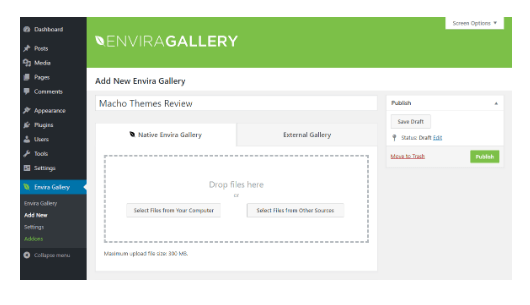 Now you will be directed to a new page; here enter a Unique Title and start importing photos to your gallery. You can either select files from your computer or other sources.
Once you have added photos, now click Publish Button and publish your first gallery
Once published. Now you will be allotted an Envira Gallery shortcode. Copy the shortcode from Envira Gallery Code Widget and save it when you will be adding an image gallery to your page to sell your photos.
That the last and the final step; Adding an image gallery to the page to sell WordPress photos
The first essential step is the chose the post or page you want your gallery to appear. Once selected choose edit
Moreover, you can also place your gallery on a new page/blog by selecting
Post>Add New
Page>Add New
Now paste the shortcode into the visual editor
However, if you are using WordPress new Gutenberg editor, then you would need a new shortcode block to paste shortcode correctly
Now, update your post to publish changes and visit your site
An Add-To-Cart button on images in the gallery and lightbox will be visible!
Bingo! Your customers can view the images on your site, add them to their shopping cart and purchase them too!
It's time to earn income; either mail the images to them or sell digital photos that they can print from home.
Why the Envira Gallery To Sell WordPress Pictures?
Envira Gallery is not the ONLY plugin that can help newbies, professional photographers, and nature photographers sell photos and images. WordPress is bombarded with free and premium plugins/themes that can help sell photos online quickly and easily. Then why do we need Envira Gallery?
Well, Envira Gallery is the most powerful premium WordPress gallery plugin that has over 2500,000 downloads. They started their journey of success in 2014 helping individuals, small businesses, and fortune 500 companies. Today, they are market leaders, enjoying a competitive business advantage, and staying ahead of the curve. Envira is known for its speed, performance, and exquisite features and functions.
With the help of Envira Gallery, you can quickly create video or image galleries with lightbox and slideshow functionalities. It also offers a wide range of exciting features from password-protected galleries, Woo Commerce integration, image printing, and a lot more
Let's look into some more reasons you should choose Envira Gallery to sell WordPress pictures:
Holds a fast server with good page speed and bandwidth
Helps users optimize and compress all images
Creates robust portfolio pages with context/ theme
Supports multiple gallery options
Embeds purchasing option / digital shopping cart with images
Offers a free and premium option
Easy to use, simple and organized interface with menus and drag and drop option
That's not all! It offers a wide range of add-ons that will not only help you easily create beautiful photo and video galleries with a few clicks but also create an awesome impression on your visitor.
Add-ons of Envira Gallery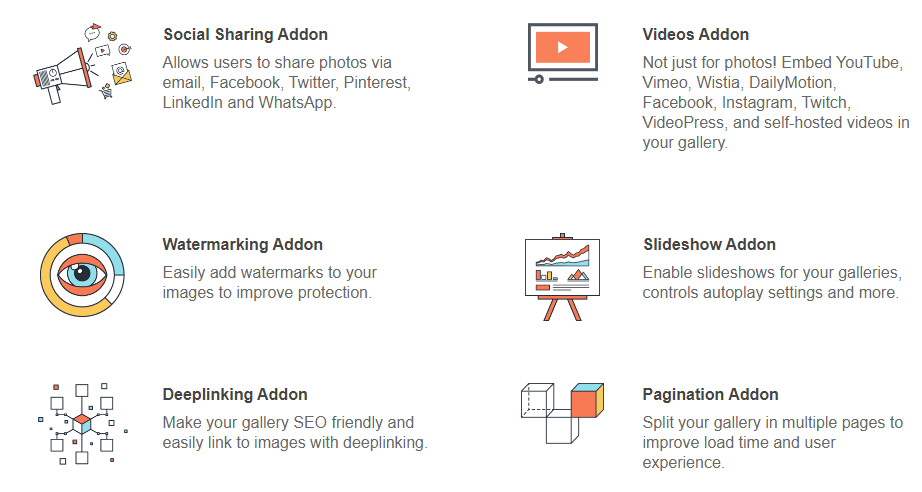 WooCommerce Add-on: You can sell your photos via Woo Commerce
Pinterest Add-on: Adds Pinterest 'Pin It' buttons to your gallery items
Instagram Add-on: Easily import Instagram pictures to your image gallery
Password protection Add-on: To view the gallery, users need to enter a password
Protection Add-on: Disable visitors to download images without permission
Watermarking Add-on: Protect your images by adding watermarks to your images
Albums Add-ons: Allows users to organize their galleries in albums, choose cover photos, and much more
Social sharing Add-on: Users can share their photos on various social networks; Facebook, Twitter, Pinterest, LinkedIn, and WhatsApp
Videos Add-on: You can embed videos in your gallery from YouTube, Vimeo, Daily Motion, Facebook, Instagram, Twitch, Video Press, and even self-hosted videos
Slideshow Add-on: Offers autoplay and transition speed option
Deep linking Add-on: Allows users to create URLs that direct them to specific gallery items
Pagination Add-on: Divides big galleries into multiple pages
Proofing Add-on: Clients can proof photos from WordPress
Lightroom Add-on: With Adobe lightroom collections you can create and sync galleries
Tags Add-on: Add custom tags to gallery images
EXIF Add-on: Allows users to display EXIF metadata in your galleries
Featured content Add-on: Allows users to create galleries based on posts, pages, products testimonials, and other custom post type
NextGEN importer Add-on: Import galleries that were once created with NextGEN gallery
Fullscreen Add-on: View images in full-screen mode
Dynamic Add-on: Easily Create dynamic galleries 'On The Fly'
Defaults Add-on: Speed up the gallery creation process
CSS Add-on: Easily customize your image gallery
ZIP importer Add-on: Users can easily import photos from .zip file to the WordPress gallery
Printing Add-on: Visitors can easily print photos from the WordPress image gallery
Zoom Add-on: Allows users to add zoom functionality to their images
Wrapping up
Envira Gallery is one of the robust WordPress plugins that will help you sell your WordPress pictures easily. Envira Gallery offers six gallery themes that will give your gallery a neat effect. Whether it's Polaroid, Showcase, Captioned, Showcase, Sleek, Subtle, Or Base. Every theme outclasses the other and presents the picture with a spotless effect. Moreover, with WooCommerce Add-on you can sell your photos easily. All you have to do is to integrate your gallery and images with Woo Commerce. With this, you will link each gallery image to the WooCommerce product. Thereby, any visitor interested in your image will add your authorized picture to their WooCommerce cart right from the gallery.
With Envira Gallery you don't even need to worry about image theft. The watermark Add-on will not only protect your image from theft but also help you sell your images. Any potential visitor will not be able to download the image; they would need to purchase the image.
I believe selling images and earning income is no more difficult; you just need the right tool. You need the Envira Gallery plugin to sell your pictures, images, and photographs.