Flatsome and Divi are two of the most popular themes of the modern age. Therefore, here we will be highlighting their designs, functionalities, drawbacks and performance so that you can have a good idea about which theme to choose for your next big project.
Flatsome
Flatsome is a beautiful theme that provides you with the opportunity to create some amazing templates in Woo Commerce industry. With its easy to use and highly compatible features, it is certainly one of the best themes you will have the chance to work. So let's get started and have a detailed review of Flatsome theme and its features.
Design

Design is one of the most significant dynamics when it comes to themes. However, when you go for Flatsome theme, it means a clean and responsive design and retina ready templates to get you started. The themes built with Flatsome are designed to get viewer attention regardless of the device they are using.
Its responsive design enables the site to show the website in full width, boxed or framed layout to engender diverse pictorial discernments. With a quick pre-made home page, you can quickly start with your online business. So stop wandering around, download the theme, and get started right away.
The design has many attractive features; one of the topmost is that it comes with a custom build system of activation. Its premium features are not accessible unless you have a proper license for it. Moreover, its welcome wizard takes you through all the necessary steps that are necessary to start with the online store.
There are 19 already built layouts available in the UX builder that are available for users to create new pages on your website. Element such as grids, buttons, countdown block, gallery, maps, team members, videos, flip box, product categories can become a part of the page with the help of the drag and drop feature.
Flatsome also offers different video formats to its customers if you wish to present something on your website. Moreover, it also comes along with Banner Focus Point, which is a feature that comes with a purpose to aim attention at essential parts when they are browsing on small devices.
Flatsome has come with a special visual improvement such as an adaptive image functionality that came with the latest update and has enhanced the speed and optimization. Moreover, with its awesome background effect, you would not want to go anywhere else.
With its header and footer builder, you can customize each bit of the website. The UX builder provides you with drag and drops options to build everything with ease. Moreover, it is not only limited to the header and footer you can also customize the sidebar area with the help of custom Flatsome blocks.
Flatsome is an amazing theme because of the options it provides to its user. It comes with 8 product page templates and 12 product category layouts giving you a huge variety to choose. Its amazing designs will catch the eyes of the user anyway.
Fonts are one of the most important areas when it comes to design. With a huge variety of fonts available and support of RTL, you will never have any issue with typography. Furthermore, Flatsome is also compatible with WPML, bbPress, BuddyPress and WooCommerce plugins.
Functionality
Here are some functionalities that stand out:
It is a highly flexible theme as it provides easy customizations without the need to code with one-click reset options.
Gives users the options to create sliders and image grids with page builder without installing any extra plugin
Live header builder helps to customize the header with ease and visualize the changes on the go
E-Shop functionality allows you to add product with details with simple editing with UX builder.
Performance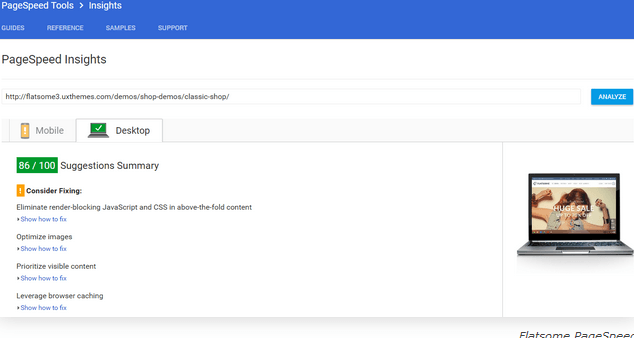 The best thing about Flatsome is its speed, which is unmatchable.
Drawbacks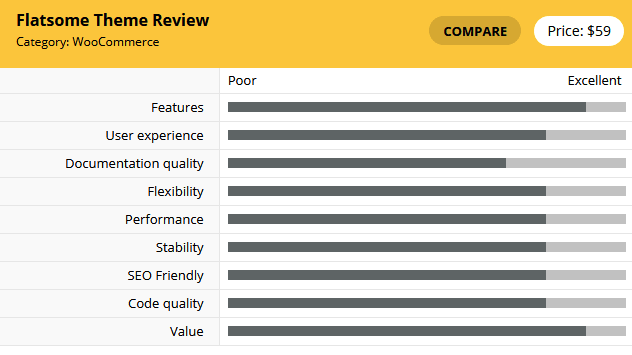 Where there are positives, there are downsides as well. However, Flatsome has very few downsides, among which the first is its language support. There are very few language translations available now, and there is no built-in translation panel. The other points to the documentation do not have many details. In this regard, video tutorials prove more helpful.
DIVI Theme
Divi is another amazing and multipurpose theme that is readily available to design websites. A flexible tool, with the capability of sustaining numerous website types. It comes with a page builder that makes it easier for people to design websites according to their desires. So download it here and quick start your website.
Design

When it comes to the design of the Divi theme, no one can match the versatility, diversity, and performance. You can design as per your needs without needing to code a single line. With on the go visualizer, you will get an idea of how will you change impact on different devices.
Although there are no demos included in the theme itself, however, there are numerous pre-made layouts available that will help you get started. To add a new element to a page hover over the section and setting will appear and you can easily choose whatever you desire.
With the real-time adjustment, you are free from the hassle of refreshing the page again and again. Content modules enable you to design pages and keep them safe for future use. Moreover, the theme enables you to customize your site as per your requirement with different drag and drop options.
The menu is highly important in websites; thus, Divi provides you with the option of having a vertical and horizontal menu. Moreover, with Divi, it is extremely easy to create one-page websites with side menus. Dot navigation and custom links help user guide to the desired section with the help of smooth scrolling.
Header customization is also extremely easy in Divi. It provides you with the option of setting a header in five different ways. With each typography, there are elements and colours. All these changes can be seen real-time on the website. With a dedicated section to SEO and Adsense, it makes it extremely easy for the user to optimize the website for search engine making monetization a simple task.
Functionality
Here are the functionalities that you need to look out for in Divi theme
A backend Theme customizer that offers adjustments to website's general, navigation, layout, ads or SEO settings. It also gives access to front end elements such as typography and colour options for buttons, posts, pages, blog section, and header & footer settings.
Module Customizer allows you to modify page builder elements with ease.
The update comes with a new page builder with improved performance and real-time visualization
Autosaves the entire user setting on tab change.
The undo and redo magic is now available with Divi theme builder making life easier for the designers
It is compatible with the most widespread plugins, such as WPML multi-language.
It is also compatible with WooCommerce
It accompanies with optimization tool, a split testing system known as the Divi Leads. This feature allows you to plan tests on the website from the content right until the design.
Diverse price packages to allow cater needs of different types of users. Here are the details of the packages

Personal: Provides access over 85 themes with updates and support and unlimited website usage

Developer: All the above features and access to custom plugins

Lifetime Access: The premium package allows the user to download whatever the plugin or theme you want without making a mess on your WordPress.
Performance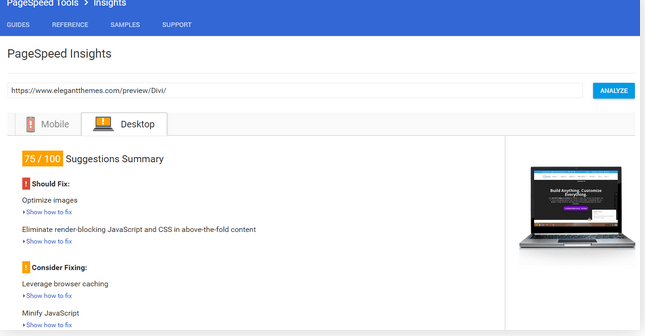 The screenshot above shows speed tests results of Divi's default demo on a different page. From here, you can have an inkling of how it will perform with your website content and details.
Drawbacks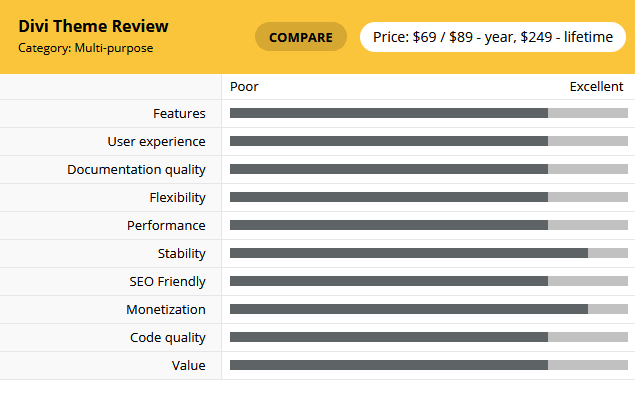 Like others, Divi also has some drawbacks that you need to know before you choose as your prime theme. Here is the list of drawbacks that you will get with Divi theme
There are no demo designs available. All the pre-made layouts need to be downloaded separately and imported in Divi library. It is a very time-consuming process.
To get custom typography, you need to paste the font codes into CSS boxes.
It doesn't have a translation panel but has support for more languages as compared to Flatsome
Documentation is detailed, but the searching option is extremely poor with no search facility.
Conclusion
Heading towards the conclusion, we can figure out the fact that both the themes offer almost everything. However, if it comes to the performance, then Flatsome has the edge over Divi theme. Despite the functionalities and features that Divi offers to its customers, Flatsome is no way behind any theme. Considering the drawbacks of Divi theme, it requires more labour as compared to Flatsome. Therefore, if you are hiring labour for building your website, then Flatsome should be your top choice.