Do you want to protect your images, photographs, and creative photoshoots from theft? Protecting your photos from image theft is no more difficult; you simply need Envira gallery watermark add-on.
Envira gallery's watermark add-on will not only protect your images but it will also automate the watermarking process. Within minutes you can protect your images with customized watermarks; based on your company's logo, copyright symbols, text-based watermark, or even simply your name.
So, now creating watermark on your gallery images is no more hassle; Envira Watermark Add-on is a simple, quick-witted solution.
Within this article, we will help you create a watermark on your image gallery with Envira Gallery watermark add-on. Moreover, we will also highlight the reasons why Envira Gallery is the preferable choice for millions of customers. In the end, we will be summarizing the article with certain tips and recommendations that will ease your process of creating watermark images.
Want to know all?
Let's get started…
Why Envira Gallery Watermark Add-on?
WordPress is bombarded with watermark plugins, then why opt for Envira Gallery Watermark Add-on?
Well, the answer is simple; it is the most convenient, robust, and versatile add-on that offers the most out of the least amount of money.
Reasons Envira gallery watermark Add-on is rocking the market:
Easy to use interface
Protects your images from image theft
Allows users to use customized watermarks for their images
Automatically watermark gallery images with your image
Allows users to choose the position and margin of the watermark to be placed
Envira gallery is a preeminent WordPress plugin that comes up in a free version and premium version. However, to avail of their watermark option; you need the watermarking add-on. Therefore, you need to avail of their premium package. The watermarking facility comes up in their plus package; $69, not available in the basic and lite pricing plans.
But it is definitely worth the money invested. Want to know how?
Continue reading….
That's not all!
Envira Gallery plugin itself serves a lot more than watermarking images. With the help of this plugin, more than 2,500,000 users have benefitted from this perfect solution. It is a preferable choice for photographers, designers, bloggers, entrepreneurs, and even small businessmen. It is made for those who want to create beautiful awe-inspiring WordPress galleries quickly, easily, and without any coding knowledge. It will not slow your website and help you create responsive WordPress galleries within minutes.
It's drag and drop builder will help users create beautiful photos and video galleries wot ease
It is fully responsive plugins that work great on mobile, tablet, and desktop devices
Allows users to display full-size image dimensions with supersize lightbox image option
Offers pre-built templates for users gallery
Their standalone galleries help users create independent galleries that are neither tied to any post nor page.
So, without further delay, let's create a watermark on your images with the Envira Gallery plugin; the best plugin in the market.
How To Create Watermark To Your Gallery Image With Envira Gallery
Envira Gallery is one of the best WordPress plugins that will help you create awesome and awe-inspiring image galleries within minutes. With the help of this plugin, millions of photographers, entrepreneurs, and even newbies have earned substantial income. If you have the talent; Envira knows how to safeguard it within your interest.
It will not only help you create image galleries but also safeguard your beautiful precious captures with a customized watermark. So, now creating a watermark to your gallery image is no more difficult; you do need to hire professional experts. Simply install the Envira Gallery plugin and watermarking add-on.
Just like any other WordPress plugin; you can install and activate the Envira Gallery plugin either from the WordPress repository or from the Envira Gallery Website itself.
So let's get started with the process…
Process To Add Watermark To Images
Install and activate the Envira Gallery Plugin
Go to Envira Gallery> Setting Page and enter your license key. Your license key will be available on your account dashboard on the Envira gallery site. Simply copy and paste the license key for a smooth process.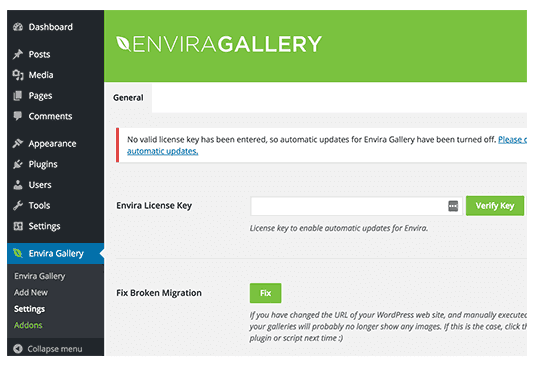 Once you have verified; now it's time to install the watermarking add-on.
Go to Envira Gallery> Add-Ons> Watermarking Add-Ons> Click Install.
Upon installing, now activate the add-on.
Now you are ready to create your first image gallery. Envira gallery not only helps you build responsive galleries but also helps you watermark them quickly and easily.
Go to Envira Gallery> Add New and create your first image gallery. Now you will see a Watermarking Tab. Clicking on it will direct you to Watermarking Gallery Settings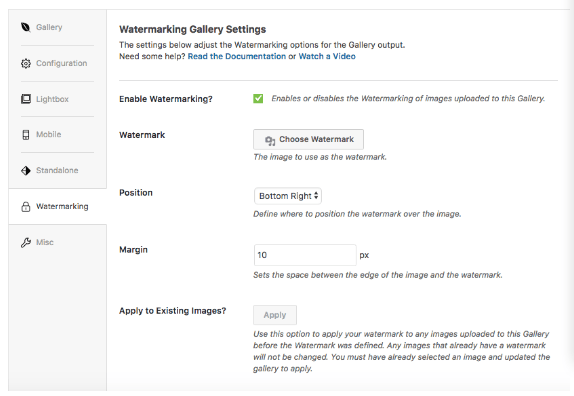 Watermarking Gallery Settings
Enabled: Click on the checkbox to enable watermarking of your images
Watermark: you can choose any watermark for your images; it can be your company's logo, your name initials, sign, or any other text-based or copyright symbol you want on your image
Position: you can also set the position you want the watermark to be placed; top left, top right, center, bottom left bottom right
Margin: you can also set the margin of the watermark image; the space between the edge of the image and the watermark
Now click on the update button or publish button and save all the changes you have made. Clicking on the button, your watermark will be added to your images. You can now view the demo of your watermark on your WordPress images. Remember, once you have clicked on the update button; you can't change its position or space.
You have successfully added a watermark image; now it's time to add images to your gallery.
Go to Envira Gallery Dashboard and create your gallery.
You can add images to the gallery from two options;
Select files from your computer
Select files from other sources
(Click any of the two buttons from where you can add images.)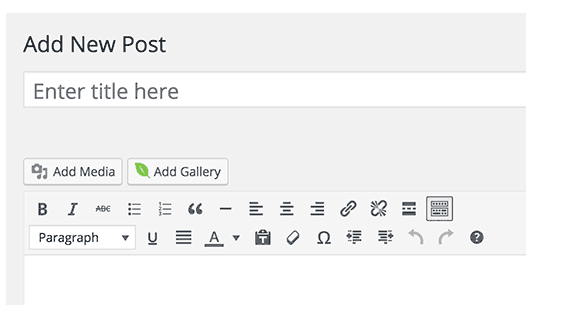 Once you have added images to your gallery, click the Publish button
Now, you can add an image gallery to your WordPress post or page to edit post/page
Click on Add Gallery Button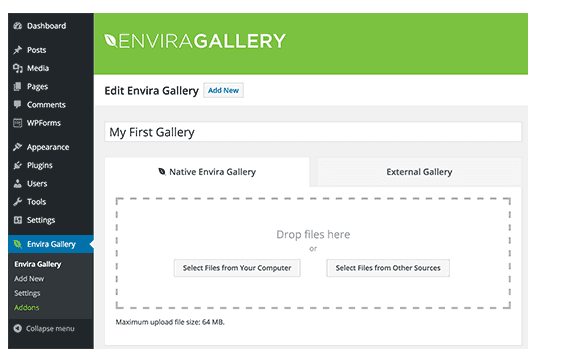 Now, you will be directed to a popup page where you need to select the image gallery you just created. Click on the Insert Button here.
In the post editor section, a Shortcode will appear. Copy and save the shortcode
Now Save Or Publish your post /page
That's all! Now you can visit your site and see the watermark image gallery you just created!
Vola!
That's was easy! Right?
Now let's look at some tips to create a watermark, so you don't make any blunders.
Tips To Add Envira Gallery Watermark To Images In WordPress
You cannot change or remove the watermark image; you will have to re-upload the original image to your gallery to make changes.
Once you have enabled the watermark option; the watermark will be added to all gallery images
Your images will be watermarked in all view layouts; thumbnail layout and lightbox view.
Always use a .png file with a transparent background as a watermark for your images
Watermark is not available on Envira albums or dynamic galleries
Do not crop the images in the center; else your gallery images will not show watermark. It will only be visible on lightbox images
You need to set up the watermarking functionality before uploading the images to the gallery. If you are uploading it later, then you need to change the image dimensions for the regeneration of images.
You may experience a delay in the process to add watermark to images in the following cases:
Large images size
Many images in the gallery
Slow server
Wrapping Up
Watermarks are the best protection and security against image theft. Image theft is unfortunately increasing with time. Watermarks not only protect content and claim ownership of images, pictures, and photoshoots but without watermarks, they will be susceptible to unauthorized use. So, therefore watermark; a superimposed image, logo, or text placed over an image is highly preferable today.
However, if you own a big image gallery the placing your customized watermark on every image on your WordPress gallery would be a daunting task. It would be a tiresome and tedious task.
Therefore, all the artists, photographers, event managers, and other professionals who exhibit their efforts in their images need to watermark their images. They need to prevent the misuse of their images and prevent others to hold the credit for their efforts and ideas. It is a potential marketing strategy that needs to be adopted but with the least amount of effort involved. A simple process that will easily protect images, pictures, and photographs from thefts is needed; i.e. Envira gallery watermarking add-on. It will help you quickly, easily, and automatically add watermark to your existing and new images gallery