Soon after launching an online eCommerce store, the very next thing that comes to our mind is how to attract new customers or make a new sale?
Every business, no matters it is online or physical, needs to convert the leads into potential customers.
Thus, how can you satisfy your customer's needs and what are the best techniques for more sales which not only attract new customers but also retain them as loyal customers?
You can quickly build an online eCommerce store in WordPress, with the help of the official WooCommerce plugin for building an online eCommerce site. However, you need some more advanced features to run your online store other than just installing a WooCommerce plugin.
These advanced plugins are extremely helpful in getting high sales and the rapid growth of your online store.
I am going to share some useful handy WooCommerce plugin that will help you in getting new customers, a high conversion rate, and generate high-end profit.
Let's quickly go through our list of best plugins for WooCommerce.
Booster for WooCommerce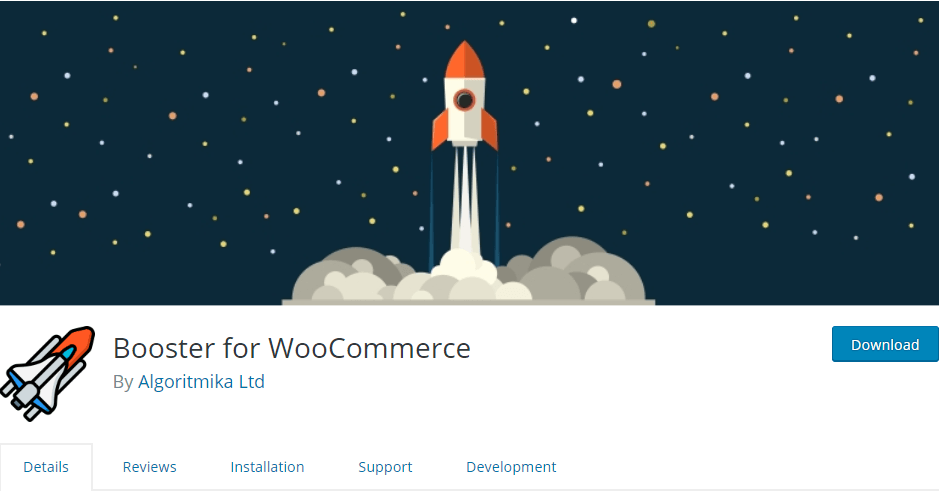 Booster for Woocommerce Features
Booster for WooCommerce plugin is a highly efficient plugin that can supercharge your website with awesome features with more than 100 modules. You can scale up your store's sale globally with its powerful tools; especially, the plugin is capable of localizing your site by translating website profile, product details, and graphic images according to the local language of the targeted audience.
Booster for Woocommerce Pros
More than 15 modules to convert prices into local currencies or show different rates for a product in multiple currencies.
5 Modules designed to change text descriptions on different WooCommerce buttons.
Twenty-two modules for product categories where you can input product types, product fields, and product availability options.
10 modules for payment gateways allow you to display different payment criteria's
13 modules for shipping and order methods, which enables you to change shipping methods and set the minimum order details.
Booster for Woocommerce Cons
The free version has limited features, and you have to buy the premium version to utilize its functionalities fully.
The plugin loaded with bugs quite often.
Booster for Woocommerce Pricing
The free version can be downloaded from the WordPress repository. while you can buy the paid version as, follow

WooCommerce Points and rewards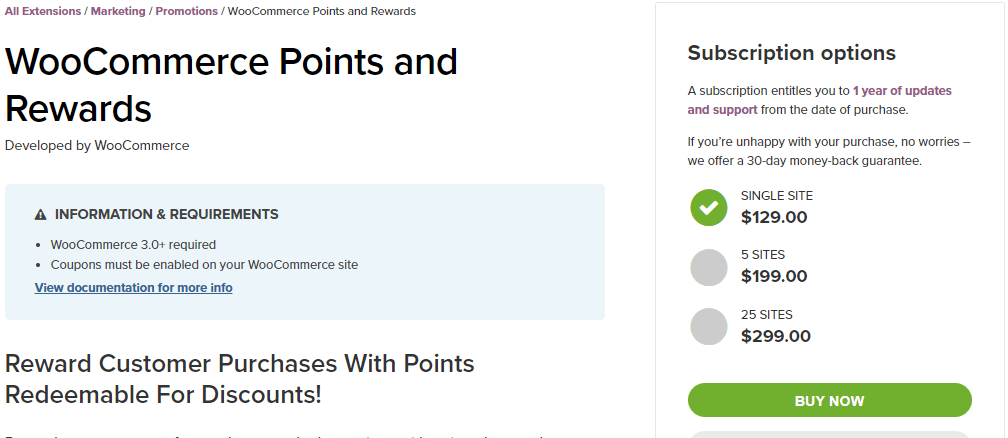 WooCommerce Points and Rewards Features
WooCommerce points and reward plugin focuses on maximizing your sale by rewarding your customers on specific purchase with points that can be redeemed for a specific amount of discounts.
WooCommerce points and reward Pros
Set how many points a customer can get against each dollar spent. And how many points are enough to redeem for a specific discount.
Set the maximum discounts available when redeeming points.
Points earned can be awarded by product, category, and global level.
Points can be awarded on purchasing a product, writing a review, or signing up for the newsletter.
Quickly manage points earned by the customers on the Manage page.
Change the label of points earned as "coins" or "token" obtained by the customers.
Set the expiry date for the points earned after a specific number of dates.
WooCommerce points and reward Cons
No cons. The 5star rating of the plugin shows that customers are satisfied with the functionality of the plugin.
WooCommerce points and reward Pricing
The lowest price is $129/year
WooCommerce Live sale notification plugin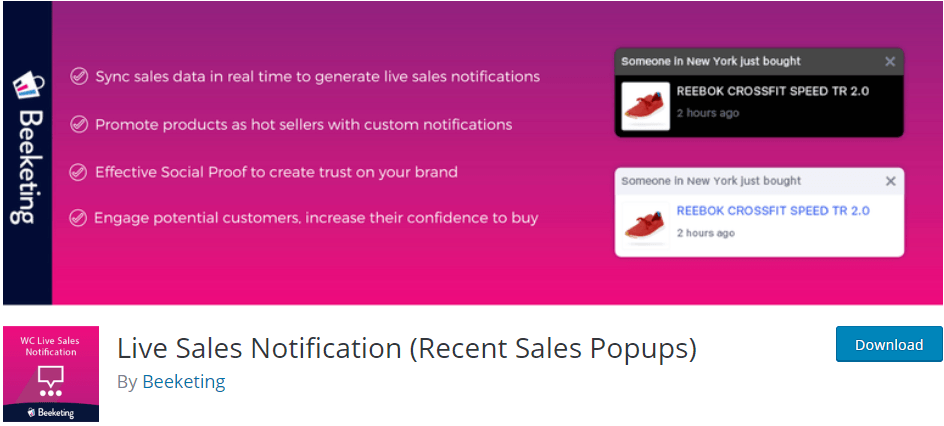 WooCommerce Live sale notification plugin Features
Another trick that most of the online stores use to attract visitor's attention is by displaying popular brands or hot selling products as recent sales notification. These can be used as sticky bars on the landing page or as a pop up to drive their interest.
The Live sales notification plugin displays the most recent purchase by other customers to notify another visitor's that many customers are purchasing the same product.
WooCommerce Live sale notification plugin Pros
New stores can promote any product as the hot seller product to grab visitor's attention.
The auto-sync feature allows this plugin to automatically sync with the store's actual order list to create instant pop-ups of hot selling products.
Can create "fake notifications" of hot selling products.
You can download this plugin for free from wordpress.org repository while the competitor plugin offers this service for a minimum of $5 to $30/month.
Create pop-up themes according to your store's theme.
WooCommerce Live sale notification plugin Cons
your website's loading speed may slow down
You need to connect with the Beeketing app to use this plugin.
WooCommerce Live sale notification plugin Pricing
Free to download
Upsell Order Bump Offer for WooCommerce

Upsell Order Bump Offer is an upselling plugin that allows store owners to make special offers only on their checkout page, allowing them to increase conversions and AOV. With a single click, the offer is added to the customer's existing order.
This is a happy moment for your customers, and they trust more your website because you are offering something special to them.
Upsell Order Bump main features
Create special offers on the checkout page
Customize Offer Layouts specifically according to your products
Grow your average order value and customer satisfaction rate
Schedule your bump offers for specific days
Edit your offers in Sandbox mode
Skip bump offers if the offer product is already added in the cart
Offer simple, variable, and subscription products as order bump offers
Track order bumps performance with Order Bump Sales Reports and Behavioral Analytics
SiteKit plugin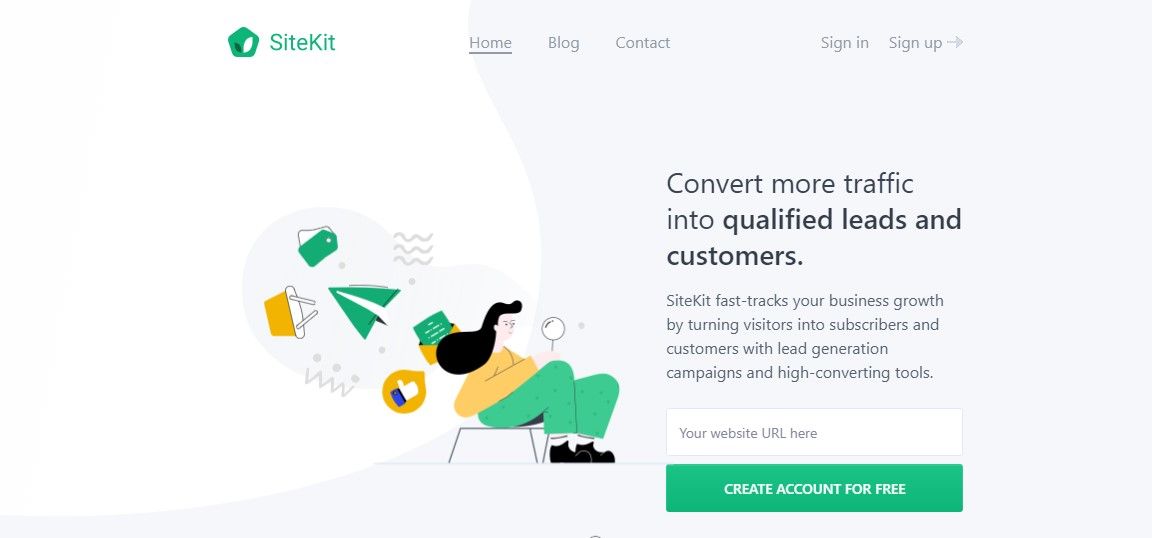 SiteKit Plugin Features
SiteKit is not just a plugin, but it is an incredible converting tool that skillfully scales up your business sale by turning your visitors into customers with effective lead generation campaigns.
Now you can create sticky bars or pop-ups on top of your website which doesn't disappear if your visitor scrolls down and stick on the top, so whatever you put on the bar an exciting offer or email collection form it all stays highly visible on the top without disrupting the shopping sequence.
Sitekit Plugin Pros
Customize games according to your choice to gather emails from visitors and to reward them with points or coupons
Create a personalized header bar, pop up, email forms within a minute with a powerful editor.
Flawlessly integrates with email services, like Mailchimp, zapier and campaign monitor
Sitekit Plugin Cons
No additional features are available as add-ons to enhance functionality.
Sitekit Plugin Pricing
WooCommerce Direct Checkout plugin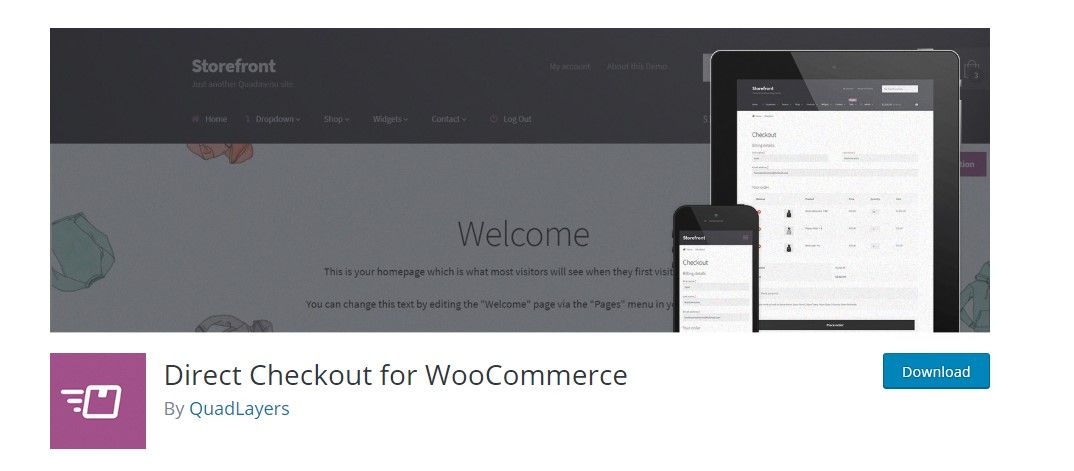 WooCommerce Direct Checkout plugin Features
The WooCommerce Direct Checkout plugin simplifies shopping experience by directing the customer immediately to the checkout. This process of leading the customer straight to the checkout quickly set their minds to take immediate action and complete their purchase before they change their decision to abandon the purchase. Therefore customer enjoys the smooth exercise of shopping without any confusion and this can encourage them to shop more.
WooCommerce Direct Checkout plugin Pros
The AJAX feature simplifies the process of purchase by including a single product and variable product into one cart without refreshing the whole site again.
The smooth checkout process skips completing the optional fields like shipment address, comments, policy forms and terms and conditions thus leading to a more direct sale.
The one-page checkout feature in the pro version redirects the users to the checkout page directly without forcing them to complete the purchase form in the cart.
Uses less bandwidth
WooCommerce Direct Checkout plugin Cons
Extra features in the pro version are not sufficient. Unable to add redirect customers to check out at times.
Customer support is not compassionate
WooCommerce Direct Checkout plugin Pricing
The basic version is free at wordpress.org. The pro version starts at $20/ 6 month.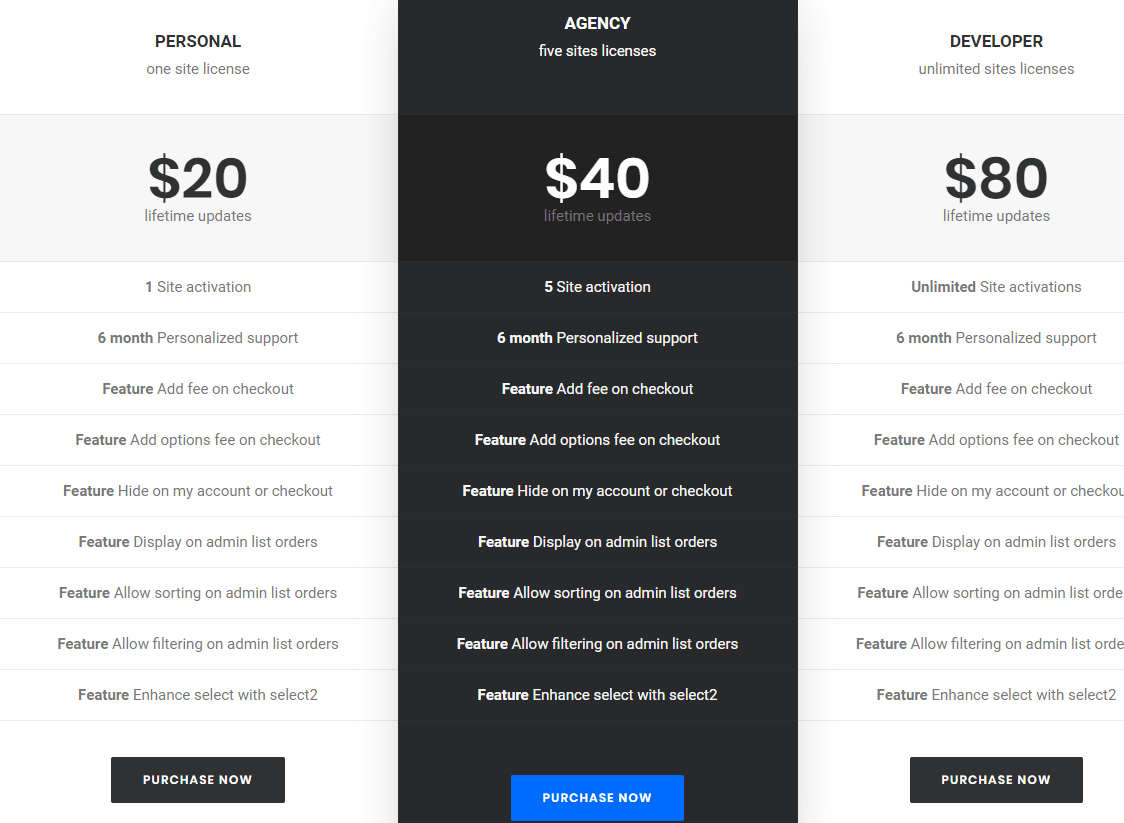 WooCommerce Stripe Payment Gateway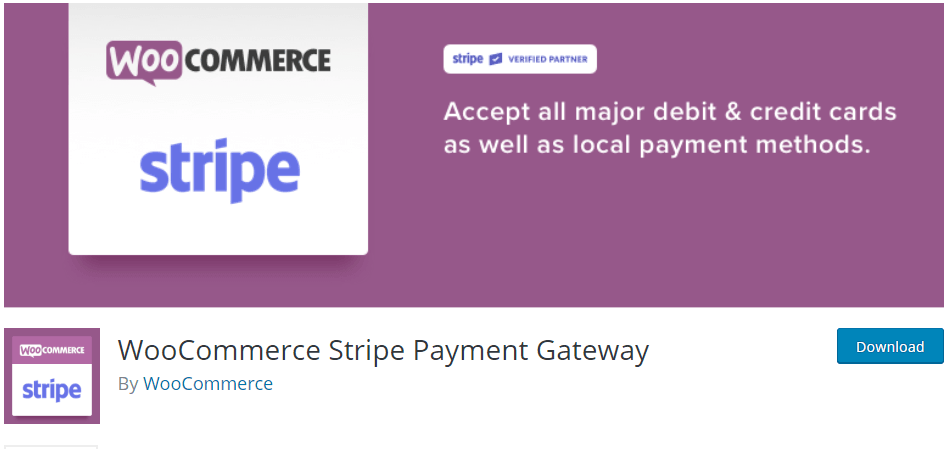 WooCommerce Stripe Payment Gateway plugin Features
Stripe is the most trustworthy and safest payment Gateway and as an online eCommerce store owner, it's your liability to ensure payment gateway are authentic and secure. Stripe eases down the path to collect your payments through accepting visas, Master card, American Express, Discover and even you can receive Bitcoins as well.
WooCommerce Stripe Payment Gateway plugin Pros
Receive payments from visa card, Master card, JCB, Diners Club Card.
There are no setup fee or any no monthly charges, as well as no hidden charges.
You will be charged only when you receive money, and the fund will be transferred to your bank within 7 days.
Web payment API support feature supports payments through Mobile devices.
Get global payments in more than 135 currencies.
WooCommerce Stripe Payment Gateway plugin Cons
Not compatible with Yoast plugin
Not compatible with Contact7 plugin
WooCommerce Stripe Payment Gateway plugin Pricing
It comes with 30 days money-back guarantee.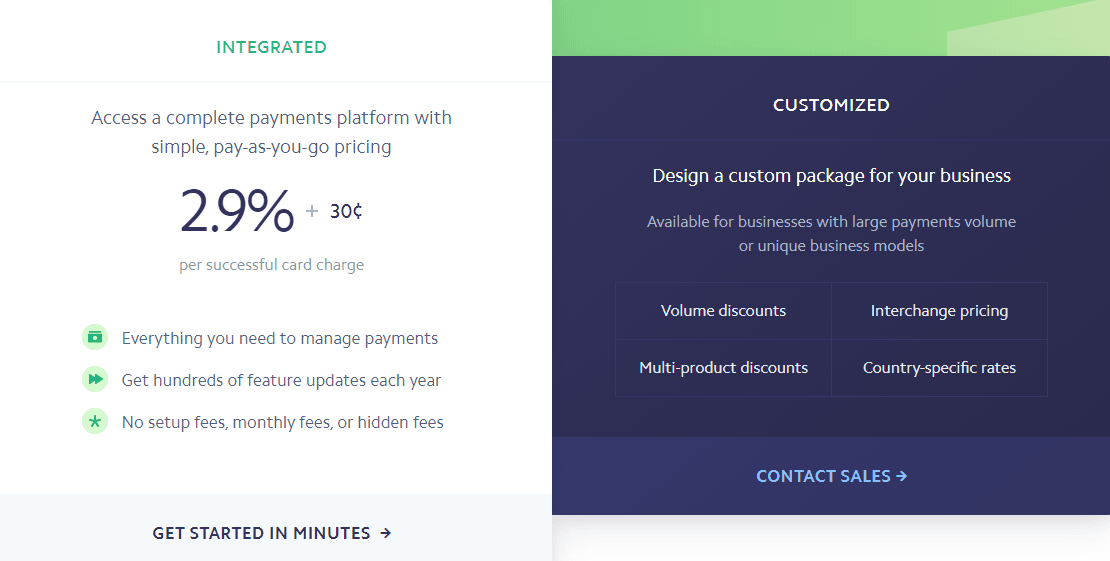 Mailchimp for WooCommerce plugin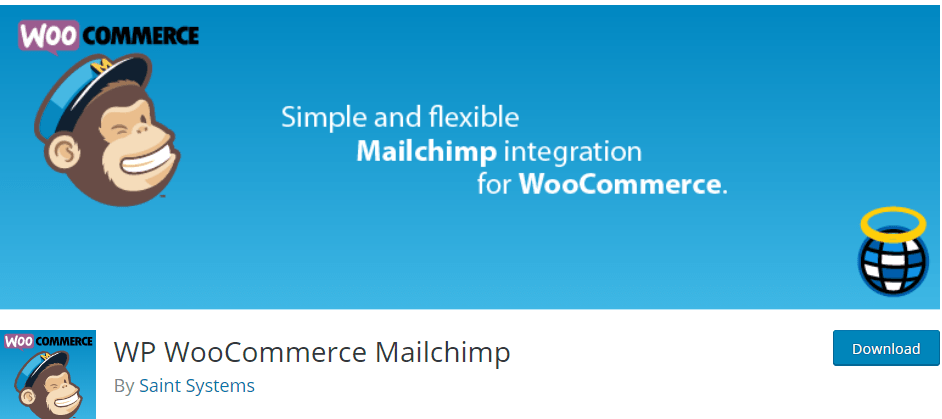 Mailchimp for WooCommerce plugin Features
Mailchimp is a WooCommerce plugin that focuses on email marketing. Now you can quickly build and place up high-converting opt-in forms on different posts and pages with the help of Mailchimp.
Mailchimp for WooCommerce plugin Pros
The free version comes with these unique features
Mailchimp top bar feature enables you to place an opt-in form on the top of your post
Prevent signups by adding a captcha to your opt-in form
Mailchimp's user sync feature automatically syncs your subscribers to the Mailchimp list.
The premium version comes with
AJAX supports forms
Create more than 1 form at a time
A visual editor enables you to create forms according to your taste.
Get an email notification when a subscriber signs up.
Mailchimp for WooCommerce plugin Cons
May crash your site after update if you are using PHP 5.4 or less.
No way to change the text once the user submits the form.
Mailchimp for WooCommerce Plugin Pricing
It comes with a free version and a paid version. the paid version starts at $9/month
WooCommerce social login plugin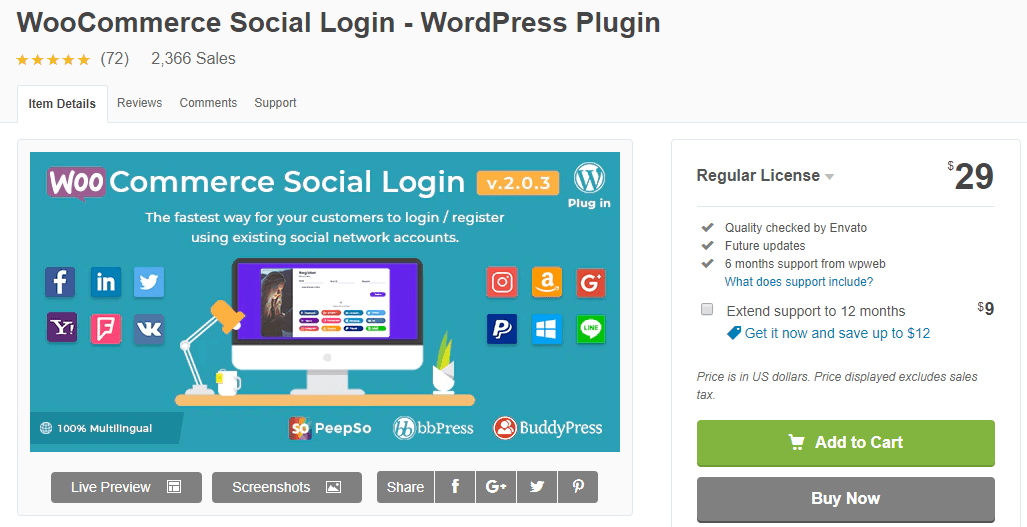 WooCommerce social login plugin Features
Now you can seamlessly create your store's social media presence with the help of WooCommerce social login plugin. Now your users can access your store via their social accounts as well, including Facebook, LinkedIn, Instagram, Twitter, and Amazon. The users can register through the social media accounts by clicking on the social media buttons available on the thank you page.
WooCommerce social login plugin Pros
Keep track of your user's activities and tell you which social media is the most popular.
A step by step guide is available to guide you on how to use social media login features.
It comes with rapid customer services.
Users can quickly signup/login with just a single click
Visitors can sign back with just a single click, and there is no need to sign in again each time typically
An email is sent each time a new user signs up to his email address.
Social media button can be placed on any page with the help of shortcode
Customers can be redirected after they log in with their social media account.
WooCommerce social login plugin Cons
No cons as customer's feedback show they are satisfied with its performance.
Beeketing plugin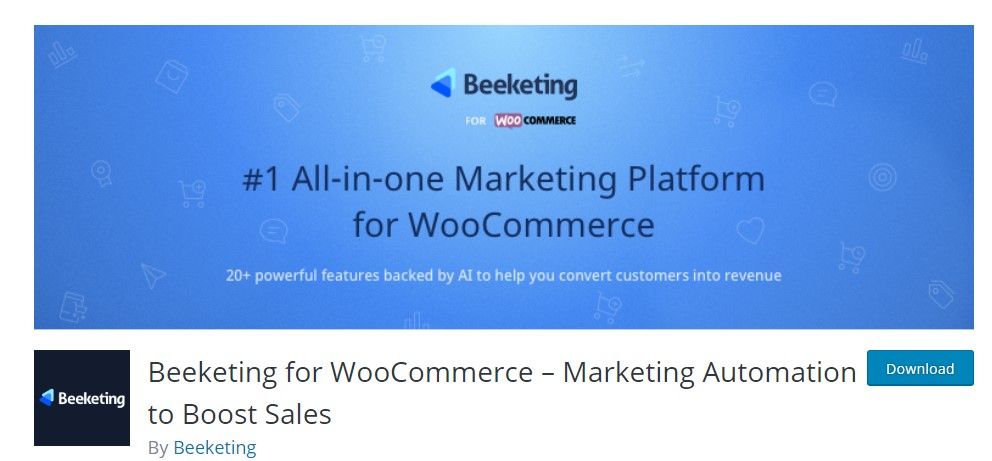 Beeketing Plugin Features
Beeketing introduction shows that it is an All-in-one marketing platform for eCommerce sites because of its more than 10 + extraordinary built-in features, which help in boosting online sales and sustain long term growth.
Beeketing Plugin Pros
Live sales notifications are a social proof strategy that shows that many other customers are interested in your product.
Upsell and cross-sells offers technique increases the customer's interest in purchasing more items.
Checkout Boost feature allows you to recognize the visitor's activity when he is about to leave and help you place your last-minute discounts and details to entice them to purchase.
Countdown cart or sales countdown timer will create urgency and scarcity that your visitor's favorite product will soon short out, so they should take immediate action to purchase the product.
Beeketing Plugin Cons
Customer support is not cooperative
Abandon cart feature is available for Shopify users only.
Beeketing Plugin Pricing
It's a freemium plugin, and most of the features are available for free. While the paid version starts at $19 to $30.
Wrapping up
Hopefully, you got some potential ideas to boost your sales for your WooCommerce store. Although it's not a straightforward task to find out which plugin proves to be the best for your store. What we recommend is to try and test different plugins to find out which marketing and sales strategy is going to work best for you. Because it is an overwhelming task to find out the right plugin for you and after some trial and error, you would finally be able to find out one according to your needs.