If you are finding out which WordPress plugin will help you in building a membership site, then you have come to the right place. In this comprehensive guide, we will go through top-rated WordPress membership plugins for 2020
With the right membership plugin, you can transform your ordinary site into a business generating premium content library, where only the registered members can access to your website. Hence, you can achieve higher sales targets, generate more recurring income, and a list of loyal registered customers for future lead generation.
In this guide, we will compare 5 best WordPress membership plugins to help create a best-paid membership site.
Let's dive in!
Advantages of a Membership WordPress site
Establish yourself as an expert
If you build a membership site that allows only the registered members to access your content with some payment, it shows that you are an absolute authority in your industry, and only you have the high-quality, valuable content which no one other has to offer. Finally, you establish yourself as an expert in your field with some relevant content.
Get a consistent, stable income
Get steadier continues income stream when visitors pay to get access to your site. Likewise, Income will increase as more visitors get registered.
Always deliver high-value content
If you are providing high-value content which no one else does, that symbolizes that your content is something special, and only valuable customers may get access to this content. This creates a constant value for your visitors, and they admire your site as a trendsetter; hence, continues paying you to get right of entry.
What types of membership sites you can create to generate income
Most common types of paid membership sites are as follow
1. Online courses/eCourses: the most common form of paid membership sites is offering an online course with specific course outlines, documents, PDFs, and videos.
2. Service-oriented Membership sites: if you are a consultant, coach, or offer particular service, then you may ask customers to pay for your assistance.
3. Online resource offering sites: online communities, websites, e-magazines that provide access to only registered users.
4. product-oriented membership sites: these types of membership sites offer specific products, whether physical or digital products, only to registered members.
Let's discuss and compare our top-rated WordPress membership plugins in detail.
MemberPress WordPress membership plugin

MemberPress Plugin Features
MemberPress is an all-in-one solution to create a membership site with an easy to use interface. MemberPress offers all those essential features that can transform your current website into a membership site without any hassle.
Once you install the MemberPress plugin, the next step is to enter your payment gateways, edit product details and start contacting your visitors to register your paid membership site.
Memberpress Plugin Pros
MemberPress can easily set up your registered member's subscription plans, log in details, and thankyou pages automatically.
Manage and allow your users which posts, pages, videos, and categories they can access based on the subscription plan they choose.
Content dripping feature is handy with selling online courses or learning activities where you can restrict content to your users for some time and reveal it after a specific time.
Integrates with 3rd party services very well like stripe, WooCommerce, Active Campaign, and many others to run an affiliate program smoothly.
Memberpress Plugin Cons
Integrates with only 3 primary payment gateway services, PayPal, stripe, and zapier which is a significant drawback for users whose countries don't support these payment services.
It comes with limited integration to many 3rd party services.
Memberpress Plugin Pricing
The basic plan comes in $129/year, and the premium plan starts at $249/year.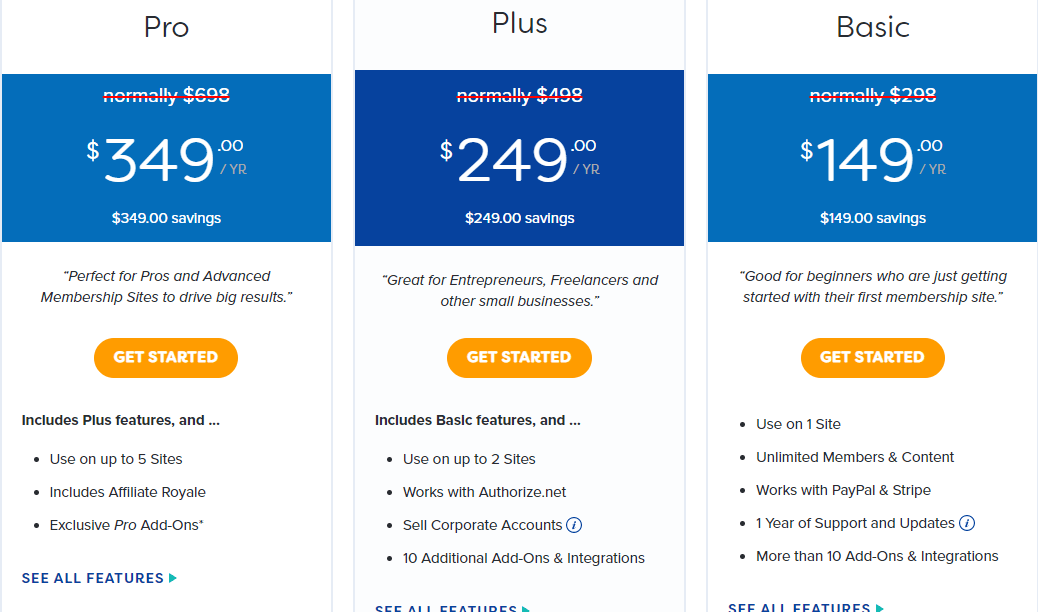 Teachable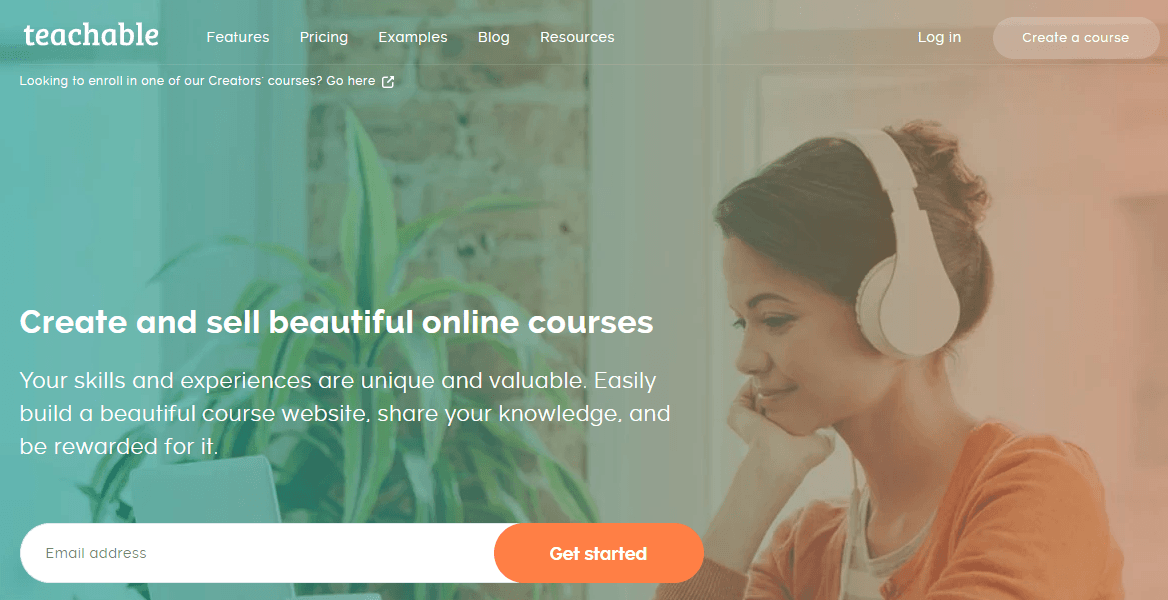 Teachable Membership Plugin Features
Teachable is a stand-alone all-in-one pack of creating and publishing online courses. This plugin comes with seamless integration of your existing website with your online courses, enabling you to teach them online, on your subdomain.
Create a user-friendly online school website with intuitive design, and the influential editor lets you create and modify any attribute of your online school.
Teachable Membership Plugin Pros
Create a fully functional learning school, where your students could easily signup, view your course syllabus or course outline, and purchase it through secure payment gateways.
Get a professional website with built-in sales and marketing tools that are highly customizable to meet your needs.
The most straightforward procedure to start your school — just enter your email address and name of the school and there you go – no payment or credit card information is necessary.
Responsive websites—looks great on any device, tablets, and Smartphone
You can create new pages, add audio video or pdf files to your courses, and easy setup with drag and drop builder to create pages according to your taste.
A compelling page editor lets you create new sales pages related to your new course launch to convert more students
Attract students from different parts of regions with language modification tools.
Teachable Membership Plugin Cons
Teachable is a wonderful software, yet it is not available as a WordPress plugin, and you have to integrate it with your site via a link or by subdomain.
It's expensive than many other WordPress plugins offering same features at a reasonable price.
Teachable Membership Plugin Pricing
Basic plan: starts at $39/month.
Professional plan: $99/month
Business plan: $299/month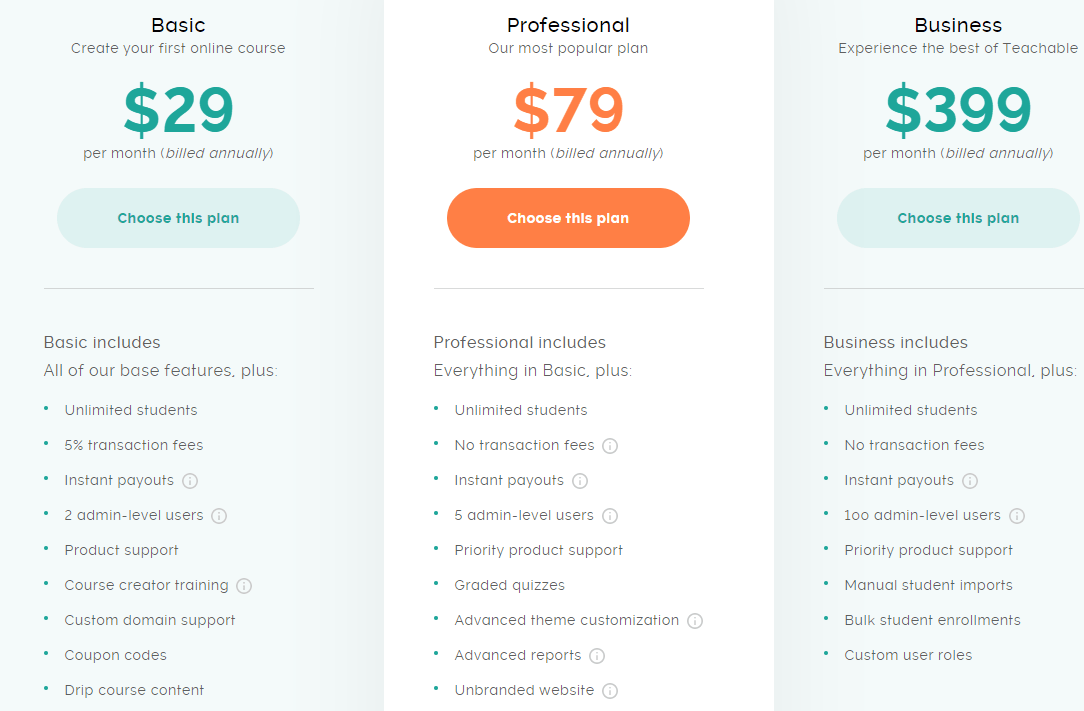 LearnDash membership plugin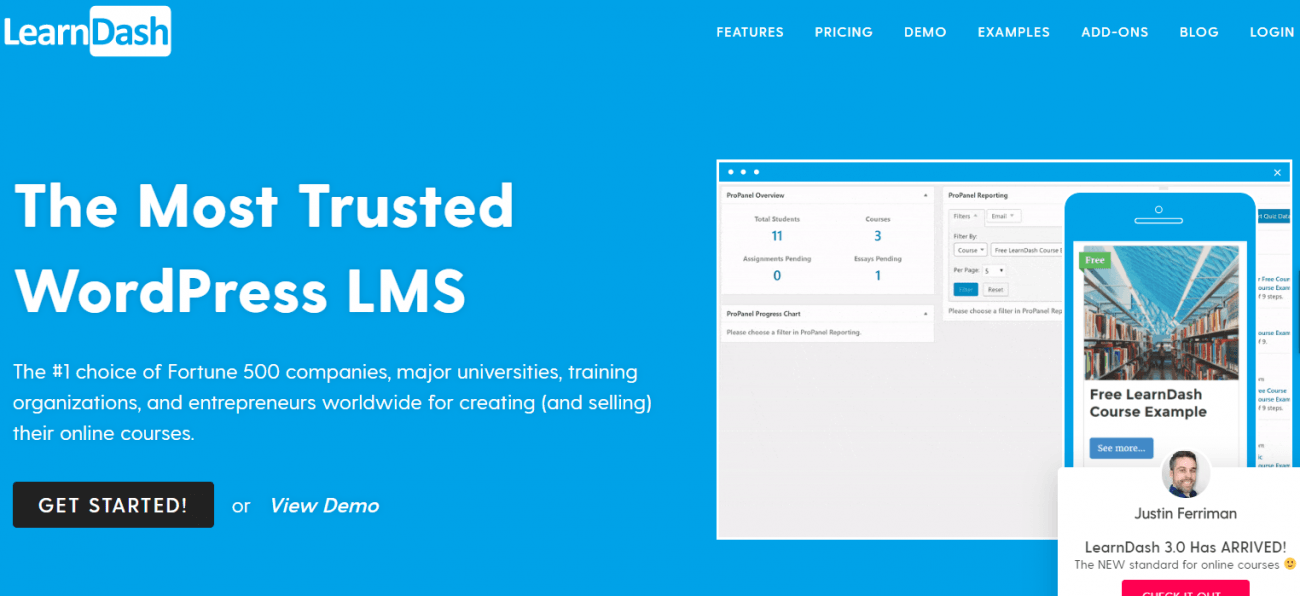 LearnDash Plugin Features
LearnDash is a potent WordPress membership plugin plus a WordPress LMS which helps you create a beautiful membership site with numerous membership modules and bundles of integration with powerful administration facilities.
LearnDash Pros
The drag and drop builder helps you in creating multi-layer courses with an ability to re-use your session to spin-up your existing classes.
Advanced quizzing feature comes with eight question types, whichever you like to use in your quizzes.
Drip-feed content management allows you to schedule your courses over a specified period.
LearDash prerequisite feature helps you define your course orders, so your students may know which course they should take in which order.
It comes with an enormous list of integrating able add-ons like woocommerce, stripe, samcart, zapier, and many more.
With LearnDash, you can easily create and sell courses online because of its advanced modules, which assists you greatly in managing different learning materials.
LearnDash Cons
Integration and add-on list is quite overwhelming, and if you are not interested in selling out your courses, than these might be useless to you.
Some design features lack options to customize.
LearnDash Pricing
The basic plan starts at $159 for one site.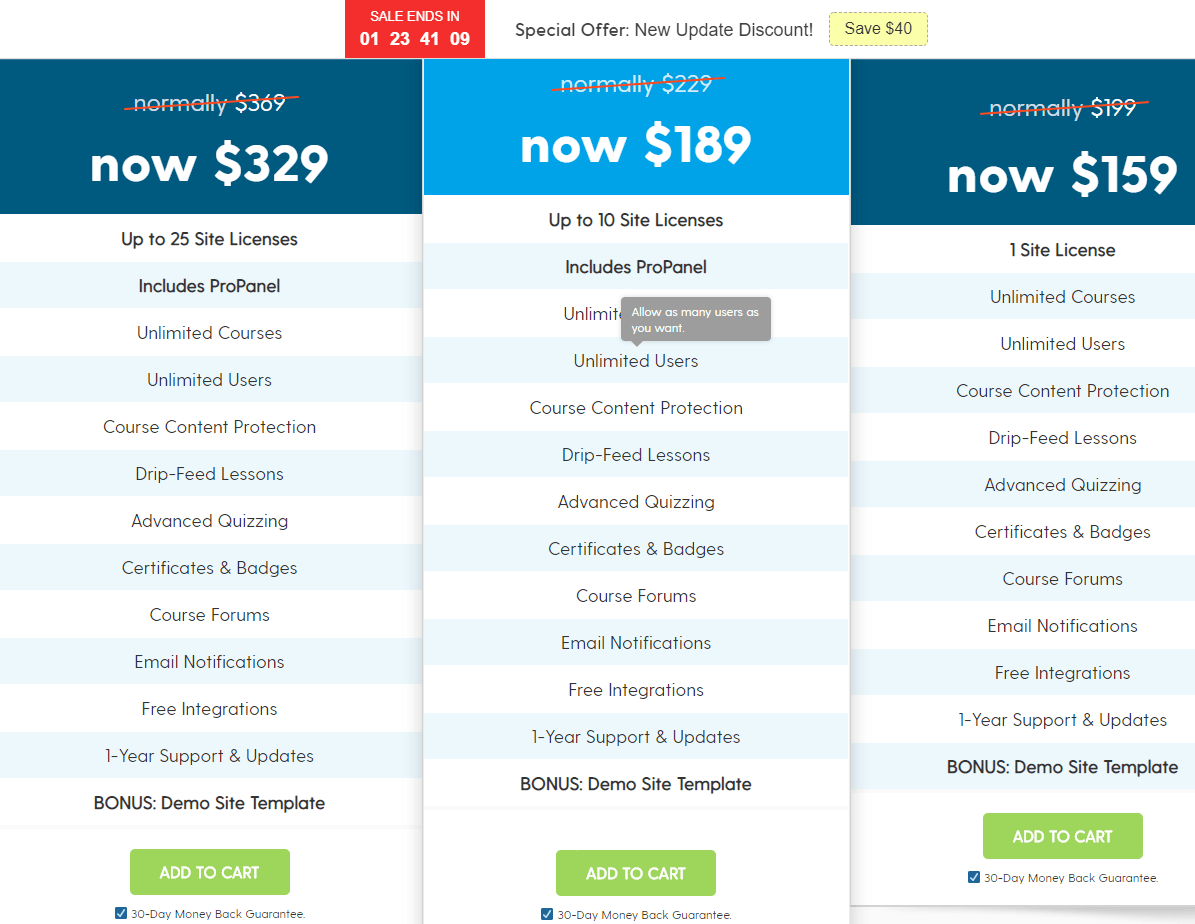 WooCommerce membership plugin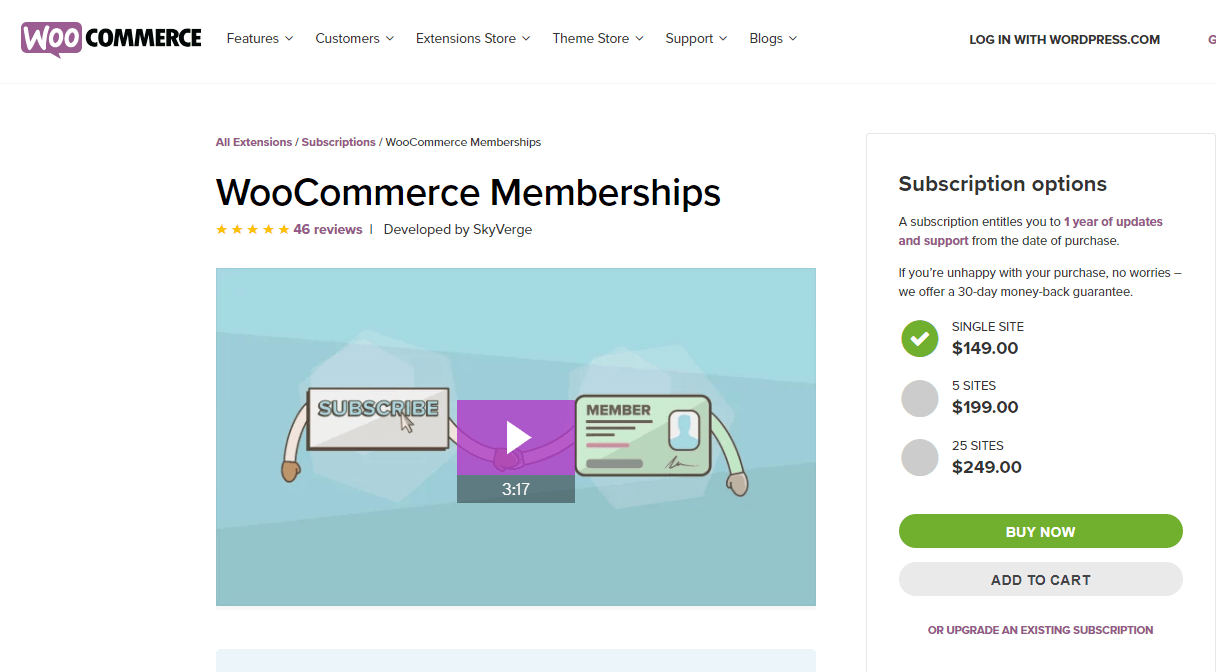 WooCommerce membership plugin Features
WooCommerce plugin is an add-on for the WooCommerce platform, which enables you to create a membership for your registered customers if you want to sale your digital products through memberships only.
Now you can integrate your content and products into membership and can easily manage membership with a product purchase, manually assign memberships to your registered customers and show them their membership perks in Member Area.
However, the WooCommerce Membership plugin is not a stand-alone plugin, and to receive payments; you have to install another free WooCommerce Subscription plugin.
WooCommerce membership plugin Pros
You can create different sorts of memberships, i.e., standalone product purchase membership, monthly or yearly subscription membership, or you can assign premium membership manually.
You can sell membership to boost the sale of a standalone product and then tie some membership plans to increase its sales.
In your members-only content area, you can activate a drip content strategy, i.e. you can create a schedule when the members can access your content; for example, you can do that members can only access specific product discounts unless their subscription is one month old.
You can turn your site into a purchasing club by giving access to specific products only to exclusive members.
You can add perks to encourage your registered members to keep purchasing like free shipping or a discount coupon after minimum purchase order.
You can import and export customers' email lists to manage members with an import/export tool.
Teams for WooCommerce extension allows you to create subscription or membership for companies, group, or organizations.
WooCommerce membership plugin Cons
No custom message could be sent to all of the registered members, and you have to send one message at a time.
No members-only coupons feature that enables you to control the members-only section.
WooCommerce membership plugin Pricing
The price for one site starts at $149/ year.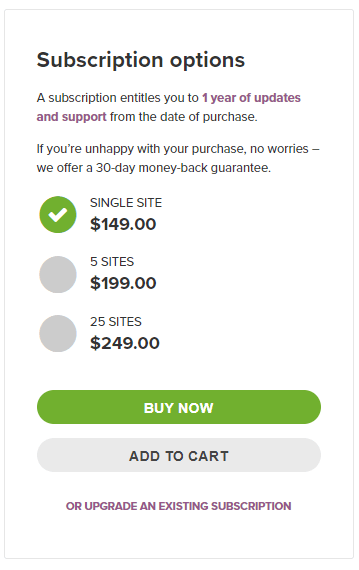 Restrict content pro membership plugin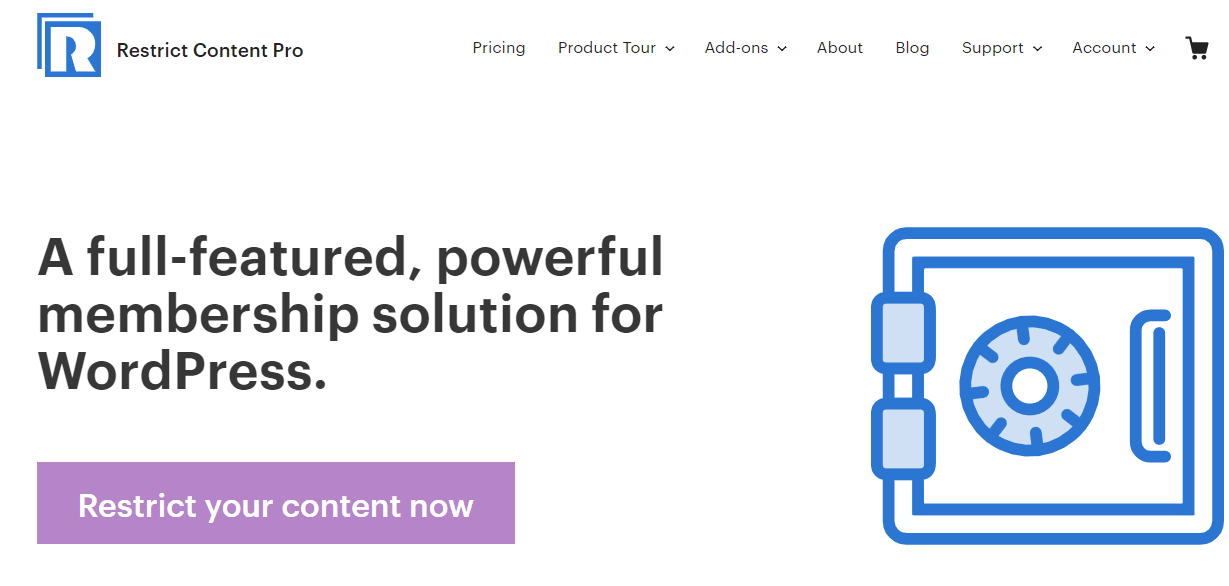 Restrict Content Pro Membership Plugin Features
Restrict Content Pro is a full-featured, fast, and clean solution to give access to your members-only area. Now you can lock your exclusive content in a meaningful way, so only the valued members could get access to your premium content.
Restrict content pro membership plugin Pros
The plugin seamlessly integrates with the WordPress user interface, and you can easily create membership plans and procedures.
Many integrations come in for free with this plugin, which other plugins offer with paid versions only, i.e., PayPal, Stripe, Mailchimp, CSV export, and many other features.
You can create free, trial, and premium subscription plans with unlimited numbers of subscriptions.
Mange members area easily from the dashboard where you can easily view active, pending, expired, and free users.
Send welcome emails to new users.
It comes with 30 days money-back guarantee for a trial period.
Restrict content pro membership plugin Cons
Integration with email services comes with limited options, while many other plugins offer more email service integrations.
Restrict content pro membership plugin Pricing
It starts at $99 for a single site.
Summing up
In my view, if you want to sell your courses online, then there is no better choice than teachable, with exclusive features focusing on students and coaching needs.
While MemberPress is also the right choice if you are looking for an all-in-one solution pack for a membership site. LearnDash works best if you are a heavy-duty site developer.
All of these membership plugins are hand-picked carefully to provide you a perfect solution for your membership site. So, which one you like the most, do tell us in the comment section.