To provide a better experience for knowledge seekers worldwide, we need to reduce or eliminate the bridge between the users and the content. The first optimization we can give to our website is to translate our website content to suit every user in their various languages; this breaks the barrier between you and your international users, giving them access to the content they are looking for and giving you the audience you expected. Looking at search results, they are primarily in line with your browser's language, making content availability very low.
Why translate your website?
Translating the language on your website is not only in the interest o people accessing the information on your website from different locations, but it can also help extend your business to other parts of the world.
The growth of your organization also depends on how far you can extend through the web. We get to think of scaling our business, but we must talk to the consumers of our content in their understandable language for this to happen.
You would like to translate your website because your rivals or competitors do not have multilingual websites, so getting one will put you at the forefront in business.
If you are not fluent in the languages your users flow in, translating your website is very important because it will ease communication between you and the users, servicing as a great starting point. After all, you can receive all reviews in wither language is written.
Translating your website helps you earn high SEO rankings for your website. SEO ranking depends on your website's availability and adaptability in other regions of the world; translating your website will make the use of your website more present in almost every part of the world.
When talking about translating websites, there are two main categories of translation.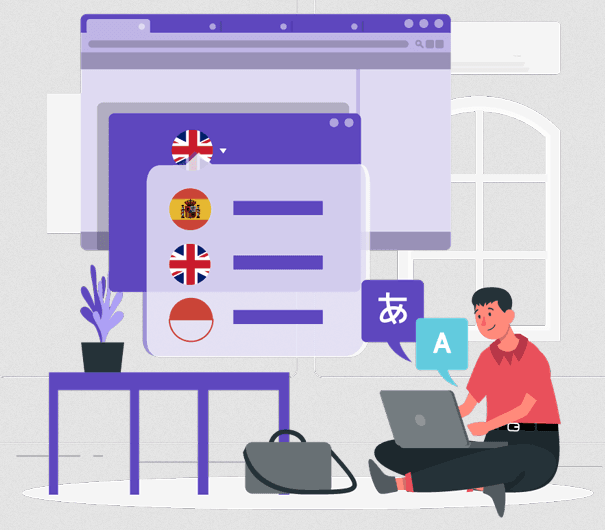 The human translation: this can be done by seeking help from professional human translators who translate from webpage to webpage; This is a beneficiary method, but it requires a lot of fees; this method takes into consideration the context, structure, and primary language nuances into account. It involves proofreading, which makes it more strenuous and is prone to inaccurate translations.
The machine translator, called the automated translation service, translates contents on selected pages into another language using artificial intelligence. Unlike human translation, automated translation doesn't take the context and other language nuances into account.
Translating o websites can also be done using our famous Google Translate, which most of us are familiar with; when we copy a web link and past in Google Translate, we can see the page in the second language we expect. However, we notice that some words or phrases will remain untranslated; This is because the translator only translates webpage text and forgets the one on the pictures.
We can now use automated translation plugins to translate our websites into other languages without going through all the stress and hassle.
How to translate WordPress site content automatically?
An automated translation converts web content from one language to another using artificial intelligence. The easiest way to translate WordPress automatically is to use a translation plugin.
That said, let's have a look at some recommended plugins.
Linguise automatic translation plugin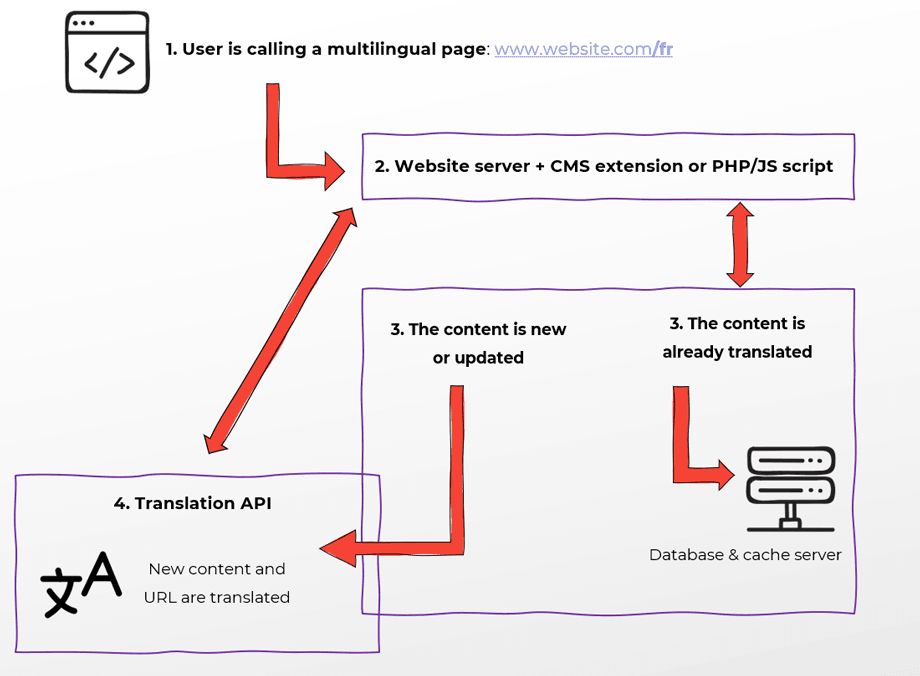 Linguise is another powerful translation plugin for WordPress that translates our entire web content into a different language; it combines our Google, Microsoft translation services to produce outstanding translation results. We've put in our first position here has this is the only solution that combines affordable price with a high quality of translation.
To be able to use linguise for translation, we must;
Generate our API key: you connect first to the linguise dashboard and create a new domain. Save its settings to get your API key
Install the WordPress Plugin: after installation, we can access the plugin configuration using the Linguise left menu. We need to set up the language switcher display, the default language, and enable the secondary languages.
Next, we need to set up the pre and post-text display for the language switcher; The alternate option generates an alternate URL for each language so that the search engine can crawl the website for all activated language versions.
With Linguise, the neural machine translation is not the best. Hence we need to check 10-20% of the content by a professional translator.
The linguise plugin language switcher displays with a flag and the language name. it is also compatible with SEO plugin of features such as translation and URL management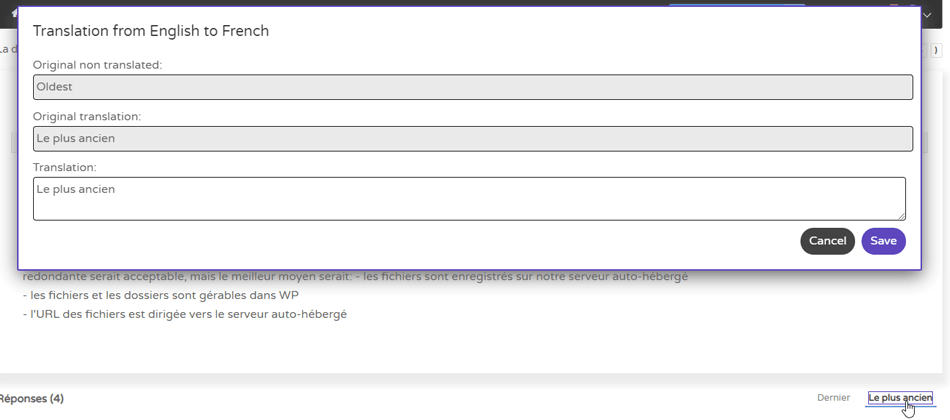 Main advantages of using automated translation over human translation
Generally, there are many advantages to translating WordPress with an automatic plugin. Installing an automatic translation plugin on your websites opens you to over 80-100 languages which you can take only about 15 minutes to translate your content into those languages, while a human translation can take around 2 hours and above to complete the same task.
From the Linguise dashboard you'll get access to:
A complete and editable list of all items translated on your site
A visual editor from which you can edit your translations on your web page
A tool to give access to translators, by language
A tool to apply global rules to translated content
The cost is effectively reduced when using automated translation software than when we go for human translation services. You can check it here as we're using it for our blog!
WPML: automatic translation as an option
WPML is a premium plugin that requires its Multilingual CMS plan subscription to run automatic translation.
To be able to run this automatic translation, we must first install and activate the WPML plugin.
Upon the activation, click on the "Register Now" link.
Enter your site key.
Next, we need to set up the languages as our next step
We go to WPML>> Languages, we choose the default language, and then select other languages to be enabled on the page.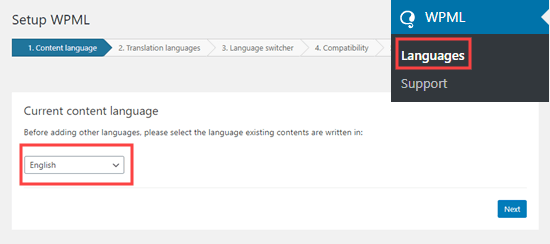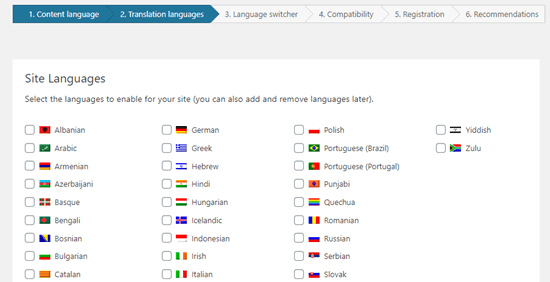 To translate content, we then go to WPML>>Translation management page. You then chose who can open your site in another language.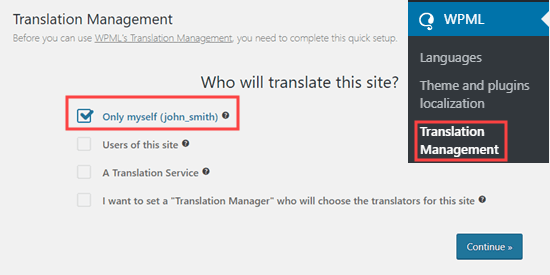 Once that is set, you head to the translation tools panel and sign up for free, where you are allocated a free translation quota of 2000 words per month of machine translation for free. Then to the 'Translation Dashboard' tab and select the pages that can be translated.
Weglot automatic premium translation
The Weglot is a multilingual solution, and it gives you the possibility to automatically translate your website into over 100 different languages. It is a combination of Google, Microsoft, DeepL, and Yandex translation services.
The Weglot uses both the manual and automated translation system. That is, it translates using the AI system then allows you to edit the automated translation manually.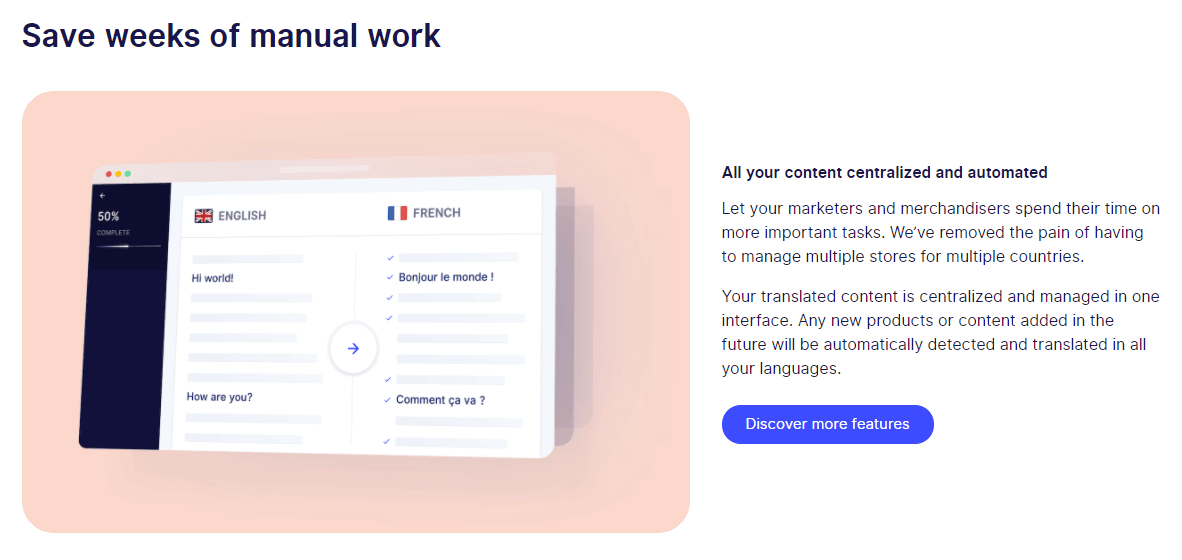 To be able to translate your website using Weglot,
You need to install and activate the Weglot translation plugin, create your Weglot account and get your API key.
Configure the plugin. Go to the Weglot menu in your WP dashboard, insert your API key, choose your primary language, and set the destination languages, i.e., the languages you want to translate your website. On the same page, you need to configure the language switcher widget and location. It would help if you also chose the pages to be translated and set auto-detection of the user's language conformed to their browser.
Customizing the language switcher: here, you can edit the appearance of the language switcher, like displaying the country's flag, changing the shape of the flag, or using the full name of the language.
Create and manage translations: Weglot generates the first translation of your entire website automatically. You can then edit the language translations using the in-built editing interface.
Weglot also gives you the possibility of excluding some pages from the translation. To do so, you type in the URL of the page. You also can manually edit a page translation. We cannot guarantee that there is an automatic translation without faults.
PRICING
Automatic translation for web content is relatively cheap compared to human translation services, which is 3 times the automated services price. The mechanical translation services can be evaluated averagely at a price range of $165-$250, which is way less than the $800 – $1000 fee for the same job done manually. Also, the automated translation system is faster than the human translation services.
Note that's important variation in prices, Linguise is the most affordable, WPML is more expensive and Weglot very expensive. For example, for 1 million of words (big website with many languages), Linguise is prices are 770USD while Weglot is priced 2377USD!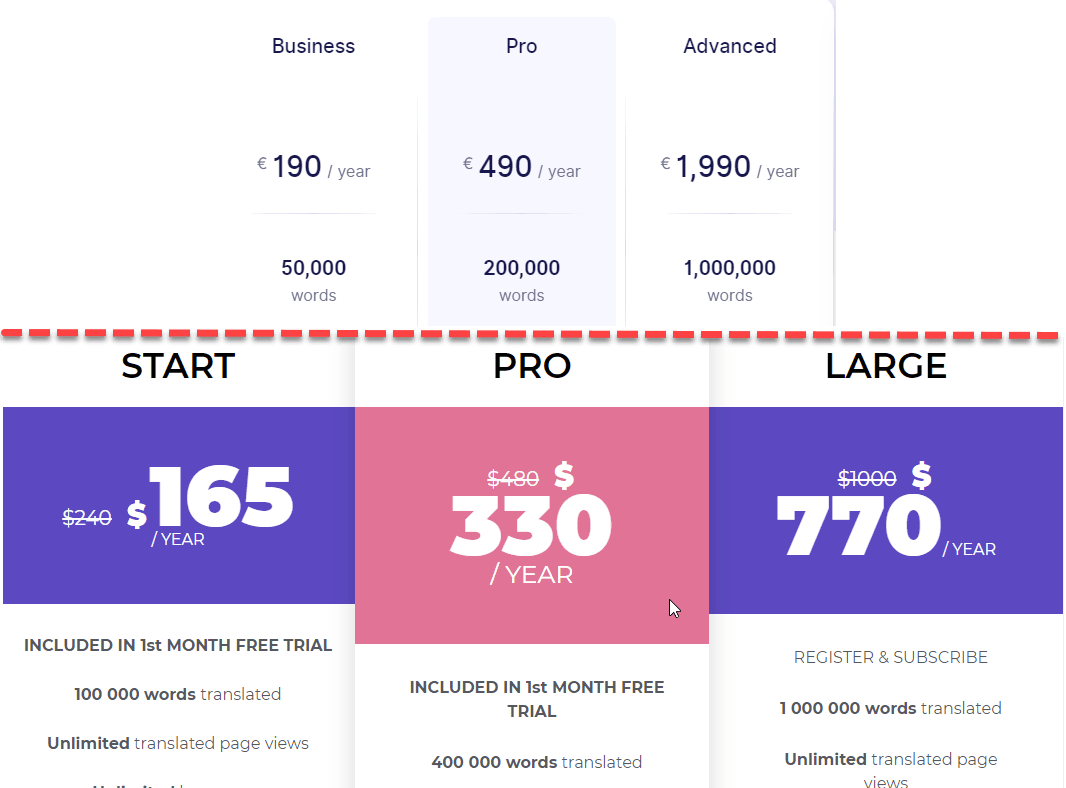 Conclusion
Localizing your website for an extensive range of targeted audiences is a peculiar way to expand. For this, translating your website has proven to be an inevitable asset in the virtual world. As the quest for information grows and the availability of needed information in different languages, developers need to make their websites usable in every part of the world. Automatic translators have been brought in place to facilitate access to information on websites and to break down the walls of the marked out partition of diversities o languages. The above plugins are highly recommended by me when it comes to translating your websites into any language, with the best of them being linguise which gives you a more expansive range of opportunities like the availability of an unlimited number of languages per plan and also the ability to translate the entire website without any errors.