A website is a better representative of you when it becomes accessible almost everywhere, communicating with the users in their primary and comprehensive languages. Translation of websites has become a must include commodity when building a website; this is the key to making your company or business known to almost every part of the world.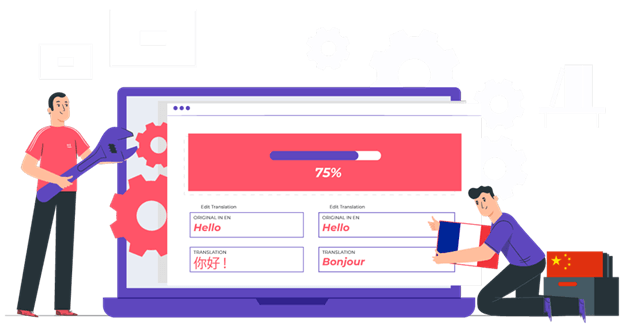 You can only connect to your users only when they feel comfortable listening to you; your website is your mouthpiece to the audience and communicating with them in an understanding manner.
With the coming of plugins, it has become much easier to achieve the best, if not a perfect, translation of your website in no time. In ages past, this was done manually and could take weeks, months, and even years to achieve the perfect translation for your website content.
WordPress offers us multiple plugins to translate our website, but the issue is always picking out the best translation plugin. I will be showing you my top-rated WordPress translation plugins to consider when translating your website content.
WordPress translation plugins to consider when translating your website content.
1. Linguise
Linguise is a neural automatic WordPress translation plugin that offers quality translation services. It comes with over 80+ languages and over 10000 language pairs. Translation done with Linguise is SEO-optimized; that is, it is easy to find content in any world location.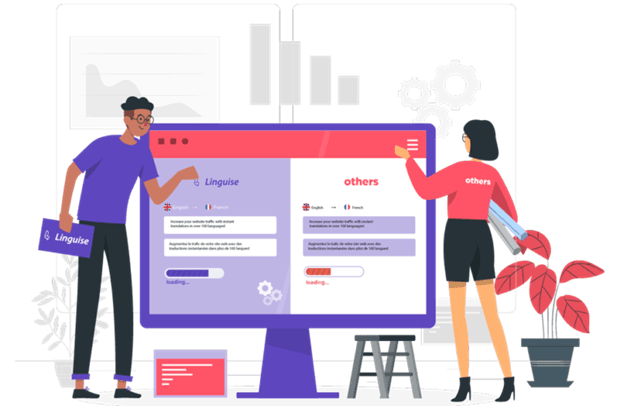 Translations are automatically added to your website's content once it is updated, improving accessibility.
Linguise has dedicated servers for translation. These serves have cache systems that help to speed up translation processes just in 10ms. You can translate your website automatically in 15 minutes after signup. Linguise can translate everything on your website, including your domain.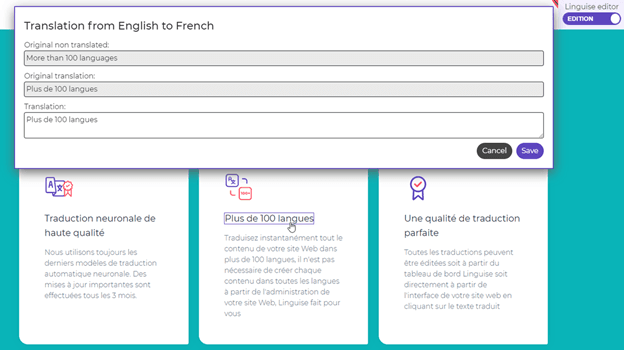 We now have a glimpse of the top-rated plugins. Now it is time to choose based on how much perfection and exposure we want to achieve.
| | | | | | | | |
| --- | --- | --- | --- | --- | --- | --- | --- |
| | Linguise | Google Translate | qTranslate | WPML | TranslatePress | Polylang | Weglot |
| Price per month | $16 – $77 | $20 per 150K words | Free | $59 – $79 | $79 – $199 | Free | 70$ |
| Number of languages | 100+ | 100+ | 40+ | 90+ | 221+ | 40+ | 80+ |
| SEO compatibility | YES | NO | NO | NO | YES | YES | YES |
| Number of free automatic translations words | 400 000 | 8000 | 0 | 3000 | 0 | 6000 | 2000 |
| Automatic and Manual translation | YES | YES | YES | YES | YES | NO | YES |
2. WEGLOT
Weglot is a WordPress plugin that eases the translation of your website content in over 40+ supported languages; this takes just a few minutes to translate your website entirely. Since machine translation cannot be 100% accurate, Weglot offers a user-friendly SEO that permits you to refine the translations.
Once Weglot is installed and configured on your WordPress dashboard, it is not effective until you enforce it with the magical spell done on the Weglot website.
How to configure Weglot
After installation and activation, you then go to the settings page of Weglot
You need to add your API key and choose the default language, then the destination languages (languages to translate your site).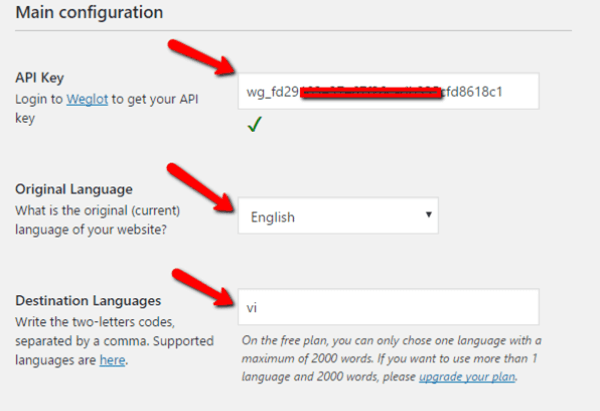 To get your API, you need to create an account on the Weglot website.
Next, set up the language switcher button of your website. This button will switch your website to the user's language taking reference from its browser language.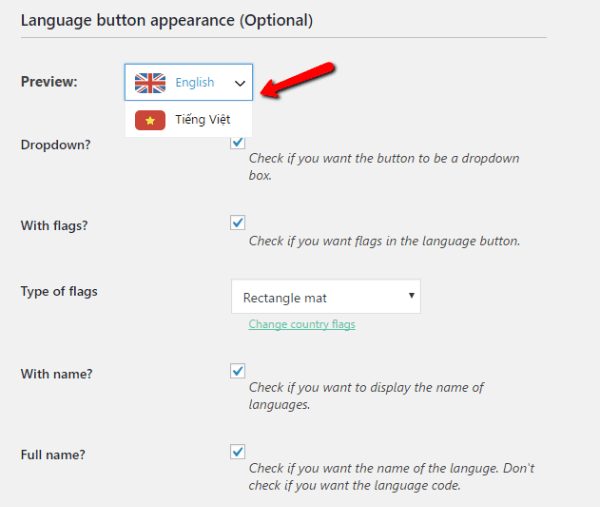 You can also exclude specific pages or CSS selectors from being translated.
On Front-end, Weglot works by the user clicking on the language switcher button, which then flips the language to the user's native browser language. Depending on the chosen language, Weglot will create an entirely new URL, and you can index your content in both languages.
Weglot's translation is not perfect because it is a machine translation. So depending on the importance of the page, the designer might decide to perfect the translation manually.
To fix these odd translations, you can hire a professional directly on the Weglot dashboard to perfect the translation or do it yourself if you are proficient in that language.
3. WPML
The WordPress Multilingual Plugin is amongst the first translation plugins to come into website translation. It's been around way back in 2009; this earns it a good record in the area of website translation.
WPML, like any good translation plugin, translates your entire website (it includes posts, menus, theme…etc.). WPML covers up with a professional translation service which helps to spice up your content from those services.
WPML has nothing special but works when you get the Multilingual CMS package.
With WPML, you can add WordPress users and assign them to the role of "Translator." They will then chip in translations which you can use to crowd-source your site's translation.
The WordPress Multilingual Plugin comes with over 40 languages, which you can add to your website as destination languages. The domain of the website displays according to the chosen language.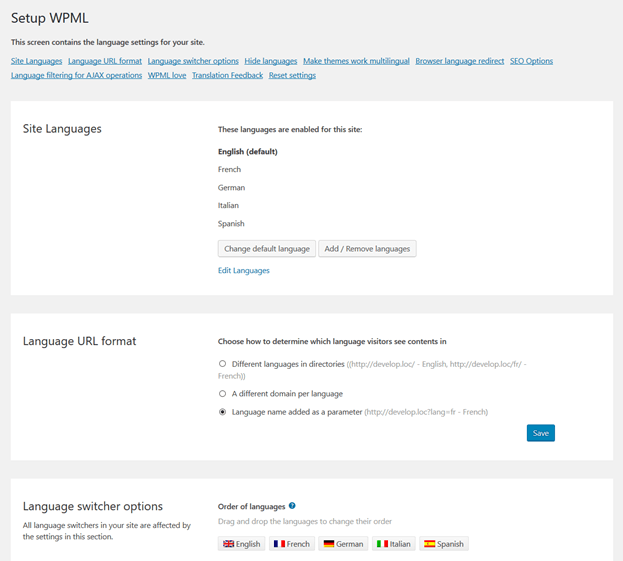 The problem with WPML is that
It doesn't come with a free version.
There is no solution for machine translation, meaning you cannot deal with imperfections in the translation.
4. POLYLANG
Polylang is a lightweight and easy-to-use WordPress translation plugin. It comes with more than 90 predefined languages and a language switcher button added to the post editor, giving you the possibility of creating different versions of your post assigned to each specified language.
You can also translate the generic strings of your site's interface (like the site title, date format, etc.). with Polylang, and all translations are manual. If you want to do automatic translation, you will need to install the Lingotek plugin as an add-on to Polylang. Lingotek manages both automatic and manual translation services.
Lingotek gives you the possibility of using three types of translators
Professional translation: you can decide to pay translation agents on Lingotek's marketplace to translate your website so you can follow up the translation process as it unfolds.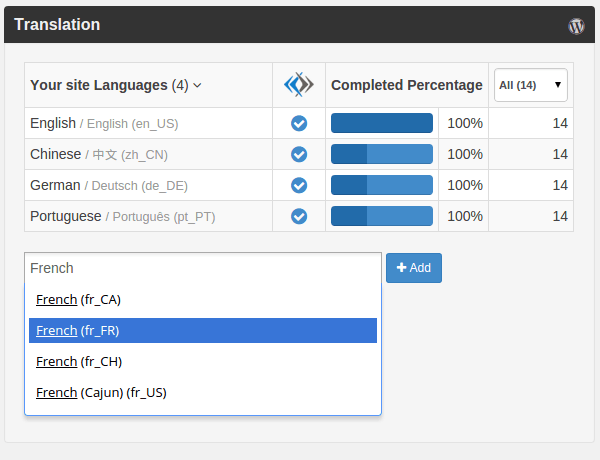 Community translation: if you want to save money, you can go for the community translation, where you can do it yourself if you have bilingual employees who can get the job done for you.
Automatic translation: this is the machine automated translation where you decide to allow Lingotek to do the translation for you. Lingotek will enable you to translate up to 100 000 characters for free, above which you are to pay a fee. Lingotek uses the Microsoft Translator API for translation.
The advantage of polling is that it is free.
5. qTranslate X
With a rating of over 4.8, qTranslate X has earned a well-deserved place as a translation plugin. Like the Polylanf, it also comes with a languages switcher added to your WordPress editor for quick translations of your posts.
It also has an SEO-friendly URL that generates sitemaps linked to the specifically chosen language. It is trendy and, most interestingly, free, just like the Polylang.
The plugin maintains dynamic multilingual content on your WP site.
The plugin provides the possibility to choose which pages or posts to translate. Once declared as multilingual content, the user can translate the web post or page into his browser's native language.

The bad thing with qTranslate X is that
It doesn't sync with translation services.
There is no easy method to translate global strings used on your WP site.
6. TranslatePress
TranslatePress is a WordPress translations plugin that cuts across Weglot, Polylang, and WPML.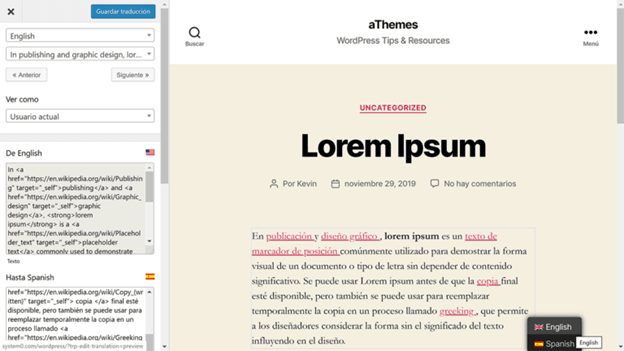 It supports both manual and automatic translations using the Google Translate or DeepL API. It is an excellent plugin that translates your entire website content and has a user-friendly visual translation interface that uses the native WordPress Customizer.
In your visual interface, you can either:
Click on a string or block of text and edit them directly,
Us the next or prev buttons to move through strings,
Or you can search for strings now.
TranslatePress is 100% self-hosted; all translations are stored directly in your website's local database, and you do not need to rely on an external interface.
It also comes with a free limited version on wordpress.org.
It also comes with a total of 221 languages in which you can translate your website.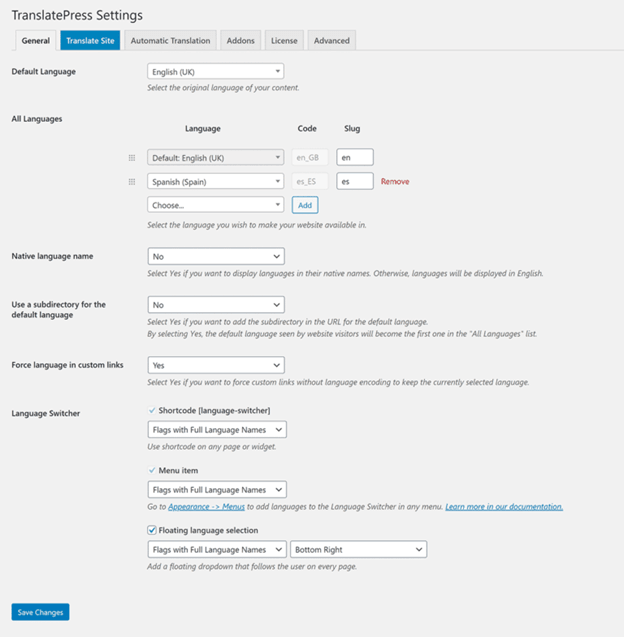 7. Google Website Translator
The Google Translator has over 100+ languages. It translates your entire website content. It comes with a few inline widgets in which you can choose to display the country flag next to the language.
With Google Translator, you can add shortcodes to individual posts and pages. But since it is machine translation, your site will not be SEO-friendly.
Conclusion
After a long patrol of the above top-rated WordPress translation plugins, I will recommend three of the above-mentioned plugins. Linguise, TranslatePress and Weglot are the best choices for translating your websites; because they are SEO-friendly. That is, your web content can be view by any person whose native language is among the language pack activated on your website, thereby increasing accessibility and the visibility of your website. They also offer you the possibility of correcting your translation if there are any imperfections. When it comes to this aspect of SEO, Linguise is the most preferred because of its instant translation services, and one will prefer TranslatePress to Linguise and Weglot because it provides more languages than the others the fact that it can be self-hosted. Weglot, on the other hand, can be preferred when it comes to price because it is cheaper than the others.