If you are a small business owner with a limited budget looking out to get a flexible booking system to connect through your clients from all around the world, then the Bookly pro plugin is highly recommended.
The Bookly Pro plugin is not just a plugin, but most precisely, it can be defined as a powerful booking tool and appointment system load
ed with extraordinary features and add-ons like integration with Google calendar, online payment, and SMS and email notifications.
Bookly Pro is an easy way to boost your business sale by simplifying the booking procedure whether you own a photography business, a hair salon, a dentist, repair service, or online ticket booking, this incredible booking software will seamlessly enhance your business growth with flexible booking appointments keeping in view different business requirements.
Bookly Pro Calendar Key Features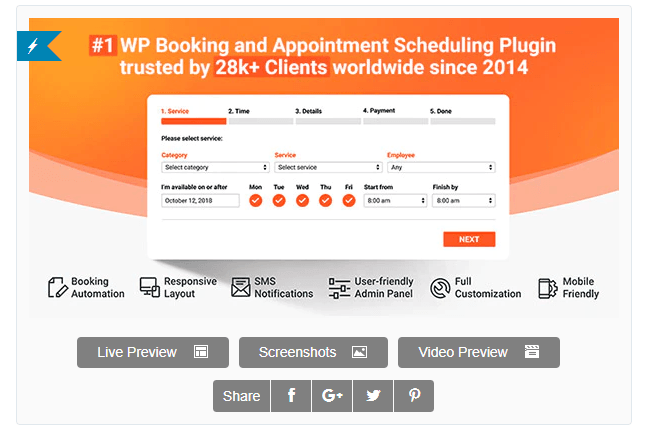 Bookly Pro is an Add-on, and to get this add-on you need to install Bookly plugin. Now you can automate the booking system for your website or your client's website with this incredible plugin.
So, once you install the Bookly plugin, you'll notice a clean admin area with lots of handy features. Moreover, your website can be translated into more than 11 languages.
Along with that, you'll get a calendar with daily, weekly, or monthly views with customizable options to select holidays, off days, and multiple numbers of the break as per your need.
Let's peek into details now.
Beginner-Friendly Admin Panel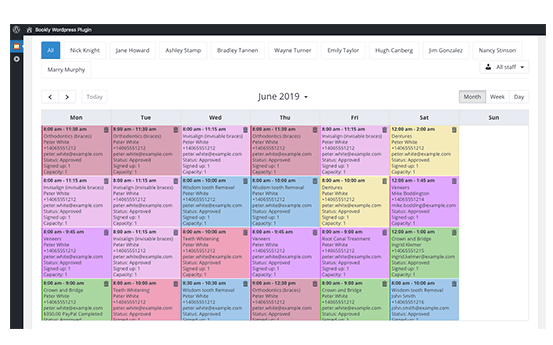 Bookly Pro comes with a sleek and user-friendly cPanel which can be installed without any hassle. Bookly facilitates both WP beginners and WP developers with world-class managing features and booking forms, which you can customize according to your business needs.
The booking page is designed intuitively, where the customers could smoothly go through what they are looking for.
Now booking an appointment is as easy as a breeze for your clients so they could easily walk through the booking process and reserve any booking at their convenient time and the end; they will finally receive a confirmation email with all the booking details to get away without any complication.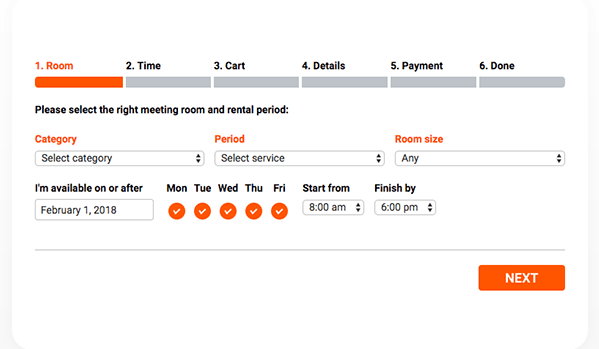 Customizable Booking Forms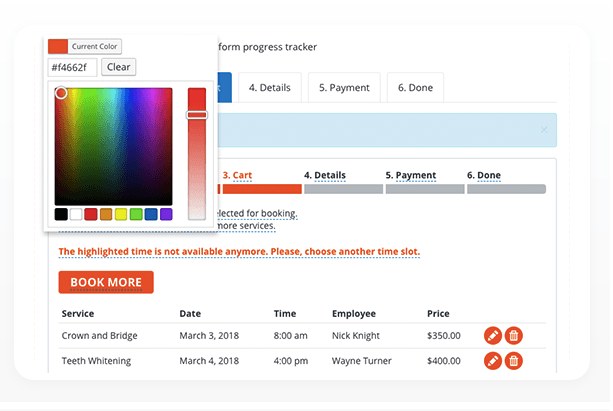 Bookly comes with a customizable booking form where you can describe each step of the booking procedure according to your business needs.
Moreover, you can highlight or remove any specific fields or add any new field. The font colors of field colors can also be changed according to your brand's color. The services order can be rearranged, or new categories with a list of services can also be provided.
Furthermore, Bookly allows you to create multiple booking forms, and all of these booking forms will appear in the Bookly calendar.
SMS and Email Notification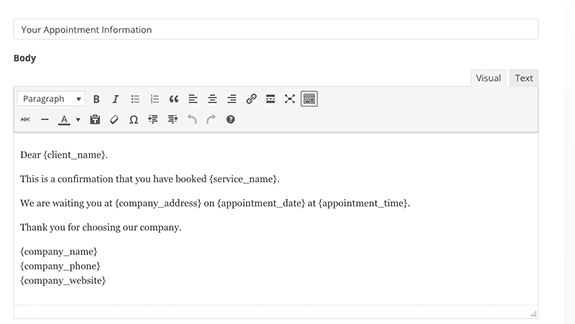 You and your staff will always be updated via SMS or email notification for the upcoming appointments to make sure that not a single appointment gets missed.
Send Reminders To Your Customers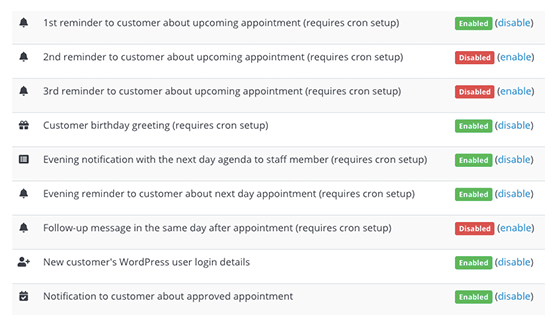 Now you can send reminder alerts to your customers before their visit. These can be a notification about pending, approved, or canceled booking to your customers. Also, you can personalize the notification messages.
Create notification about thanking customers, or customize the information as per your need. Another unusual feature about Bookly is that you can send next day agenda to your staff to keep them aware of combined notification, which you get on cart purchase where customers can place multiple appointments on the cart per session.
Multiple Calendar Views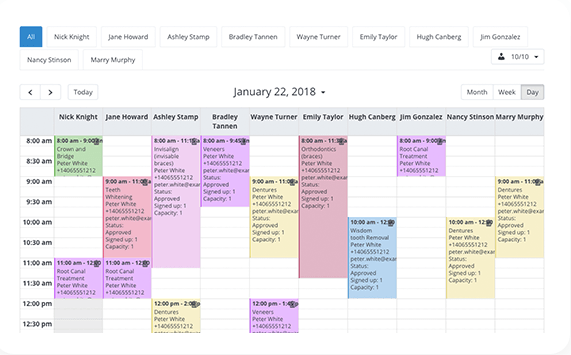 Multiple calendar views such as monthly, daily, and weekly modes are visible so that you can find out workload according to the schedule in unique ways.
Highly Mobile Responsive Layouts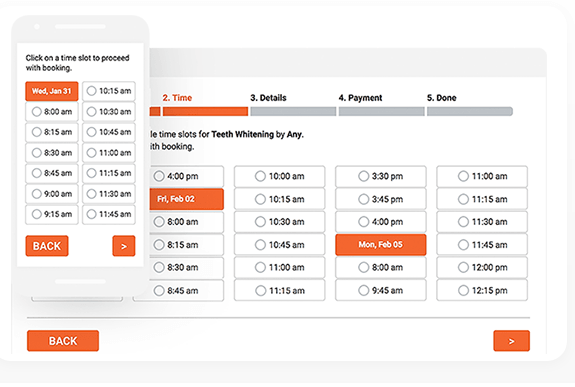 Bookly layouts are highly mobile adaptive and quickly fit into a Mobile screen so your customers could access you via their mobile phones and reserve an appointment whenever they like to.
Moreover, you can also view the calendar through your mobile phone to manage your bookings as well.
Select Infinite Services And Staff Members
Bookly allows you to add multiple services and staff members as you like.
Add multiple staff members with their services
Link each staff member with their own Google calendar according to the services they provide.
Each staff member can be selected and tied for multiple services that they provide.
Multilingual Facility For The Customers
Bookly Pro supports up to 12 languages(Chinese, Japanese, Dutch, Italian, German, and many others) and your customers can translate the booking page into their native language and you can also build your booking page into your native language with booking a pro.
Bookly seamlessly integrates with WPML to allow you to select multiple languages as per your business requirements.
WooCommerce Compatibility With Bookly pro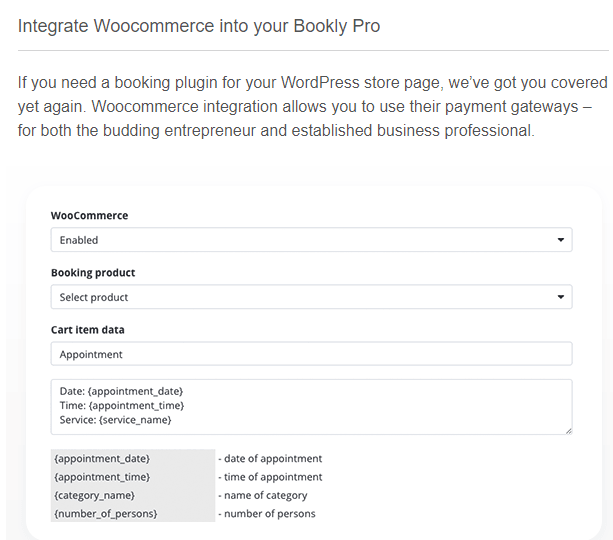 If you own an online store, than Bookly pro can facilitate you in providing online appointments with WooCommerce integration. You can use the payment gateways for your business or professional setups as well.
Build A Customer List Efficiently
You can quickly sort out and search for your customer list where you can easily manage and edit your customer's details without any hassle.
View your customer's booking and payment status.
Note down any personal information about the customer
Add a new customer into the booking calendar
Create and assign WordPress login to new customers
Easily import or export customer lists.
Set Different Prices According To Your Staff Skills
If you are running a business with varying members of staff having different skill levels than this feature will let you select your staff members with pricing according to their skill level so the customers could get maximum satisfaction by choosing the right expert for their services.
Bookly Pro Integration With Google Calendar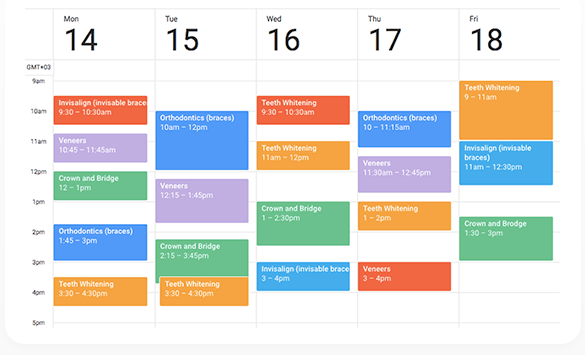 Bookly pro integration with Google calendar allows you to work efficiently where you can manage your staff working hours, leaves, and workload as per your schedule.
Bookly Pro has an extraordinary feature where Bookly offers a two-way syncing with Google calendar, which no other plugin offers. Mostly, the plugins offer one way syncing from Google calendar to plugin however, with Bookly pro if you add an appointment on Bookly pro, that will automatically register on Google calendar also.
Additionally, with Bookly pro integration with Google calendar, the clients will only be able to select the time slots available for booking. Furthermore, clients from all over the world can reserve an appointment according to their local time zone because of Google calendar syncing facility.
Customizable and Flexible Payment Options
Bookly provides flexible and secure payment options where your clients can make an online payment as well as select the cash on delivery services. Paypal integration is also included, whereas several other payment gateways can be included with the Add-on facility.
In addition, you can reshuffle the list of payments made or any pending payments report. Or you can also remove the payment option for the free service. You can easily customize the payment options for your client's convenience.
The Color-Coding Services To Highlight Appointments
The color-coding services allow you to highlight the appointments according to the preferences, where the visual aid will ease your path in prioritizing your appointments scheduled.
How to Use Bookly Pro?
Apart from all the options discussed above, Bookly Pro gives you a simple and intuitive method to set up a booking portal where you can insert anywhere between 2 to 6 steps.
Here's a step by step walkthrough of how you can create the appointment booking user experience with Bookly Pro:
Step 1: Select a Service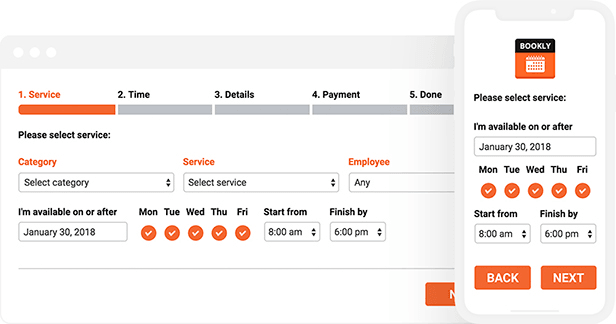 At first, you have the option to set up the Services section. After landing on the services page, the client will have the option to enter the following information:
Category of Service
The Service
Desired Staff Member – The Person from whom the Client want the Service
Available Time
You can also augment this section by including the Group Booking add-on which will let users book more people for a particular service.
Then there's the Service Extras add-on which will let you up-sell by offering extra products and services coupled with the service booked by your client. You can seamlessly add this into the booking system as shown in the image.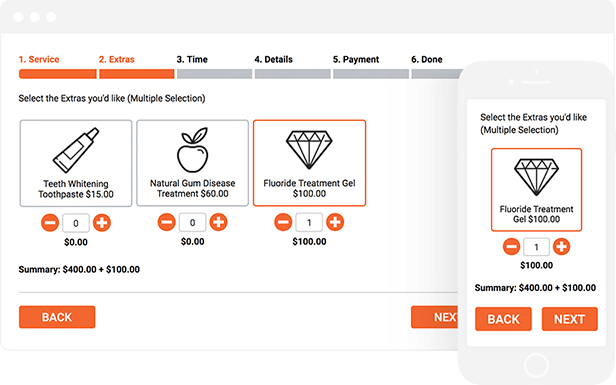 Step 2: Select the Time Slot
In the previous step, the client mentions their available date and time. Based on that information, you can display to the client a list of all available time slots in their predefined date.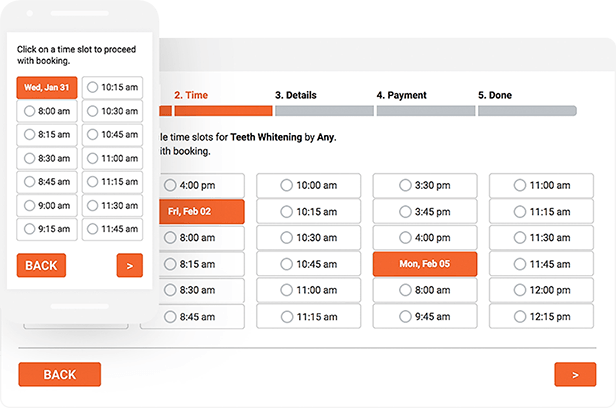 The customer can easily browse through the list of all time slots and then pick the one which is most convenient for them.
In case the client has picked multiple dates of availability, you can showcase the available time slots separated into columns – each column representing a separate date, which will add to the overall user experience.
Step 3: Book Multiple Appointments in a Single Slot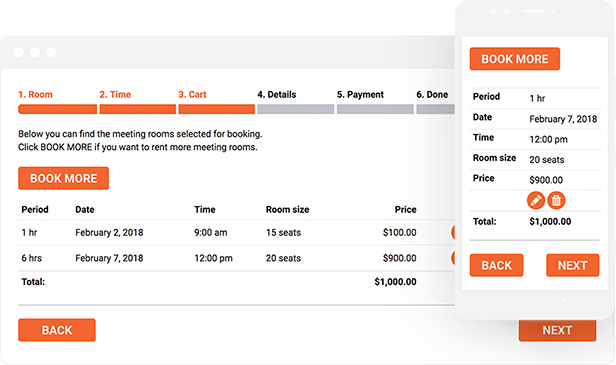 Let's say your client wants to book multiple appointments in one session. To help your clients do so, you can add an intermediate step in the booking system which will ask them whether they want to "BOOK MORE." If yes, it will take them back to the first step where they can again select a new service followed by the time slot.
All the services will be added to the "cart" and the user can confirm and pay for all the services all together at the end of the booking sequence.
Step 4: Insert User Info
After the client has specified what services they want and their preferred timing, you can now ask for their personal information to get in touch with them for appointment confirmation as well as for future communications.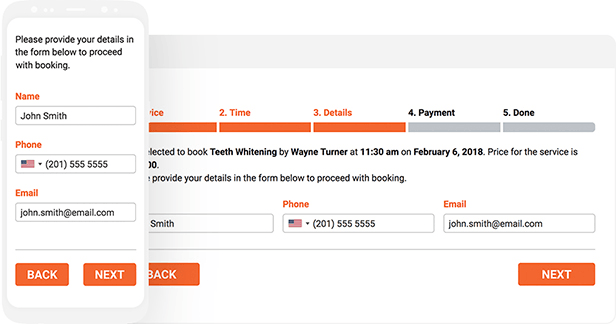 By default, you can ask the client for their name, phone number, and email address. These fields are compulsory and can't be removed. However, if you want you can enter more fields if you require additional information like the client's gender, age, and the likes.
You can also enter a text area where the client can leave an additional note.
Step 5: Make Payment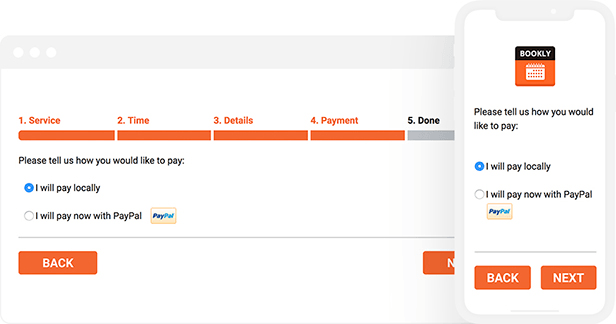 The plugin allows you to ask the client to pay in the booking sequence. There's support for 10+ different payment gateways including PayPal which the client can use to make the payment.
Alternatively, you can also provide an offline payment option, where the client will make the payment once they arrive at your business.
Step : Booking Confirmation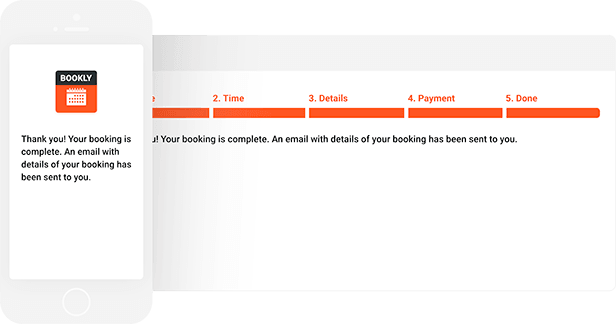 Although optional, it's recommended that you set up the notification feature offered by the plugin. That way, once the client has filled out the form, they will get a confirmation email and/or a text message with the booking details.
Bookly Pro-Calendar Booking Pros
Bookly comes in Lite and paid version, where you can try and test the Bookly pro version for your convenience.
Here are a few pros you will get with Bookly pro
A sleek and clean admin area where you can monitor all the appointments and bookings.
The responsive layout fits into every mobile screen automatically so your customers could access you through their mobile phones
Google calendar syncing allows you two-way syncing with Bookly pro.
Multilingual support- enables you to create your booking form in more than 12 languages.
View the calendar with monthly, weekly, or daily view.
Send notifications to you as well as to the customers for the upcoming appointments.
Secure and reliable payment gateways- like Paypal and many other gateways can also b added with Add-on facility.
Prioritize your staff list with pricing and timing so your customers could find out their desired expert service.
Get reports of payments received or pending payments.
WooCommerce integrated
Bookly Pro Booking Plugin Cons
No way to manage staff payout or add any additional Biodata about the employees.
Bookly turns to be expensive if you like to avail of some add-ons which add extra price to get availed.
You have to approve each client's appointment individually, and it won't get automatically approved notification.
Bookly Pro Pricing
You'll get a lifetime license at $89 with all future updates and six months' supports.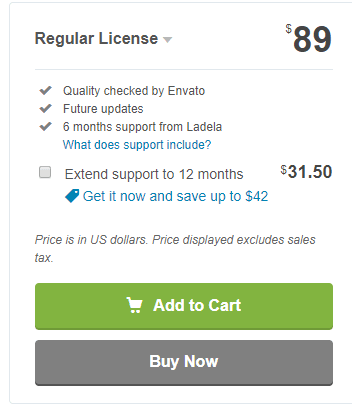 Is Bookly Pro Booking Plugin Worth Buying?
Bookly Pro is the ultimate convenient right from download, install and the setup procedure, now you need not worry about secluding your appointments with your clients or running all the day to get through the work on time.
Bookly will manage your bookings all the way long and send you a reminder notification about your appointments.
Bookly is one of the most recommended plugins with over 28K satisfied customers. Moreover, you'll pay for a lifetime, and there is no renewal fee for future updates. So, give it a try and let us know how did you find the plugin working for your business.