Do you have a considerable amount of data and looking for great ways to present it in an appealing yet organized way? Here is a review of top WordPress table plugins with detailed comparison and key features.
Tables are the most convenient ways to showcase the information regarding any product or service, if you own a business website or running an online store, you would be aware of the fact that how tables can transform complex statistical data into a comprehensive and visually appealing data, which is the handiest and user-friendly way to present the information that would be relevant to their interest.
If you are working on a WordPress website, you would know how tedious and hectic work is to add the table manually in word press because of its limited in-built support for adding tables.
How can you beat that?
The best part is that you can easily do this task by using WordPress plugins.
But! Wait for a second! How come you know which WordPress table plugin is best out there?
I have compiled with this guide to sort out some of the best table plugins, which will be according to your needs and give you all in one solution to get your data well organized and appealing. So, let's get things underway.
Table of content
WP Table Manager Plugin
(recommended)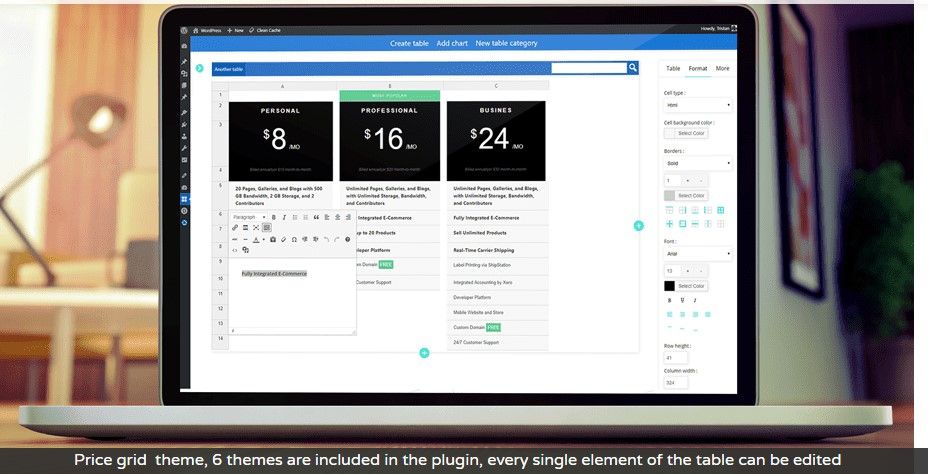 The WP Table Manager exclusive feature is that it offers a full spreadsheet interface to manage tables on a WordPress website, just like Excel.
Other than this exclusive feature, the WP Table Manager enlightens the users with many advanced tools, which makes it one of the favorite organizer tools by its users as compared to the other plugins available in the market.
Key Features
The most exclusive feature, as mentioned earlier, is its full spreadsheet interface, which enables its users to create and modify the tables according to their needs. Whereas, the custom category section allows the users to create the tables in different categories;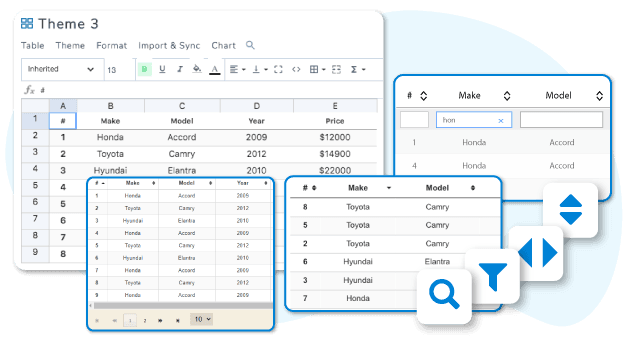 Enjoy working with smart tools like HTML cell editing, we know that working on tables in HTML is not an easy task, yet this is not the case with "WP Table Manager" because it allows you to work by just clicking on a cell and edit the data, and here you are done.
Create and display adaptive pixel-perfect tables which makes viewing the data legible for all screen sizes.
Another interesting feature is that you can prioritize the columns from another column when you need to exhibit essential data to your customers who are trying to scroll the data through tablets and smart phones. This feature is handy with handheld devices and makes the table scrollable and highly responsive to display data.
One of the best key features which I like about WP Table is that it comes with 6 inbuilt eye-catchy themes, which makes the table data much exuberant to its users. You can choose from the "sortable table" option on the frontend or modify any themes which you like the most to organize your data. You can also create your own alternate 2 lines colors set and apply it on a selection of table cells.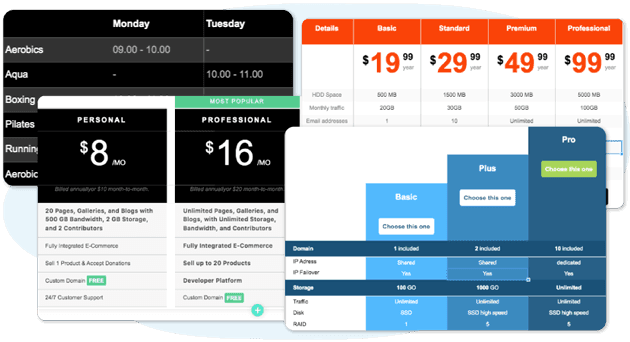 The WP Table Manager plugin is highly configurable with any woo-commerce or any 3rd party plugin, so you can efficiently work on any post  
You can quickly import the data from your excel worksheet without any hassle and the same way export the table to your spreadsheet within seconds. Compatible with Google Sheets and Microsoft Excel and can automatically synchronize data between platforms.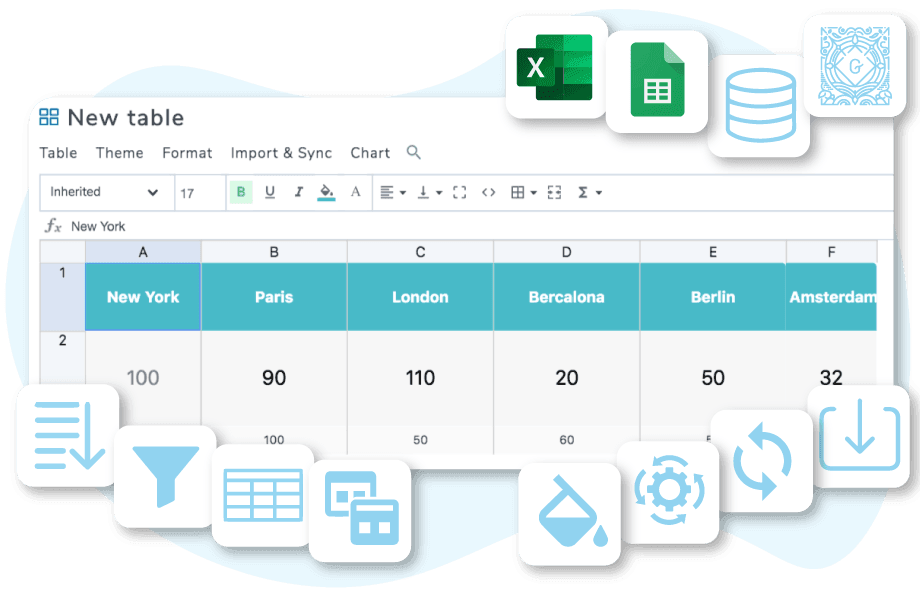 It also supports essential calculation functions in the cells.
You can quickly create charts using table data, and the WP table manager comes with six chart options to choose from.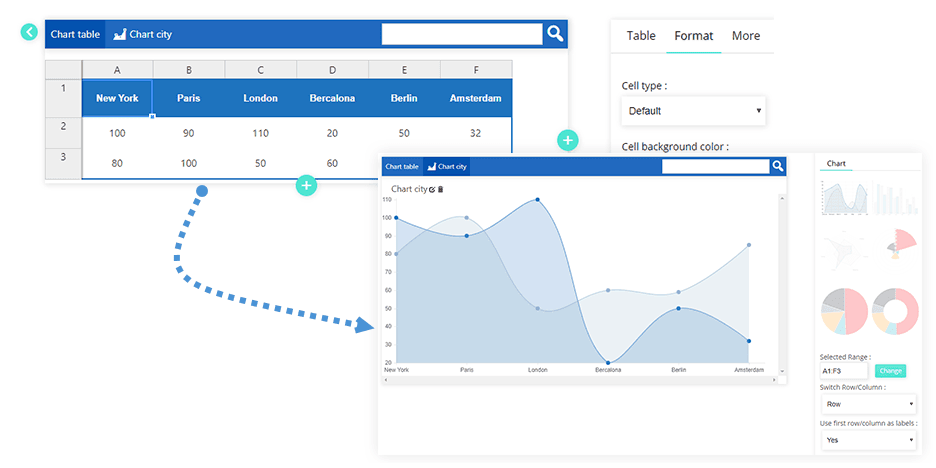 Another exciting feature is that you can get a preview of the table while generating it in real-time within the editor, and the AJAX automatic savings instantly save your changes without losing the data.
You can set up different WordPress user roles with different access permission to tables created using WP Table Manager.
Interface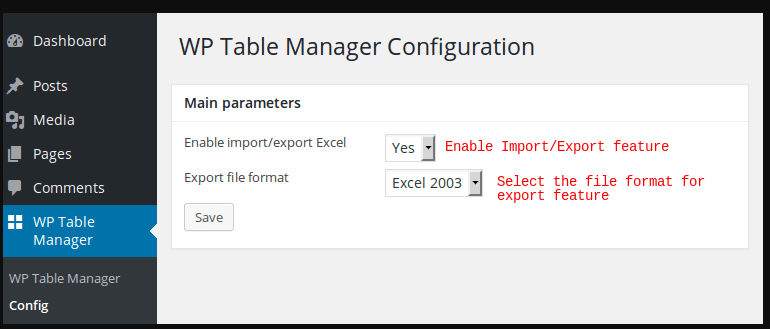 Its interface is extremely user-friendly, and you can install it with just a click, and you are ready to use it.
Pricing
The WP Table Manager comes with highly affordable prices with two plans for six months and 1 year consecutively.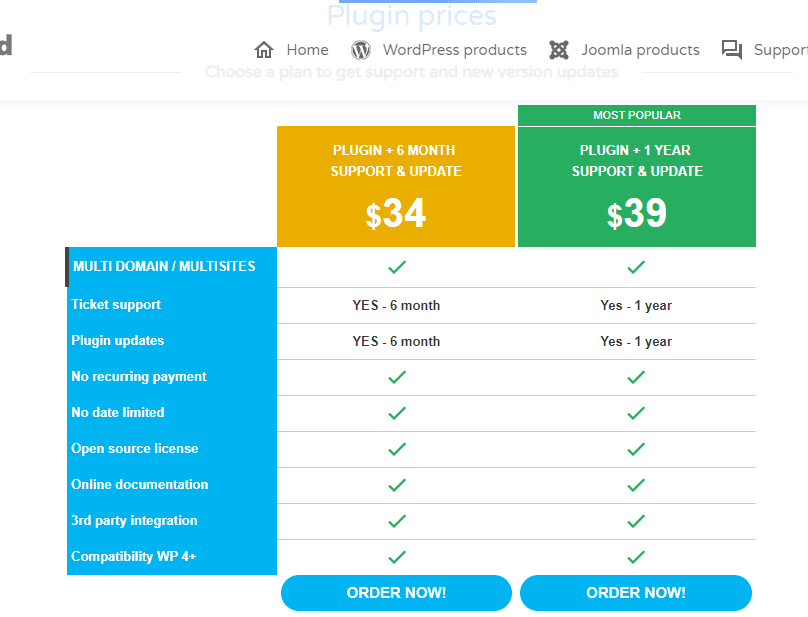 WpDataTables plugin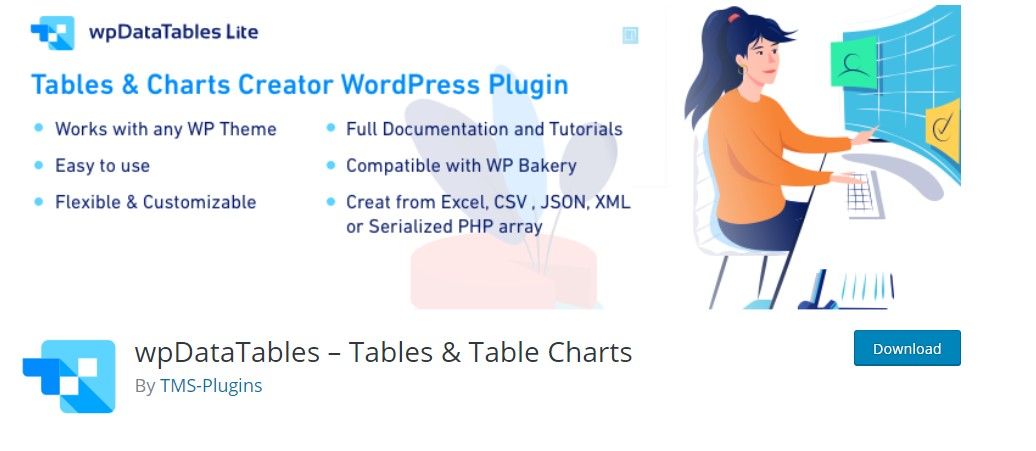 Wpdata tables plugin is another great resource to organize your data into tables or charts.
If you want to test its legitimacy, you can go for a liter version on wordpress.org. While there are plenty of options to create an epic tale in a paid version, yet the free version comes up with only creating a table by importing the table data in excel, CSV, JSON, XML, or PHP format.
The paid version is pretty impressive where you have the freedom to modify each column according to your need plus there are many other configuration options that can be explored. Moreover, other exciting features are email and SMS notification, more than 40 types of charts are available to preserve the charts, and tables can be edited with front-end control. Highly supportive for any foreign tables filtration and conditional formatting.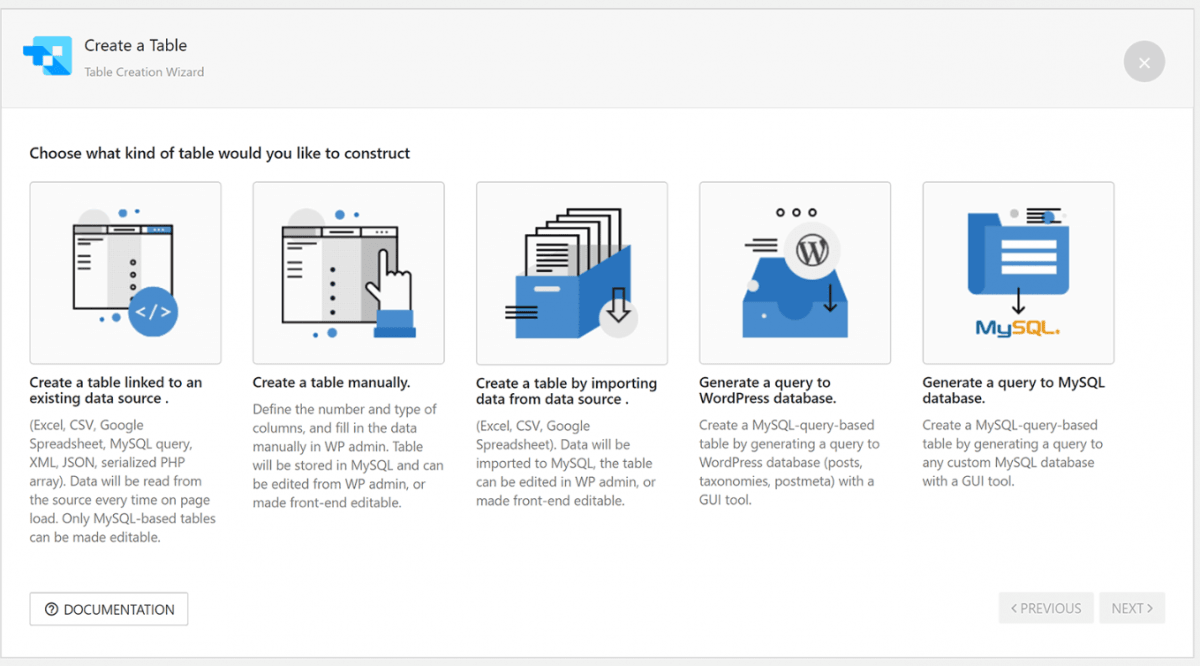 Interface/configuration

The interface is highly user-friendly and can be installed with a single click. The beginners may find it very easy to operate.
Pricing
The price is affordable, starting at $59 per year, and if you want to use it with three domains, its price rises to $109per year.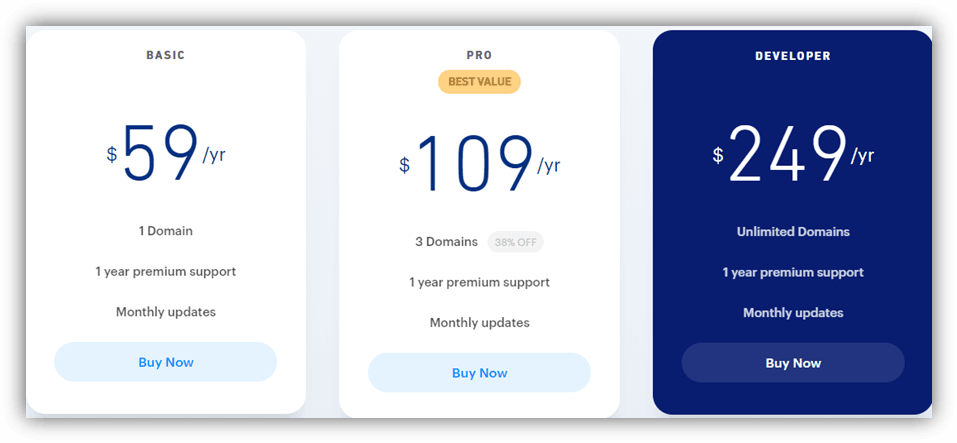 Ninja tables pro plugin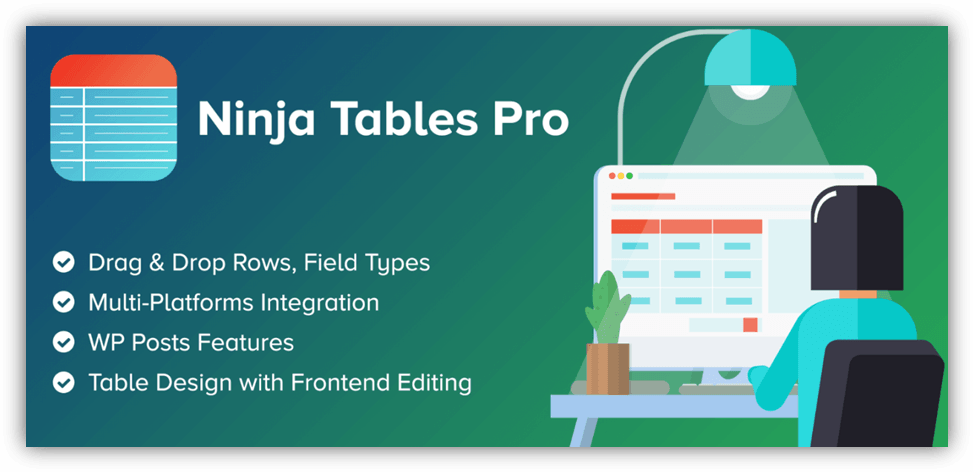 Ninja pro is another excellent plugin with elite features. It's highly user-friendly because of its dynamic interface with diverse types of features that enable its users to enjoy quality work at convenience.
It is a highly responsive plugin, and therefore, you do not need to use any add-ons to increase its responsiveness.
Key Features
Add images and multimedia content to tables.
Tons of advanced customization settings including unlimited colors for the tables and the option to create and add your own custom CSS classes.
The plugin comes up with distinct table designs, predefined schema, custom schema, and built-in and custom CSS features.
Drag and Drop option to sort out the data quickly.
Pagination is allowed in a friendly way.
The import-export feature allows you to import-export table data from any other platform.
Table Filtration
WooCommerce integration, Google sheet integration enabled.
Support for Shortcode inside cells.
Downside
The only downside is that this plugin does not import excel files.
Pricing
The pricing starts at $39, which is for a single site; otherwise, for agency owners, the price is $99 for up to 20 sites.

Data Table Generator plugin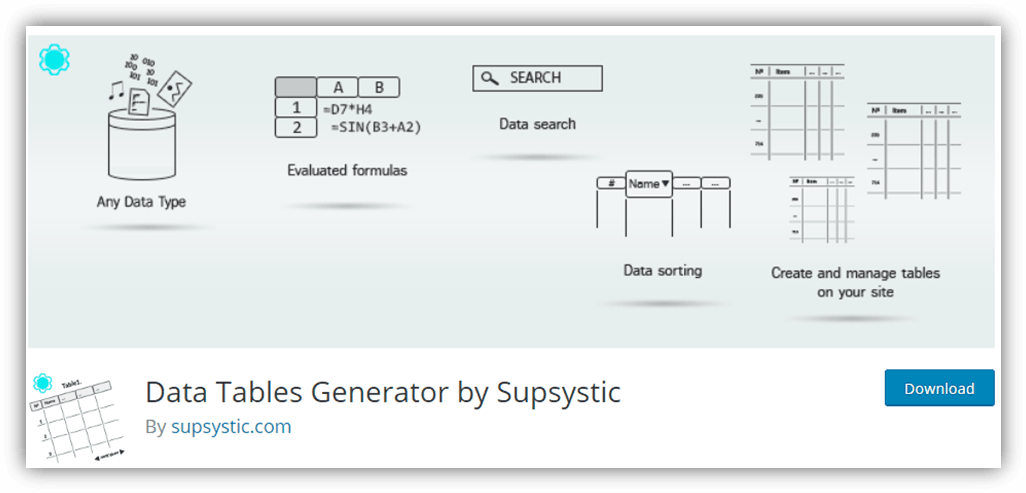 Data Table Generator is one of the most popular plugins in WordPress plugins. The popularity is because of its highly configurable features, which allow its users to create a responsive table with several other variations like diagrams, charts, and graphs.
Key Features
It can import table files from CSV, Excel, PDFs, Google sheets, and any other platform.
Images, Links, and Videos supported in cells.
HTML Formulas supported.
You can create any product table for WooCommerce easily with this plugin.
Editor Interface is just like Excel
Allow custom data formats  where you can pick dates of your tables
Filters, search, sorting, and pagination option is available
Automatic syncing with Google docs is permitted.
Interface
The interface resembles that of Excel with multiple customizable options and buttons for formatting, inserting images and more.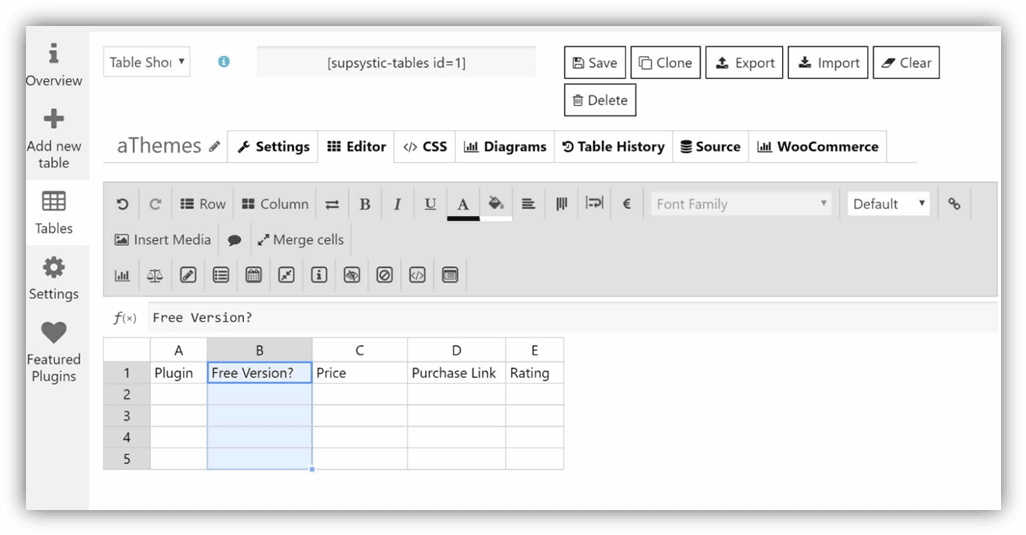 Pricing
The free version is available at wordpress.org.
While the paid version is available at the following prices.
One site – $39
Five sites – $69
Unlimited sites – $149
TablePress WordPress plugin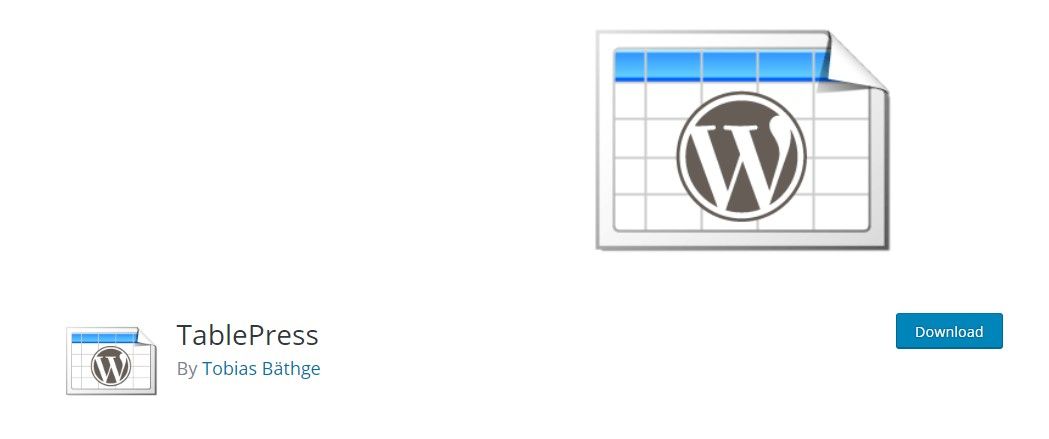 With over 80,0000 active installations and 3595 5star ratings, Table Press is among one of the best Table generating plugins.
The Table press allows its users to embed the tables into posts and pages with shortcodes.
The reasons for its popularity are that it is 100% free to download and also allows extensions to improve its functionality.
Key features
Highly flexible and allow multiple data import options like Excel, CSV, HTML, JSON, and Google sheets.
You can edit tables in a spreadsheet like Excel.
Pagination enabled.
Front-end sorting and filtration option
Automatic syncing with other Google sheets and other resources is allowed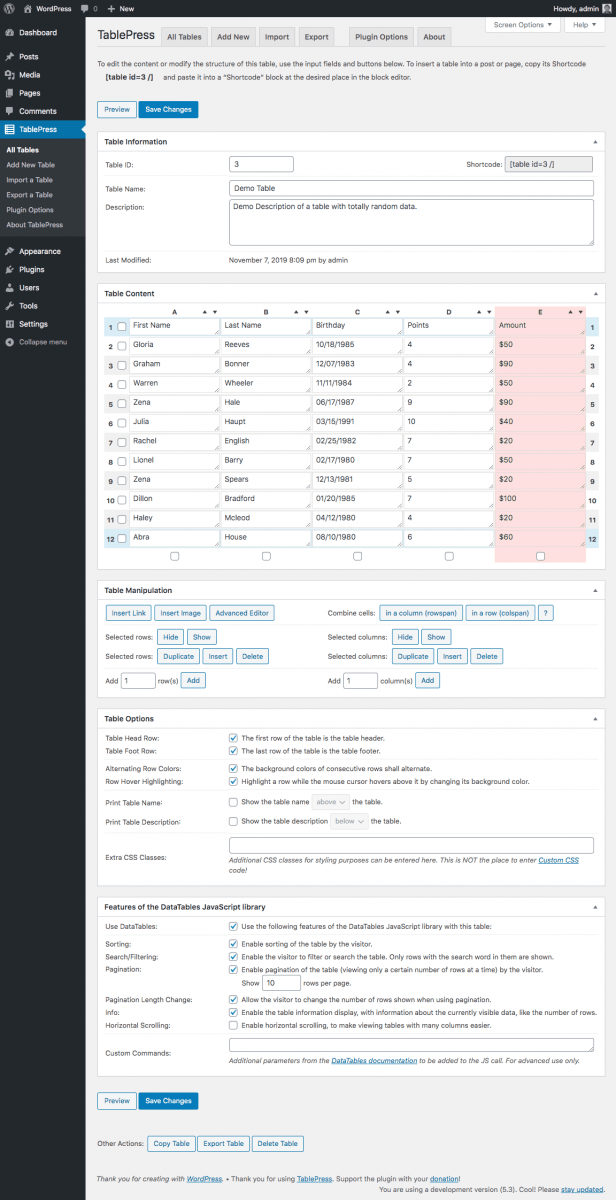 Interface
The interface is highly user-friendly and allows table editing like in excel spreadsheets.
Pricing
It is available for free on wordpress.org along with many extensions for the pro version.
Visualizer: Tables and Charts Manager for WordPress
Visualizer is basically a "chart and graph plugin," and rather than working on data to turn in the table you may also be able to convert the table data into epic charts and graphs; that is something which makes it stand out among all other plugins.
It is available for free, and some premium versions are also available to increase its functionality.
Key Features
With the help of Google Visualization API and DataTables.net, you can create charts and graphs.
In the free version, nine charts are available, and if you choose the pro version, 3, more will be added.
Behind the chart to edit the data, a complete excel-like spreadsheet is available to add the data.
Allow users to create charts manually.
Interface
To create a chart first, you have to select which type of chart you need.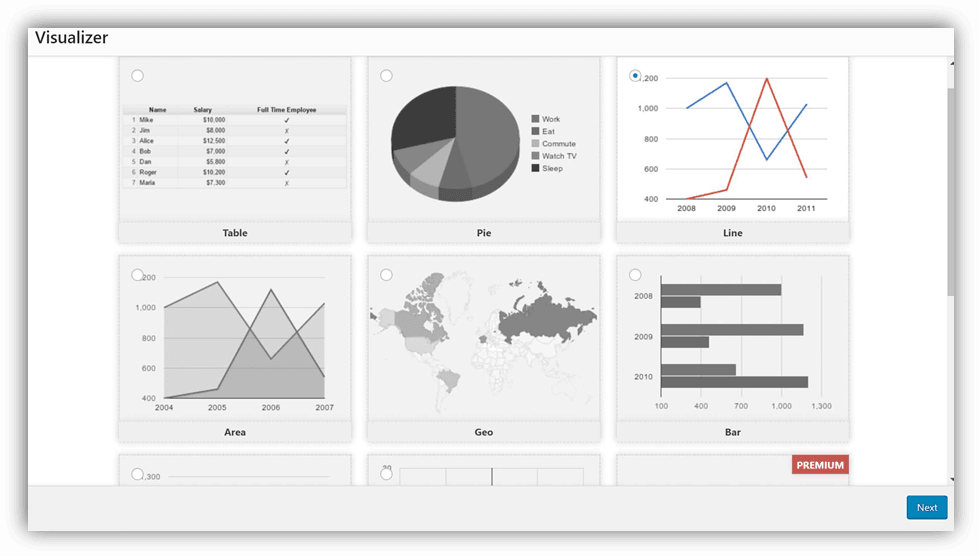 Then you will enter the data to get the chart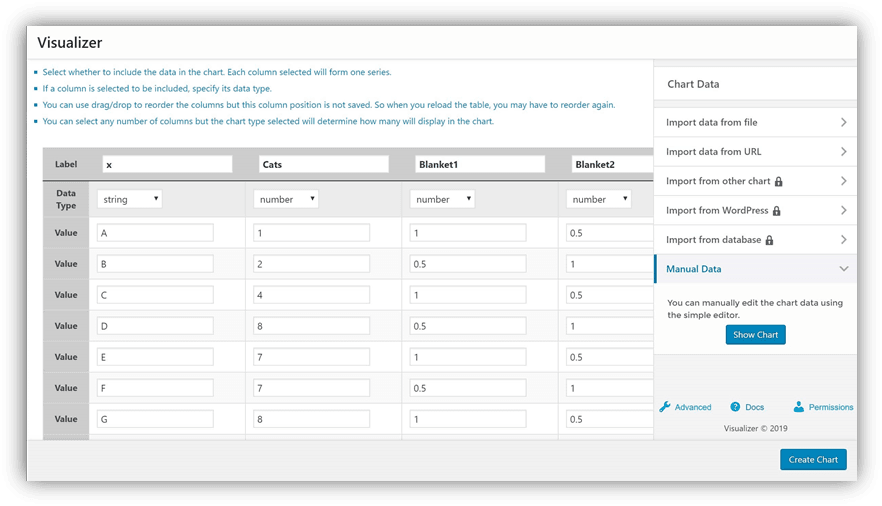 Pricing
The free version is limited to some features, and if you want to enjoy all of the other features like chart types, import options and other features you have to buy the pro version.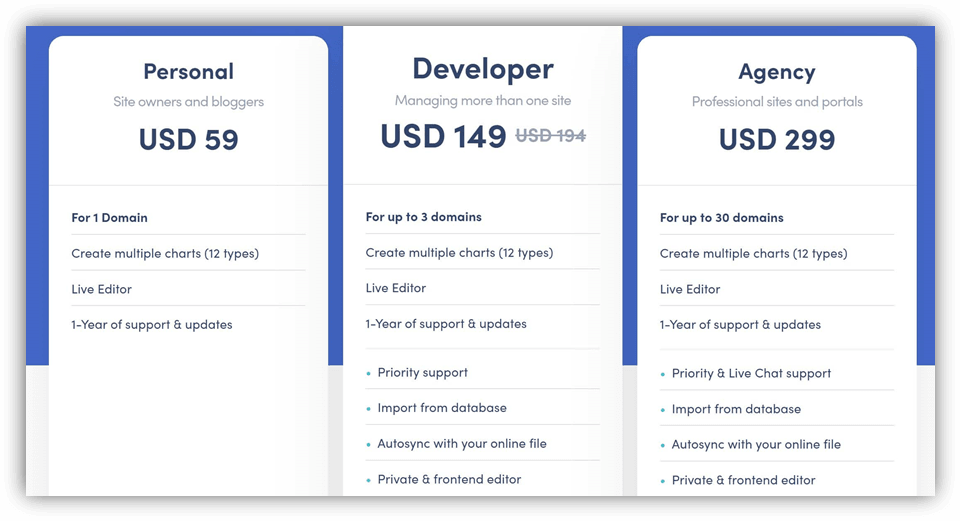 Which table plugin should I use?
So, here ends our roundup for some of the best available table plugins. These all are best for some of their features, and if you ask us which plugin should we recommend? Then I would suggest WP Table Manager Plugin because of its diverse functionality. It is an all-in-one pack with plenty of options to import or export your data. You can create charts and graphs also and preview them in front-end. Moreover, the prices are also affordable.
But if you like to enjoy any free plugin, then I would recommend using Tablepress, and also visualizer is good for creating epic charts and graphs.
You can ask us any question about these plugins in the comment section.