Elementor is a WordPress builder that works seamlessly with any WP theme or Plugin. If you are a user of Elementor and searching for the best Plugin to manage your tables, then you are at the right place.
Tables are helpful and unescapable tools for many WordPress websites. You can organize, compare and break data displayed to visitors for easy understanding. Creating tables in WordPress is a must-know skill.
Creating tables has become much easier with plugins coming than using the former cumbersome method using HTML.
Why use Tables?
Tables help display data in a significant way that is not cumbersome or too hard to read; this post will learn about the best Plugin suitable for creating and managing tables using Elementor. Let's first look at some plugins to consider when thinking about tables on your WordPress website, and we'll pick out the best.
Plugins to consider when creating tables on your WordPress website with Elementor
Elementor is a WordPress Page Builder that makes web designing so easy. It offers over 80+ widgets serving different purposes. The problem with Elementor is it doesn't have a default widget for creating tables. To be able to use tables in Elementor, there is a need for a table plugin.
There are many plugins out there to build and manage tables in Elementor, but are you making the right choice? A lot of people find it challenging to get the right Plugin to get the job done. I will be pointing out some of the plugins suitable for creating and managing tables in WordPress from which we can choose the best.


1. WP Table Manager
The WP Table Manager plugin offers a full spreadsheet interface to manage tables. Creating a table is quite easy; all you need to do is pick up a theme from its achieves of themes and get started with editing. It has a set of powerful table editing tools.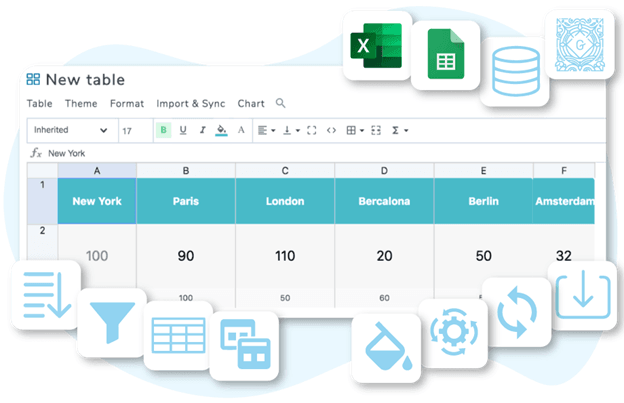 The Plugin automatically synchronizes with Excel files and Google sheets; you can import and export Excel and google sheet files. The user can directly edit the table by clicking on a cell and editing its content without necessarily using a visual editor.
The Plugin also has several responsive modes; it has six built-in themes from which you can manipulate and vary to suit your taste. Data sorting has never been easy as when using WP Table Manager; it has features like filtering, ordering essential features when displaying large tables.
It easily integrates wooCommerce and other 3rd parties compatible page builder plugins.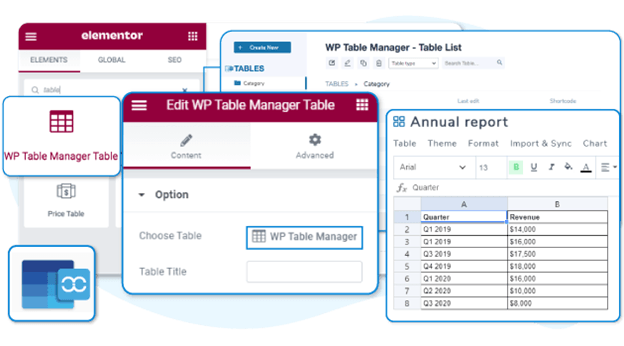 Its pricing ranges from $34 for six months and a $39 plan for one year with all the features to manage tables in Elementor.
2. WP Table Builder
The WP table builder is a plugin that gives you a drag and drop interface for creating tables. With this Plugin, you can make your table mobile responsive.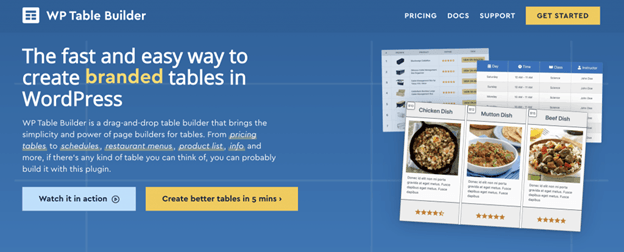 The WP Table Builder is currently endowed with five elements that are text, image, list, button, and star rating. It also has an intuitive cell management option where you can add or remove a column or row. As it pleases, you can also edit the height and width of the columns and rows. The WP Table Builder can create comparison tables, menus, product specifications, and more.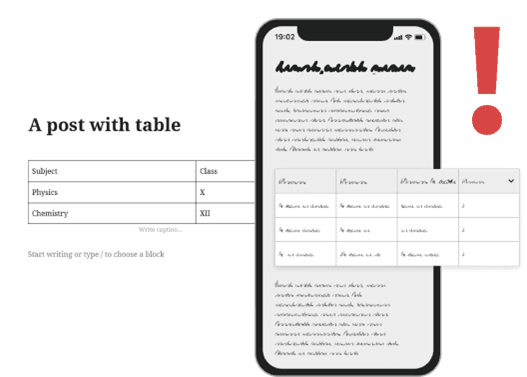 You can embed WP Table Builder to Elementor using shortcodes.
The key features we note in WP Table builder are;
Easy to use interface.
The Drag and Drop option.
Its five poignant elements
The cell management option
Its responsive and dynamic table creation
The shortcode embed.
These features make WP Table builder to be much considered when thinking of implementing tables with Elementor.
The shocking thing about WP Table Builder is despite all its exciting components, and it is a free plugin that can be downloaded directly on WordPress.org.
3. TablePress
TablePress is one of the most popular plugins used to build tables by thousands of WordPress users. It allows for embedding tables into pages, posts, and even text widgets with simple shortcodes; provides for the importation and exportation of tables from and to other websites. You can also perform filtering, sorting, and paginations using the TablePress plugin.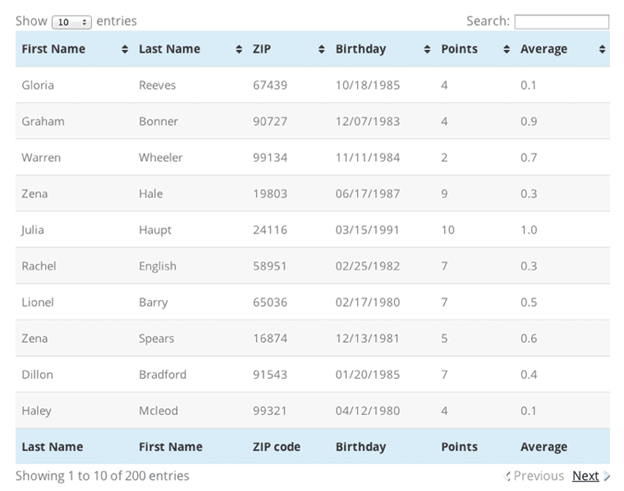 The TablePress plugin creates responsive tables, but this is only possible with simple addons to get the responsive table. The fields of the table can be altered using spreadsheet-like interfaces and can also contain formulas.
You can export or import your tables from EXCEL, HTML, CSV, and JSON files; this makes backing up easier. Tables can be beautified using HTML codes that will make your table engaging and attractive.
TablesPress is also a free open source plugin with a;
User-friendly filter
HTML Support for Data Cells
Support for table caption, header, and footer,
Import from CSV, Excel, Google Sheets
And export to CSV, Excel, and pdf.
4. JetElements
JetElements is a table creation plugin with two distinct table elements; the Table element gives Elementor users an interface that allows placing content in cells, rows, and columns. The pricing table element allows the display of purchase plans in seven different ways you can choose to suit you best.
The tables are entirely customizable and have a sleek taste in all colors; it also has a default sorting feature. JetElements has over 40+ well-crafted elements to help build websites in Elementor.
JetElements is not free, so you need to purchase it to use it; the cost ranges from $130per year to $265 per year with a special lifetime access plan of $750.
5. PowerPack for Elementor
The PowerPack for Elementor is a lightweight plugin that offers over 55+ Elementor widgets. It comes with 3 table elements;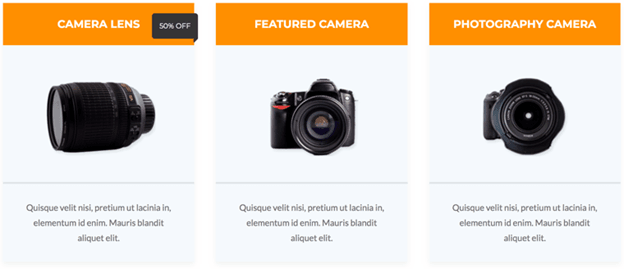 Info Table: the info table allows you to present your products in a sophisticated and efficient form.
Table: the Table element can be fine-tuned using three tabs: the content tab, the syle, and the advanced tabs.
Price Table: the Price Table has eight appealing display styles; it is also customizable to fit your site style just perfectly.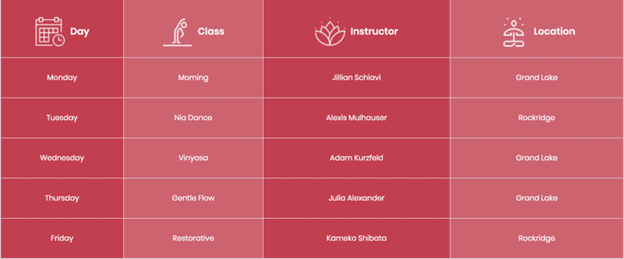 With the customizable option, you get complete control over the elements of the table elements.
Coding the merging of rows and columns can be challenging, but the PowerPack table deals with that aspect hedge-free without writing any complex code.
Tables created with PowerPack are responsive; It also comes with a limited free copy. Its paid version ranges from $49 to $89. It also has a lifetime access package worth $349.
6. Element Pack
The Element Pack plugin is multifarious and is one of the most diverse Table plugins in WordPress with a total o 4294 controls, 80 core widgets, eight extensions, and a flawless harmony with 29 third-party widgets.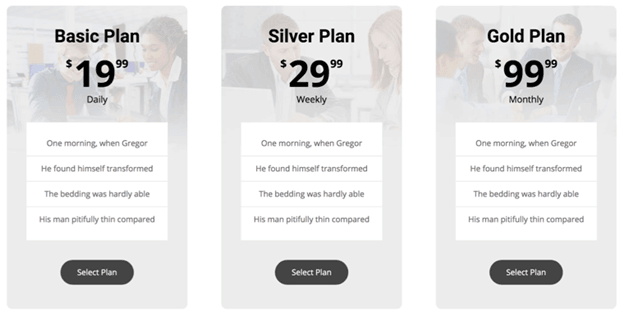 Its Pricing Table widget offers a very beautiful interface with over ten templates. It also offers a table widget that is ultra-responsive and can be edited stress-free.
You can also create hovering tables and even change their background and the borders as it suits you. It also has a filter and a search system, making it easy to sort and find specific items on a list.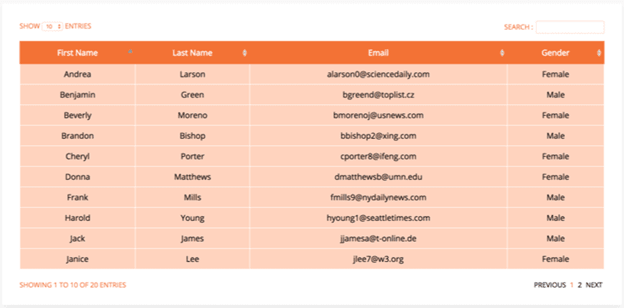 Element Pack offers 85+ page templates with over 160 headers and footers, giving you a solid work foundation.
Element Pack is a paid plugin ranging from a yearly payment of $39 – $249, depending on the option chosen. It also has a lifetime access option ranging from $99 – $599, depending on the option chosen.
7. Essential Addons for Elementor
Essential Addons for Elementor is a popular plugin specializing in data tables and pricing tables; it offers over 60+ elements. The data table widget allows you to design any table with the most needed features like sorting, icons, etc.; the pricing table, on its part, comes with five different styles you use for your pricing tables. These table elements have stunning appearances and give numerous predefined styling options, making it flexible in picking one that suits you best.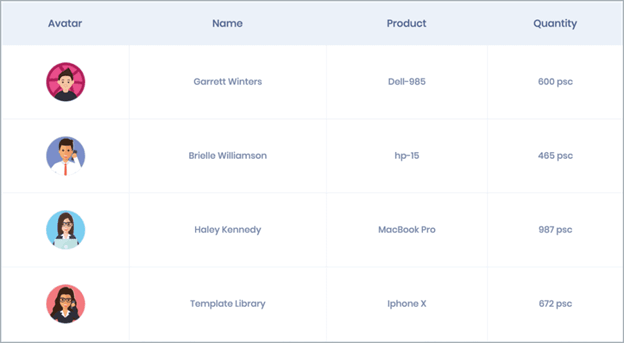 The tables are easily customizable and responsive, too added to ease resizing cells and adding picture contents.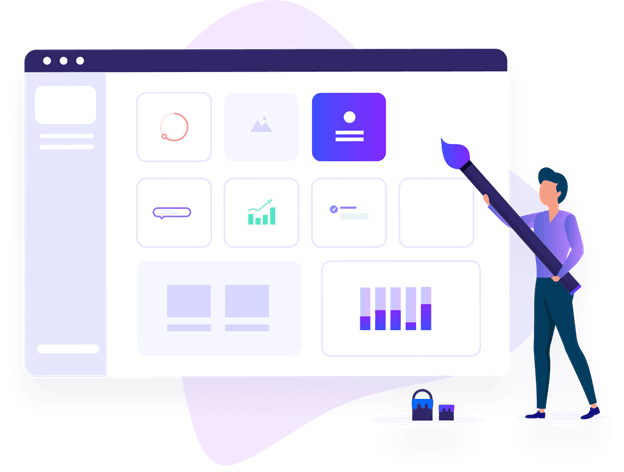 Essential Addons for Elementor is a paid plugin with a lifetime access plan ranging from $39.97 – $169.67.
8. Ninja Tables
Ninja Tables is a responsive plugin that helps to create dynamic tables. It has advanced features that give the user a much comfortable feel in creating tables. The diverse ingredients that make up the Plugin make it user-friendly.
Its breakdown facility helps to combat every issue of responsiveness on all devices. The Ninja Table plugin offers several table designs, predefined schema with needed features like pagination, sorting, and filtering. You can add a Ninja Table to Elementor using a shortcode.
The key features to have a lookout for when considering the Ninja Table plugin are
Its simple configuration,
The drag and drop data sorting system,
Its pagination friendly interface,
The ability to create a duplicate of any created table,
Its import and export facility,
Its filterable table,
And its easy integration to WooCommerce and Google sheets.
The Ninja Table plugin has a limited free copy and a premium version which starts from $39 for a single site license.
Conclusion
The above are well-to-do plugins that all serve to create and manage tables in WordPress using Elementor; they are highly rated plugins with thousands of users already around the world. But here is my take. I will go for the WP Table Manager and the TablePress for a person who doesn't want to spend in getting the job done, but the problem is that you won't get the best designs using these plugins; on the other hand, I will recommend you to use the WP Table Manager for its vast majority of themes and customization aspects which gives you a design full of beauty and attraction.