"Content is the king" you must have heard this phrase several times.
But I say that "fascinatingly presenting your content" is equally as important as this phrase.
You might be writing the most comprehensive and compelling content on your blog, but if you have not well organized all of your content, you might lose your visitors; because no one is interested in digging out your content list to find out the most interesting and popular section of your blog.
Displaying the right content at the right place can dramatically improve the functionality and efficiency of your site and help your readers to find the popular hit of your blog that will glue them to your site for a longer time.
Nonetheless, the WordPress comes with some latest post widgets to display your content in sidebars, and to some other areas, however, this is limited to displaying a specific number of posts with dates and titles only and doesn't allow much flexibility to customize any changes according to your needs.
Luckily, there are plenty of news plugins that could highlight your content in a compelling way, which will act as a helping hand to your new visitors to get to your hit content at the display.
These plugins can transform your display by creating custom grid layouts that showcase your best work from your blog, or the most admiring image that you love to display from your WordPress Media library.
We have listed some handy plugins that are going to reduce a lot of work on your side by adding impressive functionality to your site and making it extraordinary appealing with advance features and narrowing focus on all-time most popular articles.
WP Latest Posts news WordPress plugin
Recommended
WP Latest Posts plugin is a highly recommended news plugin with extraordinary advance features to format your posts, pages, and custom posts automatically with one of the 6 included themes. The plugin is highly user-friendly and comes with a one-click installation. Moreover, the plugin offers exclusive features to configure each news block separately; you can select the content to display from a content source (pages, posts), filter them with available options, apply your preferred theme, and there you go.
Key features
Multiple Latest posts Blocks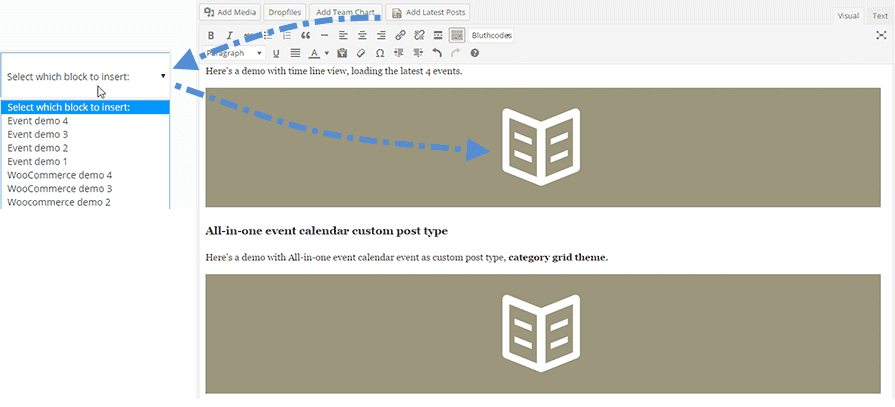 WPlatest posts provide you the flexibility to configure various news elements instances with a different configuration. Later on, you can display each news block on different pages or on the same page.
Content source selection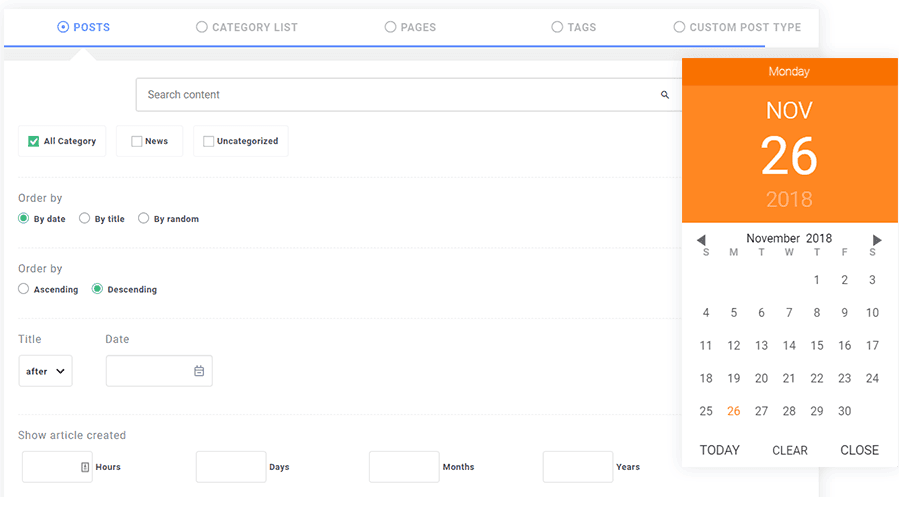 Select your content from multiple categories. Employing flexibility of selecting from various sources, later on, you can add title, and filter by date.
Select the ideal fit theme for your content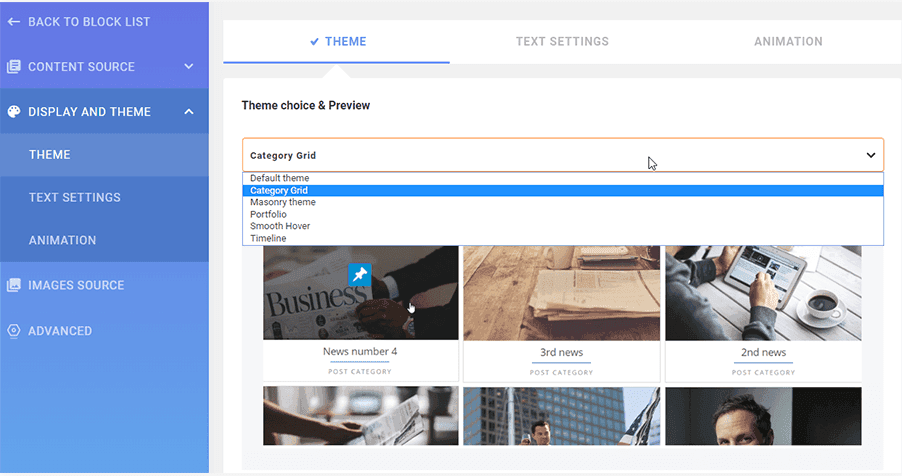 The free version comes with one theme for free, and the add-on allows up to 4 themes that are highly compatible with mobile support.
Premium features of themes are
Smooth hover theme
Category grid theme
Grid theme
Timeline theme
Default theme
Display the latest WordPress content as Widget
You can display every latest post news as a widget by selecting the newest post widget and afterward place it wherever you want them to display on your post.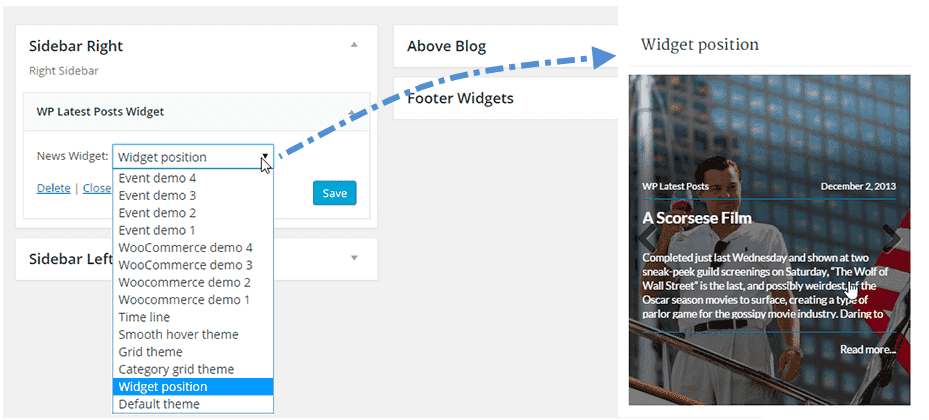 Put on show WooCommerce latest products
Present the newest selection of Woocommerce products by types and categories with WP plugin.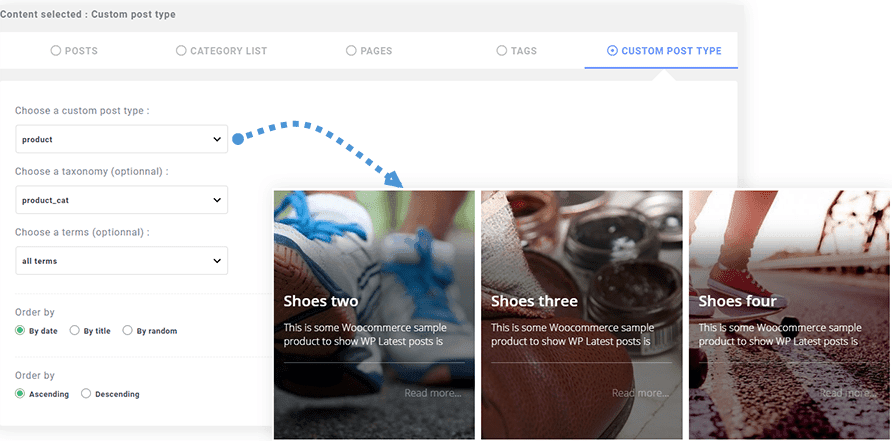 Pros
There are two versions one is free, and the pro Addon comes with more advanced features.
Free version
The interface comes with an ultra-fast configuration technique to set up and edits a number of news at a time. Where you need to select the news source, the design, and finally, the place where you want it to come into sight, and that's it.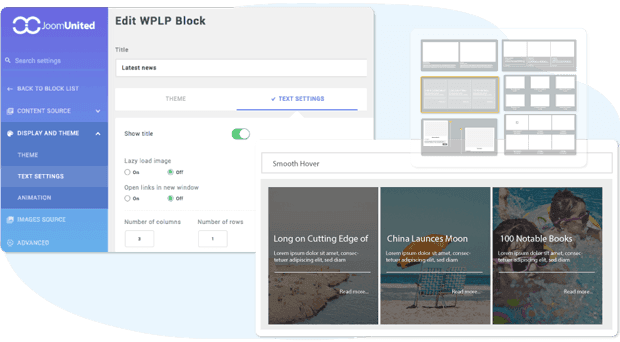 pile up your news in a highly flexible way where you can select your content from different sources like pages, posts, custom post type and display them wherever you want in your content. You have multiple choice of filter types to select, i.e. filter by content type, posts, categories, pages, tags or filter by dates/title/random. Or display your published content by years/months/days/hours.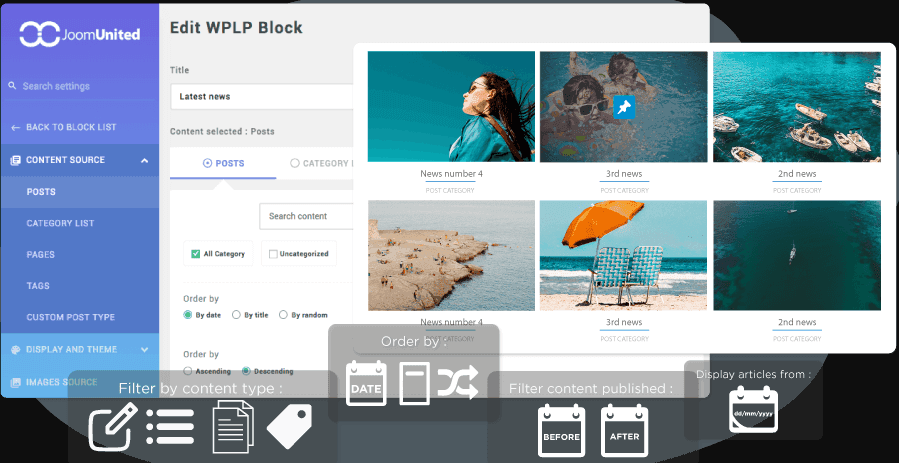 You can access all the WP Latest Posts features in a dedicated block in WordPress Gutenberg editor.
Each latest news block post can be displayed through widget anywhere on the page. Moreover, you can create custom layouts by using shortcodes or PHP snippets. WP Latest post Plugin is highly compatible with all major page builders and custom themes.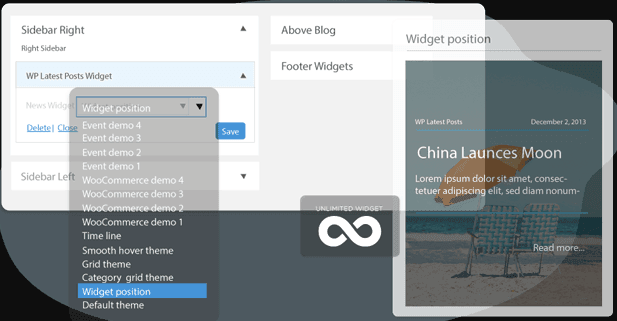 With the help of multisite and multilingual website features, you can get a number of content from any of your multisite and display them where ever you like. Moreover, you can filter any of your content by language once WPML or Polylang is detected.
Paid version
3 more Masonry wall themes are available with the paid version
The additional themes bring timeline theme, portfolio theme, and a news slider along with add on features.
The unique feature of color picker enables you to transform your theme look with a single click to fit your website design.
Pick up a date to publish your news or delay it by hours or times.
If a post is attached with multi categories, you can select whether to load it in all categories or not.
Cons
You have to pay to get some extra features (which in fact worth it).
Pricing
You can download the basic version for free from WordPress repository, and for add on the version, the pricing is as follow.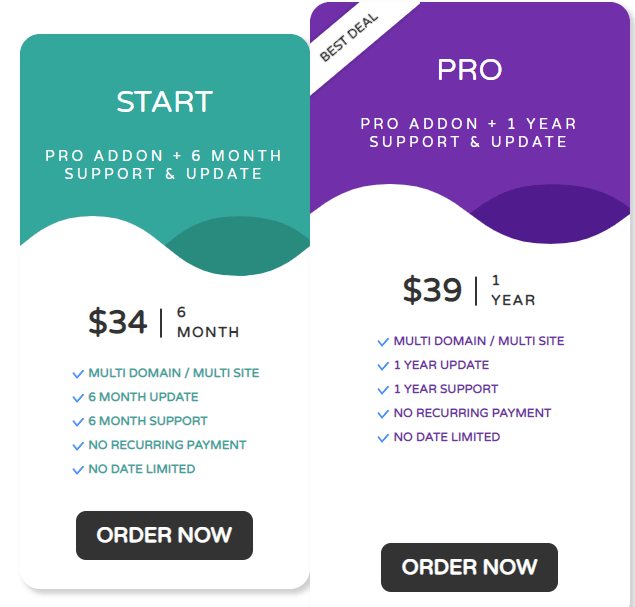 WordPress Popular post plugin

Key features
WordPress Popular post plugin is one of the highly recommended plugins with more than 300,000 active installations and a 4.7-star rating. The reason for its popularity lies in its Multi-widget capable feature that allows several widgets of WordPress popular posts on your pages with customized settings.
Pros
Highly customizable multi-widget capable posts display.
Enlist your most liked posts with a specific time range like 24hours/weekly/monthly.
Allow custom post types that permit to show other stuff like popular products other than just posts and pages.
Display thumbnails of your posts
Sorting option allows you to sort out your popular posts by comments and views.
Themes are also customizable, where you can easily change the layout or style of themes according to your taste.
Polylang and WPML allow you to see your most popular posts translation in other languages.
Cons
This plugin is not compatible with medium to the high website and may crash MySQL service so you may face a loss of visitors in this case.
Chances are you may face bugs, and it doesn't work with CMB2.
Pricing
Download it for free from the WordPress repository.
WP Tab Widget WordPress news plugin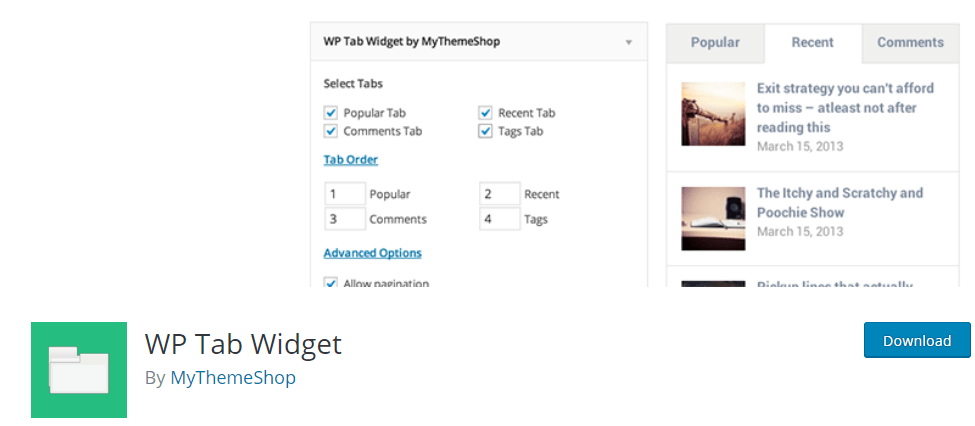 Key features
The WP Tab widgets are an extremely lightweight plugin and your page load in a blink of an eye because of its AJAXified function that loads the content only when it is demanded. You can install the plugin and create a sidebar widget of your content, and your visitors will find it easy to scroll your accessible content conveniently.
Pros
exceptionally lightweight and the content loads on demand
highly responsive
Change the order of tabs and the numbers of posts you want to show.
The in-built cache system allows the tabs to stay in the memory once they load.
CSS is customizable, and you can modify the themes accordingly.
3 styles of thumbnails are allowed. Small, medium, and large.
Position the widget after customization anywhere on your pages.
Cons
WP Tab Plugin tab content is limited to displaying posts only and not flexible at all.
The customer support is highly irresponsible and does not reply to customers if they encounter any problem.
Custom tab options are limited; it could be better if the widgets are allowed in custom tabs.
Pricing
Download its free version from WordPress.org
Top 10 Popular Posts plugin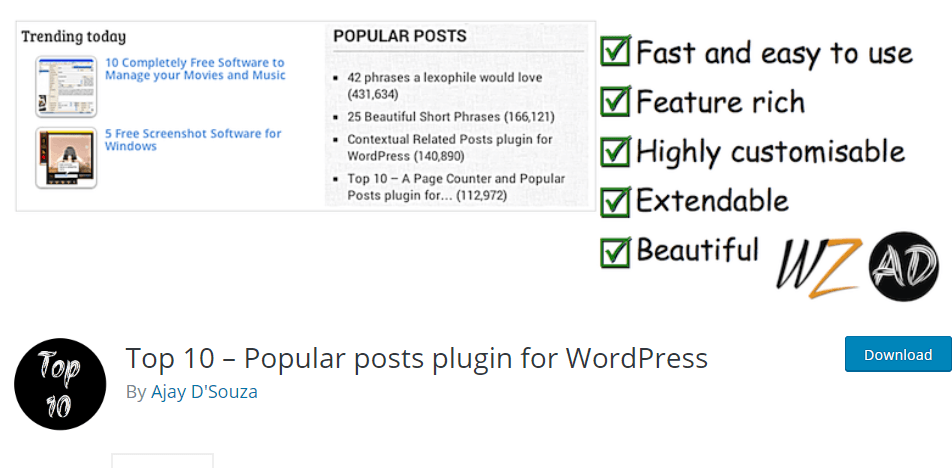 Key features
The next top-class post plugin is Top 10, which is famous for one of its unique features; as shown by its name that it counts how many views a post, page, or a custom post gets afterward, you can put on display the list of most viewed content. The 4.6 rating shows that plenty of customers are satisfied with the performance of this plugin.
Pros
The Top 10 plugin keeps a record of per hour views of each post, and then you can display the most viewed content by measuring how many times a particular content got views on different intervals.
Easy to use interface with inbuilt ability to count and display popular posts.
Top 10 supports thumbnails and allows different sizes of thumbnails.
A sidebar widget is available for displaying daily or overall popular content.
The widgets are highly customizable, allowing you to customize according to your taste.
The plugin is featured with two shortcodes to display a content list or number of views, respectively.
You can give a style easily by using CSS styles.
Highly compatible with caching plugins like WP super-cache and Cache and many others.
The customer support is highly responsive, and the plugin builder is always there to help you sort out any inconvenience by him.
Cons
Does not support too long titles and "…." May appear instead of your claim if it is too long.
This plugin is incompatible with Varnish and Server-side Caching plugin.
Pricing
Download the free version from WordPress. Org, and if you are looking for some special support, you may receive it through an email after a donation of $100, at least.
WP Most popular WordPress post plugin
The WP Most Popular plugin works super-fast plugin with an ability to portray your most viewed posts on display with blog theme and custom styling. You can sort out posts from the last 7 days 30 days or any period.
Pros
The plugin works in two ways

Custom function in your theme files

You can add time range from an hour to 7 days or monthly to display your post on the top.
If you are familiar with coding, you can customize the list of popular posts anywhere in your theme by adding a custom function to your theme.
Cons
Limited features to customize
This plugin is not tested yet and may have compatibility issues when used with the latest versions of WordPress.
Pricing
Open source, therefore, download it for free.
Final verdict
If you do not want your viewers to drown in your content pages to find out the best post by you, you have to install one of these top-rated plugins to maintain flow to frequent viewers.
All of these plugins are doing wonders in showcasing the hidden gems of your posts, and if I have to recommend one of them, I would recommend WP Latest Post news plugin because of its rich features and highly customizable themes. You can check out which one suits you the best and don't forget to share with us your experience which plugin suits you well.