No matter you own a business WordPress website, an online eCommerce store, or a blogger, the contact form is a need of time as it works as a bridge between you and your visitors to express their feelings.
Now in this modern era, nobody likes to use the outdated traditional way of contacting webmasters through email. Instead, the hackers may find it easy to harm your websites by sending spam emails to spoil your valuable website data.
However, this problem has been significantly solved by WordPress platform where free and premium WordPress contact form plugins are easing the life of visitors and webmasters in building a two-way communication.
We have picked up some handy WordPress form manager plugins for 2020 ensuring better user experience for your convenience.
Let's get quickly to our desired point.
Why form Manager Plugin is essential for your site
The contact form works as legitimacy proof of your trustworthiness, where visitors find a professional look of your contact address. WordPress platform doesn't offer enough solution to create forms according to your need, and you have to install a plugin separately for this purpose.
Before locking a plugin for your site, keep in view which sort of form it can create for your site.
Subscription/Opt-in forms: These kinds of forms are used to get more subscribers by signing in to your newsletter via subscription/opt-in form.
Order form: these forms are used when you sell any product or service online and get paid.
Survey form: this form is used to collect data from your users about your product or service.
Post submission form: when visitors contribute their posts to your blog, this kind of post submission form helps them in editing their data on your site.
Ninja forms Manager Plugin

Key features
The Ninja form Manager Plugin is winning the heart of its users with its superb features, where you don't need any coding or designer experience to create custom forms. A highly user-friendly interface with easy drag and drop option enables any beginner to create custom form according to his need. Moreover, it comes with brilliant add-ons to enhance its workability, although the free version has immensely great features to offer, yet you have the option to purchase the add-ons separately, which reduces the cost of buying the whole bundle.
Pros
Simple and easy-to-use interface with drag and drop form creator.
The basic version is available for free, and you will need to buy extra add-ons if you want to enhance its functionality.
Comes with unlimited numbers of forms, fields, emails, action, and submission that can be integrated
Once the form gets completed, a success message can be sent or redirect the visitors to any other page.
Comprehensive fields for emails, user information, phone number, and address.
Export and import forms from any folder.
It comes with inbuilt anti-spam options like Google re-captcha, Akismet, question/ response fields.
AJAX feature enhances the facility of form submission without refreshing the page.
Personal membership comes with some incredible features as follows.
The conditional Logic feature lets you decide your actions based on the user's input. You can show/hide fields or send emails or forms, based on your user's action.
File Upload feature lets your users to upload files with the submission forms to your server.
Layout and style feature allows you to create any complex forms layouts without adding extra burden to your CSS style-sheet.
PayPal expresses features to allow you to create a Paypal Form that will send a payment to PayPal's express.
Cons
The basic version doesn't allow enough features like condition logic add on which helps to create dynamic forms based on the user's intent while WPForms enable this feature with the core version.
A bit costly when your need grows, and you have to buy multiple add-ons to cater to your needs.
There is no default success message once the user submits the form; they are left blank what to do next if you created a form without selecting the submission button.
Pricing
The basic version is free to download, and further add-ons come with $99 / year.
Here is a list of add-on pricing.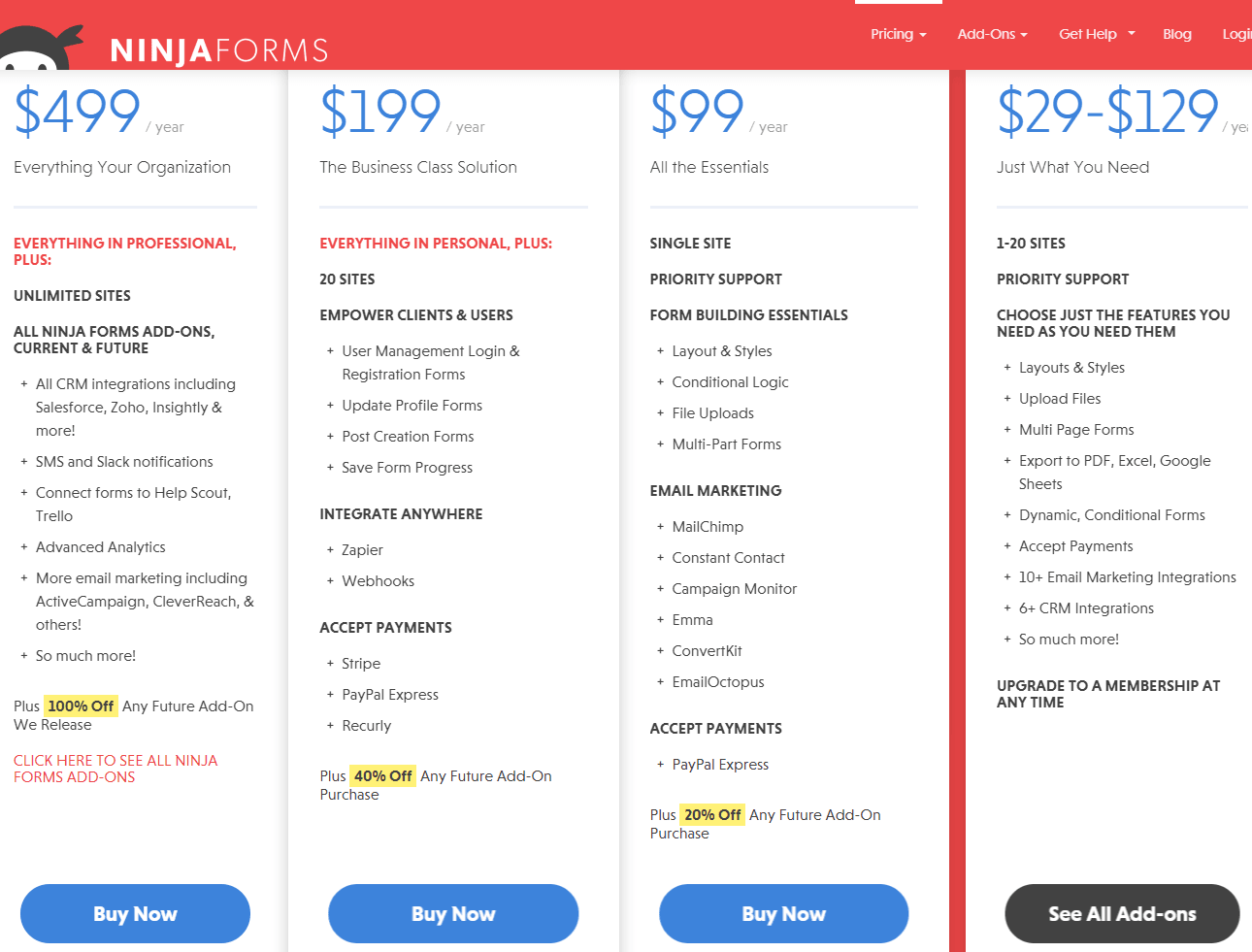 Gravity Forms Manager Plugin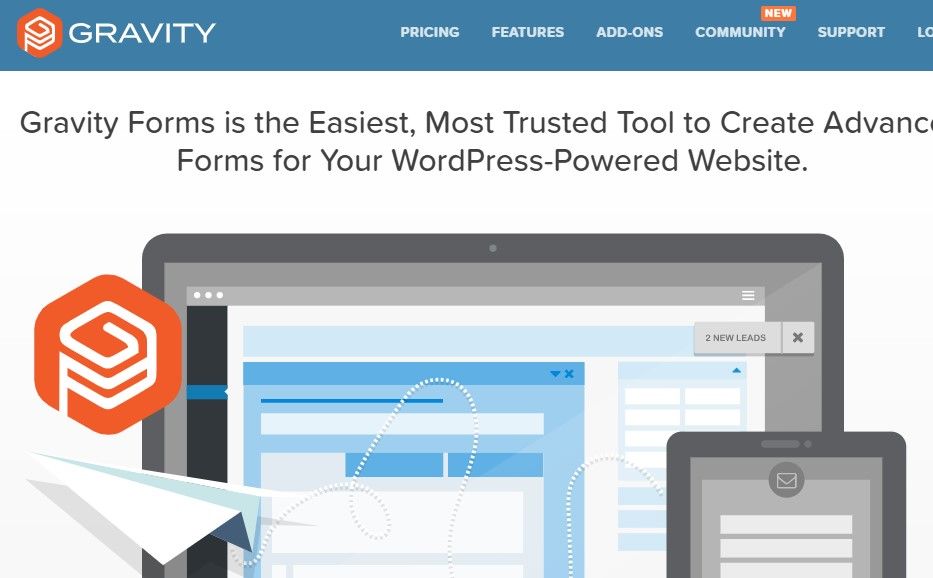 Key features
Gravity Forms plugin is another extraordinary contact form plugin that offers some incredible features other than standard contact form plugins. A beginner's friendly plugin with drag and drop facility makes it intuitive with straightforward functionalities. Moreover, the add-on features and detailed setting options enable you to control and create complex forms within no time.
The Add-ons come with the integration of 3rdparty products and services which is another great aspect of this plugin.
Other than many remarkable features, one distinguishing feature is 'conditional logic,' which verify which form field is to display when a user enters details into previous fields. This feature comes with the free version which is an edge over competitors form plugins.
Pros
A beginner-friendly interface with drag and drop editing option
Allow multi-page forms with the save format option.
Mobile responsive, your forms will look great on all screens like mobile, desktop and tablets.
Help you build any form with more than 30+ fields options
The email notification feature alerts you by sending an email to you whenever a form is submitted.
Anti-spam control option filters spam through Google reCaptcha, Akismet, and simple Recaptcha.
Create a schedule of forms when to receive form submission and number of entries.
Highly integrate able with any online application you like to work with.
A quick preview is available once you are done with editing the fields.
Cons
The interface is not as much user-friendly as that of WPForms because of some more advanced features.
Customer service is not supported and many customers are complaining that they didn't get any support for their problem.
Customers also had issues with enabling reCaptcha without which the form cannot be submitted.
Pricing
Three pricing plans are available.
Basic plan: $59 available for one site with basic add-ons.
Pro plan: $159 for 3 sites with basic and pro-add-ons
Elite plan: $259 for unlimited sites with basic, pro and elite add-ons
WP forms plugin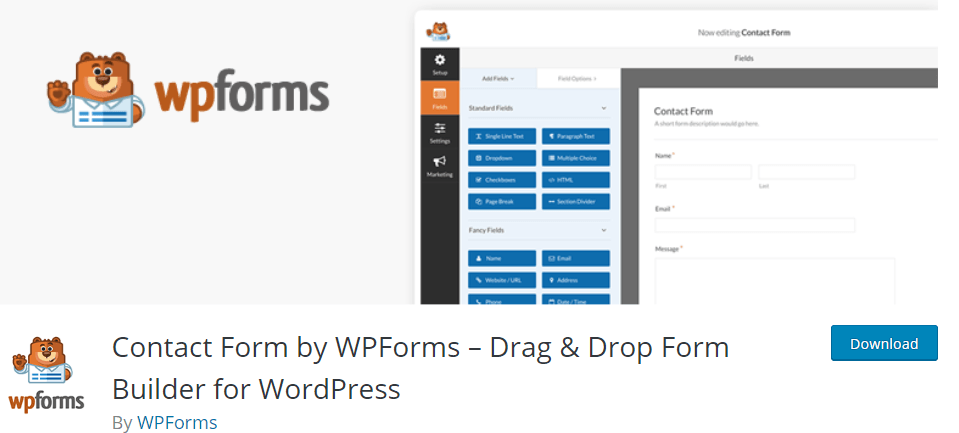 Key Features
WP form is another powerful plugin with drag and drop form builder features and pre-built form templates. This plugin is one of the most popular form plugins with more than 2 million active downloads.
Pros
No need for coding, create unusual forms in no time with the help of drag and drop form builder.
WP form light version comes with smart features along with some pre-built templates to create form instantly.
create mobile-friendly contact form, the plugin works best with all kinds of screens like mobile, tablets and desktop.
Prevent any spam submission with the smart captcha and honeypot tool.
Get an instant notification via email when a form is submitted.
Get payments donations online easily with its PayPal add-on
Collect payments, donations with Strip Add-on.
Grow your email list speedily with the Mailchimp Add on.
Smart conditional logic enables you to create high-performance forms quickly.
Quickly control and manage each of your forms entry by streamlining workflow in one place.
Improve user experience by splitting long forms into multiple pages.
Custom WordPress user registration forms can be created.
Users can upload files and media along with their form of submission.
Cons
The free version doesn't provide sufficient features, and you have to buy Add-ons to make it more functional.
No reCaptcha facility in the free version.
Pricing
WPForms lite version can be downloaded for free from wordpress.org.
The other pricing list is as follows to pamper your needs.
Formidable forms plugin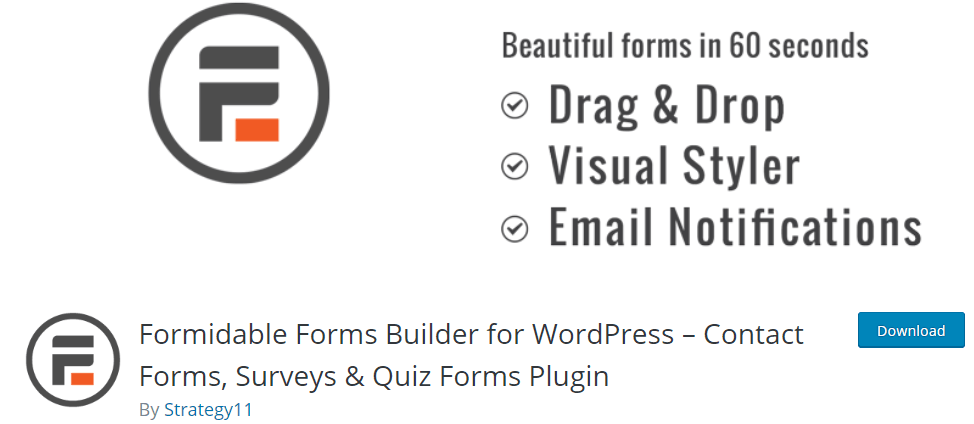 Key Features
Formidable forms are an excellent plugin that helps you create multi-page forms without hiring a developer with its simple and advanced features. With the help of formidable forms, you can quickly build simple or complex forms without writing any code.
The basic version is free to download, while for advanced features you have to buy the pro version.
Pros
You can create all kinds of graphs, directories, calendars, and tables with formidable forms.
The dynamic filtering feature enables you to display entries directly from your current logged in users.
The basic kind of forms can be built with the 'lite version', and you can quickly build these forms with drag and drop editor tool.
The advanced forms can also be created with formidable forms, and you have to buy the pro version to build forms with advanced features.
The advanced features with pro version are file upload, Rich text, password, and credit card.
Formidable Forms can show your data on the frontend, which no other plugin does.
A progress bar supports you in creating a multi-page form by reducing the complexity of a form with too many fields.
It can perform advanced calculations like those of the eCommerce store.
Some other handy add-ons include user registration, Mailchimp, Paypal, stripe, user tracking.
Cons
Post format may not appear for custom post types
Sometimes forms don't show up after updates
Issues may arise when connecting to Zapier Add on.
Renewal cost is a little bit higher than other competitor plugins.
Pricing
The lite version is available for free at wordprss.org, while the advanced pro version price list is as follows.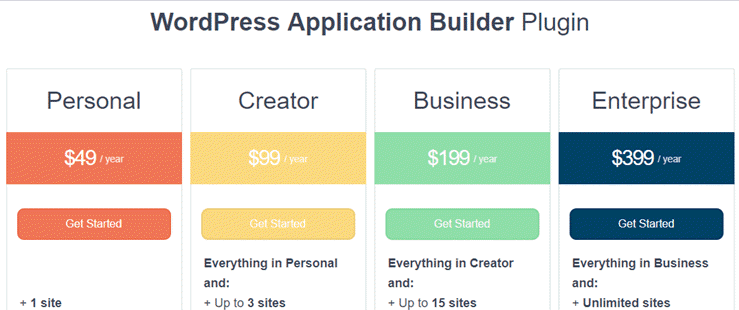 Contact form 7 plugin

Key Features
The contact form7 is another widely used plugin with more than 1 million active installation and 4.5-star reviews. But it is not as easy to use with drag and drop builder as many other plugins, and you must know how to work with HTML before starting with this plugin.
Pros
An automatic ready-made form is inserted into each page once the contact form 7 plugin is activated.
By using a short code, you can add your custom contact form into your multiple WordPress posts with a single click.
A preview is available to check the finished look of your contact form before hitting the publish button.
ReCaptcha, Akismet and constant contact features are readily available.
Cons
No drag and drop form builder
No button to add form into your WordPress posts; instead, a shortcode has to be copied on each page to include a contact form.
Pricing
Download free version from wordpress.org
Final thought
We have created this list keeping in view the best user's interest by searching user's reviews and the performance of each plugin. I would recommend the Ninja form plugin because of its easy to use interface and rich-feature pro version. You can find other plugins also working best for you according to your interest.