Try these Best add-ons and plugins for Gutenberg to super-charge your Gutenberg editor with exclusive block libraries and templates
Gutenberg is a ground-breaking block-based content editor that allows you to create content layouts as a separate block, and you can drag and drop or add or remove these blocks easily.
The developers are also working on bringing in high-end advanced plugins to enhance the functionality of Gutenberg; these plugins power-up the editor's efficiency and capabilities to create extraordinary content layouts to make your content more engaging.
Enjoy the freedom of being a boss of every corner of your content beyond your imagination; forget that single unified box-like classic editor with limited capabilities.
Now you can customize and edit each bit of your content like a pro in Gutenberg with the help of these Gutenberg Blocks plugins.
If you are not aware of how this Gutenberg editor does works?
Here is a video demonstration of how Gutenberg editor allows you to customize each block in your content.
Most of these Gutenberg plugins enhance the functionality of the existing Gutenberg editor, or they can add new custom blocks to get you the desired layout. However, these block-based Gutenberg plugins are framed with a plethora of custom features that fully address each block's functionality.
Here is a list of top-rated best Gutenberg plugins which are tried and tested over time and again.
Advanced Gutenberg plugin
Recommended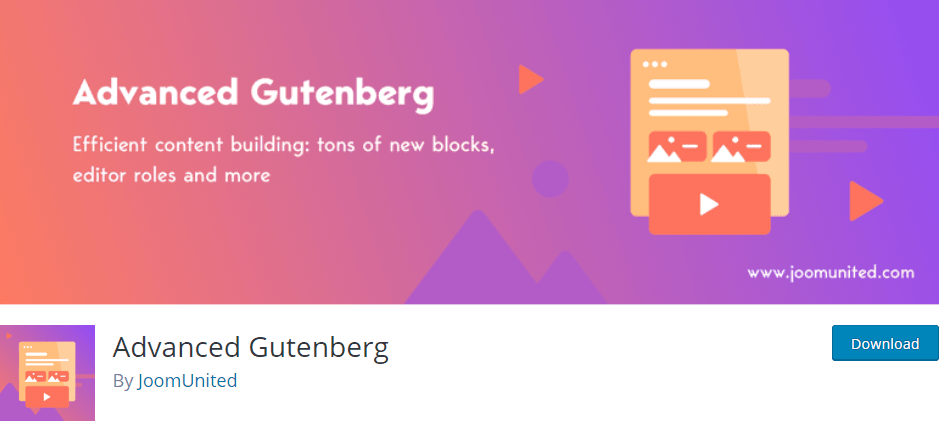 Advanced Gutenberg is an incredible enhancement to WordPress Gutenberg editor with more than 20+ new blocks. The most appreciative feature of this tool that makes it stand out is that this plugin comes with an advanced block access control option, which is user-defined where only assigned users can access and edit chosen blocks. You can create multiple users' profiles and activate or deactivate some of the editor's tools for specific users.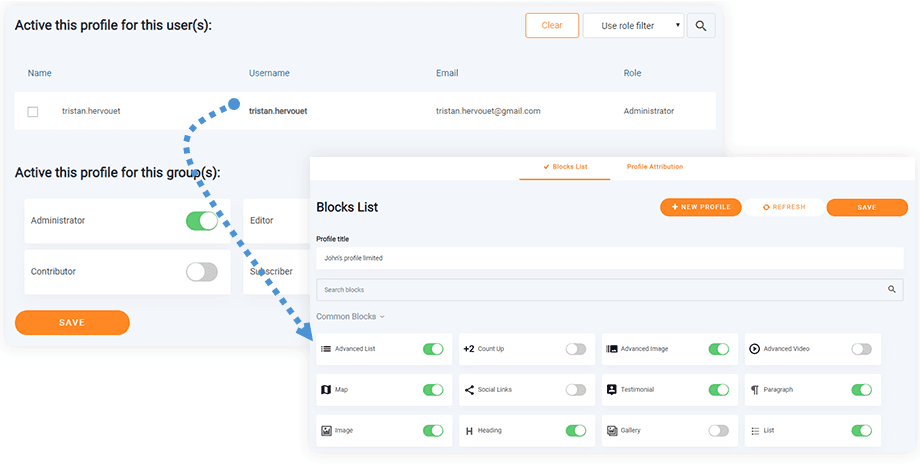 Advanced Gutenberg Key features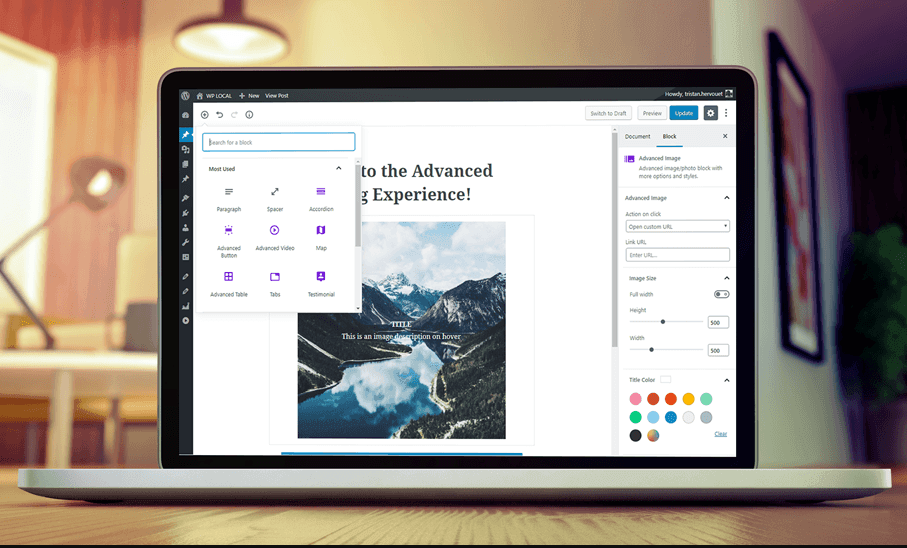 The Advanced Gutenberg plugin comes with implausible "time-saving tools" like table manager block, an accordion and tab block and contact form block, and many others.
Automatically generates summary based on your title structure that guides the users to access their required topic instantly
The advanced button block feature allows you to craft and create stylish and innovative buttons to attract new traffic.
The Advanced image block enables you to create images according to your choice where you can resize, add custom text, colors, and overlay.
The advanced list block feature helps you to create lists with new and elegant icons and text styles and a chic list will be created within no time.
The Map block allows you to create a Map block to Google for your pages or posts.
The Advanced Table block will create tables with more customized styles and colors
Now you can easily create fresh counters with the help of counter block within no time.
The Accordion Block enables you to display your content in an accordion display.
The Testimonial Block Allows you to add testimonials of your clients to your content.
Now it's easy with Advanced Gutenberg to customize both local and also embed videos.
Stylish separator feature helps you create a stylized separator.
The social link Block feature allows you to create customized social link icons with different styles and overlay.
Advanced Gutenberg Pros
The Advanced Gutenberg plugin comes with a user-friendly interface. You can simply download it from wordpress.org.
User-defined profiles
Create custom styles or use any pre-build custom styles

With Gutenberg, the Column Manager creates up to 6 columns in a row. Or you can use predefined responsive columns which you can transform even after creation.
You can display your latest posts and woocomerce products list with several layouts in a grid format, post format or slide format. Later on, you can define the date, price, and ratings also.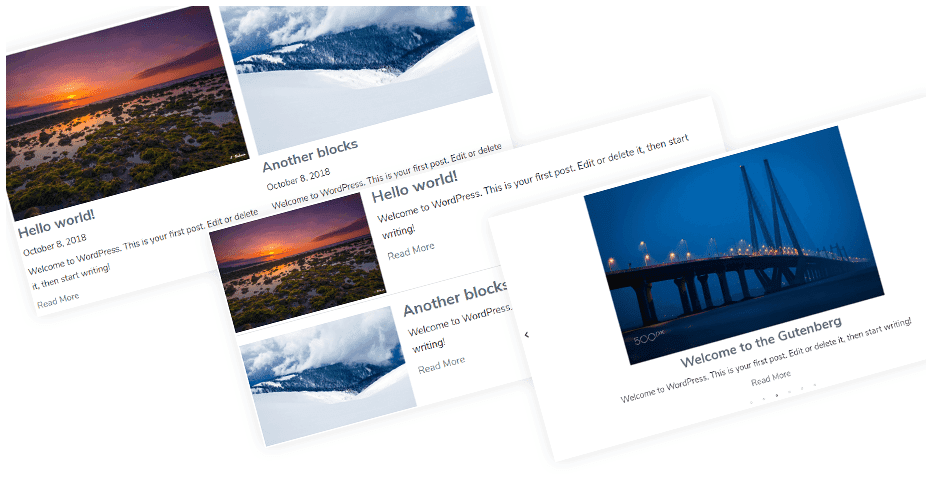 Get customers email contact information within no time with the help of a quick contact form.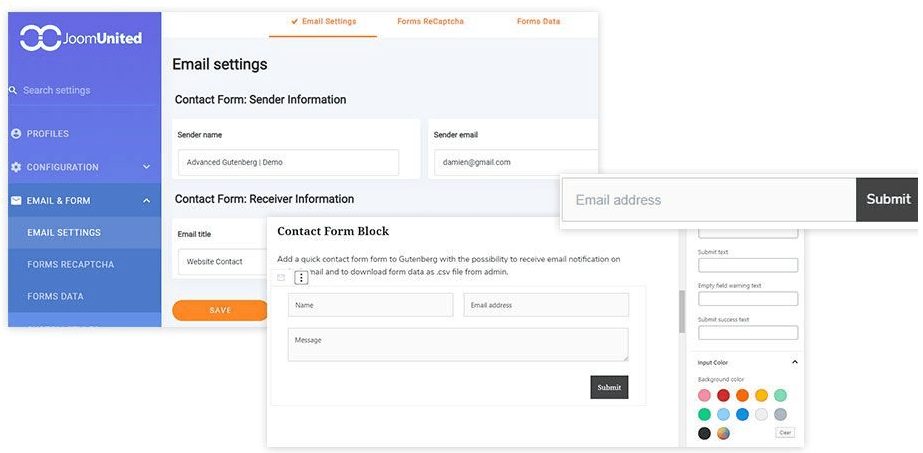 Advanced Gutenberg Cons
I didn't find anything disappointing with it. It's a really cool plugin so far for me.
Advanced Gutenberg Pricing
You can download it for free from WordPress plugin repository
Getwid Gutenberg Plugin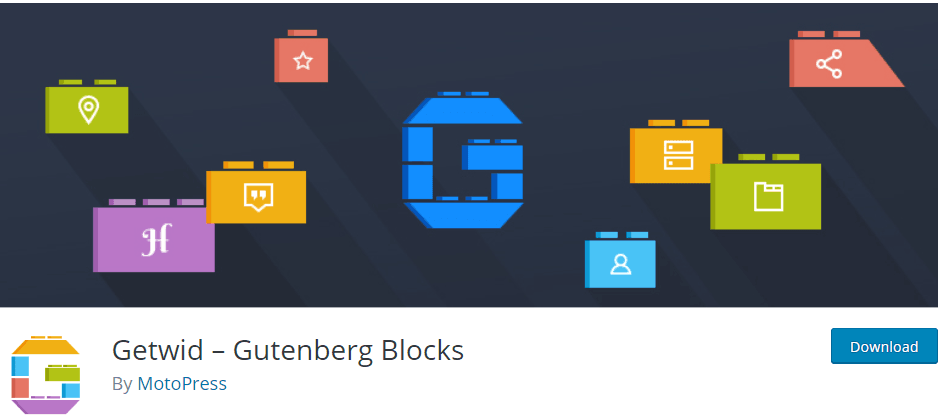 Getwid by Moto press is one of the highest-rated Gutenberg Blocks plugins with over 3000+
Active installation. Getwid comes with over 34+ all-inclusive blocks that enhance the core functionality of the existing Gutenberg editor.
Getwid Gutenberg Plugin Key features
MotoPress a trusted developer with more than six years of creating WordPress tools.
A highly impressive collection of blocks specially designed for business sites, personal blogs and startups
It comes with multifunctional static and dynamic blocks for multiple layouts.
Section block helps you in the alignment of video, slider, image background.
Create eye-catching heading with advanced heading block
Getwid Gutenberg Plugin Pros
Goggle map feature allows embedding Google maps with unlimited custom markers.
Create a user-friendly interface with the help of customizable icon block
Image box helps you handle different sizes of images; your can resize, modify and change the colors with premade styles.
Customizable social link icons, you can drag and alter their size and also alignment for different devices.
Create better image slides with controlling navigation styles, image sizes, and animation effects.
Tabs block is highly customizable with pre-set styles that make perfect horizontal tabs.
The Instagram block provides easy access to connect Instagram.
Getwid Gutenberg Plugin Cons
limited choice of styling options of some blocks
Pre-made layouts are limited for some blocks.
Too many blocks options that may create confusion to select from.
Getwid Gutenberg Plugin Pricing
Download it for free from wordpress.org
Atomic Block Gutenberg plugin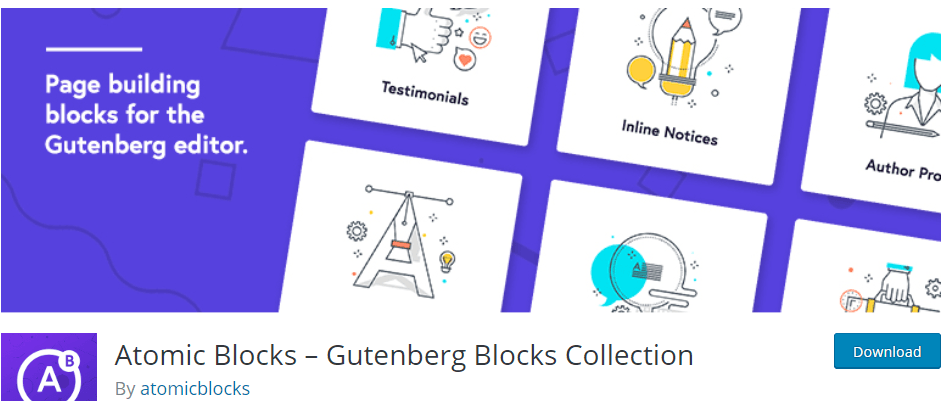 The atomic block is a wonderful Gutenberg plugin that also facilitates you to change and create content. This plugin comes with more than 11 different block options and allows you to create newsletters, sections, share icons, call to action, tables, columns and other layout blocks within no time.
Atomic Block Key features
Create epic page-sections and full-page layouts with Section and Layout block
Can also create helpful tutorials and articles using exclusive layout-block
Advanced column Block helps you create content in different columns which can be customized further after creation
Pricing Block helps in creating different price range options.
Customizable button block allows you to create fancy and stylish button blocks
A call to action block helps in creating compelling CTRs.
Share icon block enables you to instantly craft epic share icons with different backgrounds, layouts, and alignments.
The author's profile block demonstrates the author's profile exclusively.
Atomic Block Pros
Easy to use interface
Block designs are stylish and highly customizable
Quick support for any inconvenience.
Atomic Block Cons
Customization is limited to some blocks only
Irreconcilable with other 3rd party plugins
Limited numbers of blocks
Atomic Block Pricing
You can download it for free from the WordPress repository.
WooCommerce Gutenberg product block plugin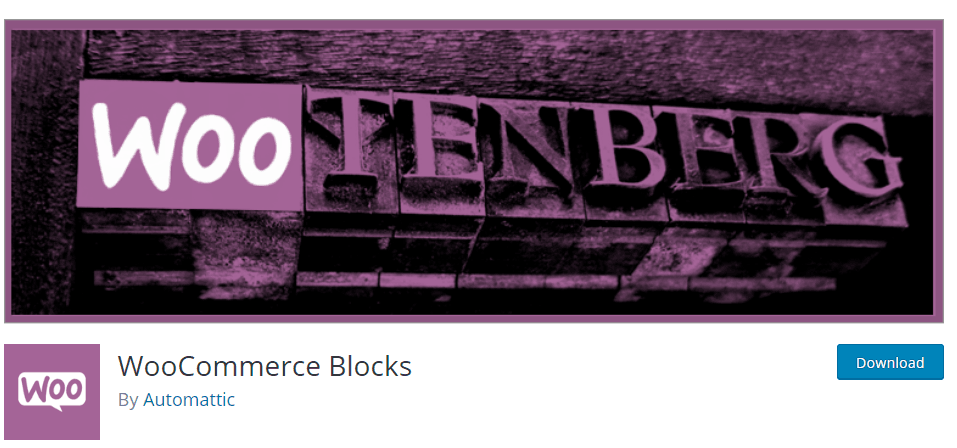 WooCommerce block plugin is highly recommended if you own an eCommerce store. This plugin is highly compatible with e-commerce features and extremely helpful in featuring your product line.
WooCommerce Gutenberg product block Key features
WooCommerce Gutenberg product block pros
Featured product block helps you to select and display different products. With this highly customizable feature, you can

hide and show prices of products

Featured category block is feasible when you want to highlight some specific category of your eCommerce shop
Handpick product Block is highly useful when you want to display products in order; this feature will display a grid of handpicking products to highlight.
Best selling product feature will display only your best selling products in the form of the grid on display.
Newest product block will categorize your latest product in a grid, and this category is filterable easily.
Review by product feature will display reviews of specific products in an order.
The product search feature will allow your users to search your products in different categories.
WooCommerce Gutenberg product block Cons
The blocks are limited to WooCommerce only.
Customization is limited in some blocks
Less variety of visual and image blocks
Lots of reviews say that they are unable to load their images quickly after installing a recent update.
WooCommerce Gutenberg product block Pricing
Available for free in WordPress repository.
Kadence Blocks Gutenberg plugin

Kadence Block plugin is one of the most popular Gutenberg plugins and its popularity is mainly for is highly compatible features with 3rd parties like Thrive, Architect, Elementor.
Moreover, another specialty of this Kadence plugin is that other than providing some customized blocks, this plugin lets you play with different layouts to create your design, which is a more distinctive feature than others.
WooCommerce Gutenberg product block Key features
WooCommerce Gutenberg product block Pros
One of the unique features of this plugin is that it comes with a pack of pre-made layouts, and you can build a professional page layout within no time.
The colored Kadence block icons allow you to distinguish and separate some icons from other custom blog icons.
The heading block allows you to add custom Google fonts on the frontend to improve the performance of your content.
Custom layout designs are available for testimonial blocks.
Easy inline editing
Two-column layouts that are drag-able.
Allow changing the custom layout of any specific block which you created previously.
Despite of numerous splendid features, the plugin is lightweight.
WooCommerce Gutenberg product block Cons
Design settings are somewhat complicated, so if you misused any of them, all of your designed layouts might be ruined.
Most of the layouts are not up to the mark when we start working with them because their frontend and backend don't complement each other.
Free blocks numbers are limited.
WooCommerce Gutenberg product block Pricing
The basic version is free
The pro version comes with $45 per year.
Best Gutenberg Blocks – Wrapping up
That is all from our side on the best Gutenberg plugins. I hope you enjoyed reading our article. Most of the Gutenberg plugins offer the same features, however many of them are customizable. There is no doubt each one is doing a superb job in enhancing the functionality of the existing Gutenberg editor yet if I would recommend any of them. I want to go with Advanced Gutenberg plugin because of its highly customizable blocks; moreover, the one distinctive feature that makes it stand out is its user-defined profile feature that you will not found in any other plugin.
So, which plugin works best for you? Don't forget to mention it in our comment box.