The comment section is a great way to communicate with your readers and allow them to interact with you, so you could find out if your writing is significant enough to engage your visitors consistently.
Moreover, effective discussion plays a vital role in getting feedbacks that guides you in which direction you should move to improve your blog. Same way, you can generate more content ideas and what your visitors like to know more about? And you need not search out for fresh content ideas to expand your blog posts.
But the comments section also has downsides, where a huge possibility is that your comment section may snow under spam malicious comments leading to ridiculous trackbacks. Or you may face negativity and encounter trolls, and at times you would feel to disable comments to avoid negativity.
The default WordPress plugin for comment is not as much interactive as many other comments plugin that can enhance comments section functionality.
Here is a list of the best comment plugins to get your job done ideally.
Disqus comment system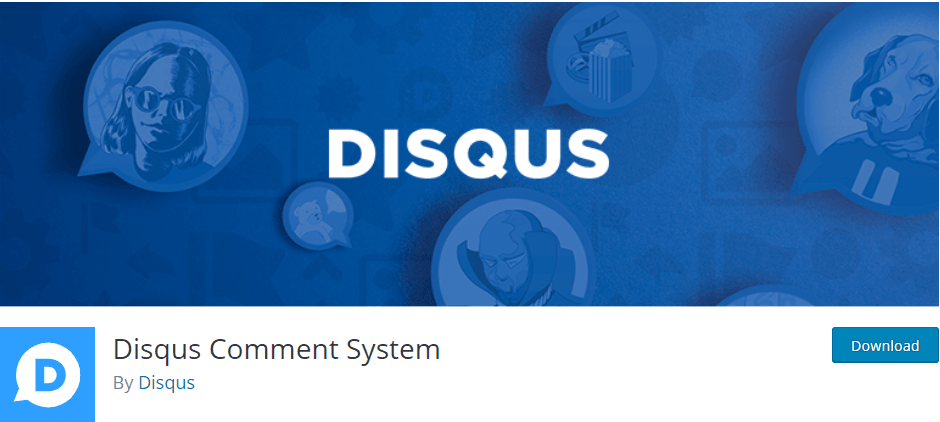 Key Features of the Disqus comment system
Disqus is the most recommended comment plugin that helps the publishers in building engaged communities by creating effective content where visitors could express their reviews, and in return, your blog grows by these effective temperate comments. Now you can easily import comments by replacing the basic WordPress comment system with advanced Disqus comment system.
Pros of Disqus comment system
One-click installation and easy to use without any coding.
Users can sign up for your blog and keep visiting to enjoy the commenting experience.
Users will receive web and email notifications that will remind them to keep visiting your site.
Site SEO will increase when the users continue commenting on your blog with the keywords you used in your blog.
Spam comments will automatically filter out with the powerful anti-spam filter plugin "Akismet".
Comments system supports Facebook, Twitter, and Google accounts where visitors can log in to comment from these platforms.
Automatically syncs with the WordPress for backups if you switch to any other platform.
Mobile responsive design helps in loading on any screen.
You can monetize engagement by configuring Ads serving on the top of your comments.
The comments can be categorized into two sections, the trusted visitors and the banned visitors. The comments from trusted visitors get approved automatically.
Cons of Disqus comment system
Mandatory ads can be annoying in the free version.
The image on mobile won't scroll once loaded.
Pricing of Disqus comment plugin
The basic version is available at WordPress.org, and the pro version starts at $89 per month that supports up to 20 websites.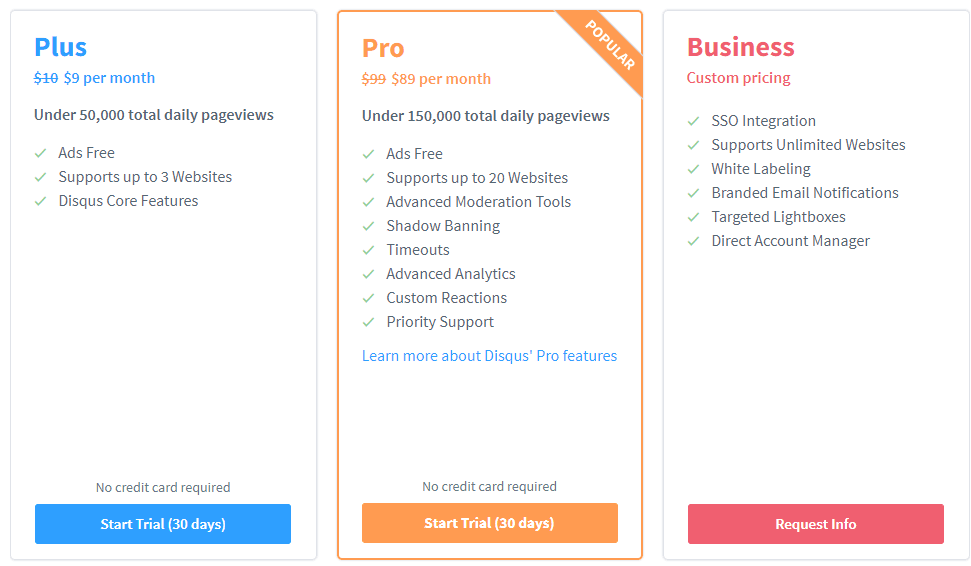 Jetpack comment plugin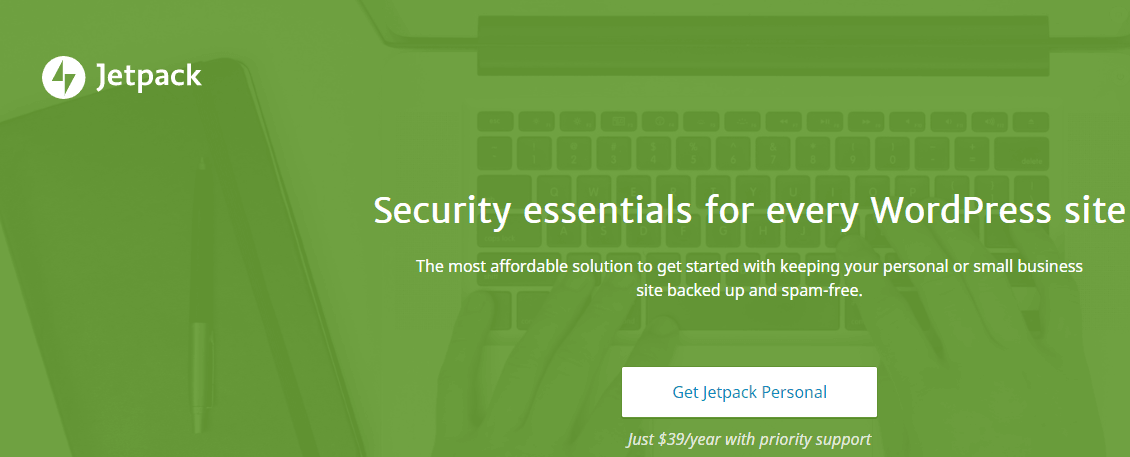 Jet pack Key Features
The jet pack is a compact plugin to enhance website performance and security other than just a comment plugin. The jetpack allows its visitors to add a comment via their social media login without filling their information manually. Or the users can use anonymous Name, website or email to comment. Moreover, the visitors can choose whether or not they are interested in receiving notification of follow-up comments.
Jet Pack Pros
One-click installation that replaces the basic WordPress comment system automatically.
Visitors can choose to login with their social media accounts, i.e. Facebook, Twitter, LinkedIn and many more.
Visitors can like and comment on other visitors' comments.
Get notification of new posts and followup comments via an email.
The sleek and easy commenting format where the commenting module comes for free.
The comments system comes for free, along with many other essential tools like social media sharing, security, and design.
It's an all in one compact plugin. That is why you'll save a lot of space other than installing multiple plugins.
Jetpack cons
The Jetpack plugin comes with multiple features; that's why the dashboard appears bloated. However, you can switch off any of the features in which you are less interested.
If you enable all of its features, chances are your website may get slow because of a massive collection of features, therefore, try to disable those features which you hardly need.
Jetpack pricing
The basic version comes for free while the personal version comes for $3.5/ month.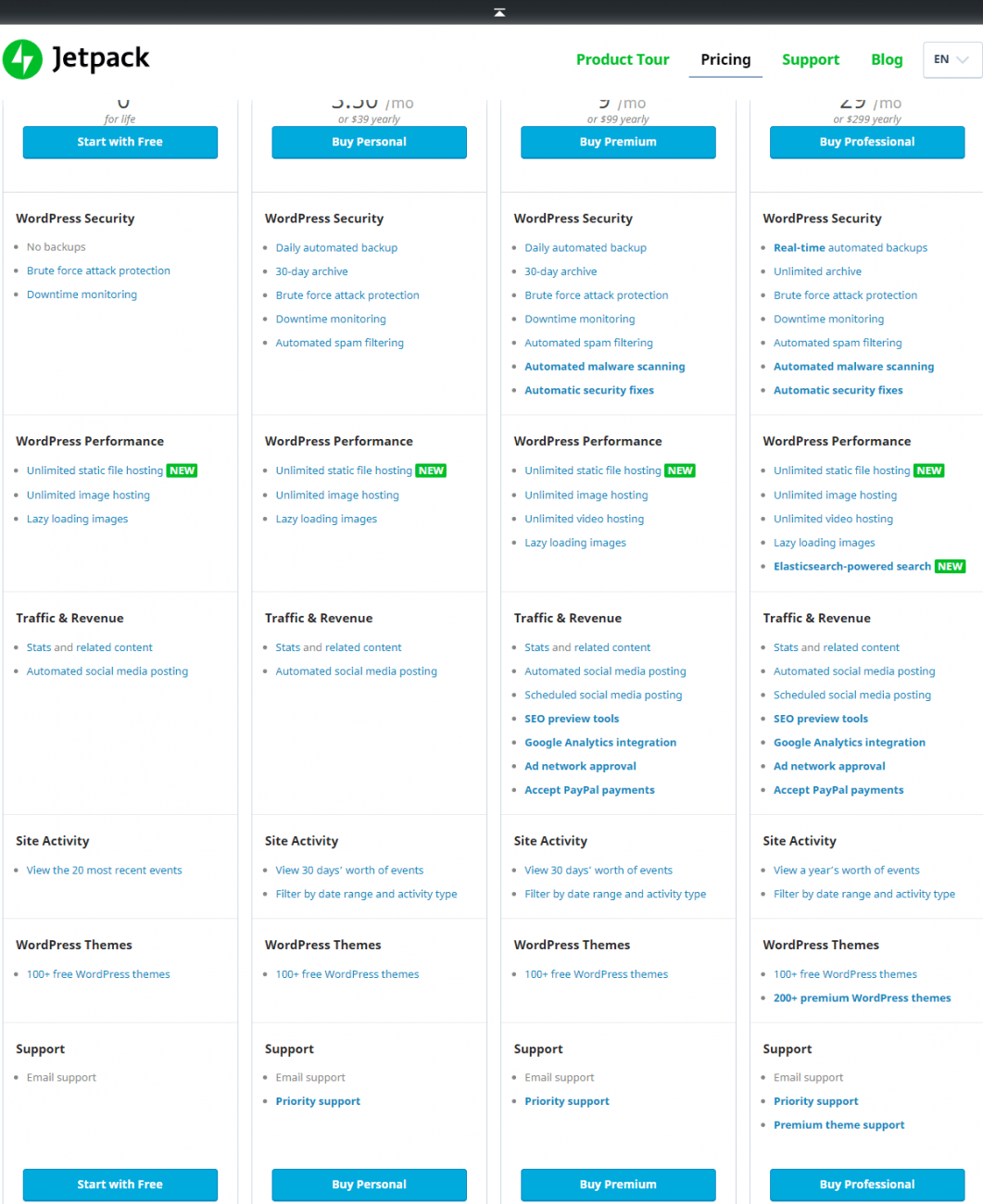 WpDisquz comment plugin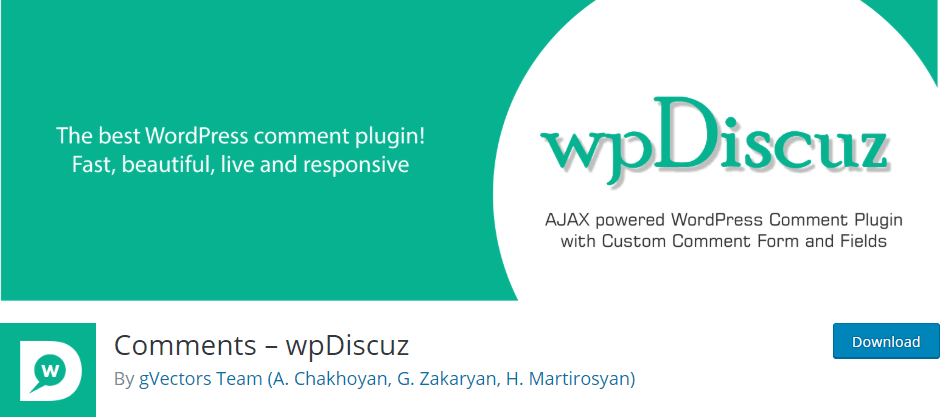 WpDisquz Key Features
WpDisquz is another premium WordPress comment plugin with more than 60,000 installations. The standalone comment plugin is known for its speedy and reliable solution to your blog comments where the comments are stored into your site's database. Whereas the WpDisquz is highly interactive and responsive for multiple screens. Another outstanding feature is its lazy load effect, which enables its users to scroll down without slowing down your site.
WpDisquz pros
The core plugin comes for free and works good for most of the blogs, or you can purchase add on to enhance its functionality.
Comments can be allowed or disallowed depending upon your choice.
A new thread of reply can be created, or you can allow replying to the same comment.
Comments can be shown as per WordPress date settings.
Ajax validation for the fastest and easy comment system.
The secure anti-spam system will protect your blog from spammers by filtering spam comments.
Posts can be shared on social media: Facebook. Twitter and Google+.
The plugin comes with customizable options, and changes can be made for buttons, fields and colors.
Anonymous comments can be allowed if needed.
The latest post comments can be displayed after the auto-update.
WpDisquz cons
The mobile won't scroll if an image is on the page.
When a new visitor gets registered, a welcome email is unable to sent to let them notify if they are registered or not.
WpDisquz Pricing
The WpDisquz plugin's core plan is available for free at WordPress.org, and if you need any add-ons, then you can purchase it for $25 to $100 depending upon how much add-ons do you need.
GraphComment comment plugin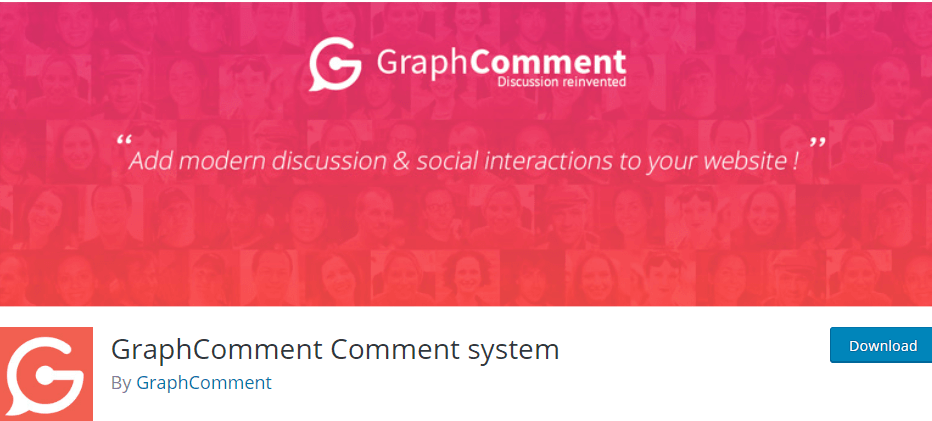 GraphComment key features
GraphComment plugin is one of the latest comment plugins that help you in building an engaging community with awesome features, powerful tools and user-friendly installation. The GraphComment plugin allows you to display the most relevant discussion first with the right order; the messages can be sorted out from most relevant to less relevant comments, from right to left or from top to bottom, without pilling up on several pages.
GraphComment pros
The main component of this plugin is Bubble Flow and Bubble Rank.
The bubble flow is a horizontal graphic interface where the authors can be seen in a horizontal row, which can be expanded or collapsed when needed.
The Bubble rank helps you find out the most relevant replies of your visitors with the most trustworthy comments. It also filters out the spam or trolling comments on your site.
It helps you in building communities where visitors interact with each other's and with community management features, you can easily find out users' profiles, total comments, and users' emails.
The Graphcomment's Analytics helps you in finding out top commenters have and top threads that in return, help you to find out which is the most engaging user and in which content they are interested.
The plugin allows social platform rating and sharing of comments
GraphComment cons
The permalink of your website may fail after updating the plugins.
GraphComment pricing
The GraphComment plugin comes in 3 basic plans where the basic plan is free to download, and the starter plan starts at $7/ month.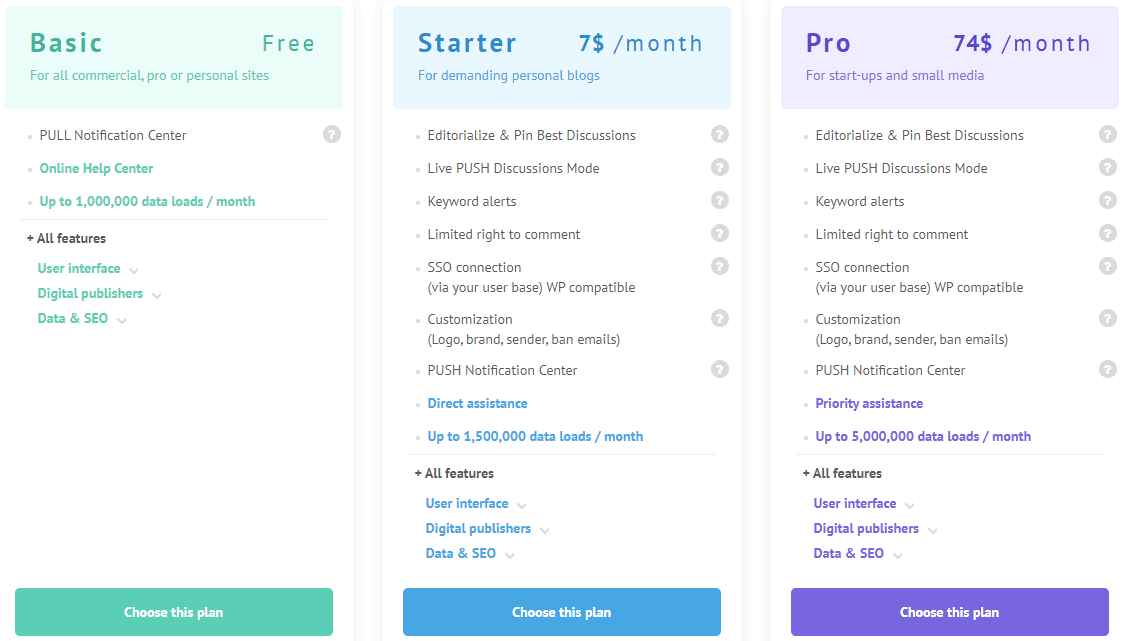 Super Socializer comment plugin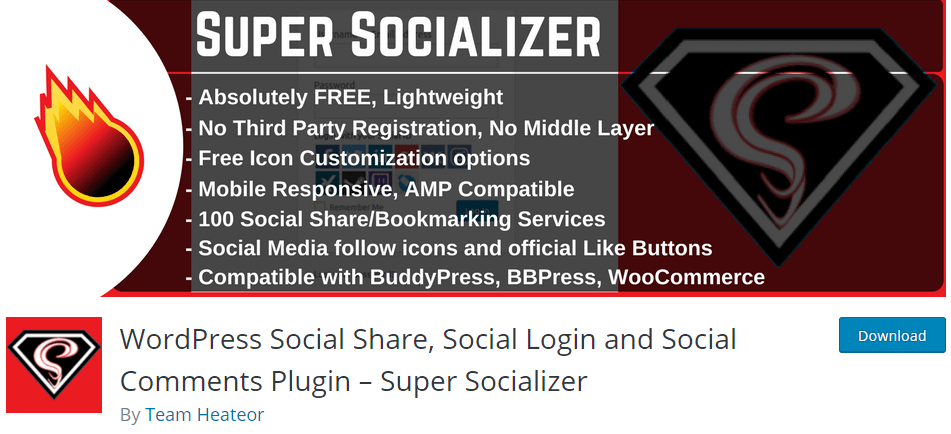 Super Socializer key features
Super Socializer is a free, lightweight comment plugin that offers social sharing and social logging in tools. This plugin offers more than 100 social networks for social share options. No premium version of this plugin is sold and you can download the basic version with all features for your website. However, the developer sells some add-ons that start at $10. The plugin comes for free where the visitors can comment through their social logins, and visitors don't have to sign up for the third party sign up for commenting.
Super Socializer pros
The plugin will only operate on your live website and not on the local server.
Highly compatible with the Gutenberg editor.
Attractive Social media sharing icons with free customization options where you can customize the social share shape- rectangular, round and square.
Mobile responsive sharing
Super Socializer cons
The plugin doesn't provide redirect URL that Google requires hence the Google login doesn't work.
May crash your website after you updated to the latest version as some clients have given their reviews about it.
Super Socializer pricing
The basic version has no cost and can be freely downloaded; however, the add-ons pricing starts at $10.
Wrapping up
All of the comments plugin are highly useful, yet there are pros and cons of each commenting plugin. However, you can choose one of the best commenting plugin depending upon your needs. If you are a beginner WordPress user, I would like to recommend Disqus comment plugin as it is highly user-friendly and offer better functionalities than other plugins. Moreover, the jetpack is also a reliable comment plugin without any need for configuration.