If you are a dentist, a restaurant owner, or a Gym owner, then definitely your business website requires a reservation or pre-booking and fully functional online appointment system to run your business smoothly. Gone are those days when people use to reserve an appointment through a phone call or need to talk to someone to reserve a seat in their favorite restaurant. Now with the help of WordPress plugins, you can automate your business to avoid any confusion and manage all of your appointments online in a hassle-free manner.
How to choose your best WordPress booking plugin?
Before locking on a WordPress plugin, you should inspect what essential aspects of your business get covered with the help of this plugin. There are numerous booking plugins out there in the market; some are designed explicitly for bookings while some focus on reservation management and some are built for multipurpose options. Now you have to look around carefully which plugin best fits your requirements. Here are some must-have features of an ideal booking and reservation plugin
The booking plugins should be able to accept customer's bookings/reservations for available working hours settled by you.
It should be Mobile responsive so that your customers could fill-up the form through mobile phone and make an appointment.
Must have multiple options to accept payments from customers
A customizable Google calendar must be included where you could set a schedule by eliminating holidays.
Must come with specific areas where your customers could fill in their details and view and edit their bookings online.
Must generate emails for both customers and admins for confirmation and reminders.
Booking Calendar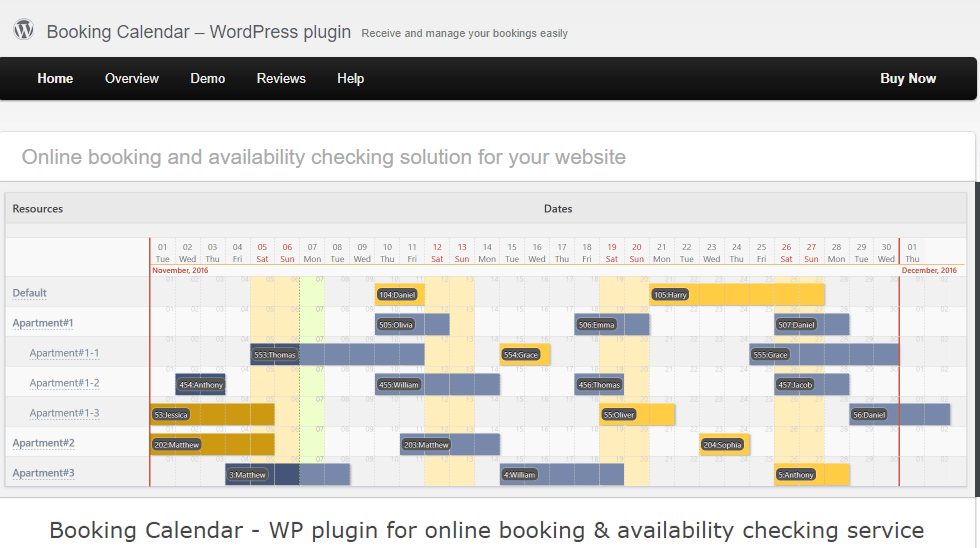 Booking calendar key features
The booking calendar is the ultimate choice for your WordPress booking system, where your visitors can check availability and reserve an appointment for specific days, as mentioned in your available time slot. Moreover, the Booking calendar allows your visitors to search for available services or properties on your website and pay online for their booking. You will be notified by an email for reservations and bookings in the admin panel. Several business owners are currently using the booking calendar; some of the users are as follows.
Hotel owners to manage accommodations.
Resource scheduler(bakery stuff, hotels, apartments)
Equipment rentals(computers, cars, motorbikes)
Patient schedulers(doctors, dentists, medical)
Event schedulers(fitness and yoga centers, gyms, courses)
Booking Calendar pros
Fully responsive front-end design that is compatible with any device screen.
A user-friendly spontaneous admin panel that allows you to control all the reservations and bookings easily.
Forms and calendars are customizable, where you can choose from multiple sleek skins to find the best fit for your design.
You can define email notification for visitors for specific booking actions.
Activate the online payment system and integrate it with multiple payment gateways.
Booking calendar blocks are also available for Gutenberg Editor.
You can prevent double-booking on the same day or allow multiple bookings on the same day.
Booking calendar cons
The free version comes with minimal features, and to avail more features, you have to buy any premium version.
No hour data is available with a free version, nor can the appointment date be changed.
Booking calendar pricing
Booking calendar free version is available at WordPress.org, and the premium version starts at $59 for one site.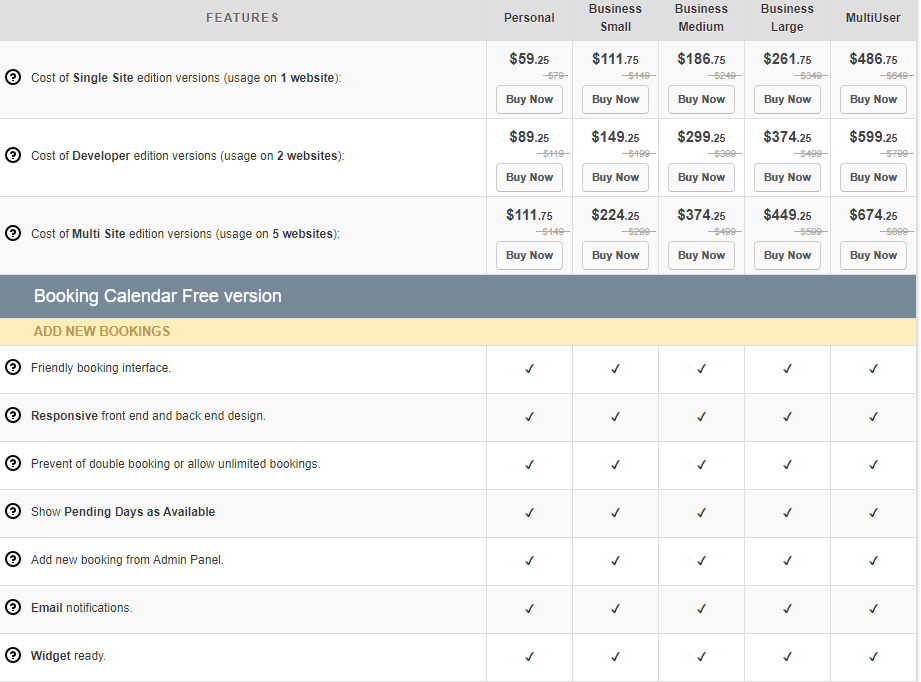 Amelia booking plugin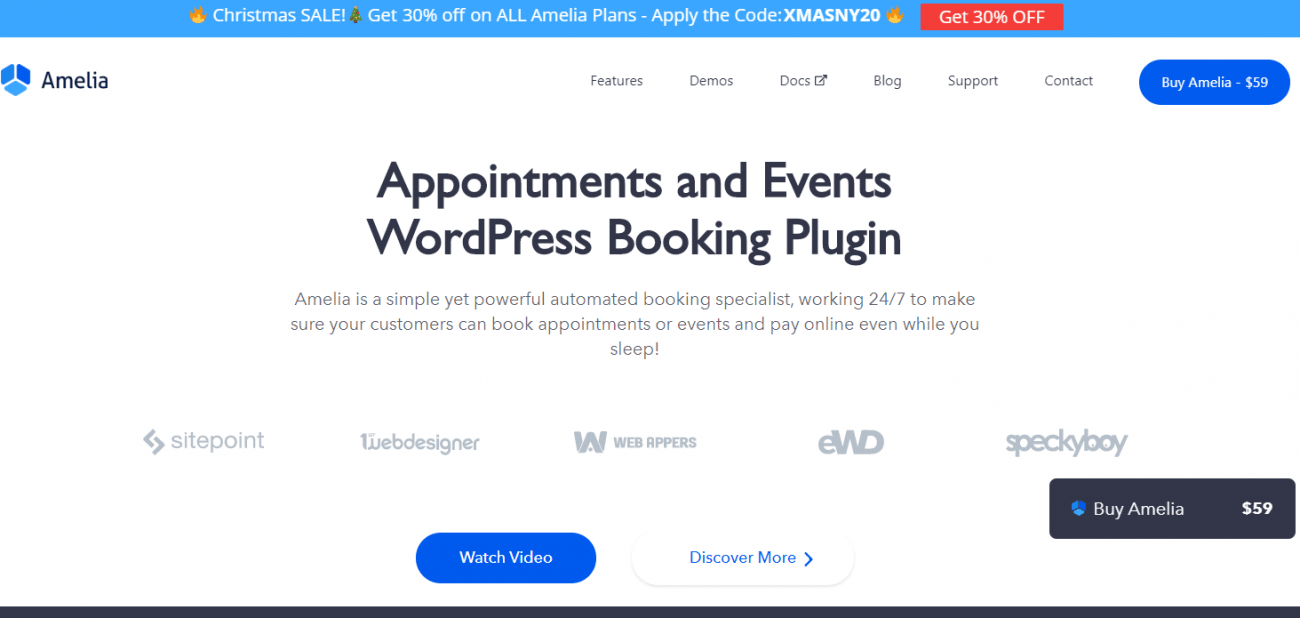 Amelia booking plugin Key Features
Amelia is an appointment and Events WordPress Booking plugin that automates your customers booking and appointments by working 24/7. This plugin is a perfect choice for
Law consultants: Schedule meetings/manage staff/collect payments
Gym & Fitness centers: customers can book or pay for individual training or groups
Repair centers: customers can check the repair services available the serviceman and their availability
Private clinics: schedule appointments/ medical services catalogue/ collect payments
Beauty salons: customers can choose stylists/book a visit.
Amelia is using the latest technology stack to provide a smooth customer booking experience with a modern design interface. Amelia helps its customers to pick the right service and automate the payment, and you will be notified via an SMS reminder about your book, canceled, or rescheduled appointments.
Amelia booking plugin pros
Both front-end and back-end are intuitive, and installing the Amelia plugin needs a few clicks without any hassle.
The dashboard is highly intuitive that summarizes all of the activity and displays them in widgets, charts, and tables to provide a quick glance.
Another remarkable feature is its one-page-app-style step by the step booking process, which provides its customers with a facility to choose services, location, date, and time for their appointment.
A dynamic calendar view allows its customers to track the appointment on a monthly, daily, or weekly timeline.
A search bar allows its customers to search for the services or available time slots
Amelia comes with customizable designs, and you can change the color and design of the theme according to your business brand.
Amelia booking plugin cons
The plugin is a bit heavy, and with each update, it gets more significant about 13Mb
Calendar design cannot be changed, and the font size is also tiny.
Amelia booking plugin pricing
The price for the Amelia plugin starts at $59/year.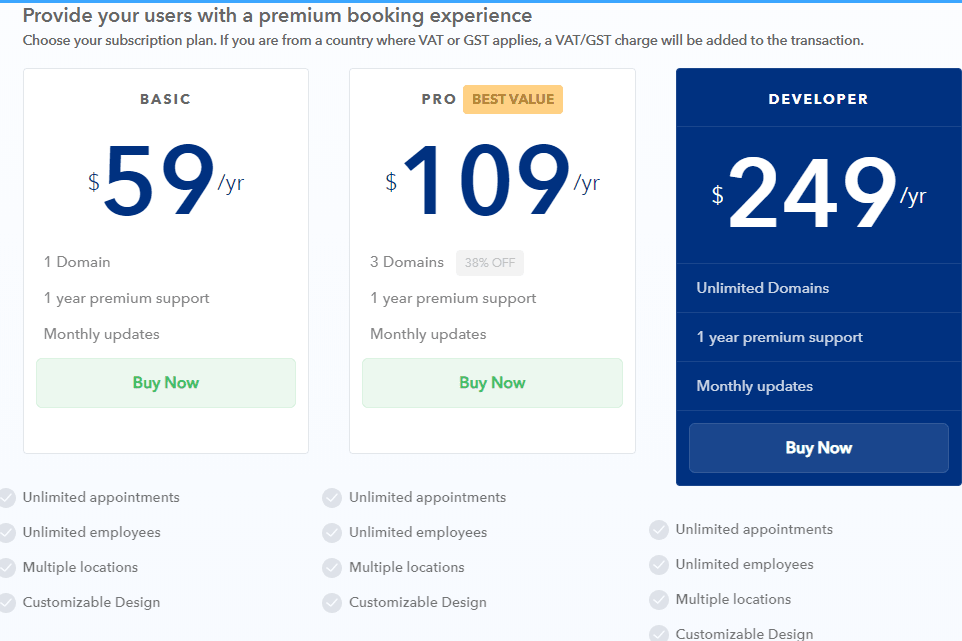 Bookly WordPress booking plugin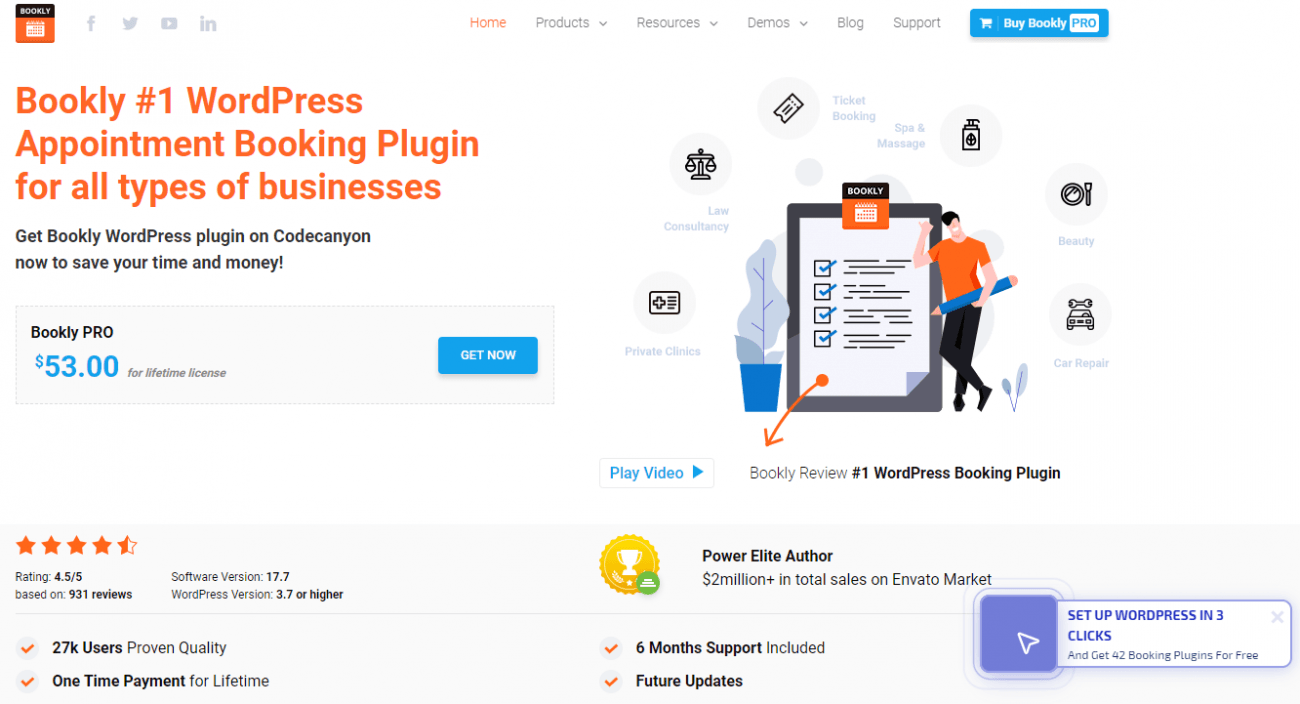 Bookly Key Features
Bookly, another most recommended WordPress plugin that is highly customizable and offers a complete solution to automate the booking and appointment procedure. The booking forms are fully customizable. Moreover, online payments setup and notifications also come with a free version.
Another distinguishing feature that stands out Bookly from other booking plugins is that different employs can create custom price and availability options with this plugin. For example, let's assume that you are running a Medical center where more than one specialist is available at a different timing than all of the specialists can create their rates, and the customers can choose to get an appointment from any of the available specialists.
Bookly pros
Bookly comes with advance, as well as an on-site payment option for your customers.
Customers can translate the booking process into their own language.
You can create promo codes to offer a discount to your customers.
Bookly also allows the customers to set up recurring appointments, and the customers can add an entry into the waiting list to get a date in case of cancellation.
Bookly cons
Issues may arise after updating the plugin; therefore, make sure to update all Bookly products if you switch from free to the paid version.
Bookly pricing
Bookly Pro version starts at $53/ 6 months.
Team Booking plugin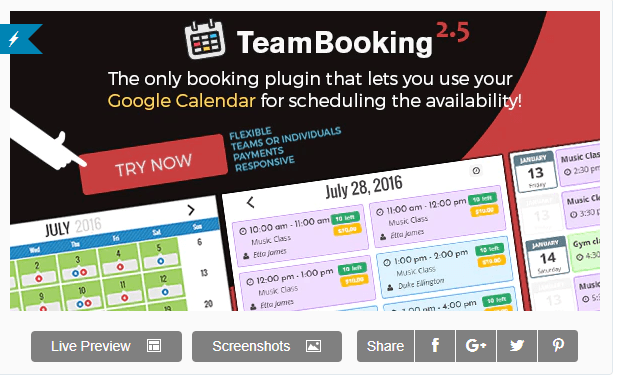 Team Booking key features
Team booking plugin is specially designed for multiple members of your staff, most of the plugin implies this feature, but only Team Booking has accentuated on this feature primarily. Team booking uses Google calendar to create appointments based on every member's availability time.
Team Booking pros
A complete booking solution for managing services, appointments, and reservations.
Now you can manage reservations according to your availability on Google Calendar
Team members can collaborate on any specific work by managing their availability plans on the Google calendar.
Customers can choose reservation time according to their Time Zone.
Create your reservation forms with specific fields.
Receive payments through PayPal and Stripe.
Promote your services through discount coupons and campaigns
Build a custom email notification for your customers once they get reservation or booking
Team Booking cons
The plugin may slow down your site if faced with bugs.
Team Booking pricing
The regular price for a plugin starts at $28.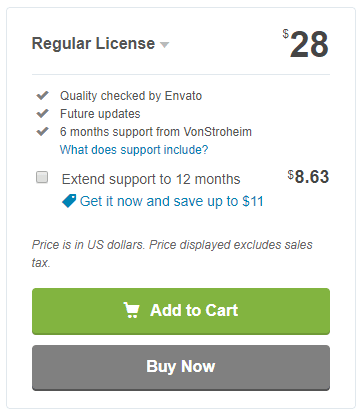 BirchPress Booking plugin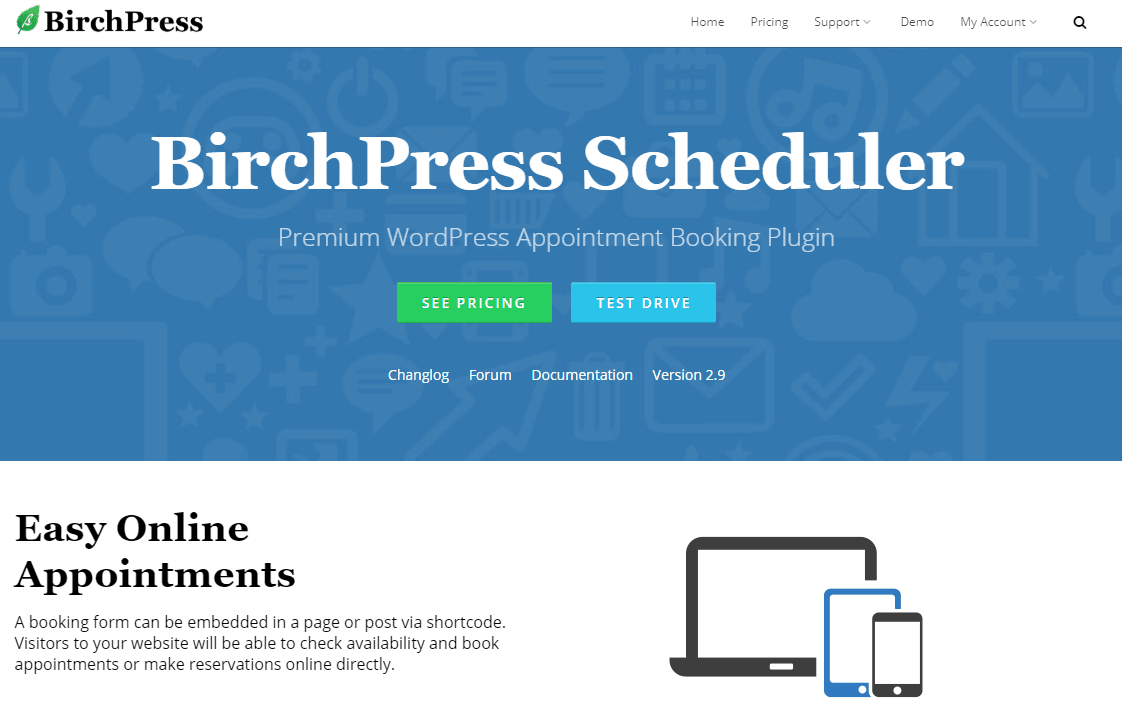 BirchPress key features
BirchPress is another premium WordPress appointment plugin that is highly recommended, easy to use, and rich-feature booking plugin. The plugin is ideal for adding services, repairs, and service providers to book appointments in a hassle-free manner for different services at different locations. Now you can add appointment forms on your site with easy shortcodes. BirchPress is a complete WordPress booking plugin with all the required features to accept your payments, arrange your email notifications and set up your appointments in Google calendar.
BirchPress pros
BirchPress is perfect for any business looking for setting up an online booking system. Especially for, fitness, recreation, salon, beauty, automobiles, sanitary and education
It comes with built-in PayPal and credit card support, and you can add more payment gateways.
You can create an online appointment form so visitors could figure out which time slot is available for appointment.
Sync with Google calendar to make reservations
The interface is user-friendly, and you can easily enable booking forms with fields of your choice.
Once your visitors schedule an appointment, you can quickly view them through your dashboard
You can show the calendar publically so the visitors could find out which dates and times are available for an appointment.
BirchPress cons
In the personal version, custom appointments from the hour to hour option is not available.
BirchPress pricing
Three pricing plans are available, and the basic starts at $99 for one year.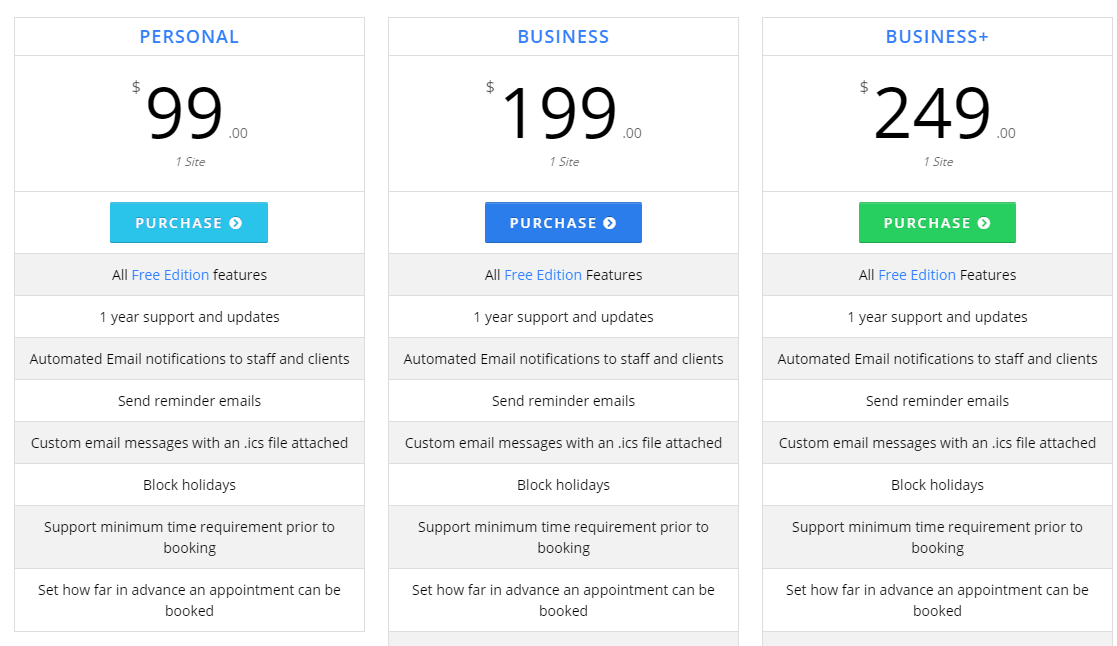 Final verdict
We hope this blog will help you in finding the best booking plugin for your business website. All of these plugins are carefully hand-picked to cater to your needs. Although all of the booking plugins are doing good and packed with superb features yet, I find Amelia booking plugin the best among others because of its versatility in features and economic plans. However, you should choose a booking plugin according to your business needs.