You might have heard the name of A2 WordPress web hosting services with enticing deals and sales offers to attract new users.
A2 WordPress Webhosting is not as worldly renowned as that of its competitors, but that doesn't mean that it's not a reliable web hosting brand. These high-end, well-renowned web hosting are continually running a campaign to capture the significant market share, mostly it is because of their affiliate programs and paid reviews which promptly promotes their web hosting services as "the best hosting provider" in the market, and slap the web hosting name at the end of their review, to mislead the users to fell into prey to their paid programs.
But this is not in our case; we are going to give you an honest and unbiased review to choose the best WordPress Hosting in 2020 because selecting the wrong web hosting can disrupt your online presence and business reputation to an unlimited extent.
A2 WordPress Hosting company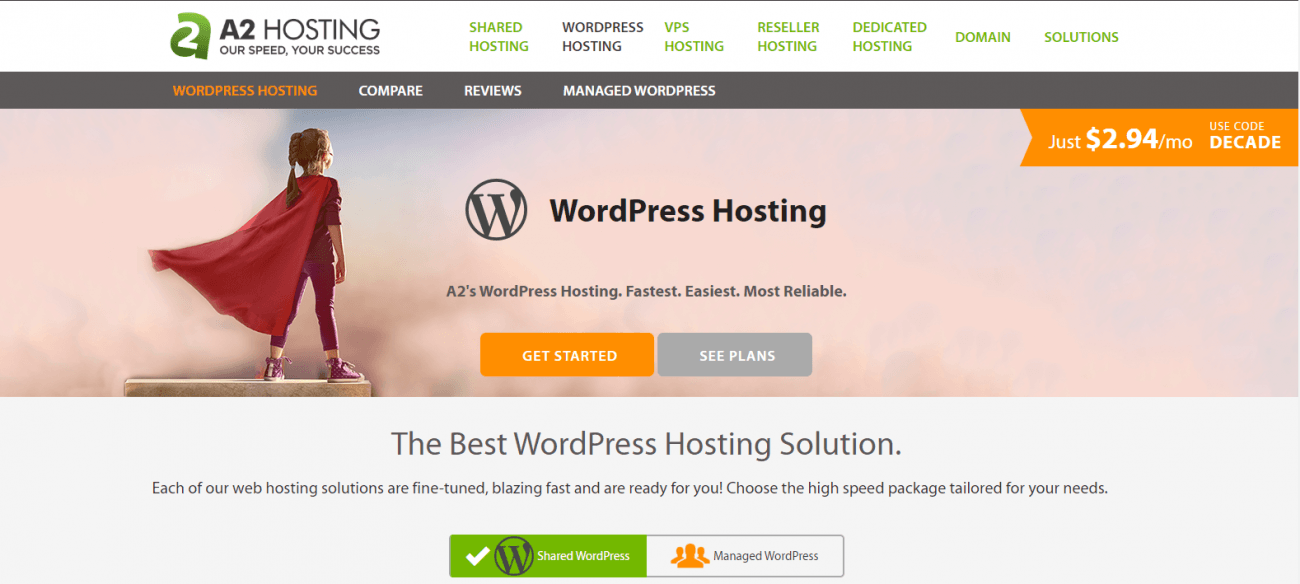 A2 WordPress Hosting has been operating since 2001, proclaiming the 20x faster page load time than competing WordPress hosting providers. The A2 Hosting offers multi-tier hosting options to gratify your fast-growing needs rather than providing one-size-fit-solution plans to all of its users. All of its shared hosting plans come up with three tailored hosting plans; Lite, Swift, and Turbo plan, accompanied by multiple valuable resources.
A2 Hosting for WordPress standouts high from its competitors for its high performing SwiftServer platform, PHP 7, and free SSL at an affordable price with global data centers, all backed up with reliable and supportive WordPress hosting customer services.
A2 WordPress Hosting Pros
1. Speed and uptime
We are all crazy about website loading speed, and every online business owner knows that every millisecond matters when it comes to availability time. A2 Hosting comes with a 99.9% uptime guarantee with its "blazingly fast Turbo server," which loads pages up to 20x faster.
Another remarkable in-built additional feature is a speed boost solution with LiteSpeed Cache for WordPress that ultimately reduces your site's page load time. This caching solution is much better as compared to the PHP-based caching solution.
Here is average loading time per month for our test site, and got 336ms average page load speed.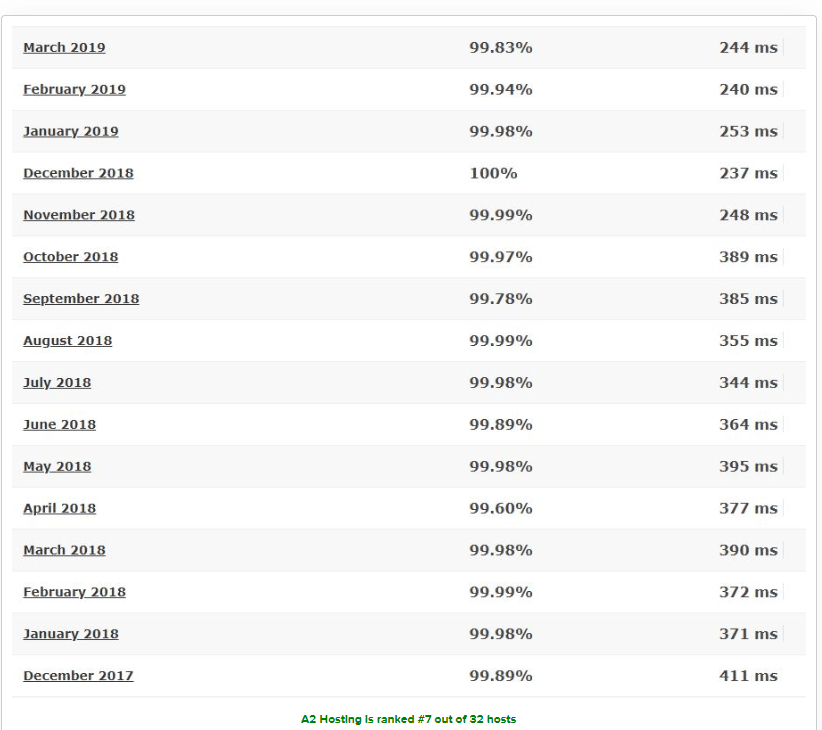 2. A2 Optimized software
A2 Hosting comes with maximum security to gain top performance with its pre-tuned optimized software that can be applied to WordPress sites to get faster page load speeds because optimized WordPress sites work 6 times better as compared to other non-optimized sites.
A2 optimized comes with auto-configuration to ensure the best performance and security settings.
Now you can speed optimize your WordPress sites with three caching options to help your site load faster. i.e.
Turbo caching
OPcache/APC
Memcached
You will see a real difference if your site is loaded with plenty of images, and you need to shave off plenty of extra MBs to lighten your site. Go with Turbo caching to get 20x faster load speed.
3. Data Centers
The Datacenter location plays a crucial role in speedy load times. No matter what kind of stuff your website offers, the closest the datacenters are the better data delivery speed your target customers will enjoy.
You will get better speed and site performance as their data centers are spread over three continents Asia, Europe and Amsterdam.
4. SSD Storage for faster loading
SSD storage is a must-have for web hosting storage options because SSDs work 30% faster than any HDDs storage. Therefore, all A2 shared hosting plans are well equipped with SSD storage to enhance your site's loading speed.
5. Security and Backup
A2 Hosting comes with incredible security tools to find out out-of-date files and software's as infected files are vulnerable to be compromised by hackers. Therefore, A2 Hosting comes with foolproof security and Backup services.
A2 Hosting's data centers are SSAE16 certified that enforce a security key entry to enter into the data center.
Another key security tool is HackScan that seamlessly manages security monitoring, virus scanning, and a brute force defense system in the background so you could run your site without any fear of vulnerabilities.
Cloudflare is also a part of their security protection that enables secure content delivery at a fast pace without any fear of vulnerabilities to your site.
The "Patchman" security tool detects any out-of-date files which may get compromised and help you patch any security problem in your site.
6. Reliable customer support
The customer support of A2 Hosting called themselves as "Guru Crew Support," they are quality professional who always intended to provide in-house expert solutions to your problem, these professional are well equipped with technical knowledge, and if you are a developer, then you might get best answers and support to use advanced features on your site.
Furthermore, you will get their help 24/7 without any delay.
Moreover, you can contact them via phone call, chat, or by submitting a ticket, and you will get an impressively quick response.
7. Control panel
A2 Hosting comes with a user-friendly interface which is extremely easy to use even for a beginner, who can control and manage all of the features from your Cpanel.
Moreover, it also offers some unique features for programmers, also like programming language tools and MYSQL 5.6.
8. Money-back guarantee
A2 Hosting comes with a money-back guarantee accompanied by a free trial period, and in case if you are not satisfied with site performance, you can get a refund within 30 days.
9. Robust WordPress plugins
To enhance your site's functionality, A2 hosting robust integration with multiple valuable plugins like bbPress, WooCommerce, BuddyPress, Multisite, Contact Forum7.
Whereas, you can also customize the WordPress site with the most popular page builders which are highly compatible with A2 web Hostings. Some of these are Elementor, Beave Builder, Bold Grid, Divi Builder, and SiteOrigin.
A2 WordPress Hosting Cons
High Renewal Price
If you buy 3 years hosting plan, this may write off some dollars of the monthly price. Still, the real concern is that they offer introductory price for the new customers which will automatically renew to "regular pricing" which jumps to double and if you are not interested in renewal plan then you have to send them cancellation request 15 days before the renewal date otherwise you will have to renew the plan at regular price. You can not avail refund in case you cancel your request.
Not enough features in the cheapest plan
The cheapest web hosting plan comes with $2.94/ month, which includes only a single site, SSL certificate, free site migration, and unlimited storage with a money-back guarantee. Whereas, you are not entitled to get turbo servers that load pages 20x faster.
Pricing
A2 Shared Hosting pricing is as follows. There are three pricing plans Namely, Lite, Swift, and Turbo. The Lite plan starts at $2.94 for one site.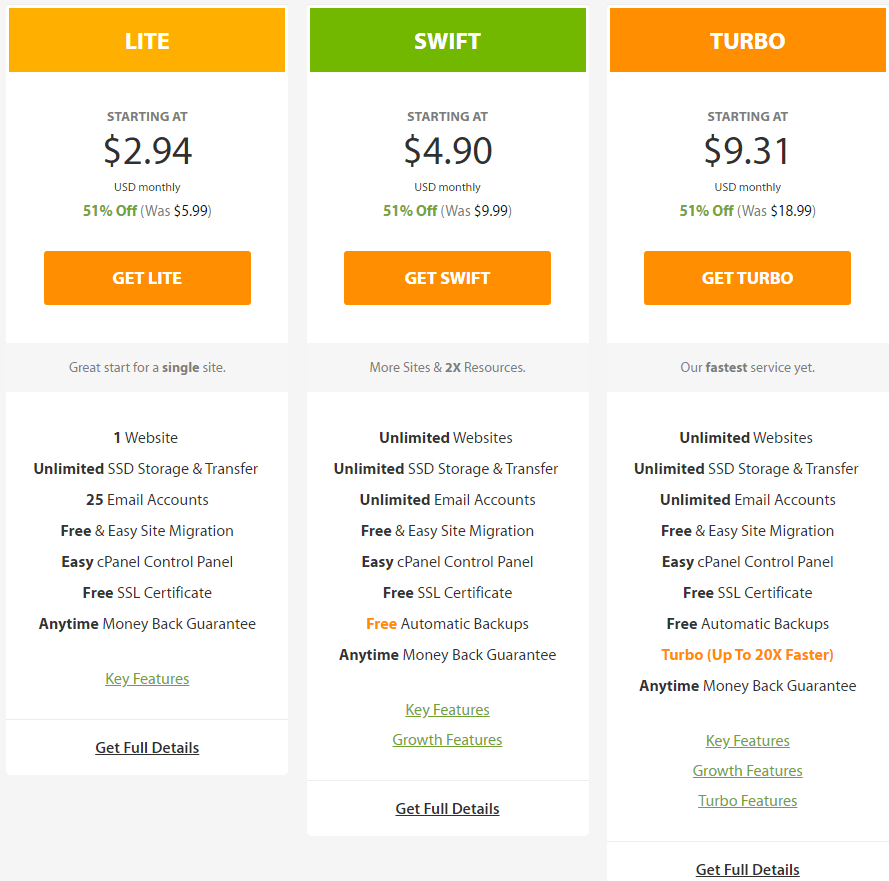 Managed Hosting pricing
The most wanted Managed hosting plan starts at $ 18.99/month for three sites.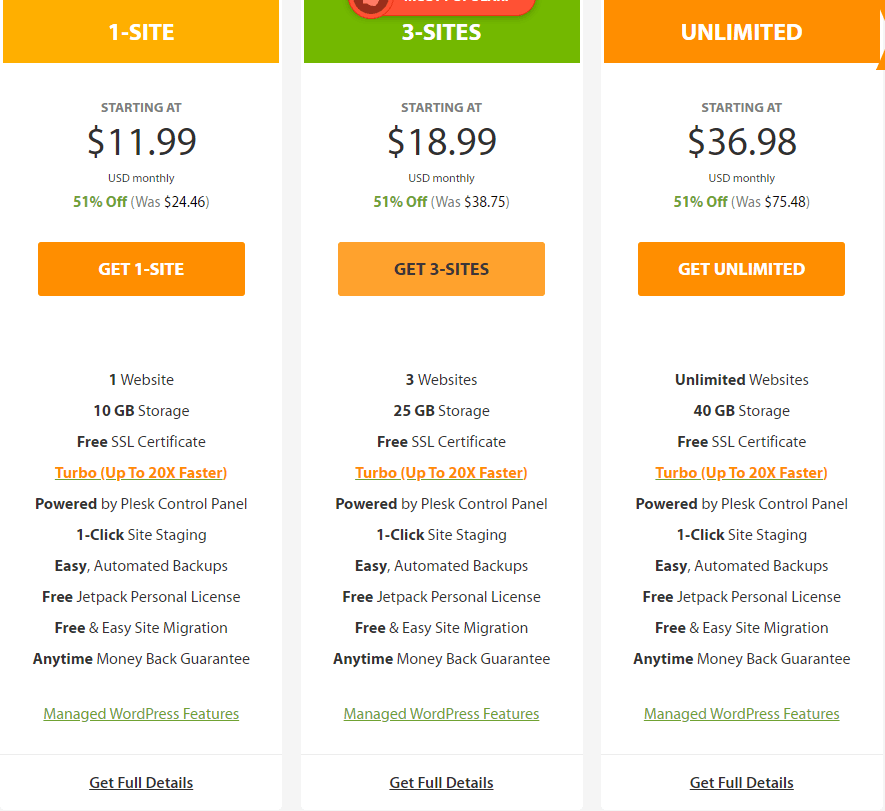 A2 WordPress hosting comparison with other Hosting services
Now, let us compare features and functionalities of A2 WordPress Hostings with its competitors hosting companies.
A2 WordPress Hosting vs. SiteGround Hosting
We checked the average site loading time for both of the hosting companies with the Pingdom website speed test. We created a test website on both servers and loaded with dummy images and contents to get the results. For our test results, the SiteGround showed better results with loading time less than a second. While the A2 hosting site loaded in 1.28s loading time.
SiteGround Pingdom speed test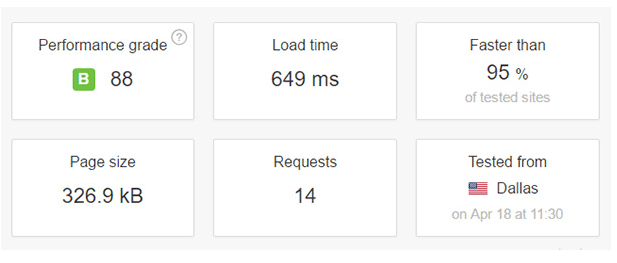 A2 Hosting Pingdom speed test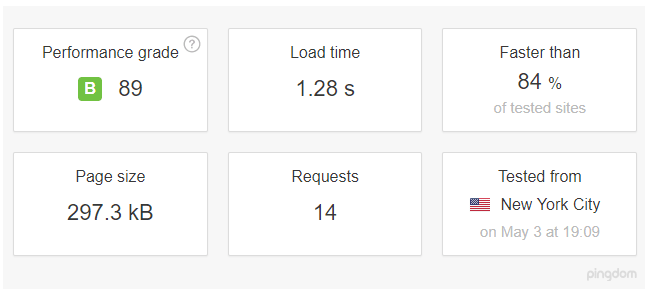 Siteground is a winner in the speed test result.
Both SiteGround and A2 Hosting comes with one click Cpanel access and WordPress installation.
Both are equally good at providing the best customer support.
A2 Hosting comes with the cheapest plan of $2.99/ month, while the SiteGround most affordable plan starts at $3.99/month.
A2 Hosting offers a choice between both Windows and Linux hosting.
A2 Hosting is no doubt highly versatile rich-feature WordPress Webhosting with standout features, yet in a speed test, SiteGround is a winner. Moreover, A2 hosting is cheaper than SiteGround hosting.
A2 WordPress hosting vs. BlueHost
Both companies offer shared hosting, dedicated hosting, cloud hosting, and VPS hosting. However, A2 Hosting offers both managed and unmanaged VPS solutions to its customers according to their needs. Moreover, A2 has more server areas around the globe in North America, Europe, and Asia, while Bluehost has a server in North America only.
A2 Hosting offers more features than https://hostadvice.com/go/host/445Bluehost like more payment types support, i.e. PayPal, credit card, Money Bookers, Wire transfer while Bluehost only offers payments through PayPal and credit cards.
A2 is a clear winner with more popular options.
Customers reviews about A2 hosting
Here are a few customer's results gathered by Webhosting Geeks for A2 Hosting services.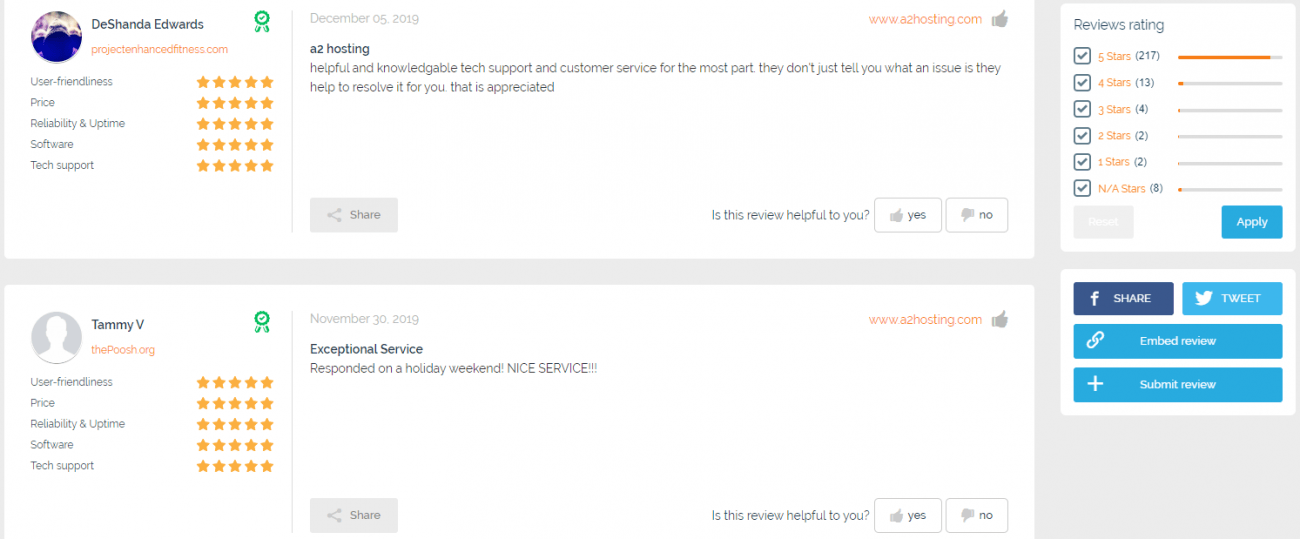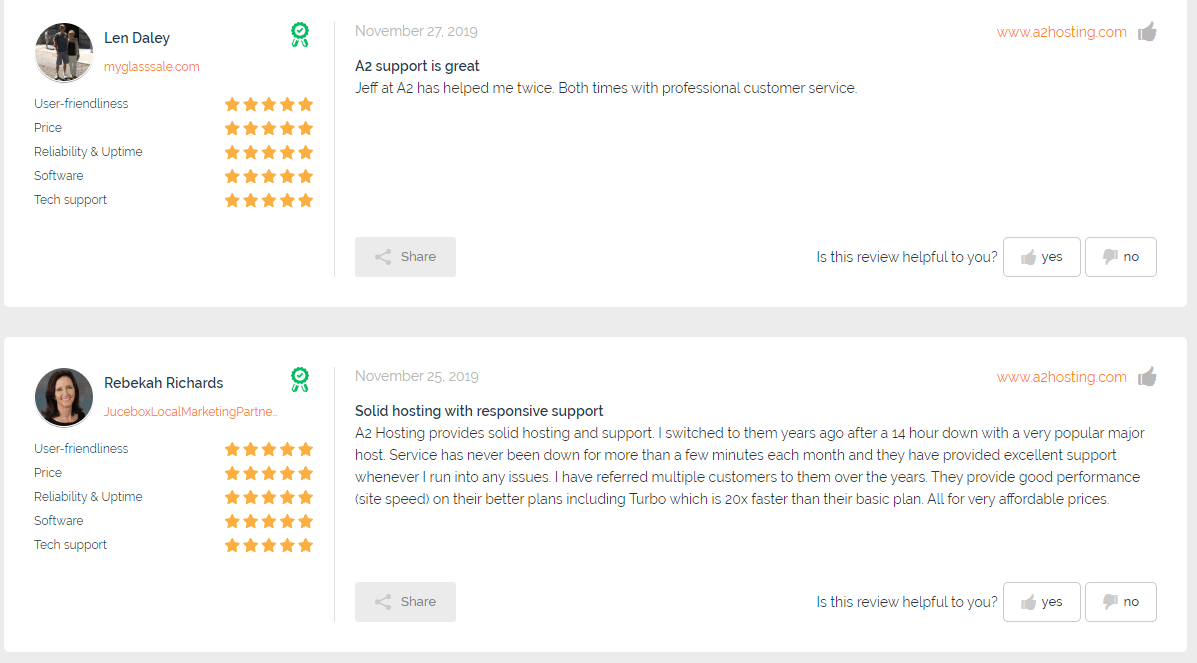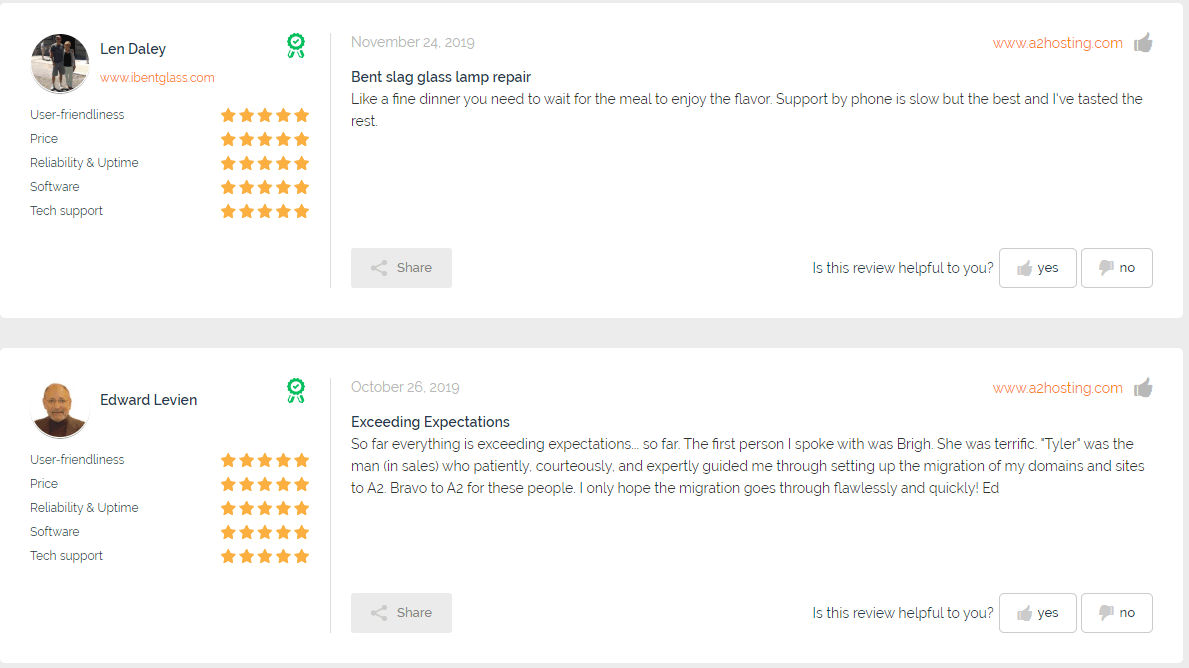 Final verdict; should you go for A2 WordPress hosting?
A2 WordPress hosting is providing epic solutions and world-class speed for your sites for the last several years. All plans come with a free SSL certificate and a blazingly fast turbo server.
Moreover, customer service is also very cooperative and supportive if you encounter any problem. A2 also comes with a money-back guarantee if you are not satisfied with their services.
However, we noticed some downsides with uptime, which dropped down to some extent. Besides, their renewal plans are a bit expensive.
Keeping in view all the above-mentioned figures and findings, we do recommend A2 WordPress hosting as overall features are quite good and many customers got satisfying results, as evident in the reviews collected on a Facebook poll.