SiteGround hosting plans are winning the world with state-of-art technical features with a robust and secure system. The reason for Siteground hosting popularity is its supremacy in providing hosting solutions to a spectrum of businesses including start-ups to big enterprises. Siteground is giving cutting-edge competition to its competitors with its tailor-made technical features for WordPress, Joomla, and Drupal websites. Moreover, the epic customer services to resolve the technical issues by live chat, ticketing, and live support around the clock have immensely acknowledged site grounds global hosting services.
SiteGround is providing robust hosting solutions to every kind of its customers ranging from startups to bloggers to big enterprises. One of them is "Enterprise hosting," which is custom-made hosting packages that are primarily made according to your requirements.
So, if you are looking out to get the best enterprise hosting solutions for your website this review will ease your way to select the best enterprise hosting plan for your site.
What is enterprise Hosting?
Enterprise hosting is different from other hosting plans. When we visit the website of a hosting provider, usually, they offer plenty of hosting plans to cater to the needs of different clients depending upon their requirement and budget.
Yet, one major drawback is that you cannot control include or exclude all of the features which you need on your website. And you have to rely on the pre-made hosting packages to meet your requirements.
However, this is not the case in Enterprise Hosting, where you have the freedom to select features according to your plan, all you have to do is to send your requirements to the hosting company and tell them about your business needs after that they will sort out package according to your need and finalize a custom-made web hosting package which perfectly fits to your budget and requirements.
Once you choose the custom-made hosting package, the next right thing is you don't need to worry about handling all the technical stuff and the web hosting provider will manage the servers after approving the package without any cost.
Moreover, you can choose any web hosting out of dedicated, VPS or cloud that suits you best.
Siteground enterprise hosting plan
Siteground has suggested a monthly budget to simplify the process of a web hosting plan. Therefore, other than choosing a plan, you can recommend a monthly budget to the SiteGround team so they could build an offer according to your budget. So, instead of setting up server and maintenance of the whole system, you can focus on building your website successfully and the SiteGround team will monitor the maintenance and server setup without any extra cost.

Who can choose the SiteGround enterprise hosting plan?
SiteGround enterprise hosting plan is specially designed for those people who receive a massive amount of visitors to their website in a month and to keep your site safe and secure you can rely on enterprise hosting, and you will get a highly customized hosting plan to keep your website secure to maximize its performance.
Moreover, if your business is widespread globally and you could not find enough time to maintain the entire system and all those technical things, then SiteGround can be an excellent choice to keep your site in safe hands and their teams will monitor all of your site maintenance and server setup. You can choose a private cloud configuration or a single server depending upon your needs.
Siteground enterprise hosting Key Features
Reliable Architecture
To enhance your website's performance SiteGround relies on 'Linux Containers' which are lightweight and provides you the best experience without creating any burden on your server.
SiteGround Manages Server
Once you start your plan with SiteGround, you can easily focus on your business growth rather than giving attention to managing your server or system.
SiteGround's dedicated teams successfully manage multiple hosting users' websites with allegiance right from start to end. The teams are highly skilled in managing site performances around the clock without any interruption. For this, they also use advanced software which helps them in solving any technical issue immediately.
Development workflow
Siteground team will help you in integrating any of your old development workflows or you can also go for a new custom development workflow with your package.
Scalable package to control the spikes in traffic
As your website grows, it's normal to get spikes in traffic time and again and your site may crash if it gets visitors more than the host's capacity to handle the efflux. But this is not in case of SiteGround enterprise hosting, where you can inform Siteground to control the situation if your website starts receiving efflux traffic. They can handle such situations remarkably without rebooting the server.
Choose your server location nearest to your visitors
Siteground has four server locations in 3 different continents; therefore, you can improve the functionality of your site by choosing a server closest to your visitor's location.
Or you can ask Siteground to store your site on 3 locations so that your visitor could approach your site from every corner of the world.
Personal Account managers
A personal Account manager will assist you. The assigned personal manager will take care of your project and inform you everything inside out right from the beginning to end with new technologies and all other possible solutions so your business could grow well.
Enjoy exclusive features of Siteground hosting
After getting the enterprise plan for your site, you will be entitled to entertain your account with all unique features of the Siteground hosting like free SSL, Backup, MySql 5, PostgreSQL, Cpanel, PHP 7 and many other features.
Siteground enterprise hosting pros
Instead of buying any pre-made hosting plan, choose a hosting plan that best fits your needs.
Choose from a flexible monthly budget rather than paying for a fixed plan.
It comes with 'Linux booster' to enhance site performance.
Multiple dedicated server locations to maintain a smooth visitor flow.
Scalable and flexible server options to control the efflux in traffic.
A personal account manager assistance to help you around the clock to maintain the better performance of the site.
It comes with special software, plugins, and optimization for multiple CMSs like WordPress, Joomla, Drupal, and Magento.
Get VIP customer service with 24/7 support via live chat, phone call or ticketing.
Siteground enterprise hosting cons
It comes with limited web space to 10 GB, 20 GB, and 30 GB.
Siteground enterprise hosting is a bit expensive, and the lowest monthly cost starts from $2000.
Siteground enterprise hosting pricing
Siteground enterprise hosting offers a variety of budget starting from $2000 to $10000+ depending upon your budget. You can settle on how much you want to pay monthly avail the web hosting.
Siteground Uptime and speed test results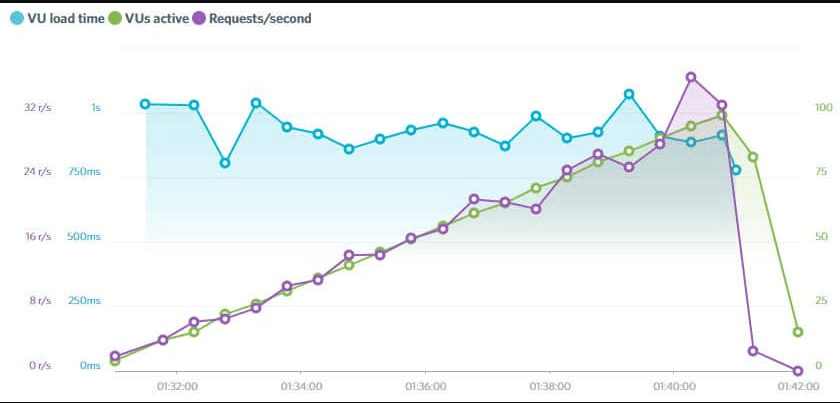 We have tested the Siteground site with Pingdom and the results were impressive. As you can see that average load time for virtual users remains under I sec and consistent up to 100 which is quite impressive. Moreover, it is also worth notable that no failed server requests were found as the number of requests increased when the traffic spiked.
Customers reviews about Siteground enterprise hosting
I have complied with some of facebook polls results which was conducted in 2018 to get the findings of the best web hosting providers. All of these polls show that customers are getting satisfied results from Siteground web hosting.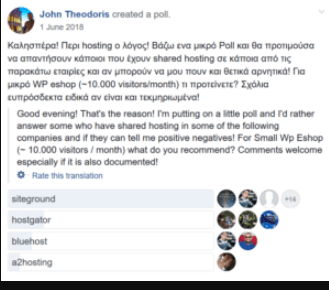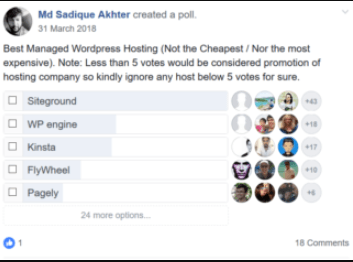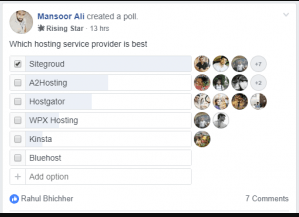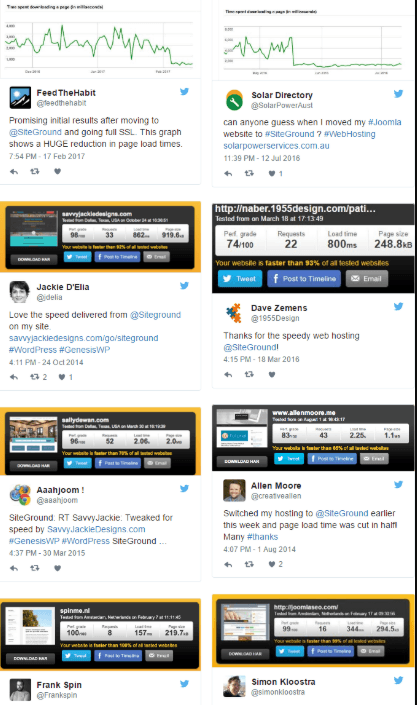 SiteGround vs. Bluehost
Siteground and Bluehost are neck and neck competitors in the web hosting industry. Bluehost is providing cost-effective solutions to its customers while Siteground is a bit expensive, but performance-wise Siteground offers far better solutions than Bluehost. Moreover, SiteGround's customer service is also far better than Bluehost.
Siteground vs. GoDaddy
GoDaddy is another web hosting that is very famous for its short-term pricing however Siteground is providing much better technical solutions to its customers with very responsive customer services.
Siteground vs. HostGator
Hostgator is another leading web hosting provider which is famous for its affordable price and top-notch features. Most startups and small business websites uses this hosting services for its economical price and core features. However, Siteground is still unbeatable in terms of the latest technical features and customer support.
Wrapping up
When deciding to choose the best web hosting services for your site always beware of bogus advertisement and false reviews which these web hosting providers do to attract customers. We have complied with the noteworthy data to ease your path to choose a perfect package and hosting system for your website.
The most vital thing to mention is that the Siteground enterprise hosting is all about freedom from tension to maintain and setup server for your site. All you have to do is to choose a budget according to your business needs, and all of the details of the package would be decided according to your requirement with proper assistance for future operations.
So, feel free to contact Siteground to get you a suitable web hosting plan according to your budget.