In this article, I'll introduce you to one of the gems in WordPress plugin mart. This will set your blog on auto-pilot, and you can bring traffic to your campaign by using PPC sources.
When you set up an online store, once you are done with all the essential page parameters, you can do something tricky to attract traffic to your blog. You don't need to write content for your blog; instead, try out something interesting like "WordPress Automatic Plugin," which is a potent plugin that can import content from various sources such as Walmart, Amazon, eBay, youtube and any other platform.
WordPress Automatic Plugin works amazingly, and it needs only URLs or feed URLs to import the content right away along with other materials such as images, videos, and formatting. Then you can easily publish this content on your blog by clicking a few options.
Moreover, the Amazon Automatic plugin is very well integrated with YouTube and Twitter and can quickly bring about the videos related to your content.
WordPress Automatic Plugin

Nowadays, if you pursue promoting a particular product on your WordPress blog, you will have to work strategically without just relying on just publishing useful content and sitting back in waiting for clients to come and purchase your product. You need to set up a powerful strategy to win over the competitors.
WordPress Automatic Plugin is a dedicated automatic plugin that can boost your marketing campaign by creating multiple campaigns at selected intervals. Moreover, you can post from any site.
WordPress Automatic Plugin can import any latest post, products, or blogs from any popular website and post it on your website as a new blog.
Furthermore, you can create various Amazon, Flicker, or eBay campaigns. Whenever any new post related to these campaigns is posted on their source, your website will automatically import those feeds.
You can assign specific keywords for each campaign and select different options for campaign type, maximum posts in that campaign period, and post author info.
Also, the plugin allows removing all links before posting the content if you need it.
WordPress Automatic plugin Key Features
WordPress Automatic plugin has proven to be a game-changer because of the sheer numbers of import options it has. Other than just publishing articles or blogs from popular websites like ezine articles or any other source, it supports multiple sources such as Amazon, eBay, and Walmart products and also Youtube and Vimeo, Pins, Tweets, Reddit and many other sites.
It's an iconic choice for niche specific websites.
Moreover, other than just options to choose the sources to import your content, you can also filter the content by category, tag, and author so you could select which type of content should be published on your website.
Beyond this, you have full authority over the content which you like to fetch along with the material such as post template, status, type, format, and images. Also, you have an option to replace some keywords and terminologies which go against your brand. The plugin will automatically replace those specific words.
In short, the WordPress Automatic plugin does the heavy lifting for you. It fetches all the products from multiple sources like Amazon, Walmart, and eBay that can be time-consuming if you do it manually. Therefore, you can get the WordPress Automatic plugin if you own a multipurpose business and looking forward to sharing content from big brands just within a few clicks.
What perks do WordPress Automatic plugin offer?
Let's find out;
Showcase products from popular websites
The WordPress Automatic plugin can import posts/products/ images and content from any of these popular sites.
Walmart
Facebook
Twitter
YouTube
Instagram
Pinterest
Reddit
Vimeo
Dailymotion
RSS feeds
EzineArticles
Amazon
eBay
Walmart
iTunes
Flickr
ClickBank
Envato
Avail different Campaign options
Specific Keyword for each campaign:
You will have to choose precise keywords for each campaign so that whenever you post anything related to this campaign, the plugin will automatically match the Keyword with the content and post it on the campaign.
Specify the category for each campaign:
When you specify a type for each campaign, the post related to that category will automatically be uploaded to that campaign.
Set Maximum posts limit:
You can also set maximum posts limit to each campaign, so only limited posts could be included in the campaign.
Post-Author:
Select which author you prefer for your campaign, and only that author's posts will be contributed to the campaign.
Set a time to update each post:
Then select a specific period for each post to be updated. Once you select the update time, all of the posts will be updated automatically.
Insert Ads automatically
The WordPress automatic plugin allows specifying a maximum two ads to be displayed in the post. These selected ads can be displayed on the top or at the bottom of each post.
Auto-Hyperlink option
The plugin has an option to automatically detect the keywords and hyperlinks which you have used in any of your websites and use them in your post.
Automatically feature post image
The plugin can place the first image of the post as a blog post's featured image automatically.
Eliminate or replace words or phrases in your post
You can eliminate or replace any words or phrases which are not following your brands need quickly.
Google translator
With the help of Google translator, you can easily translate the post content and post it in your preferred language.
Add custom fields to the posts
With the custom field option, you can add custom fields to the plugin, such as post title, author name, image, price, and ratings.
Keyword suggestion option
With the keyword suggestion option, you can easily find out any relevant keywords. Once you enter the first word of your Keyword, all of the suggestions related to the keywords will appear in the dropdown menu, and you can select whichever looks excellent.
How to import Walmart products to your website
Now, let's find out how the WordPress Automatic Plugin can import Walmart products to your site
To start a new campaign on your website follows these steps;
Step 1: Add new campaign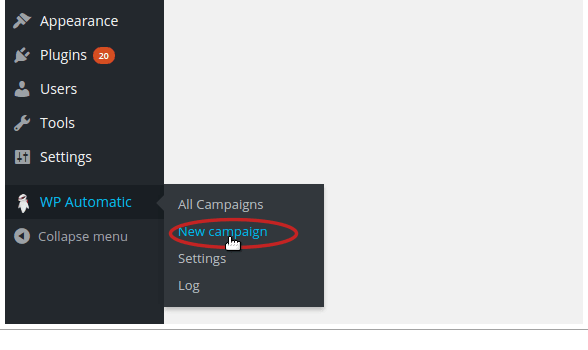 Go to: WP Automatic plugin menu > click on New campaign.
Step 2: add the title of the campaign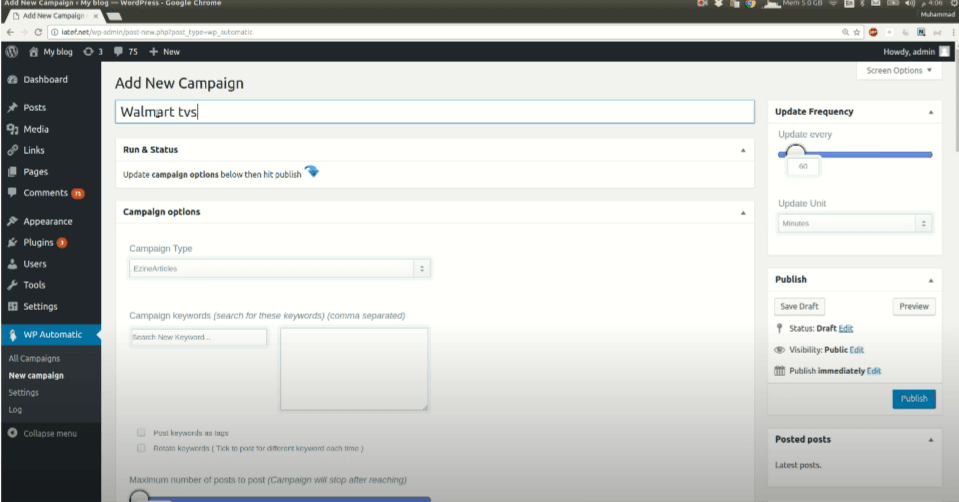 Choose the name of the campaign. For this campaign, we have entered a name of "Walmart Tv."
Step 3: Select the desired source
Select the desired source from the dropdown menu. We have selected Walmart.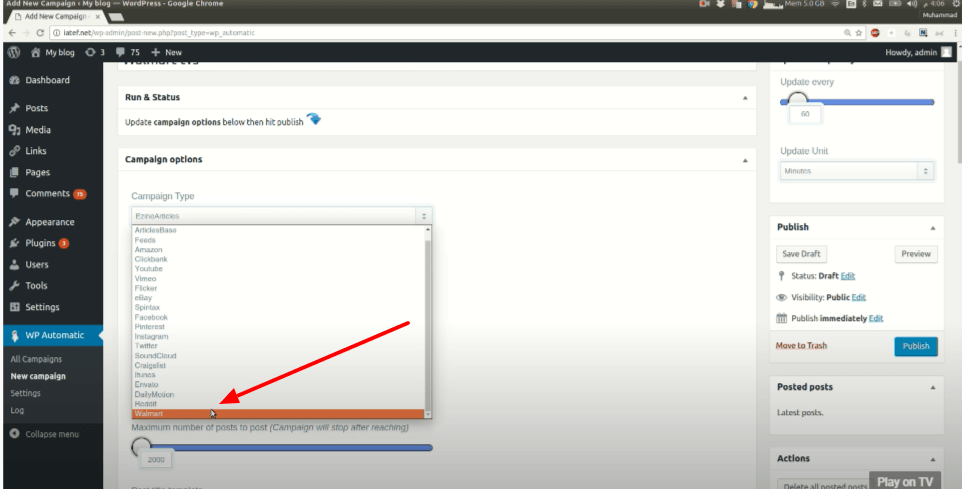 Enter your desired Keyword for the campaign and separate each one from one and other with a comma. We have entered Led tv as a campaign keyword.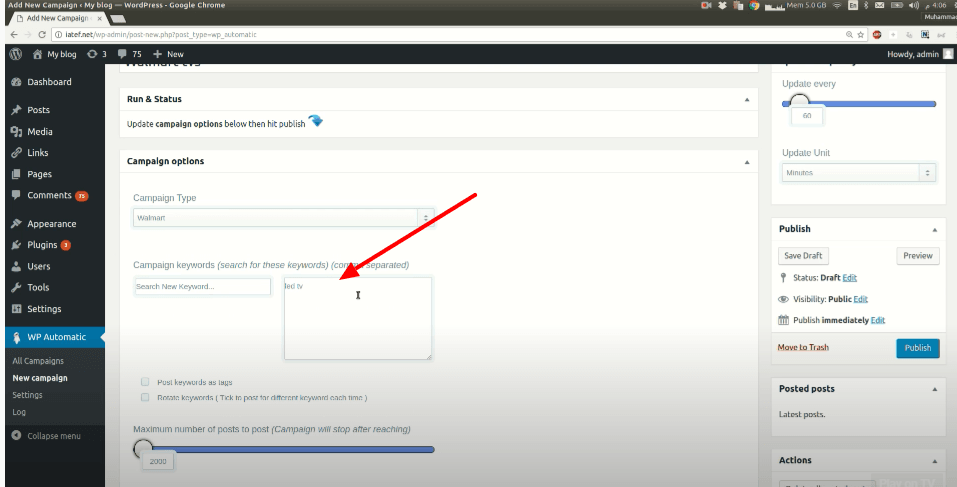 Step 4: Select other optional options
You have to set other optional options as per your need.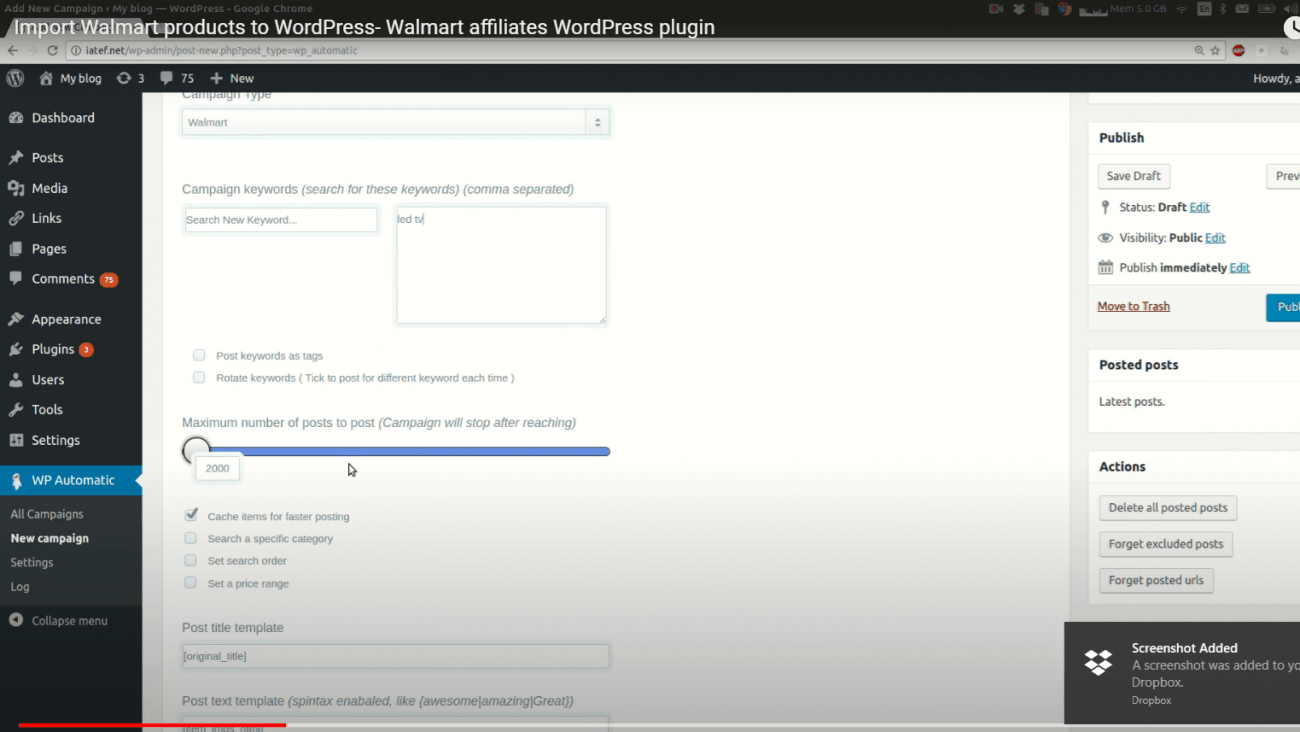 Like you can tick post tags if you want the keywords to appear as tags when your blog gets published. Also, you can set maximum posts for the campaign, and once the campaign reaches this post limit, it will automatically stop. You can also select the post type, post author name, or select any custom format if you like to add any video.
Step 5: run your campaign
Once you are done with all the settings, click publish and then run your campaign.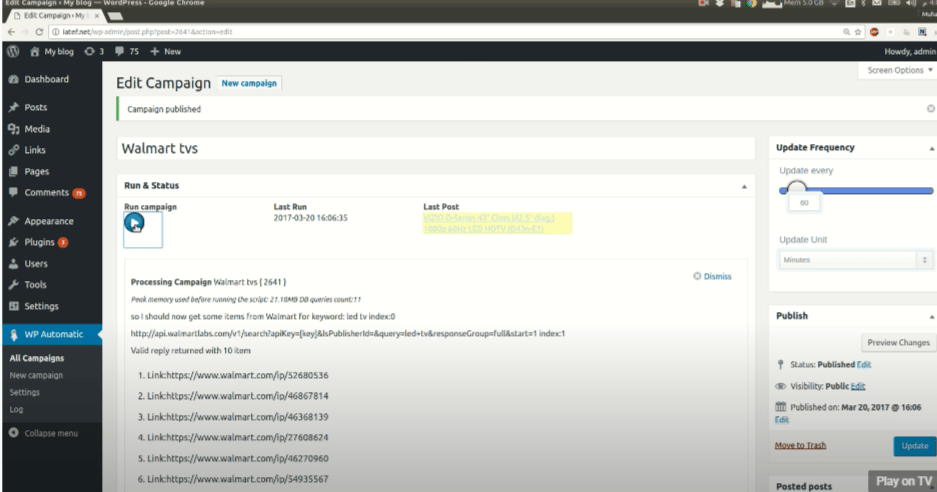 The affiliate links get added automatically in your post.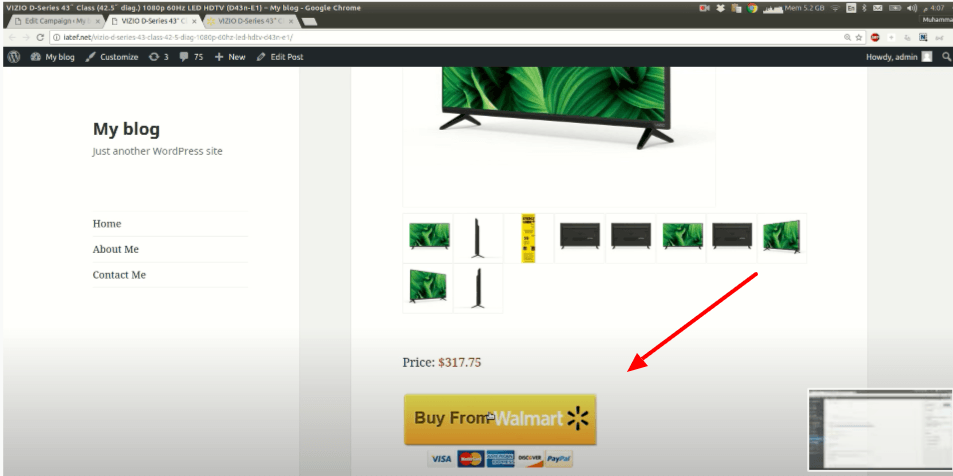 You can run your campaign as many times as you like. Moreover, you can also add categories or subcategories and custom price range in the options.
WordPress Automatic plugin pricing
The WordPress Automatic plugin pricing starts at $30 with six months of support and all future updates.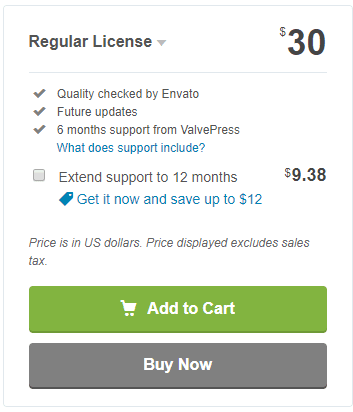 Is WordPress Automatic Plugin worth buying?
WordPress Automatic Plugin is designed to import a variety of content from multiple sites on autopilot. You can publish products, posts, and blogs from many other resources by entering the URLs or feed URLs. It's a highly flexible plugin that allows using data from a broad range of internet sources. Another unusual feature is that you can publish your content at different intervals. Also, you can control many other aspects of your post, such as the images, format, and phrases that you want to import or eliminate from publishing on your website.
So yes, you can buy this plugin for only $30, and it is worth every penny. It will make your website more competitive and save countless hours to post things manually.