Are you trying to establish your online presence in 2020?
No matter you are trying to establish your online eCommerce store, a travel blog, a foodie restaurant, or a personal portfolio website, get prepared for essential costs you need to bear to set up your online presence.
So, what is the possible range of options you can go to with creating your online website?
A lot of platforms are there to help you out in creating your website if you are not a professional web developer.
What you have to do is to carefully curate what your needs are and what your budget is.
A general web hosting plan includes the cost of the domain name, security, web development, and maintenance and payment procedure if you pursue receiving payments.
Some web hosting companies may include additional features and services to provide better services such as email accounts, CMS support, and SSL certificates. They may charge a special price for these services, or some companies may offer them free depending upon the hosting services you choose.
So what is the lowest cost to host a website? An estimated cost is around about $2.75- $15/ month, which is considered to be the lowest most cost known as "shared hosting," while the most expensive hosting known as Dedicated Hosting can cost you around $80-$730/ month.
However, the web hosting services verily depend upon the additional charges which you choose along with the website hosting, which we have mentioned above.
How to figure out your website hosting cost?
The Webhosting cost depends upon a number of factors such as
What type of website are you planning to launce; eCommerce/ hotels/ travel blog/ small business/ or portfolio website
How many visitors do you d expect to visit your website monthly
What additional services do you like to include in your Webhosting packages such as email account, cloud services, office 365, or G Suit services?
Once you appropriately figure out your needs, it would be easier to figure out the Webhosting cost.
What are the most commonly available web hosting services? We'll discuss them briefly here;
Shared Hosting
Shared Hosting is the most commonly used webhosting service; especially, it is ideal for new startups or simple WordPress blogs. It is best because, at the start, you do not expect to receive high-end visitors, and you can save your money with low-priced shared hosting. Once your blog/ website grows older and gains popularity, you can switch to any other webhosting with unlimited bandwidth limits or storage to handle efflux in traffic.
In shared hosting, various websites share the resources of a single server; that's why it's cheap in price and ideal for low-traffic websites or blogs.
VPS Hosting
VPS hosting is one step ahead of shared hosting where a single server hosts several virtual servers, each one isolated from other servers. These virtual servers run their operating system. Mostly the VPS hosting can cost anywhere from $5 to $20/ month, and it is suitable for small businesses that do not expect efflux in traffic.
Dedicated Hosting
Dedicated Hosting as the name resonates provides dedicated server to one client with all of the assigned resources mentioned in the dedicated hosting package. Dedicated hosting is suitable for large organizations or websites that expect higher traffic. How much-dedicated hosting is going to cost you depends upon many factors, such as how much speed, memory, and additional services do you need. On average a dedicated hosting may cost you from $100/ month.
Cloud Hosting
Cloud hosting is a cluster of servers working together to maintain your website running and keep it up if anyone of the server goes down. They work systematically, and if any one of the servers goes down, the other one picks it up quickly to avoid downtime. It is ideal for that business who cannot afford a downtime of even a few minutes.
WordPress Hosting
Although you can choose any web hosting services to run your WordPress website or blog; however, WordPress hosting typically includes services that are meant to meet the WordPress site's needs precisely. These hosting plans include specific services intended to meet the WordPress site's needs.
As you go on increasing additional services, the hosting plan cost will automatically increase.
Now, let's discuss how much website hosting is going to cost you in 2020;
Webhosting cost by top five hosting providers
We have collected webhosting plans from different webhosting companies. Most of the prices included in the comparison comprise promotional rates, and after the promotion period of certain months, the original price will be paid.
Let's find out compared webhosting plans for each webhosting services one by one;
Shared Hosting
Shared webhosting is the lowest-priced hosting plan best suited for new startups or small business owners.
We have collected the top five cheapest shared hosting providers' rates;
As can be seen in the chart, Dreamhost is offering the lowest price for the shared hosting starting at $2.59. while the HostGator is preceding by $2.75. however, the Bluehost and A2 hosting are proving to be quite expensive at $3.95 and $3.92 per month, respectively.
VPS WebHosting
Once your website starts receiving immense traffic, then you can switch to VPS webhosting that begins at a minimum of $19.99/ month. The entry plan offered by Bluehost is cheapest, along with the iPage webhosting starting at $19.99/ month. However, iPage's highest plan starts at $79.99, which is expensive as compared to the Bluehost top tier plan that comes in $59.9/ month.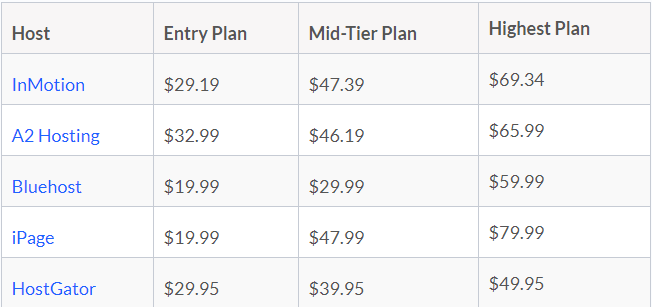 Dedicated Hosting
If your website continuously receives higher traffic, then selecting a dedicated hosting plan can be an absolute comfort to treat your outgrown needs. The top five specialized hosting rates given in the compare list show that the lowest-priced dedicated hosting is provided by Bluehost, which starts at $79.99/ month while Midtier and Higher tier comes with $99.99 and $119.99. Whereas SiteGround is providing at $269 and $349 for Mid-tier and $729 for the higher level which is quite expensive as compared to any other webhosting plan.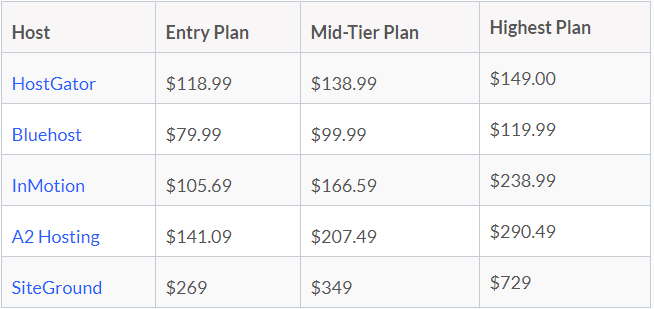 Cloud Hosting
Cloud Hosting can be the ultimate solution when you fear downtime can cause you incredible loss. Cloud Hosting makes sure that you will never face downtime, and your website will be available to the online world without any interruption. Cloud hosting is the most affordable and easy-going webhosting solution to your online needs that can be obtained as low as $4.50/ month with DreamHost provider. While SiteGround proves to be the most expensive one at $240/ month for the highest tier.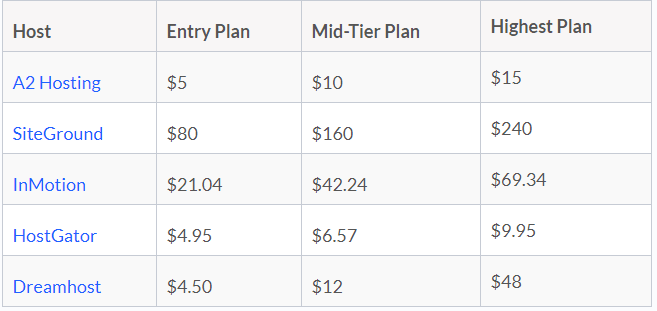 WordPress Hosting
WordPress Hosting is the absolute hosting solution designed precisely for WordPress websites/ blogs, keeping in view the needs related to WordPress websites.
These hosting plans can vary depending upon the additional services you choose to get along with other services. So far, among the top 5 WordPress hosting providers, then SiteGround is providing the cheapest WordPress hosting starting at $3.95 while WPEngine Top tier plan starts at $290/ month.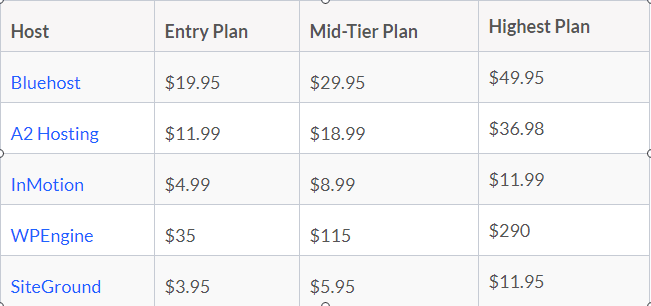 Additional Features and Services costs
Other than selecting your web hosting plan, you have to include some other costs as well, which are sometimes already included in your package, and sometimes you have to buy it separately. Such as Domain Name or Domain Registration fee.
Domain Registration Cost
When you start your online website, you need a name or a website address, which is known as Domain name. you can choose different suffix such as .com, .net, .biz or . us or .ca types of suffix depending upon your choices. It is advised not to use a web hostname at the end of your web address such as .godaddy or .bluehost, so it could be easier for you to switch webhosting services when needed. On average, the domain registration fee costs around $10 to $15/ year.
Office 365 and G suite services
To avail office 365 or G suite services, you have to pay around $6 to $15/ month so you could receive your emails right into your Gmail or outlook.com.
SSL certificate
SSL certificate is an obligation if you want to handle any kind of financial transaction. Most of the web hosting services offer free SSL certificates with their mid-tier and higher-tier plans. You have to consider buying an SSL certificate because Google prefers to rank those websites which come with SSL certificates. It's going to cost around $50/ month.
SiteLock security check service
Most of the web host providers offer sitelock services for daily malware checks, web application firewalls, and DDoS attack protection. It can cost you around $2 / month.
Automated site backup and Restore services
You have to keep an automatic backup of your website files or data to avoid any vulnerability. Some plans come with automated site backup; however, mostly, it may cost you around $2/ month. You should avail of this service to keep your data safe.
Wrapping up
If you calculate all of the business needs that you need, you run your online business, then choose the webhosting plan wisely. Most of the webhosting providers offer a limited money-back guarantee so you could try out their services, and if not satisfied, you can leave.
Once you pick up the hosting plan, don't forget to include the additional features which we have mentioned earlier to keep your website running and maintained.