WordPress is emerging as the most powerful Content management platform, mainly renowned for its flexible and robust content management system.
Research says that more than 32% of websites are powered by WordPress only; that's why web hosting companies are thriving to provide special plans, including dedicated resources and support solely for WordPress sites.
Most of the well-known brands such as Disney, Sony, The Time magazine, Facebook, and the New York Times are using WordPress to power their websites.
The WordPress managed hosting is a bit pricier than the shared hosting price because of the premium features included in the package.
In this article, we will consider the pros and cons of the siteground managed web hosting service. And weigh up the most prominent features of managed Webhosting to put a value if it is worth buying or not.
Let's dive deeper into details
Siteground managed hosting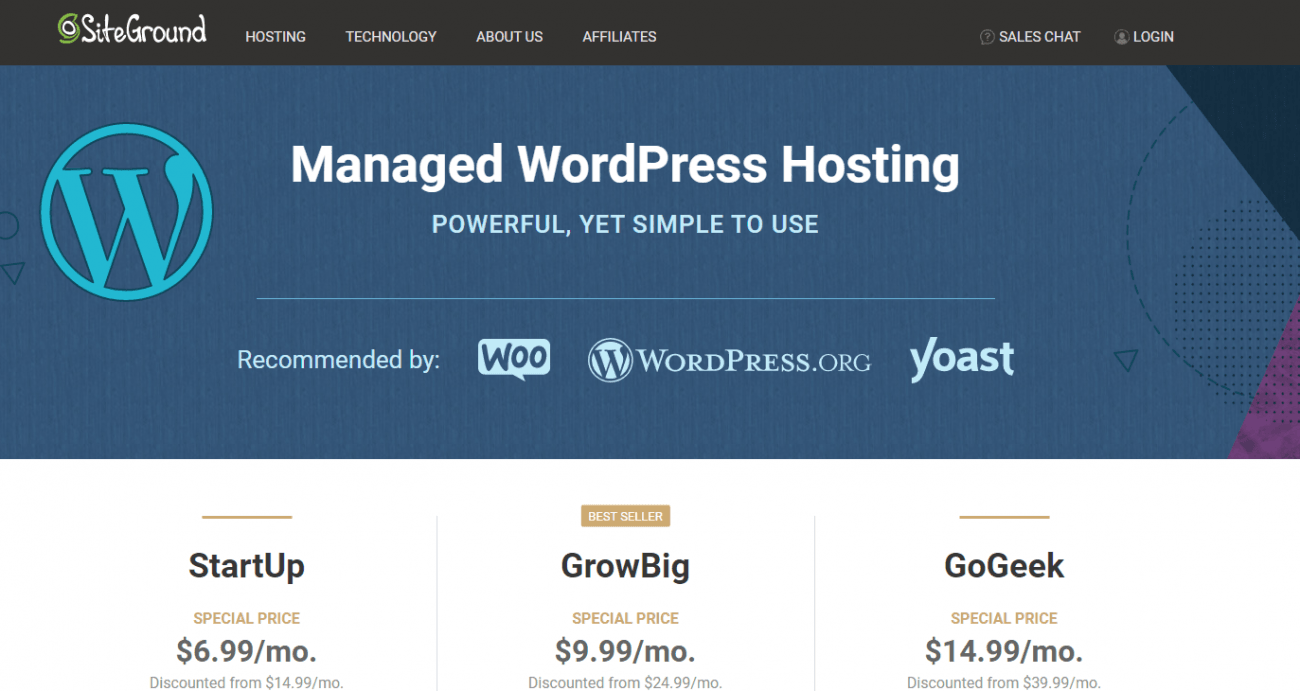 Siteground offers the most reliable WordPress hosting services with multiple tier plans catering to the needs of small to large scale business sites.
The startup plan is suitable for entry-level business websites with a hosting plan for a single website.
However, if your site has grown up significantly over the period, the most suitable plans would be GoGeek and GrowBig, which come with unlimited website support with many WordPress related resources and a free migration tool to transfer your WordPress site from another host to siteground.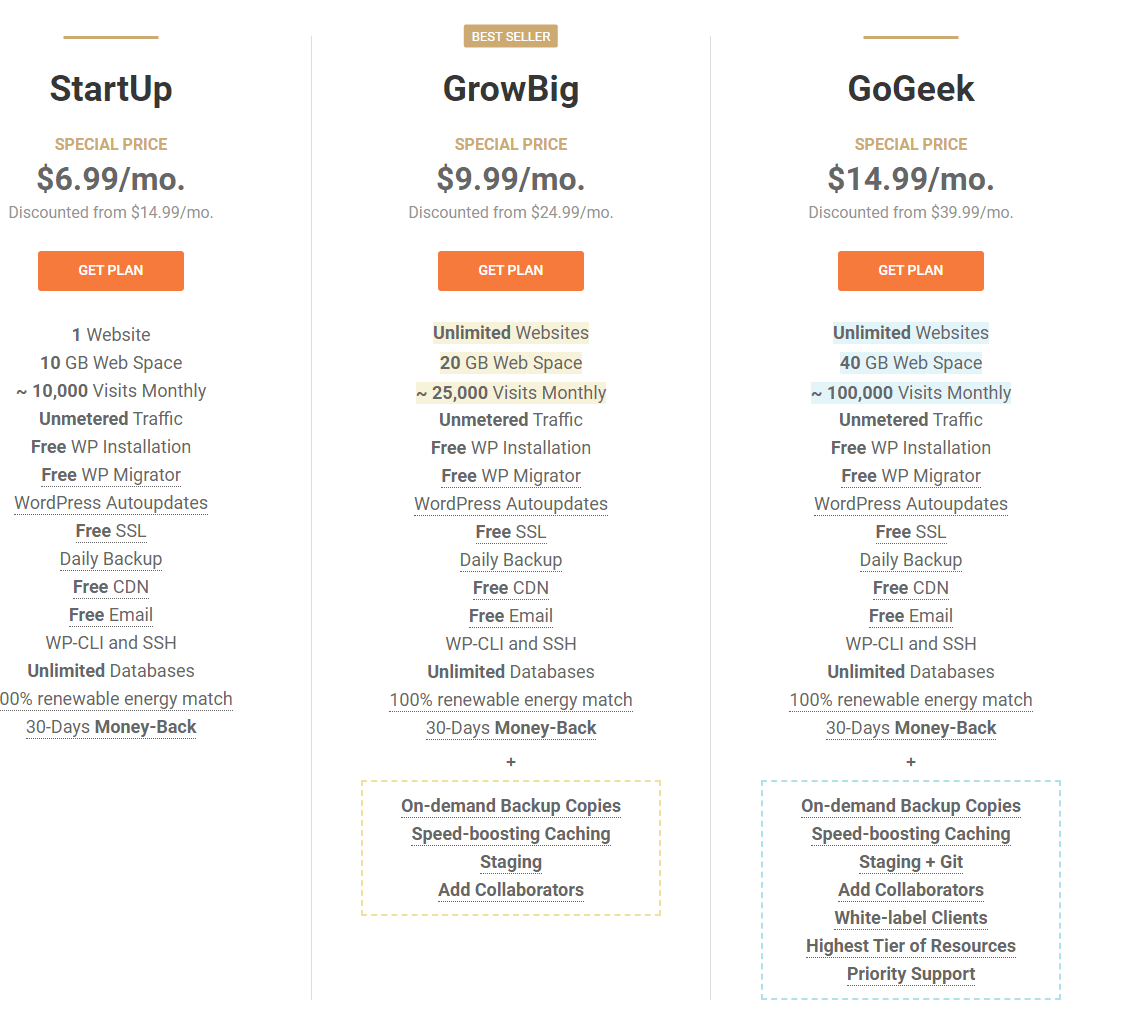 So, here you can see what offers you will get with the siteground. Your budget plays a vital role in making a decision which offers you should get. In the above price plan, you will see a price with the resources that you will get along with each plan. So, it's pretty much evident that if you have more than one WordPress website, than the startup plan won't suffice your needs, and you should consider buying the Growbig or GoGeek plan. The Growbig and GoGeek plans are a bit pricier than the startup, but these come with additional useful resources along with tools that will help in improving your website performance.
You will get unlimited Bandwidth with auto backup, free wp migrate, and many other WordPress oriented facilities.
Siteground WordPress managed hosting Key features
Now, the question is why you should go with the managed hosting plans instead of shared hosting, and what perks do managed hosting have over shared hosting?
You can see that in the shared hosting plan, you will have limited features, and therefore if you are looking for some extra promising features, then managed hosting can be a great choice.
Primarily, the biggest attraction of managed hosting for any website is increased speed.
This is mainly because the managed host's plans come with dedicated servers predestined for WordPress site only, which means the resources are solely meant for your site only and won't be shared with any other site.
However, if you are getting pretty much speed with the shared hosting and your website loading speed is pretty fast, then is there any need to switch towards the managed hosting?
Because the site speed does not solely depend upon the host's resources, and it can get better with a few standard steps taken by the site's owner.
The site speed can be improved with caching static site files, with limited installed plugins and regular scan and updates to WordPress.
Another key benefit that attracts the most is the high level of security provided by the siteground's managed hosting plans.
As the website grows, so will be the threats to bring down the site from various resources like DDoS attacks, viruses, and malware increases. So an added security feature for your growing up site would be the need for time.
Siteground managed hosting provides a foolproof security system with regular scans to check for any vulnerabilities, a much better-secured server, and a more attentive dedicated staff to cope with any kind of troubleshoots.
The automatic WordPress update system will keep your WordPress application up-to-date with the latest version to avoid any vulnerability.
So, the security is the most desired attraction if you like to keep your site more safe and secure and it is a kind of gift for those sites who want to maintain their site's security and cannot tolerate any downtime.
What are the other key benefits of managed WordPress hosting? Let's Dive into details;
1. One-click installation of WordPress
Siteground comes up with a one-click installation solution of WordPress. So, you need not to download, install, and configure WordPress manually. All of this will be done with a one-click installation system. Also, after installation, if you visit the site's admin panel, you will find a WordPress starter tool with all the professional site designs, tools, and functionalities like contact form, online store, and portfolio site, which can be installed with a single click.
2. Google cloud hosting in company with WordPress sites
To maintain ultra-fast speed and performance of WordPress sites, the siteground uses a powerful Google Cloud platform, which is accompanied by SSD persistent storage.
The free SG Optimizer Plugin lets you use all the unique caching solutions offered by siteground hosting. These include switching to the latest PHP version, switching on HTTPs options, using automated image optimizer, lazy loading, GZIP compression, and CSS & HTML minification.
You will also get Free CDN service in company with Cloudflare, which keeps your content in cache, auto-minifies images, and store them on different geographical locations to speed up the load time of your page to your visitors.
3. Free siteground Migrator Plugin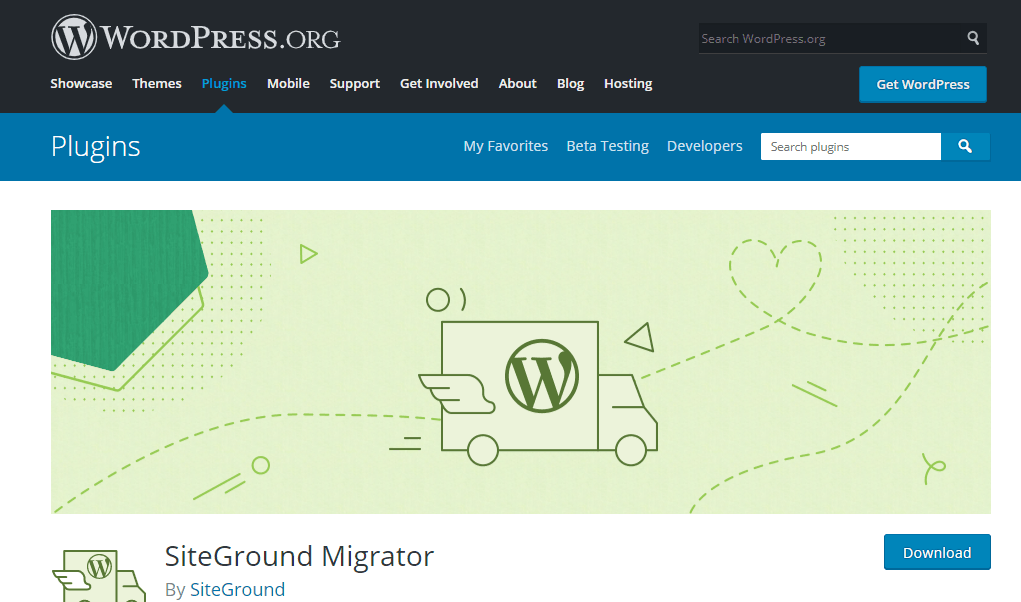 If you are hosting your website on another web host, then migrating it to the siteground would be as easy as a breeze with the help of free siteground migratory plugin, and the startup plan holders can use this free plugin to import their website to the siteground. While if you have chosen the GoGeek plan, the siteground's experts will migrate your websites as a part of this package service.
4. Daily automatic WordPress website backup
The free daily automatic WordPress site backup is a real-time face-saver. If you accidentally lost your website, it will automatically backup your site that will be no more old then 24 hours. However, one big catch using the automatic backup feature is that it is only available with the GoGeek and GrowBig plans, and if you like to add this feature in the startup plan, then you will have to purchase it.
5.Custom WordPress caching plugin
Siteground comes with an ultra-fast caching plugin that assists you from inside the dashboard. From the dashboard, you can control the browser caching, Gzip compression, minification of HTML and CSS and Javascript files or lazy loading of images
6.WordPress staging tool
The staging tool comes with GoGeek, or GrowBig plans only, and it helps you safely test the plugins, WordPress updates, code editing, and other changes without affecting the original site.
7.Siteground email services
With the siteground email service facility, you can create as many email addresses as you like. Such as [email protected] or [email protected] types of email addresses
Pros and Cons of Siteground Managed Hosting services
Pros
One-click WordPress installation
Free CDN service from Cloudflare
Free let's Encrypt SSL certificate for one year
Daily Auto backup of WordPress site
Auto updater tool to update your WordPress site with the latest version
SG plugin for additional protection
Four server locations UK, EU, Asia, and the US
Useful staging tool
Free migratory plugin
24/7 support via phone call, live chat or ticket system
Cons
Hosting plans are bit pricier than other hosting companies
Most of the advanced tools are only available with the GrowBig or GoGeek plans, such as the staging tool, SG optimizer tool.
Final verdict
Choosing the right type of hosting is a challenging task; after looking over all the key benefits and functionalities of the siteground, we found that the siteground offers high-quality user-experience.
Some features are more than awesome such as one-click WordPress installation and auto backup of your website because it saves you time, and you can focus on other business-related activities without any headache.
However, some of the downsids are that some of the best features are available only with the GrowBig and GoGeek, such as Auto-backup, SG cache plugin, and staging tool.
Finally, siteground is a great choice if you prefer performance over cost, and I highly recommend it because it rightly justifies its price. Also, there is a free trial period of 30 days where you can try their services with a money-back guarantee.