If you are looking for a scalable, eco-friendly and reliable web hosting provider; GreenGeeks is the one you should opt for. GreenGeeks started its operating in 2008, and since that time it has successfully hosted over 300,000 websites.
That's not all! It is ruling the world with its environmental friendly web-hosting solution. As it offsets 300% of the carbon from the energy they use and provides an automated backup to protect your content.
GreenGeeks offers incredible security measures, outstanding uptime and fastest page load speed you have always desired for.
So what are you thinking now? Get ready to know more within this article. We will be reviewing GreenGeeks hosting solution and enlisting all the possible information you need; so you may choose the right hosting solution.
So, lets get started…
Features of GreenGeeks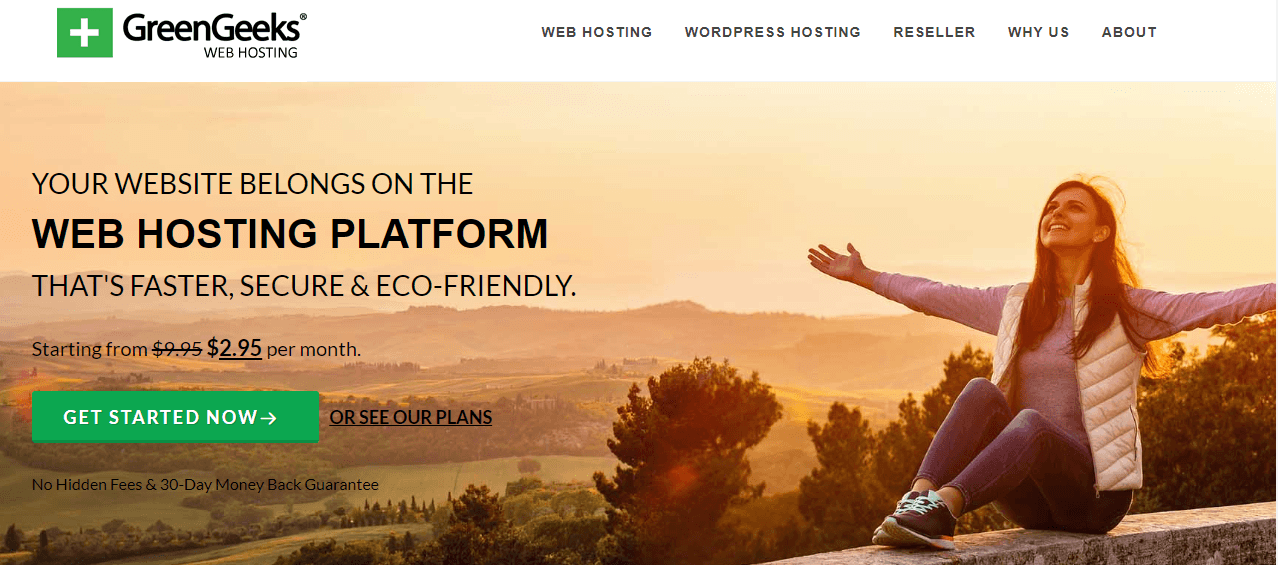 GreenGeeks offers its hosting services for both beginners and intermediate website owners. So, if you are a newbie or an expert and looking for a reliable hosting plan; GreenGeeks it there to serve your demands.
Eco friendly Solution
One of the profound features it offers is its commitment to sustainability. It is the cleanest and the greenest hosting technology in the market today. It is an EPA Green power partner that offers ecofriendly green operation without sacrificing on the quality and performance. It prides itself in offering zero carbon footprints and use efficient infrastructure.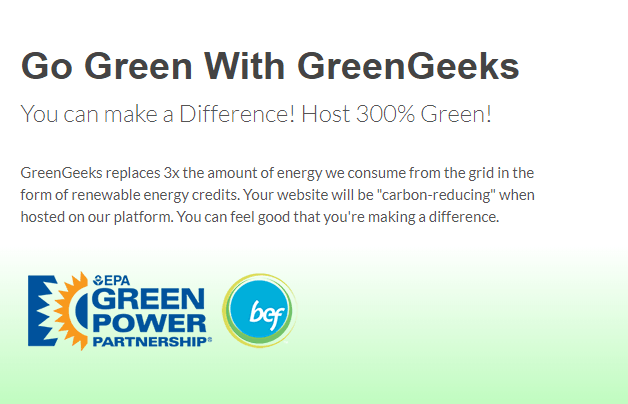 To power your website sustainably; GreenGeeks purchase 3 times wind energy credits; replacing 615,000 kWh a year. So what do you say now? Haven't they set an unbreakable example for the rest of the industry?
Customer Support
We always have certain queries and therefore require help from professionals. If our customer experience is satisfied we continue to use the service or else we quit. GreenGeeks is known in the market for excellent customer support; they not only resolve customers' queries but the knowledgeable customer representatives are present 24/7. So, no matter what time zone you are in; your query will be resolved. They support via live chat, telephone and email tickets.
Moreover, they also offer extensive knowledge base articles; these articles will resolve most of your queries. So, give it a shot and place your question in the search bar.
Multiple Server Locations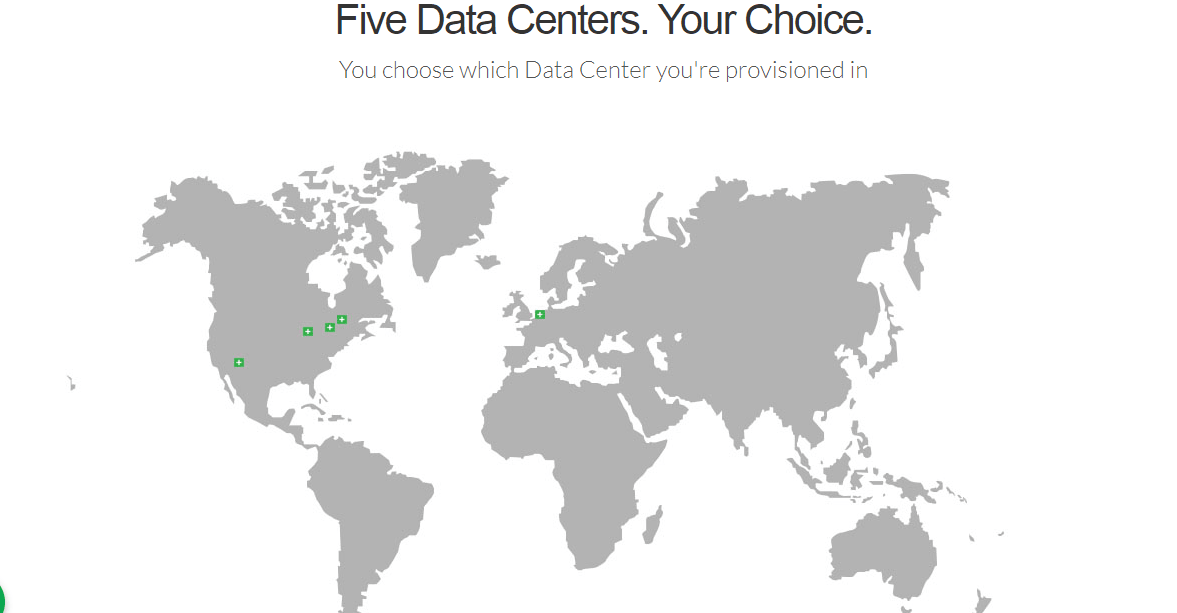 GreenGeeks offers data centers in four locations; Chicago, Phoenix, Toronto, and Amsterdam. So, chose the right server location to experience faster speed. However, all their servers are stored on high quality and backed up with the following specifications:
Biometric and key card security system
FM 200 server safe-fire suppression system
Dual city grid power feeds
Automatic climate control and temperature system
SSD acceleration
Latest generation energy-efficient Intel Xeon processor
Backup And Security Measures
Do you have sleepless nights thinking about the unfortunate or uncertain happening? Would you rely on a hosting plan that offers automated backup plans? Well, that's exactly what all search for!
GreenGeeks offers free nightly backup plans so your data is backed up on a regular basis automatically. So, if anyone is maliciously intending to hack or inflict you harm; their security measures are way too strong. They offer real-time security scanning, automatic brute force detection, spam assassin protection, SSL secure server and option to protect your directories. They are offering the following security and reliability options making them the most secure platform you can rely on:
Hardware and power redundancy
Container-based technology
Hosting account isolation
Pro-active server monitoring
Real-time security scanning
Automatic app updates
Enhanced spam protection
Performance
You must be fully aware that a blog with a fast speed not only provides a better experience for readers but helps you rank higher in search engines. So, for you uploading speed, performance of site are crucial elements that must not be ignored at any cost. If you are signing u on any web hosting company; the first thing you need to look is its offering regarding to speed.
Speed
Fortunately, GreenGeeks not only claims but also offers its clients with fast speed. They ensure their web pages load at a faster rate and therefore, they have invested in the latest speed technologies. They provide SSD hard drives, fast servers, built-in- caching, CDN services, HTTP/2 and PHP 7 support.
With the help of these latest technologies, your site can not only store your files and database faster but also delivers content 50 times faster. It improves client-server communication and will help you create a paramount user experience for your client.
GreenGeeksloads site in seconds and can also handle surge traffic during peak hours. No downtime is recorded under GreenGeeks claims.
Uptime
GreenGeeks claims 99.9% uptime; would you go for that? The average industry standard uptime is 99.94% but their uptime guarantee is just amazing. However, there are always strings attached to the hosting industry so you may be preparing for certain uncertainties like a network malfunction, downtime by cyber-attacks, or downtime by spamming activities.
They monitor their servers and detect any problem before it affects any client or their website. This strategy helps them maintain their uptime.
Load time
Their page load time speed is 45 times faster than their competitors. Therefore, today they stand out among the top 10 fastest web hosting companies. GreenGeeks offer free Cloudflare CDN to their client that not only brings content closer to the reader but also fetches the server closest to the reader thereby reducing the load time.
Their performance standards are competitive and unremarkable due to their outstanding offerings:
Scalable computing resources
Multiple data centers
SSD-based RAID-10 Storage Arrays
Optimized LiteSpeed and MariaDB
Free CDN Integration
HTTP/2 & PHP 7
PowerCache
Ecommerce
If you want to run an online shop you need eCommerce solutions; this is where GreenGeeks steps in. They offer a free encrypt Wildcard SSL Certificate. This certificate assures and secures customers with their personal and financial information. Moreover, it can also be used for unlimited subdomains of a domain name.
GreenGeeks servers are PCI compliant so you don't need to worry about your site security. To run an online shop you also need a shopping cart; they offer you a free shopping cart installation option too. Moreover, they are also offering a Premium SSL certificate for those who want to add some extra topping.
GreenGeeks WordPress Hosting Plans
Do you freak out to even think to manage all the technical elements to get your site online? Well, it's not just you; a lot of us detest handling the technical part. Don't worry! We have good news.
GreenGeeks offers three shared hosting plans; so let them manage all the hassle, while you focus on your job. All three shared plans they offer include unlimited bandwidth, storage, domains, an email account, and a free domain name.
Let's look at their plans in detail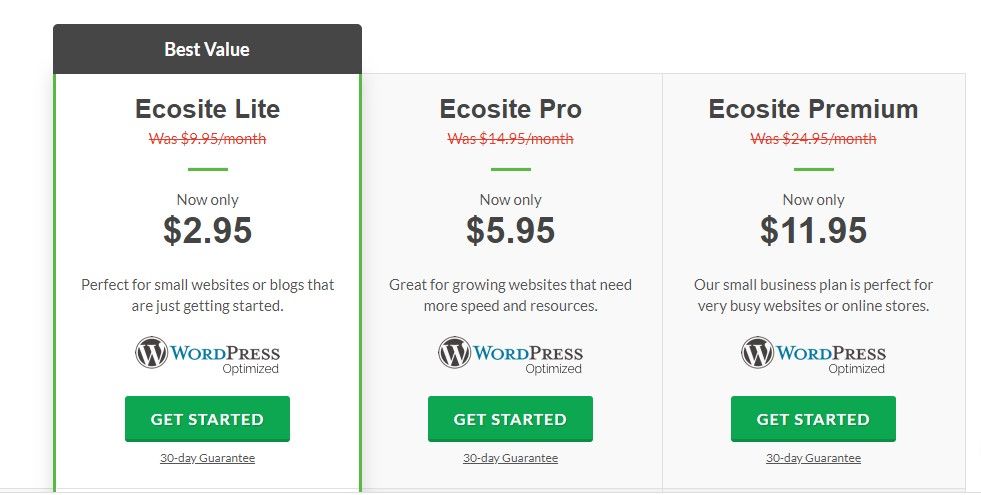 Ecosite Lite
This is the cheapest plan starting from $2.95/Mon and best for small websites or blogs that have just stepped into the market. However, if you believe you are not satisfied with their services; you can opt for money back but only within 30 days.
Features of Ecosite Lite
Unlimited SSD disk space
Unlimited bandwidth
Unlimited email account
1 domain hosted
SSL cert included
Free site builder
Free website transfer
C panel & softaculous
Nightly backups
Unlimited MySQL databases
Cloudflare CDN
100 emails per hour
Ecosite Pro
Ecosite lite is the best alternative plan for those who need more resources and speed. Therefore, this Eco site Pro plan for only $5.95 will help you grow your site with more awesome offerings. It provides everything with the starter plan plus it serves with a better server with catching and offers twice the performance you always want.
Ecosite Premium
The last and most extended business plan is perfect for busy websites and online stores. It comes with everything that the rest of the plans offer along with four times the performance at only $11.95. It is also offering a premium SSL certificate and PCI compliant feature.
GreenGeeks is offering three hosting plan suitable for small, medium and large scale site requirements. So, if you are a newbie or an expert your prayers are answered; chose the hosting plan you need and get equipped with their speed technologies, datacenter options and reliable and secure services. Most of all, if you are not satisfied, you may also look over the 30-day money-back guarantee option. Obviously, there are some disputes associated with it.
Conclusion
GreenGeeks is the industry's leading eco-friendly web hosting provider that has provided a better web hosting experience to over 150 country customers. They claim 99.9% uptime guarantee, a scalable hosting solution that doesn't sacrifice on performance, most importantly, they offer a cheap and simple dedicated WordPress hosting plan. Their hosting platform offers shared, resellers, VPS, and WordPress hosting with a fast, secure and scalable hosting solution.
GreenGeeks is also offering a free site migration option that allows users to migrate over with free of charge and minimal downtime and new hosting account.
That's not all! Their experts are available 24/7 who is professional and knowledgeable and resolves queries of all levels; leaving the client satisfied. Moreover, their support material offers videos, articles and site tutorials that cover all possible topics.
Lastly, they offer the lowest pricing plan at $2.95 for newbies and if still, you believe you are not wording well; you can opt for their 30 days money-back guarantee.
Is there anything else you need in a hosting platform? Isn't GreenGeeks the best hosting platform that offers you everything you need to power your website?