It is a daunting task for most of the website owners to select the most appropriate web hosting for their site.
The query goes on the same for bloggers, professionals, and ecommerce website owners and often discussed prolifically to have a better decision while selecting a hosting plan.
Cloud Hosting is buzzing around for its better scalability options and resources. Therefore, many website owners are thinking about switching towards Cloud hosting to amplify more resources without going through any fuss.
Siteground is well-renowned for its shared hosting, cloud hosting, and dedicated servers. Today, we'll illustrate the nitty-gritty of Siteground cloud hosting, including the features and pricing options of each cloud hosting plan.
But before moving ahead, we'll briefly explain what is the Cloud hosting is and how it is different from shared hosting.
What is cloud hosting?
In Cloud hosting, websites and applications use cloud resources to get access. In Cloud hosting, the website data is not stored on a single dedicated server.
Instead, websites and application's data is distributed across a network of different virtual and physical cloud servers.
These interconnected virtual and physical servers deploy their resources to ensure greater flexibility and scalability of the websites and applications at their disposal.
What are the rewards of using cloud hosting?
1.Painless scalability
Cloud hosting uses a system of a large stack of resources, which means every business can scale up to add more resources without any hassle when they start receiving a surge in their web traffic over the period.
2.Faster page-loading
Faster page loading is particularly more important for ecommerce sites because impatient buyers won't wait longer to load the page and leave to other sites. However, with Cloud hosting, when several servers are deploying their resources also, there is a robust caching mechanism the users will enjoy faster page-loading than ever.
3.Immense storage space
When using shared hosting, the space provided by web hosting is limited because multiple websites are storing their data in a single server. However, this is not going to be with Cloud hosting when multiple servers deploy web hosting resources within the same hosting service, and you can control all of it from the single cPanel.
4.Extensive Backup mechanism tools
The cloud hosting uses different data centers to store the data, and its comprehensive backup mechanism tools help in recovering the lost data within no time.
Why should you go for cloud hosting?
You should consider Cloud hosting for your website if;
If you own an ecommerce store with substantial traffic spikes
You own substantial data files, application, and want to store these files on multiple locations.
you are interested in expanding your business globally
You are cost-conscious and do not like to pay for the resources you don't use.
You are not interested in buying hardware.
Siteground Cloud Hosting
So you must be pretty familiar with the Cloud hosting now, with our brief explanation above. To remind you again, in the shared hosting, there are hundreds of websites sharing one server machine.
In comparison, the Cloud hosting stands for multiple/ unlimited servers connected and collaborating and acting like one machine, and your resources are isolated in these servers.
Also, as the shared hosting relies on a single server, so if it fails due to any reason, chances are your website will go down, and it could prove disastrous to your uptime and your site security.
However, this is not going to be with the Cloud hosting because your website is hosted by multiple servers located at distinct places and interconnected to one machine, you will always maintain 99.9% uptime and your security will be a lot more reliable.
What specifically siteground Cloud hosting offers?
Server resources are what make your website loads faster; when you share these resources with the shared hosting plans, then definitely you are going to compromise with the server resources.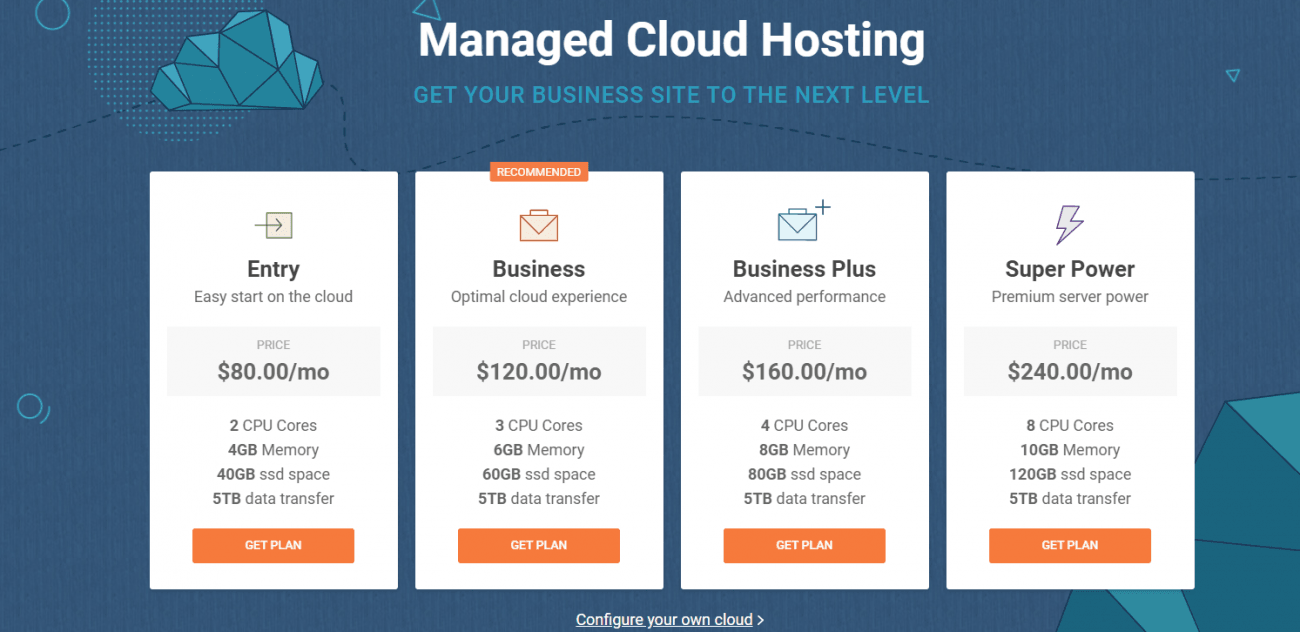 The entry-level plan starts with $80/ Month with 2 CPU cores, and it is what process your data and with 4GB RAM where your data temporarily stores and then it hands over the data to the CPU for processing.
Then you have 40 GB SSD space and 5TB data transfer. So the entry plan should be sufficient for the little too big businesses. Then there are Business, Business Plus, and Super Power plans that come with more advanced resources to accompany you.
Another exciting thing is that you can always scale up your plan, or you can build your plan if your site gets outgrown, which is not available with the shared hosting plans.
You can select the more CPU or Ram usage if you happen to receive seasonal traffic spike or traffic efflux due to black Friday sale or charismas deals.
Siteground managed to host Key Features
Siteground offers fantastic features to help agencies and businesses grow fast and manage their resources effortlessly.
Here is a speedy synopsis of all the essential features of Siteground cloud hosting.
1. Powerful dedicated resources
The cloud hosting comes with powerful dedicated resources to optimize your site speed and performance. With each cloud, the account is kept on a separate lightweight Linux container.
Also, the RAM and CPU resources are dedicated to each cloud account without sharing it with other accounts. That guarantees the ultimate site speed. Easy going, intuitive cPanel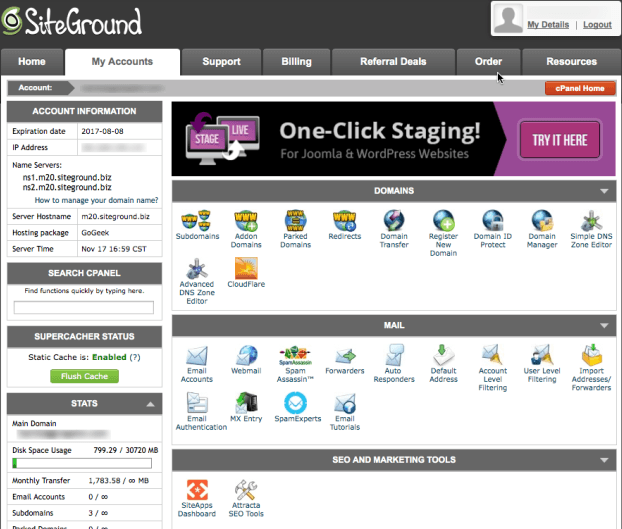 Siteground has amazing intuitive cPanel where you can easily access, resources, billing information account support, and also, you can customize its look and configure it in your way.
2. Super powerful hosting stack to safeguard your site
Siteground keeps the software updated, and a powerful hosting stack comprising of Centos, Apache/Nginx, managed PHP versions, and MySQL is always optimized to get the best performance.
3. Easy scaling option for Growing business
You can quickly scale up your RAM and CPU usage without facing any downtime or delay if you start receiving sudden traffic spikes.
4. Create sub-hosting accounts for your client
You can create your sub-hosting plans for your clients, and then each of these cloud plans will be separated using the individual control panel.
5. Amazing support system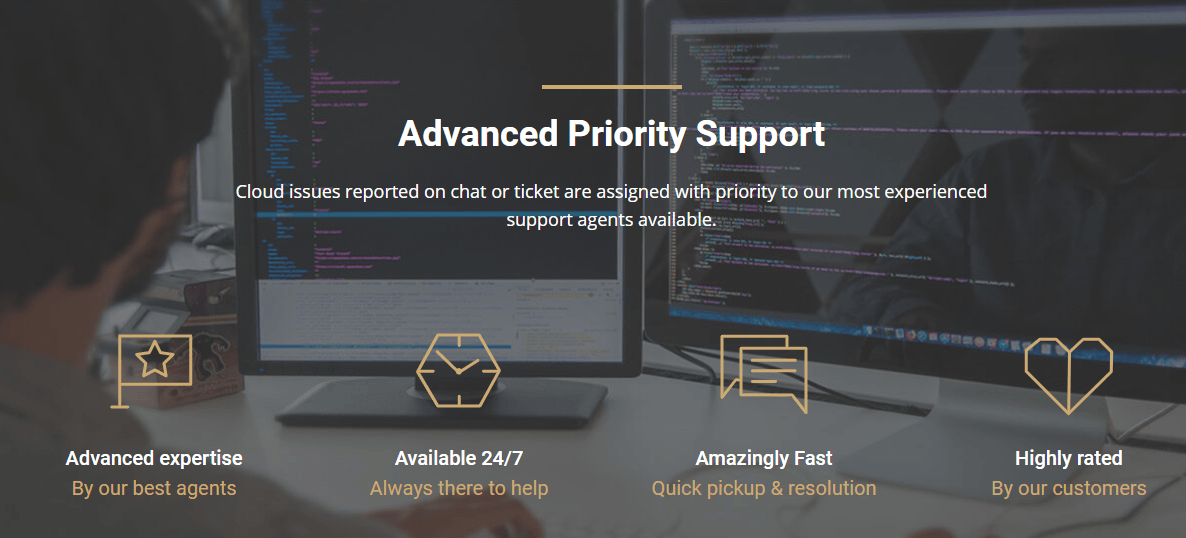 With an incredible support system, you can stay connected to the dedicated support team via live chat, phone call, ticket system. They are the most efficient and humble to serve their clients.
There are some extra features that you will get along with these premium features.
One year free SSL certificate
You can effortlessly migrate your WordPress site to cloud hosting using Migrate Plugin, or you can take the siteground's migration services for as low as $30/ site.
One-click staging tool will let you create a copy of your eCommerce store or WordPress site where you can test any new plugin or significant changes in your theme before going live.
Git integration tool will let you develop locally, and then if everything looks fine you can set it live
Wp-CLI is another great tool for developers that can help them speed up their work process.
Free CDN service with more than 152 locations will help you boost your page loading from the closest location to your customer.
Pros and cons of Siteground Cloud hosting
Pros
One of the leading cloud hosting services as per multiple FB polls.
Comes with all features included in the shared hosting plans, including the scale-up option.
Multi-level caching system and top-notch cloud servers for ultimate site speed and performance.
The users have an option to autoscale their CPU or RAM usage if they have a traffic spike.
Very humble and reliable support staff to help you with any inconvenience.
The users can create sub-hosting accounts with the individual cPanel option.
Cons
The renewal price is higher than many of its competitor hosting companies.
CPU overage is one of the most common problems when choosing Cloud hosting.
Takeaway
Siteground is most of the time regarded as best WordPress Host, but its highly scalable resources options make it one of the top-notch cloud hosting services on the planet.
With scalable and many other options, you can easily customize your resources according to the growing needs of your business.
Also, you'll get top-notch security of your website because the siteground ensures its users that the websites will be placed on isolated server resources. If anyone the website gets infected, there will be no effect on the individual websites.
You can trust Siteground Cloud hosting to get a next-level service in terms of performance, speed, and security.