Have you planned to start an online e-commerce platform?
Then definitely you will be looking for some e-commerce friendly web hosting plans to host your eCommerce store.
You will need a good ecommerce hosting if your ecommerce store will deal with buying or selling of goods or especially related to money-related transactions.
In this guide, we'll look into what eCommerce friendly key features does Siteground offer and how much will it cost you.
Have you planned to start an online ecommerce platform?
Then definitely you will be looking for some ecommerce friendly web hosting plans to host your ecommerce store.
You will need a good ecommerce hosting if your ecommerce store will deal with buying or selling of goods or especially related to money-related transactions.
In this guide, we'll look into what eCommerce friendly key features does Siteground offer and how much will it cost you.
What are the key features which you should look for in an ideal web hosting for an e-commerce store? Where is a brief overview?
Must-Have Features of an ideal ecommerce web hosting services
Here are a few features you should consider before opting for any ecommerce web hosting for your site.
1. Ecommerce software compatibility
Make sure the hosting company you choose has the inbuilt capability of e-commerce software that comes with features like shopping cart functionality and a safe and secure system to accept the customer payment information.
These features are mostly inbuilt in any e-commerce software, and therefore, you will not need to install any other software to get these features.
2. Must offer SSL certificate
To win customer's trust, you should make your website's security your top priority. Therefore, the eCommerce host provider should provide you promising basic security for your site to save it from hackers.
If you get the latest SSL certificate, a lock icon will appear on your website address that will ensure that your site is safe.
3. Must offer at least 99% uptime
The Webhosting provides must ensure that they will provide you 99% uptime with a guarantee.
This is the most important factor for your website growth because whenever your website would be down, chances are visitors will get frustrated and move to your competitor's website. To avoid this – you must ask for 99% uptime.
4.Fast website loading speed
Your website loading speed plays a crucial role in maintaining a good customer base. It's also equally important for ranking your website in Google searches.
The web host must be able to provide lightning fast website loading speed that could easily handle the spike in traffic during peak hours
5.24 hours customer services
Choose web hosting that provides trustworthy customer services to you, so whenever you need help, they are available with epic customer services.
6. Web hosting must come with an email address matching your domain name
If you hold an email address that is matching your domain name, then it will create a more professional look, and it would be easier for your customers to find you.
7. Automated Backup
You cannot ignore the Backup of your site because when you are in the middle of your website creation where you would be uploading your product description and designing your pages, then you can't bear the cost of crashing your website.
Therefore, your host should provide you automated Backup to keep records of your website data.
Siteground ecommerce web hosting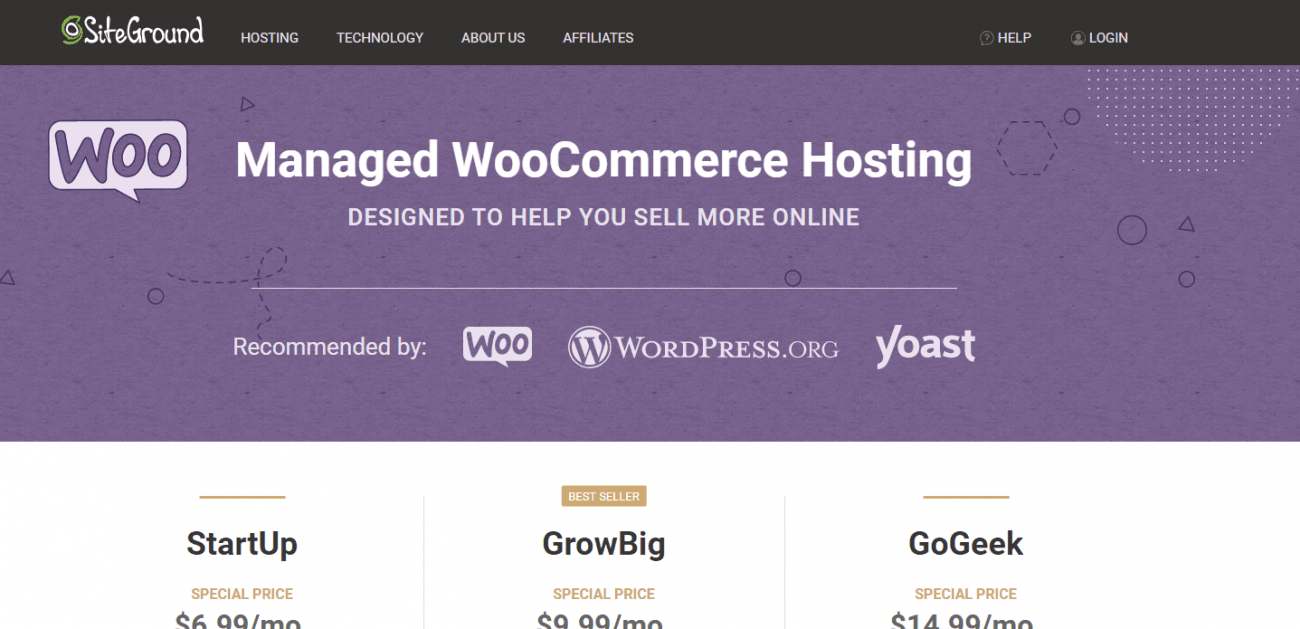 Siteground has taken the web hosting platform by storm, and it has gained an impressive reputation over time, mainly for its high-standard Web hosting services.
Siteground holds a supreme position as #1 WordPress Hosting services apart from its popularity as top-rated WordPress hosting services it was ranked as top-rated ecommerce hosting company by various FB polls.
So, let's find out what Siteground offers additional features along with epic hosting services.
1. Great uptime for your eCommerce site
Good uptime is crucial for your ecommerce site because if your site goes down frequently, you may lose your customers and lots of sales opportunities.
Siteground stands out from other hosting companies for its incredible uptime services. Siteground guarantees 99.9% uptime, and in case it drops below 99.9% siteground offers hosting credits in return.
2. Blazingly fast page loading speed
Siteground offers blazingly fast page loading speed – thanks to the technology-driven speed optimization tools like Varnish Cache and MemCached combined in SuperCacher tool.
Also, solid-state drives where all of the siteground's sites are stored provides 1000x better input and output operation as compared to the regular Drives.
Speed is the ultimate important factor for a successful ecommerce store because busy impatient buyers want to locate their products immediately.
If your store offers plenty of products with rich images, features, and dazzling attention-grabbing elements, then it can hurt the overall site loading speed.
But thanks to the siteground's dedicated caching servers; fast loading speed is no more a nightmare.
3. Free pre-installed SSL
As we discussed earlier, the SSL certificate plays a vital role in winning customers' trust by making your site trustworthy and secured from DDos and hackers attack.
4. Free shopping Cart installation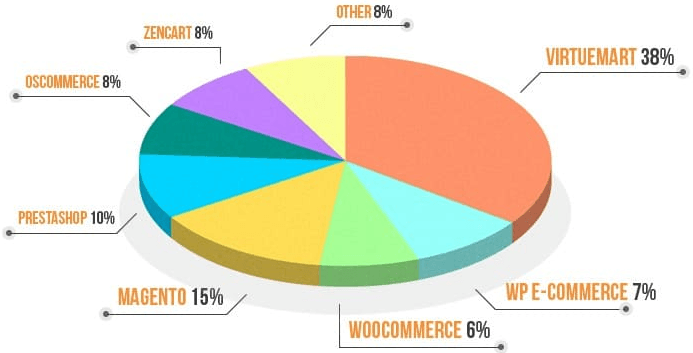 Shopping cart is a must-have ecommerce store feature. And the good thing is the siteground comes with several shopping carts support and free installation.
In some cases, once you sign up for any ecommerce hosting plan offered by the siteground, it will automatically install them on your site.
Some of the popular shopping cart apps which you'll find with the siteground are OpenCart, PrestaShop, Magento, and they come for free.
5. Install a CMS easily
To run your ecommerce store smoothly, you can choose a good combination of apps and plugins. Such as you can use WordPress as your CMS with any ecommerce plugin of your choices like WP ecommerce or Joomla CMS with ecommerce extension Virtuemart.
And the good thing is you can install any CMS like a breeze with the siteground. Siteground lets you install any CMS with a single click using auto-installer softaculous.
With the help of softaculos auto-installer, you can install more than 18 CMS related to eCommerce.
6. Free ecommerce store migration
If you already have an eCommerce store and looking to migrate it to the siteground's server, then you are in luck because you need not do anything right from the start.
With the siteground, you can transfer your shop easily without any cost. However, this free migration is allowed only with GrowBig and GrowGeek plans.
7. Account isolation function
You buy any shared hosting plan, e-commerce, or cloud hosting siteground will keep your site isolated from other sites for better security purposes, so even if other sites get hacked, your site won't be harmed anymore.
8. Best security solutions
Siteground offers multilevel security checks; they keep a check on their server, the customer accounts, and also on customer's sites. And with their proactive security system, they can instantly detect any vulnerability and fix them before spreading on their server.
9. Keep hardware's and software's updated
Siteground keeps on updating its hardware and software to avoid any vulnerability, and whenever your CMS receives any update information, it automatically updates your CMS.
10. Top-notch customer services
Siteground makes it possible to get to its customer's problems immediately, and they have to build a three-way support system; via Tickets, Live chat, or Phone. Where the customers can get in touch with the support team via email, ticket, live chat or Phone
11. Free daily auto-backup facility
Siteground will keep a record of your site's Backup, and it will make 30 copies of your site and keep it on secured places so incase if you lose your site's data, you could recover it from those locations.
Siteground WooCommerce Hosting
Here are the pricing options you can get for your eCommerce site. The basic plan starts at $6.99, and if you are starting your online store, then this plan is quite sufficient for your eCommerce featured needs.
As you plan on multiple online stores, then you can switch to the GrowBig, and GoGeek plans with unlimited website site support.
Also, if you already have an eCommerce store and like to migrate it on siteground platform, then you can go with GrowBig or GoGeek plans with a free online store migration option.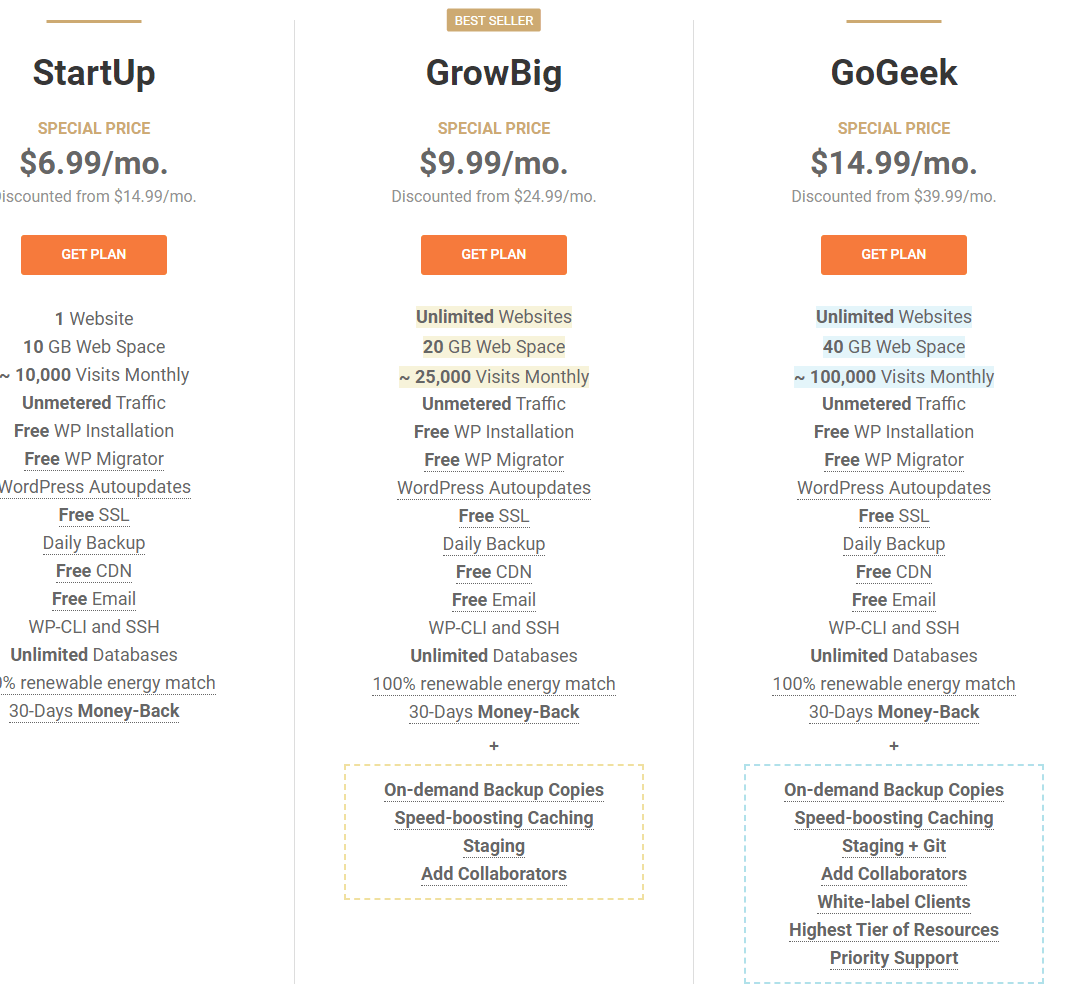 Conclusion
Siteground offers no doubt a top-notch eCommerce web hosting and if you like to create an online store without much effort then definitely siteground is much reliable solution packed with rich eCommerce features, and mostly the features come for free such as
SSD storage, free CDN, and many other features and all of these features are available with 24/7 premium support and blazingly fast uptime and speed options.
I hope you enjoyed our siteground's eCommerce review so, now it's your turn, tell us in the comment section which features you like the most?