Joomla is one of the leading content management systems, like WordPress being widely used worldwide. Joomla is a powerful yet easy-to-use tool that allows you to manage and control your website easily.
Moreover, Joomla is trusted by many renowned sites such as Linx.com, Harvard University, and many others and currently being used by more than 30 million web pages.
Joomla is a comprehensive CMS that comes with more than 10,000 components to help you expand the functionality of your website, and all of these actions can be done without any technical knowledge. Another great reason for being one of the top CMS today is that it is an "Open Source" and available for free. Also, more than 95% of the components are free to use.
Although Joomla is a feature-rich advanced CMS that can be used for any kind of website creation, however, it is most popular for online shops, forums, community websites, and many are using for their blogs or their business website.
What should essential features be incorporated before choosing the best Joomla Hosting?
Joomla requires a Linux web server that supports PHP and MySQL. So, before locking on any web hosting server, do acknowledge that the hosting provider offers good PHP and My SQL database hosting, and the server should be strong enough with great compatibility with Joomla.
Also, the best Joomla Hosting provider should come up with all-inclusive CMS's particular needs. Some of the main features you should focus on before purchasing a Joomla Hosting are as follows;
The host should provide all those features which are required in Joomla, including a free or cheap SSL certificate.
You should look around for a host that provides free DDoS protection for your website and data to keep it safe from hackers
Customer services should be available for 24/7 to support you whenever you face trouble
It should offer the most convenient way of Joomla installation procedure; most probably one-click Joomla installation
It should offer comprehensive documentation or Tutorials to help you with the customization of your website.
Check out if they are providing SSD or HDD drives for storage space because SSD drives work more efficiently and increase your loading speeds and overall performance.
Best Joomla Hosting providers
I have given you a brief overview of the best features to be found in a Joomla hosting provider. Next, I am going to provide you which Joomla Hosting providers are providing well optimized Joomla hosting plans at an affordable price.
Let's explore what they are offering and how their hosting plan goes on.
Bluehost Joomla Hosting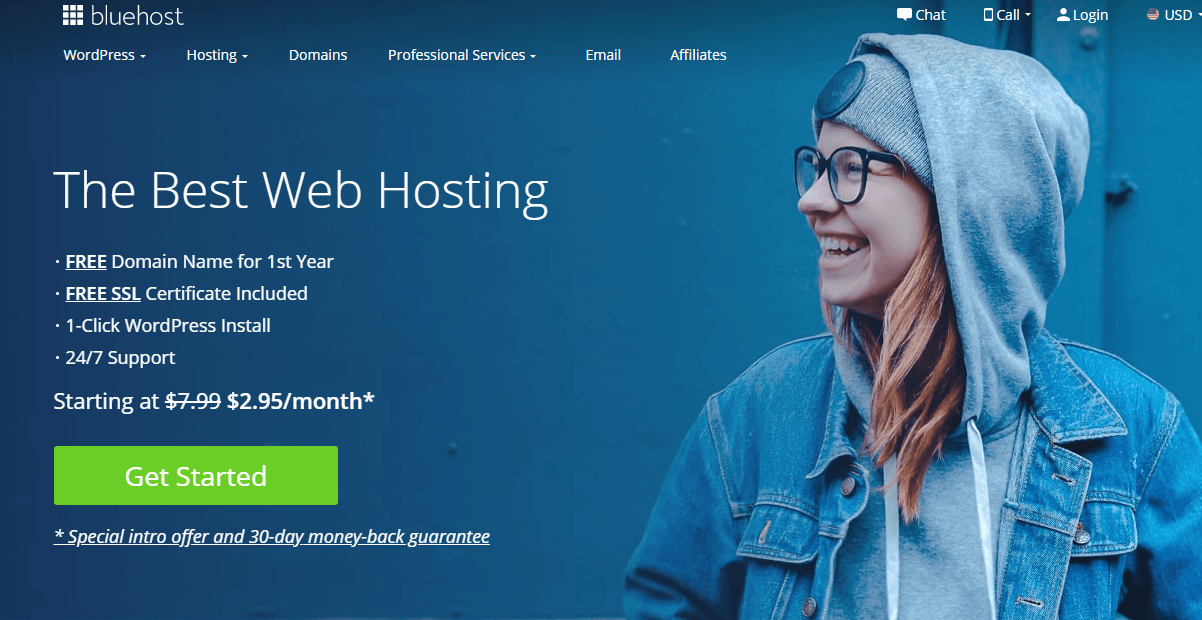 Bluehost is well-renowned for its hosting solutions and trusted by over 1,000,000 domain owners. Bluehost provides you the best solution for your Joomla site with powerful functionality, reliability, and top-class performance. Bluehost hit the web industry in 2003, and it has evolved as one of the leading industry giants by delivering far more expected than usual. Moreover, over time it has preserved its authority among its competitors and maintained its credibility among the users.
Bluehost Joomla Hosting Key Features
Bluehost offers dedicated hosting plans for WordPress exclusively. However, it doesn't come with any dedicated hosting plan specifically designed for Joomla products. Still, some options allow you to use Bluehost hosting for your Joomla website because the host's script installer tool will allow you to install Joomla 2.5 or 3.x version at an easy go. Also, as the Joomla CMS requires PHP 5.3.x/5.4.x, MYSQL 5.5+, and Apache2.2x, the good news is all of these are Joomla – friendly features are pre-installed in the Bluehost server, and you can rest assured that Bluehost is 100% compatible with the Joomla prerequisites. You can confidently create your Joomla website using Bluehost services.
Pros and cons of Bluehost Joomla hosting
Pros
It comes with a free domain name for one year. After that, you will have to buy it annually.
Comes with a free site builder with drag'n drop facility
The loading speed is exceptionally high quality, and you'll receive 100ms even in multiple locations
Offer up to 99.9% uptime
Free SSL certificate and unmetered bandwidth
You can reach out the support center 24/7 by email, phone or live chat
Compatible with all Joomla- specific features
Thirty days of a money-back guarantee.
Cons
The starting plan's price is reasonable however the renewal rates are quite higher
They charge for website migration
The basic plan supports the only single site.
Bluehost Joomla hosting pricing
Bluehost offers a basic plan, discounted price at $2.95/month, which was originally for $7.99/month. Bluehost offers hosting plans suitable for all sizes and budgets. The plans include VPS, shared hosting, dedicated server, WooCommerce hosting, and cloud hosting.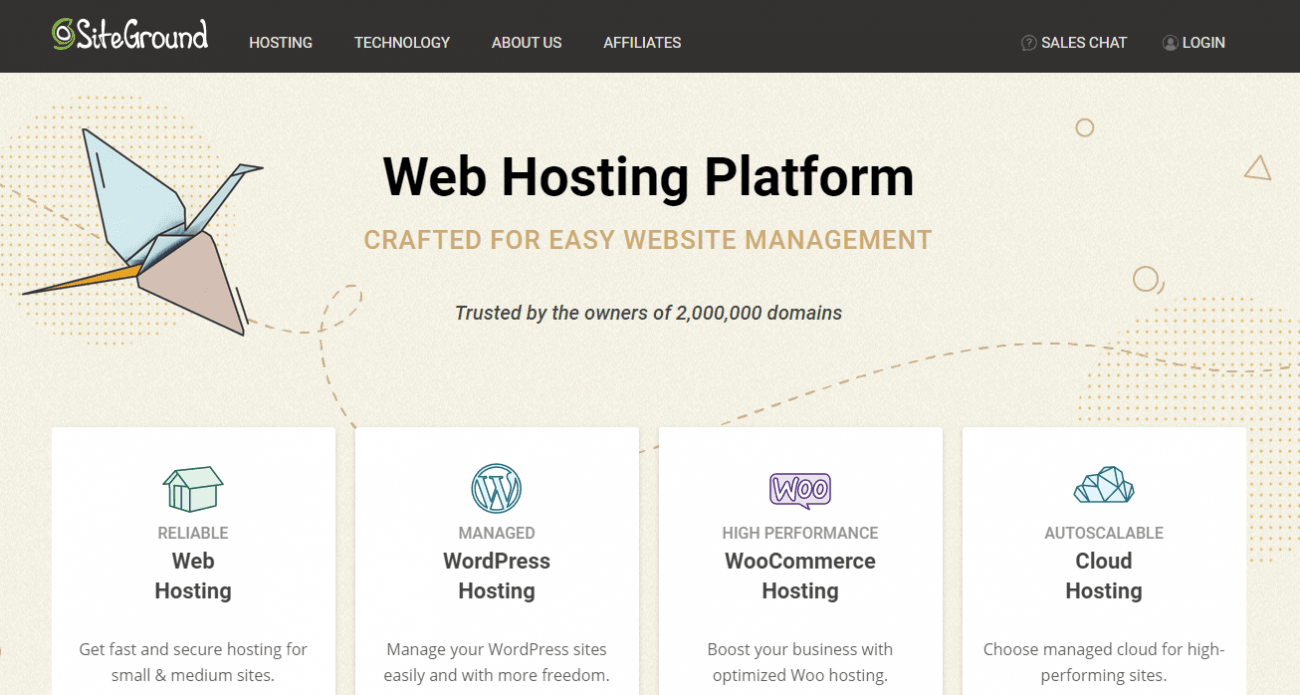 SiteGround is another great web hosting company operating since 2004. Siteground is very well known for its great customer support, targeted performance, and scalable packages. Also, Siteground stands outs exclusively for its superb uptime and lightning-fast speed.
Siteground offers a wide range of packages and services ideal for beginners to professionals and offers the best formula in terms of services and affordable prices. Moreover, it offers shared web hosting services, dedicated servers, and optimized formulas for Joomla websites with a dedicated library of themes and tutorials to start right away.
Siteground Joomla hosting Key features
Siteground offers the same type of complete package with themes and a series of tutorials for creating a website with Joomla. It also comes with a smooth one-click pre-installation. For those who are unaware of Joomla installation manual procedure, they offer comprehensive tutorials and software – Softaculous, which is supported by Cpanel. When we talk about the uptime, it's almost perfect, and you'll never face a downtime. The support is epic and quickly answers the issues. Moreover, the siteground offers up to 30 GB of disk space. It also offers Joomla cacher feature with a dynamic caching system.
Pros and cons of Siteground Joomla hosting
Pros
One-click Joomla installation
Offers multisite Joomla
Comes with a daily backup feature
Supports up to PHP7
Manage and control your Joomla site using Cpanel and SSH.
Free SSL certificates
Free Cloudflare CDN
Automatic update Joomla
Awesome email functionality
Cons
It's Joomla hosting plans are pricier as compared to other competitor companies plans
It offers lesser storage as compared to other hosting companies with the same price range.
Siteground Joomla hosting pricing
The startup Joomla plan starts at $3.95/ month with one site and 10 GB Webspace.  
GreenGeeks started out back in 2008 by Trey Gardner and since then they have amassed a large user base powering over 300000 websites. The company has also successfully established a global presence with data centers in the US, Canada, and Netherlands.
However, the main appeal of GreenGeeks is that they are a "Green" environment-friendly web hosting company – one of the first in the industry! GreenGeeks has stated that they will buy 3 times the Wind Energy credits in exchange for the total amount of energy consumption by their services. And as of 2020, the company has replaced more than 615,000kWh a year.
GreenGeeks Joomla Hosting Key Features
GreenGeeks has a dedicated Joomla Hosting service with the option to automatically install Joomla with a single click. It is also affordably priced and comes with all the staple features you can expect from a web host. You will get 99.99% uptime made possible with fast SSD-powered servers.
Other notable features include access to automatic updates, automatic daily backups, free Cloudflare CDN integration, unlimited storage space, unlimited bandwidth, and plenty of advanced security features to ensure your site is safe from hackers and malware.
What's more, on signing up, you will get access to one free domain as well as a free migration service to get your existing website automatically transferred over to the GreenGeek servers.
Pros and Cons of GreenGeeks Joomla Hosting
Pros
Simple One-Click Joomla installation.
Unlimited storage space even with base plan.
Unmetered bandwidth.
SSD-powered servers for fast loading speeds and website performance.
Free Cloudflare CDN.
Automatic nightly backups.
Get one free domain with a new hosting sign-up.
Free site migration.
30-day money back guarantee.
On average 99.99% uptime.
24/7 technical support.
Cons
The renewal costs are comparatively pricier. The base $2.49/month plan renews at $9.95/month.
Questionable refund policy. When signing up for a new web hosting service if you create a free account with them, then that is not covered in the refund policy. So if you choose to get a refund, $24.95 will be deducted as cost for domain registration.
Customer service, albeit helpful, is a bit slow at resolving issues.
GreenGeeks Joomla Hosting Pricing
The base Joomla Hosting plan on GreenGeeks costs $2.49/month the first year and then increases to $9.95/month.
You can check out all their plans and features over here.
A2 Hosting has been in the game since 2001 and has built a reputation for themselves for delivering SSD-powered fast server speeds and record uptime. The prices are also heavily discounted for new accounts but you'll need to lock-in for a 3-year period if you wish to get the best deal.
But that shouldn't be too much of a worry since A2 Hosting is one of the most reliable hosting companies out there. Not just that, but they also offer a super unique "anytime" money-back guarantee.
A2 Hosting Joomla Hosting Key Features
A2 Hosting offers dedicated Joomla Hosting where you get an optimized server to host your Joomla website. Much like all the other Joomla Hosting services, here too, you will get a 1-click Joomla installation feature to make things easy and convenient.
Other notable features of A2 Hosting Joomla Hosting are the state of the art SSD powered servers, an average uptime of 99.99%, 24/7 server monitoring and malware scanning for extra security, and access to tons of developer-friendly tools to give you full control over the hosting experience.
Pros and Cons of A2 Hosting Joomla Hosting
Pros
Fast SSD-powered servers.
Can handle high influx of traffic.
99.99% uptime.
Free site migration.
Tons of developer-friendly tools.
1-click Joomla installation.
Anytime Money Back Guarantee.
24/7 server monitoring and malware scanning.
24/7 customer support over phone, live chat, and email.
Affordable plans if you're locking in for 3-years.
Cons
Customer support is slow to resolve issues.
High renewal prices.
The base plan is limited with a cap on storage speeds and bandwidth.
A2 Hosting Joomla Hosting Pricing
The base "Startup" Joomla Hosting plan by A2 Hosting costs $2.99/month if you lock-in for a 3-year period. You can also purchase it at an annual subscription where it's $6.99/month for the first year.
The prices are on the expensive side, however, their fast and reliable servers are well worth the money. Furthermore, you do get the option to ask for a refund "anytime" if you're dissatisfied with their services.
Founded in 2011, Cloudways is a unique, managed hosting solution in the sense that it gives you complete freedom to choose between 5 different cloud hosting providers and also pick the physical location of your server.
With Cloudways you will have access to an intuitive console through which you can connect to some of the most popular and powerful hosting providers to power your website or web app.
It creates a layer of abstraction that removes the hassle of setting up and maintaining a server – leaving all these technical parts managed for you.
Cloudways Joomla Hosting Key Features
With Cloudways, you get access to some of the biggest names in the cloud hosting market, namely, Digital Ocean, Google Cloud, Amazon AWS, Linode, and Vultr. You can choose any one of these hosting providers to power your Joomla websites through the Cloudways console.
It makes setting up your website super easy. After selecting your hosting provider, you get to specify how many CPU cores and RAM you will require in your server, including the bandwidth, and even server location.
With everything configured, you will have your Joomla websites up and running, and all the server backend stuff can be easily handled via the Cloudways interface.
Pros and Cons of Cloudways Joomla Hosting
Pros
Option to choose between 5 popular Cloud Hosting Services – Digital Ocean, Google Cloud, Amazon AWS, Linode, and Vultr.
Intuitive and user-friendly UI.
ThunderStack integration makes managed Joomla cloud hosting 50% faster than the competition.
One-Click Joomla installation.
Free site migration.
Cloudways CDN integration.
Completely managed and scalable hosting.
99.99% uptime guaranteed.
24/7 customer service.
3-day free trial without any credit card.
Powerful security features – dedicated firewall, 2FA, automated backups, and auto-healing servers.
Cons
No email hosting.
Lacks a dedicated file manager.
No cPanel.
Doesn't provide root access.
Cloudways Joomla Hosting Pricing
Unlike all the other hosting providers that have a discounted yearly plan, Cloudways takes an unconventional route and allows you to pay for their services either monthly or even on an hourly basis.
The hourly option should come in handy for users who only need to run a web app every now and then, and thus will only have to pay for the time they are actually utilizing the server resources.
It is also worth noting that the pricing will change depending on which hosting provider you pick. As such, if you choose to use Cloudways with Digital Ocean, then the prices are going to be different if you were to decide to use the service with Linode instead.
HostGator Joomla Hosting

HostGator offers extensive Joomla features with a great balance of quality of products and the prices. HostGator hosts more than nine million websites worldwide. The exclusive Joomla features included in HostGator plans are unlimited services in terms of bandwidth, storage space with a service to create new email accounts.
HostGator Key Features
HostGator comes with a quick one-click Joomla installation and an application manager that assist you in one-click installation. Also, its lightning-fast speed to load a website is noted by the professional to be 2.5 times faster than other competitor companies.
Another great feature is that you can insert new domains, and also you have an option to transfer any existing website while the site remains active completely. Furthermore, you'll enjoy 24/7 technical support through phone calls, live chat, Email, Tickets from the web.
The only drawback using HostGator is that it operates only in one language "English" and doesn't come with multilingual platform support.
Pros and Cons of HostGator Joomla Hosting
Pros
Easy one-click Joomla installation
Easily manage multiple domains through Cpanel
45 days money-back guarantee
Guarantee 99.9 % uptime
$100 bonus to promote your sites
Technical support 24/7
It comes with a HostGator website builder that helps you build websites conveniently using Drag'n drop editor.
Comes with a wide range of themes and pre-built sections to quickly create your website
Cons
HostGator doesn't support multilingual
HostGator pricing
The HostGator pricing starts at only $2.08/ month, with a discount of 70%. It also offers a VPS plan at $19.95/month and dedicated plans at $89.98%.
Which is the best Joomla Hosting for you?
I have discussed in this article some of the best Joomla hosting providers. To me, all of them are great for starting a Joomla website and offer great features and functionalities. SiteGround is well-known for its turbo fast Joomla servers, while HostGator comes with a lot of features and customizable functionalities with Joomla hosting plans. Bluehost is also well optimized and comes with guaranteed secure and super fast website speed. So, it's up to you which one works best in terms of your Joomla website needs.