If you run a business that frequently requires images and videos upload, you may find it overwhelming to organize them right away and save time.
The default WordPress, file management system, caters only images and videos organization, while there is no support for other file formats. And to provide a user-friendly download system, you require an advanced file download setup.
WP File download plugin provides an all-in-one solution when your files get unmanageable with the growth of your WordPress site.
Why is it important to keep File Manager in WordPress?
As I have mentioned earlier, that the WordPress supports only videos and images files by default, and if you like to upload files in any other format, you'll have to take the help of any third-party plugin.
With the help of the WP File download plugin, you can upload files and categorize them into folders, which can be used later on. Also, you'll have an option to sync your folders with Google Drive and Dropbox. Syncing with Google Drive and Dropbox can be more effective in the long run, because you can produce a high-quality blog post with several media files within no time.
WP File download is a great way to offer digital file downloads to your visitors. You can enable downloads for your digital products either for the general visitors or specifically to your members only. Now you can arrange and organize your eBooks, PDF documents, image resources in a zip file in a folder that can be downloaded by your visitors.
WP File Download WordPress Plugin
WP File download is a feature-packed plugin that helps you in uploading and organizing your files to your website. It supports an AJAX powered user-friendly display of your files. You can simply drag'n drop your files into file folders, and then you can easily insert the whole folder or any single file in your WordPress editor, which can be uploaded on any blog post later on.
The feature-rich WordPress setup can be used to run a full-fledge flash featuring a website, a social media network, a forum, or any website featuring uploading or downloading of files.
Wp file download plugin comes with a lot of professional features, such as full-text search engine, full Google drive, one drive, Dropbox integration with two-way file synchronization.
WP file download Key Feature
WP file download provides a quick and efficient solution to organize your files into folders, categories, and sub-categories. You can drag'n drop the files into the relevant categories and then directly insert these files into your content. Now you can easily manage your WooCommerce products downloads and use the significant file download access control to restrict the download based on the user role. Also, the WooCommerce integrated feature allows you to apply a limit on the number of file downloads on active customers.
Another exciting feature is that you can not only create files and folders or new categories, but also you can further organize the folders using colors and icons. The WP file download notifies the admin via an email whenever a file is downloaded. Whereas, the admin can view download statistics in the WP file download interface.
Four exquisite Themes that can be applied per category/ file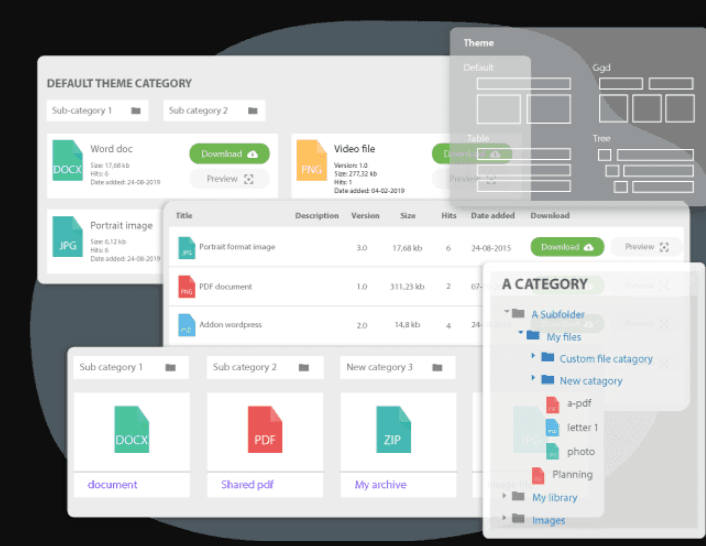 WP file download comes with four magnificent themes to make your file/ folders/ categories more attractive and appealing to your customers. The included pieces are highly flexible and allow the admin to apply themes per category or files, and even you can customize themes as per your brand's requirement. The themes available are;
Standard listing
Google Drive like
Table
Accordion tree
A user-friendly WordPress File Manager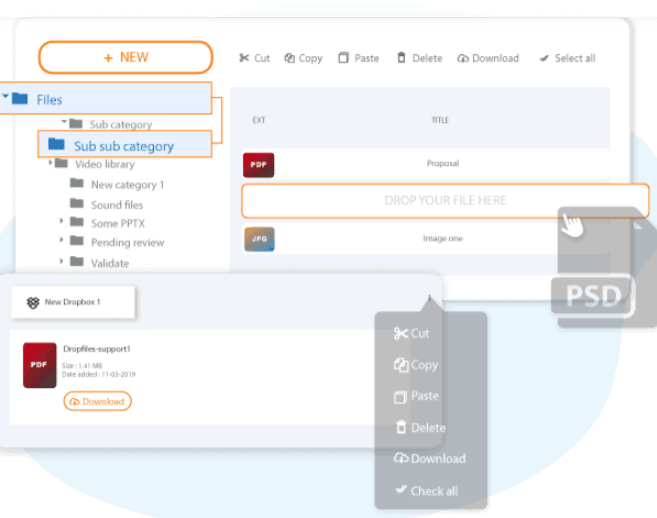 Managing your file on WordPress site is as easy as you do on your desktop file browse, using the WP file download plugin. You can change the file's order and levels of categories within a blink of an eye. Also, you can use the drag'n drop option to reorder the files level, and everything is saved with AJAX. Same way, you can add new files one by one or multiple files at a time using the drag'n drop option.
Manage and control your File Download access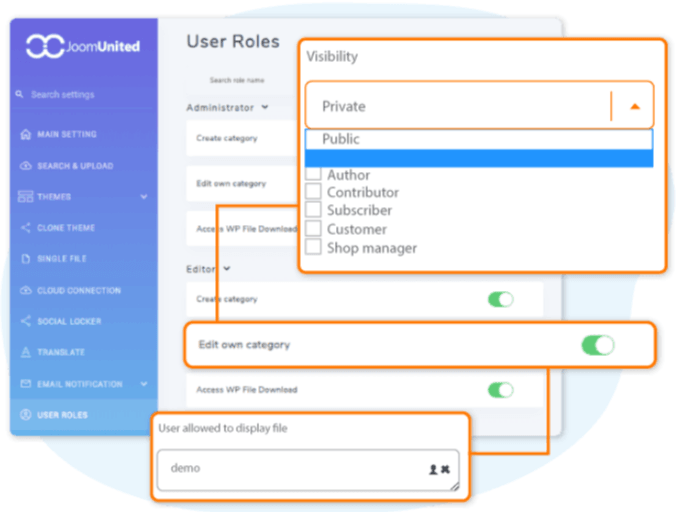 WP file download comes with a smart file management system where you can control your user's access and define your file visibility and access commands. You can also specify the user interference, who is allowed to download or update, delete files.
WP file download – A complete WooCommerce file download plugin
WP File download is a complete solution for your WooCommerce files downloads. You can easily allow downloadable products associated with one or several WP file download files by using a simple WooCommerce Add-on feature of WP file Download plugin.
We have enlisted some of the WooCommerce add-on features and functionalities that can be used to sell digital products without charging any extra fee.
A two-way synchronization – Dropbox, Google Drive, OneDrive and WooCommerce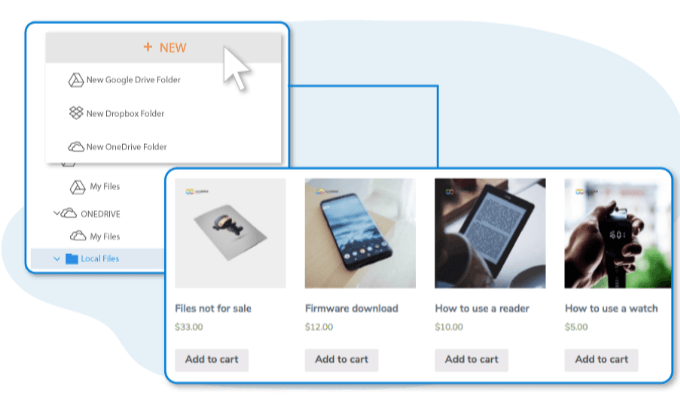 WP file download supports two-way synchronization of Dropbox, Google Drive, and OneDrive with your WooCommerce site. With this feature, you can enable your files from OneDrive, Dropbox, and Google drive as a WooCommerce product without using your server space. And once these products are added to the WooCommerce products, you can further use the robust file access control feature of WP file download to restrict the user role and interaction with files.
Use remote files as WooCommerce file download
WP file download comes with excellent support for any type of file format download. And the users can also download with an external file URL. These files can be used as WooCommerce downloadable products.
Load a single File as Digital Product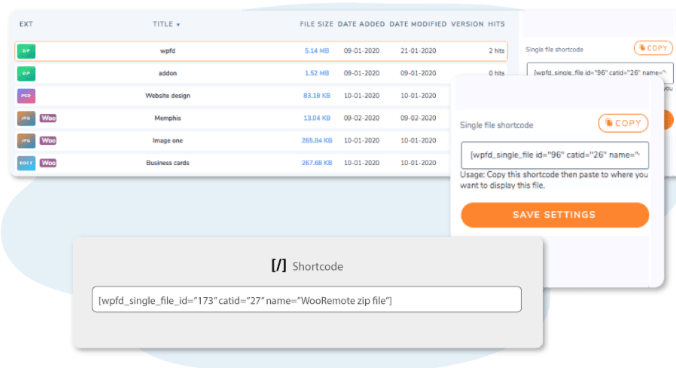 When you have enlisted a file as a WooCommerce product, you can use the shortcode of the product to insert a Download or Add to cart button in your content.
Track the digital products order statistics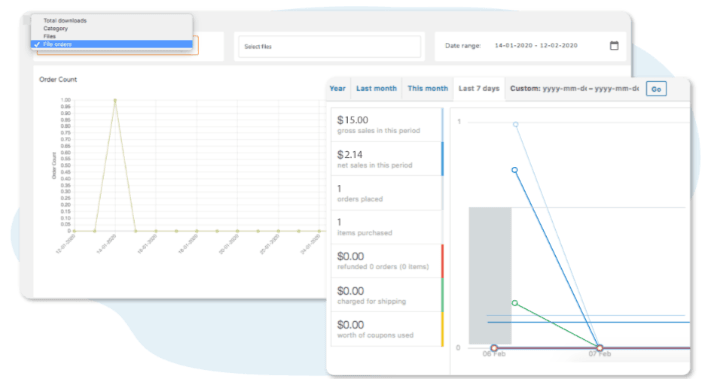 WP file download allows tracking the customer's orders and downloading statistics. You can simply use WooCommerce integrated statistics or the WP File Download ones. You can check statistics by single one or multiple files or by date to date download history.
Advanced integrations with WooCommerce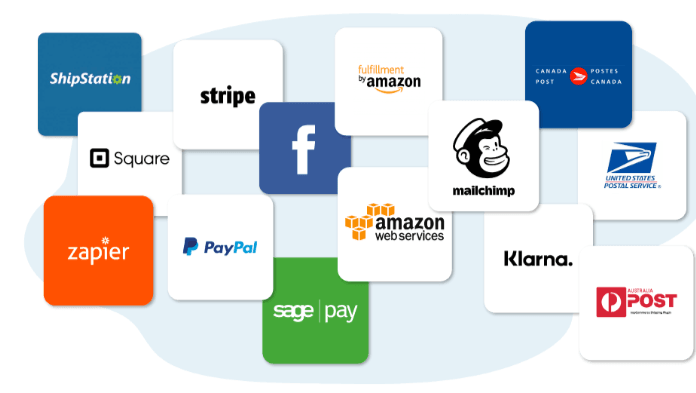 Once you have linked a product as a WooCommerce product, you can use all other advanced WooCommerce integrations with WooCommerce file downloads such as user page, email notification, all payment methods, and order management.
Wp file download Pros
User-friendly interface with drag'n drop editor
Comes with two-way synchronization with Google Drive, OneDrive, Dropbox
Advanced features like full-text search engine
The WooCommerce Add-on feature allows the users to upload and download the files from the cloud server or sell files using any external server.
Comes with four powerful themes display for file manager
Define and limit the user access by using visibility and file management system
Wp file download is fully compatible with Gutenberg editor
Comes with the flexible Email notification system
Download statistics are available from the WordPress admin area
Allows the users to download files in bulk quantity at a time
The social locker adds on will lock the files behind the social buttons until the user likes your Facebook page or tweet your page.
WP File download is integrated with several third-party plugins; Divi builder, Gutenberg, All page builders, Google Analytics, WPML, and developer-friendly.
WP file download cons
The beginners may find it challenging to learn, and especially if they are not familiar with FTP solutions.
WP File Download pricing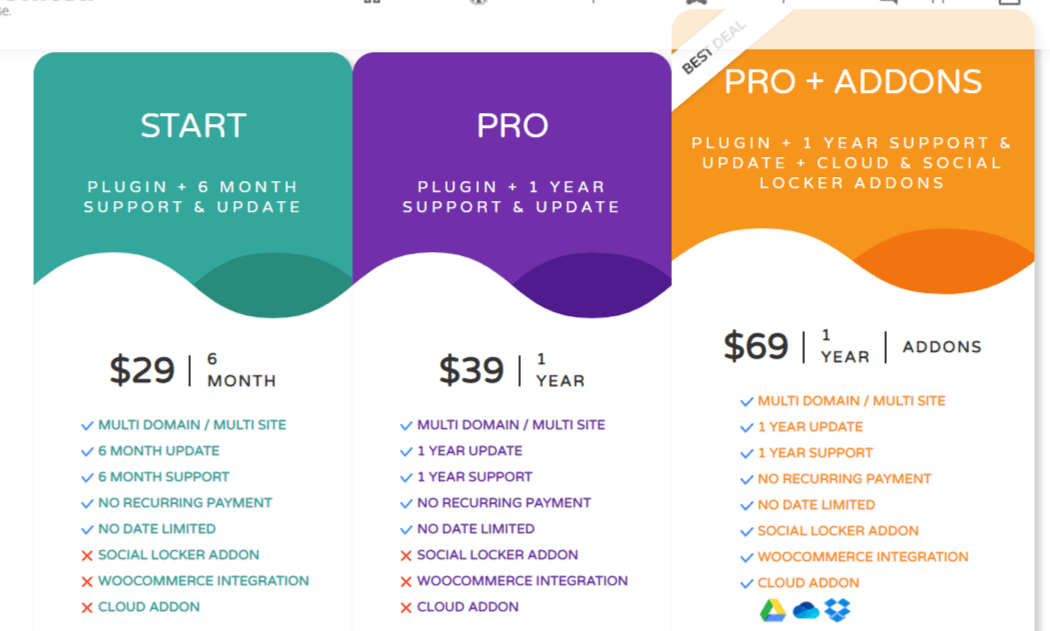 The basic license is available for $29/ six months, and the Pro plan is available for $39/ six months. Still, both of these plans do not include WooCommerce integrated Add-ons, and if you like to get the add-ons with WP File download plugin, go for the best deal plan starting at $69 for one year and all add-ons facility.
Final verdict
WP File Download plugin can be an ideal choice if you are looking to start a website with lots of downloadable digital files. WP File Download comes with a user-friendly interface where you can control and manage all files in the backend, and the Gutenberg editor integration allows you to insert these files with ideal settings easily. And thanks to the popular cloud storage, you can store your files on cloud storage; Dropbox, OneDrive, and Google Drive and the social lock feature can also help you with your social media marketing. So, I highly recommend the WP file download plugin if you are looking for a convenient way to manage files and control user access to your files. Also, it comes with multiple third-party plugin integrations and lots of customization options.