As your website grows, the need to keep it burden-free arises equally, and to speed optimize your site; you have to get your website well organized and well structured to increase its productivity.
Thanks to WordPress cloud Add-on plugins now, you can organize and integrate your media files on OneDrive just like you organize your normal WordPress media content.

WP Media folder plugin
Recommended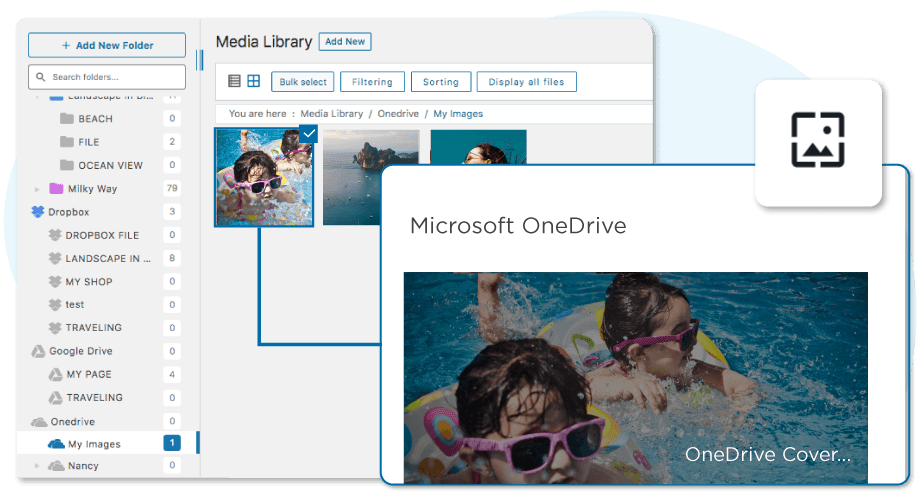 Key Features
WP Media folder plugin lets you the freedom of searching your media files just like you do on your desktop file browser. Now you can upload your desired images into folder our sub-folders or drag'n drop media into any folder or subfolders with this plugin.
Moreover, if you own an eCommerce online store, then managing lots of images of each product can be a hectic task, where the need to create folder and subfolders of each category is inevitable. WP Media folder has solved your problem quickly, and now you can classify each product's images into separate folders.
One outstanding feature of the WP Media folder is its Cloud connector Add-on, which facilitates you to connect all Cloud connectors in a single add on with unlimited website installation ability. You can connect with OneDrive and Dropbox and synchronize your entire media library with the WP Media plugin.
OneDrive plugin integration with WordPress Media Library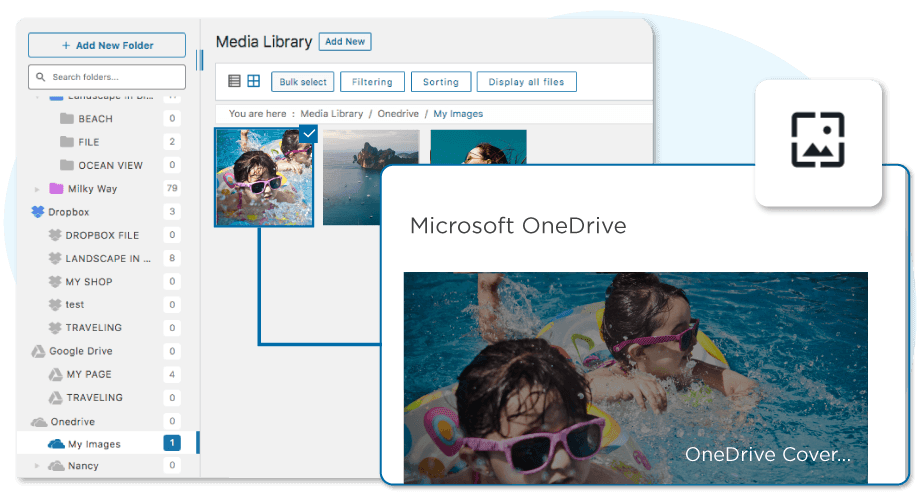 This OneDrive add-on comes with a two-way instant synchronization of all of your Dropbox and WordPress media. Moreover, you can edit and import or use the media right from their location.
The same Add-on facility comes with some more integration also like Google Drive, OneDrive Business, Amazon S3 connections, and PDF embed feature.
More feature of this OneDrive WordPress plugin Add-on includes
OneDrive Media plugin can be integrated with the Gutenberg editor including all 3rd party plugins. Moreover, OneDrive Business media can serve as a default media manager also.
Import all of your OneDrive Media folders in WordPress Media Manager with the help of OneDrive plugin.
You can do all kinds of editing like adding new media, delete, rename or move the media from OneDrive to WordPress. You can also integrate OneDrive images to create galleries in Gutenberg.
Create a multi-selection of media to perform bulk action.
Advanced options of media synchronization allow automatic synchronization; enforce single media synchronization from OneDrive to WordPress. You can manage all files and folders from OneDrive or WordPress, and the changes will reflect in both platforms.
The OneDrive integration is available as a separate Add-on; hence, if you want to install this add-on, you will need to install an app, namely Azure, to connect your website to OneDrive Personal Account. Here is complete documentation to get it through.
Pros
The WP Media Folder plugin lets you organize and categorize your WordPress Media library into a multi-level folder with a tree-like interface. Where you can create and organize your media immediately
Also include the OneDrive Business integration (Office 365 and pro license)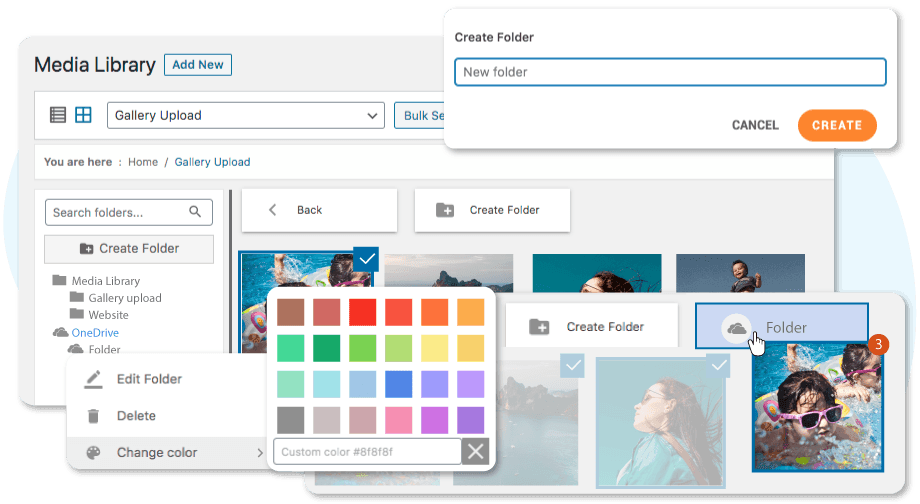 You can filter and sort all of your media content by their file size and types. Filtration can be made according to the dimension, type, and weight. Moreover, you can sort out files by their names, titles, and sizes.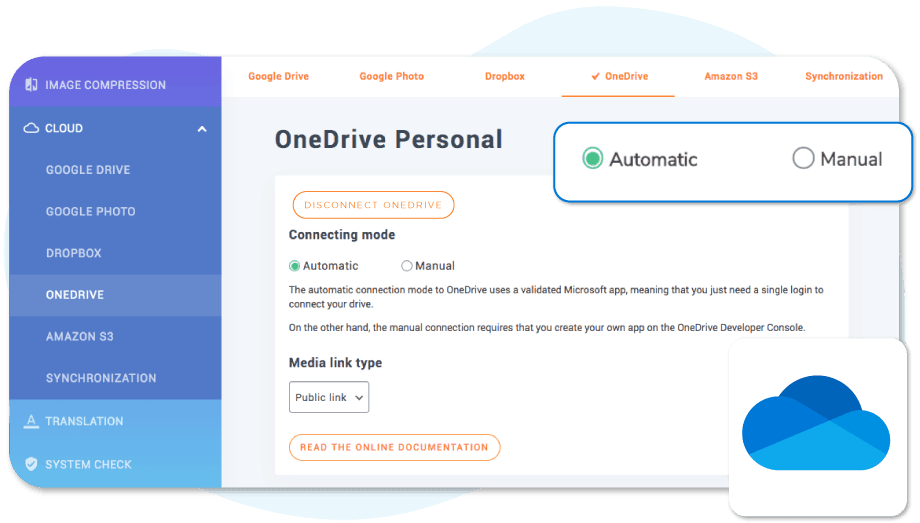 The WP Media Plugin allows you to import bulk folders and images right from your Media Library to WordPress.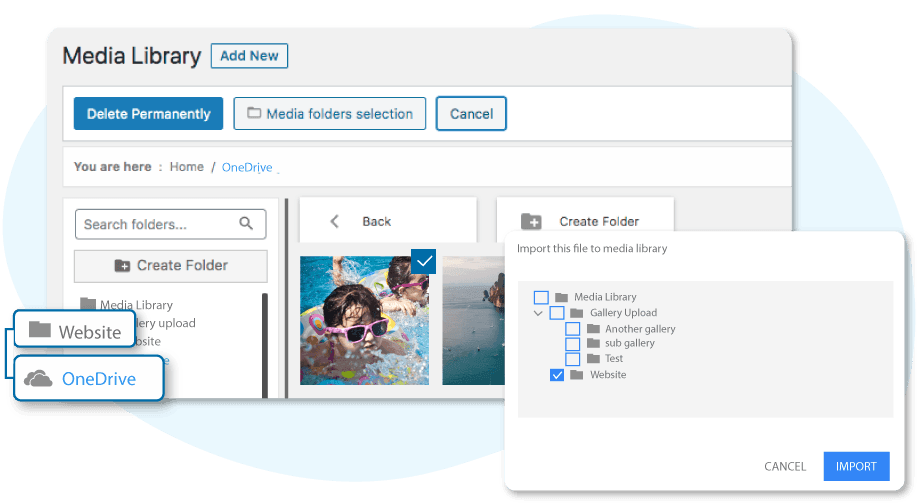 With the WP Media folder plugin, you can duplicate, update and Replace any of your media content just with a single click.
Create image watermark on your media on image library, or selected media folders.

Cons
It doesn't come with a free trial period.
Limited features in the free version, and you have to buy add-ons if looking for advanced features.
Pricing
The WP Media folder plugin is available with six month's support and update facility for $29.
The yearly cost will be $39.
A complete pack of WP Media Folder with all of its Add-ons and 1 year support and update comes in $59.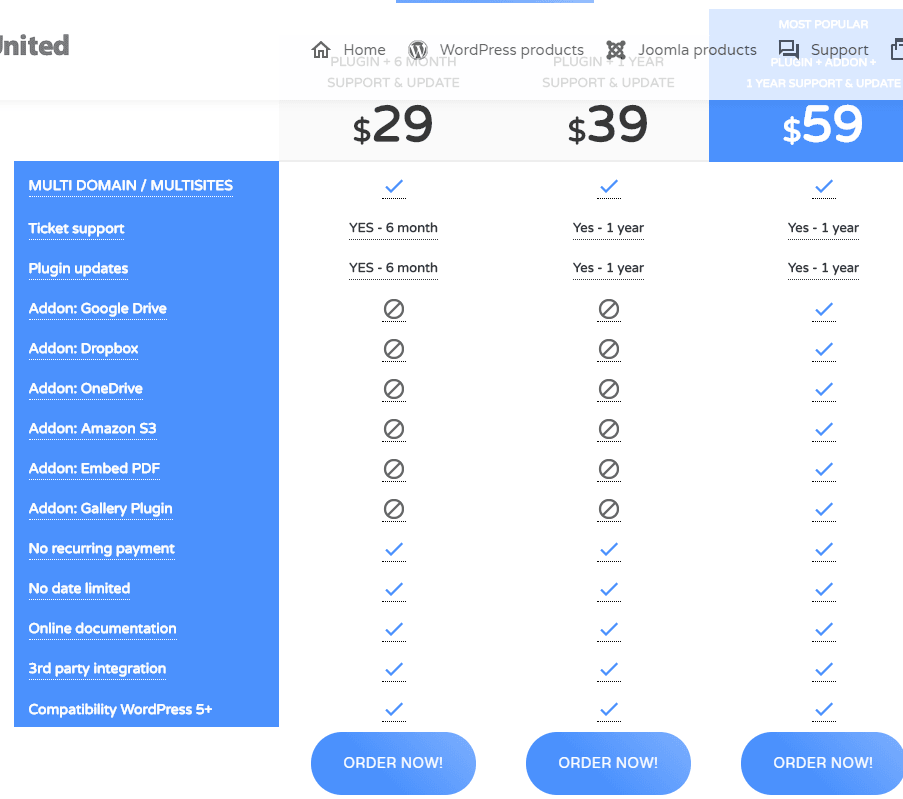 Share-one-Drive WordPress plugin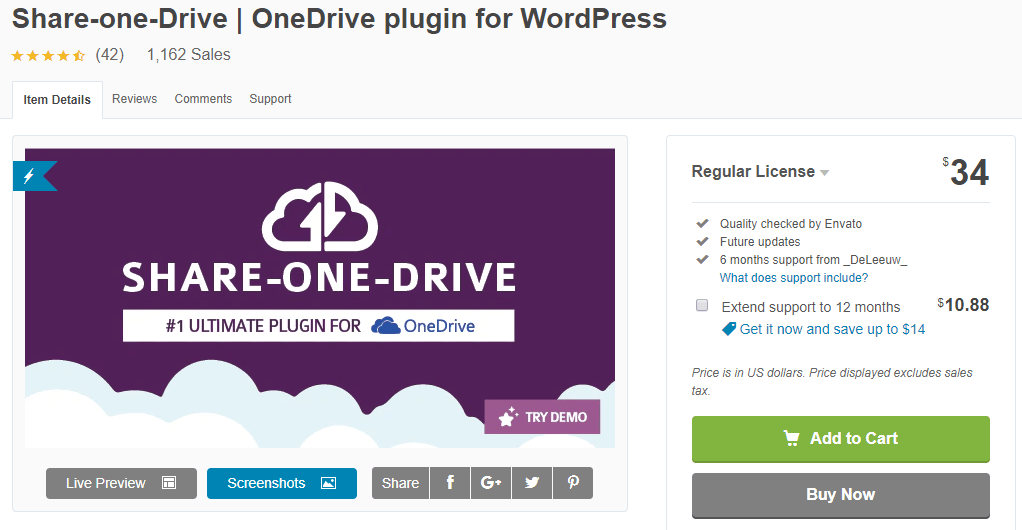 Key features
Share-One-Drive is another remarkable plugin with more than 4 solutions for OneDrive integration with WordPress. Now you can upload and manage your document files on WordPress using OneDrive Cloud services. Moreover, you can manage your media library on the cloud, where the plugin will automatically select and build an amazing Gallery from any selected folder on OneDrive. Similarly, this plugin supports clients' area which allows the users to upload documents in a folder on your OneDrive.
Pros
Now your clients can directly access any of your documents via OneDrive. Where they can preview, download and upload documents that you allow them to access.
Highly Mobile responsive and displays everything smartly according to the screen resolution of each gadget, desktop, and Smartphone.
No need for coding and its intuitive and user –friendly.
You can preview your all documents and images in a Lightbox, so users could see the documents before downloading.
The share-one-drive plugin seamlessly integrates with the WooCommerce plugin, and you can store your product images on OneDrive as well.
Highly optimized performance that allows the plugin to work blazingly fast because of the fast Caching system.
The Share OneDrive plugin builds a stunning Gallery from your folder on OneDrive that boosts the site performance and reduces disk space. More than six Lightbox skins are available for this.
Thumbnail preview lets you decide your next action to approve or cancel your document/media content upload.
The plugin is highly compatible with Gravity forms, Contact form 7, and WooCommerce plugin.
Free update and premium support for 6 months.
Cons
No support for SharePoint Groups and sites added in the plugin
You cannot create any private folder as complete OneDrive is attached to the folder, and chances are if it gets hacked, your private folder will not be protected.
Pricing
Share one Drive plugin is available for $34 with free updates and premium support for a single site.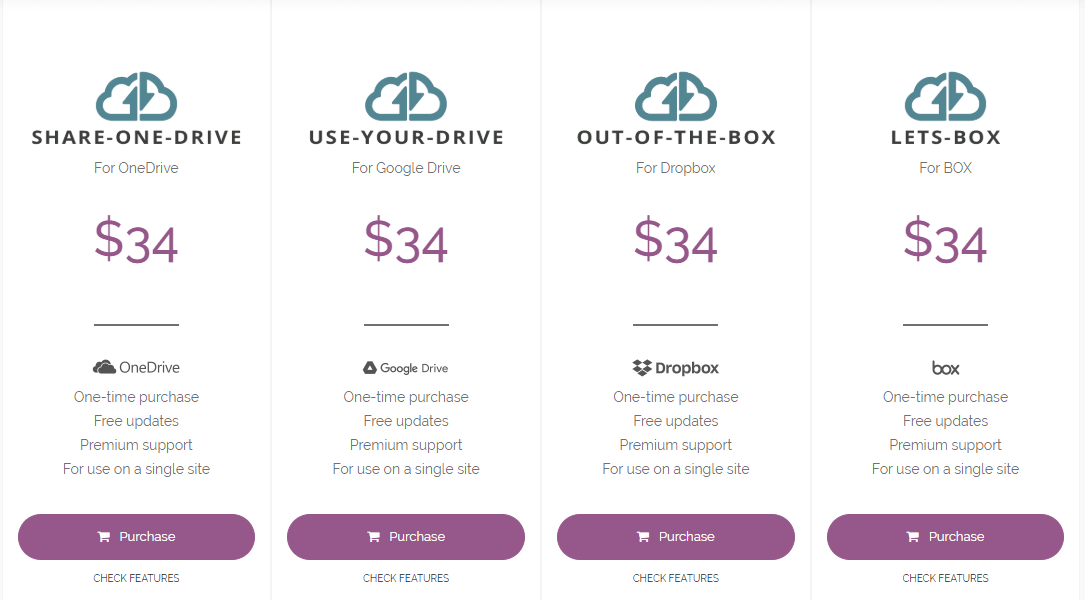 WP Download Manager – OneDrive Add-On

Key Features
WordPress Download Manager is a free plugin available off of the WordPress repository. It is designed to help you track, manage, and control all file downloads happening on your WordPress website. 
Now you might ask, what does this have to do with using OneDrive as a Media Folder for WordPress?
Well, the WP Download Manager comes with a free add-on: OneDrive Explorer that will help you to connect your Microsoft OneDrive personal account with your WordPress Media Library. That way, all of your files stored in OneDrive will be accessible from your WordPress Media Library and vice versa. 
However, do note that you won't get a dedicated interface to manage your OneDrive files on your WordPress backend. All the files will only get synchronized between the two platforms. To manage your OneDrive files and folder, you will still have to log in to your OneDrive account.
Pros
Supports drag and drop file uploads.
Advanced security features including option to Password protect files and use CAPTCHA to fight against bots.
Seamlessly synchronize all your files and folders between your WordPress Media library and personal OneDrive account.
Cons
You need to install two plugins to get the functionality.
Doesn't offer a dedicated backend interface for managing your OneDrive files and folders.
Limited functionality. Only syncs files and folder between WordPress Media Library and your OneDrive account.
Pricing
Both the WordPress Download Manager and the OneDrive Explorer are free and available from the WordPress repository.
Conclusion
So, here ends our episode of best WordPress Media Folder plugins with OneDrive feature. No doubt, each one of these plugins is doing a superb job and adding the extra mile to get your images well organized and speed optimize your site without creating a burden on your site.
However, we recommend here to use WP Media Folder plugin as it not only provides OneDrive integration solution to organize your images but also comes with other cloud integration such as Dropbox, Google Drive, One Drive Business, Amazon Web service, and PDF Embedder along with many other features.