Ultimate Addons for Elementor is the the most powerful and feature rich plugin that enhance Elementor. One of its main feature is the widget for creating stunning image galleries. You would always need the best tools for your website project; making things speedy and simple. So, always look for such a tool that provides a straight forward solution to the problem.
Image galleries have always been the most promising tool to attract customers. If you are attracted to images, videos, hover effects; so will your customer.
If you adore images; so will your customer!
If images tend to change your buying pattern, convince you to purchase; it will create the same effect on your customer.
So, without further delay let's look into some reasons why Ultimate Addons For Elementor is the right choice for creating image galleries.
Why Ultimate Addons For Elementor Image Gallery Widget?
You must be wondering why spend money on purchasing an addon when WordPress itself provides the basic image gallery feature?
Well, it's true! WordPress does provide core features of an image gallery. However, if you want to add glitter to your site with best photographs and other visual content you need to install a recommendable widget/plugin.
Now most of you just are wondering why to purchase an addon when they are impressive free and paid gallery plugins available in the WordPress repository?
WordPress image gallery plugins will only help you empower your galleries; whereas the ultimate addon for elementor comes with a detailed plan. Image gallery widget is only one distinguishing feature among its various other offerings.
Want to know more?
Ultimate elementor is the most popular addon available in the market. It offers more than 50 widgets and extensions, 100+ highly customized visual stunning website templates and more than 200 section blocks.
So with the help of this addon, you can give your website a new look with just a few clicks. You will have full control over your design abilities.
Their unique stunning designs will help you build a highly customized stunning website of your dreams.
Most importantly, it is light and fast and centers on speed and efficiency. So, even after adding images, videos and hover effects to your site, it will still be light and fast.
Lastly, is it worth it?
Ultimate Addon For Elementor provides two pricing bundles; Annual And Lifetime Pricing Bundle. Both these pricing bundles come up with three pricing tiers; Ultimate Addons, Mini Agency Bundle, And Agency Bundle.
However, the price attached to them varies within each pricing bundle. Within the Annual Pricing Bundle.
The Cost Of Ultimate Addon Is $ 55, Mini Agency Bundle Costs $ 169, And Agency Bundle Costs $249. Among these three tiers, their Agency Bundle is the most popular and promising; due to its exquisite features.


For newbie's lifetime offer may a little overrated; since they may be experiencing a tight budget. However, with time they can upgrade to a higher level and avail more practical and efficient features.
Ultimate Addon For Elementor will enhance your web design capabilities. Thereby, improve user engagement and conversions rate, create various clean clear and easy to navigate menu designs, enhance your online store design and improve shopping experience of your customers.
Moreover, it will help you create attractive buttons and improve your click through rate, help you design a unique yet attractive login form, add attractive and engaging backgrounds, import large CSV files and create tables in minutes. That's not all!
It will also help you embed You Tube and Vimeo videos to your gallery of videos without sacrificing the performance and speed of your site. It will also add and enhance meaning to your images; since it allows its users to add hotspots on an image and also create a virtual tour for your clients.
Its awe-inspiring features will not only attract visitors to your site but also provide them with a user-friendly viewing experience.
Features Of Ultimate Addons For Elementor; Image Galley Widget
Gallery appearance is the most important thing for users; especially the way the images are being presented on the site. Internet users have always had obsession with images and stunning visuals. It has always attracted them.
Most importantly, images have been the most promising marketing tool to enhance sales and revenues.
However, adding tons of photos to a site page may make things slower; it might end up in sacrificing the load time. Eventually will end up losing your customer.
Whereas, Ultimate Addons For Elementor Image Gallery Widget is a compatible widget that will not only help you build a beautiful image gallery but also provides a quick and a lightweight solution. it offers a quick, easy and a maximum speed solution it offers impressive usability and wide range of powerful function with exciting features.
With the help of Ultimate Addons For Elementor Image Gallery Widget you can build an attractive stunning gallery within minutes. So, within minutes you can create a beautiful gallery according to your style wit range of customization and styling options.
Let's look into some of its exquisite features
Layout option
Ultimate Addons For Elementor Image Gallery Widget offers two layout options; masonry grid layout gallery and carousal grid layout option.
Carousal Layout Option
Carousal layout option will help users to scroll images within the gallery.

Ultimate Addon For Elementor allows users with a wide range of customization options within the carousel layout option. You can decide how many images you want to show in the carousel layout.
You can also decide how many images you want to scroll or set an auto play option. You can enable/disable the infinite loop option and pause on hover option, so if your customers want to view a specific image there is a carousal pause or else the images will start to slide.
Carousal layout option will also allow users to set the transition speed, auto play speed. They can also customize the navigation bar; with arrows and dots, only dots or only arrows.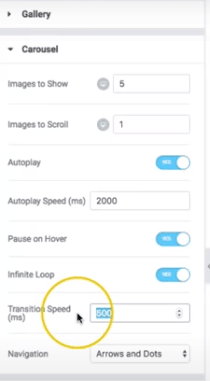 Carousal layout option also offers addition options; image size, click action, ordering option, show caption options.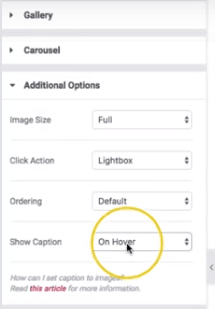 Masonry Grid Layout Option
Ultimate Addons For Elementor Image Gallery Widget also offers a masonry layout option. Within this layout, the widget itself fills in the extra spaces between the images themselves. So, if you have different image sizes and are worried about its presentation. Don't!
They present the image in a contemporary style making a neat and clean appearance within the gallery.
So more need to cut and crop images when Ultimate Addons For Elementor Image Gallery Widget is there to assist you in the best manner.

The image grid layout offers trendy image captions, stunning effects like Instagram and scale hover effects and lightbox mode feature.
Lightbox
Ultimate Addon For Elementor allows users to modify the lightbox feature and control the way they want their images to act. Users can trigger the lightbox mode by clicking on the image; making the background dark and expanding the image to full-size.
So, you can activate the lightbox mode by clicking from the keyboard, scrolling through the moose wheel or swiping through touchscreen devices.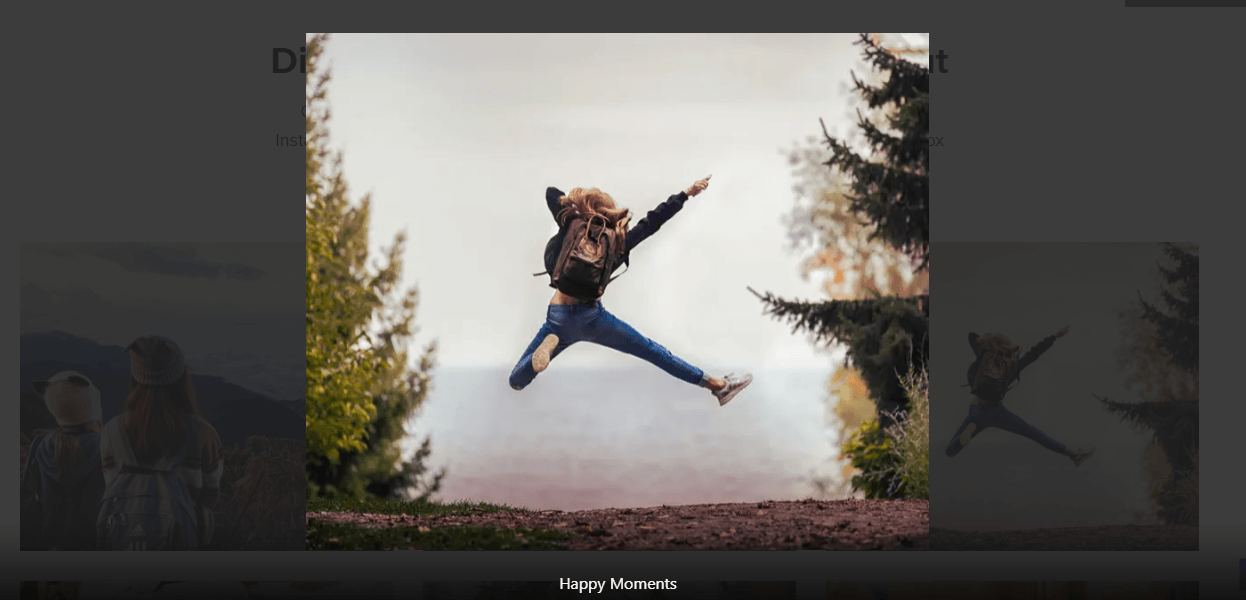 Categorization Filter
Ultimate Addons For Elementor Image Gallery Widget offers categorization filter where you can categorize your images into various categories.
You need to enable the category filters option and then set categories of your product range according to your requirements. Allotting categorize will help your customer view your products with ease.
It will make it easier for your visitors to sort through a larger collection of images. Moreover, if you own an eCommerce site, then it will also help them make a purchase decision fast.

Styling option
If you are looking for styles to create a stunning gallery for your site; you need innovative unique styling options. Everyone wants to style the images according to themselves. Unfortunately, not all plugins/ widget allow customization options. However, Ultimate Addons For Elementor Image Gallery Widget offers countless customization options for its users.
So, you can style our gallery according to your own style!
You can manage the customize captions, manage thumbnails, and select from various filter effects. Every filter effect is unique and enticing, fascinating and can help you present a stunning appearance of your image gallery. Image gallery for Elementor offers 11 filter effects; Normal, 1977, Aden, Earlybird, Hudson, Inkwell, Perpetum, Poprocket, Setro, Toaster and Willow.
Let's look into some of the filter effects
Perpetum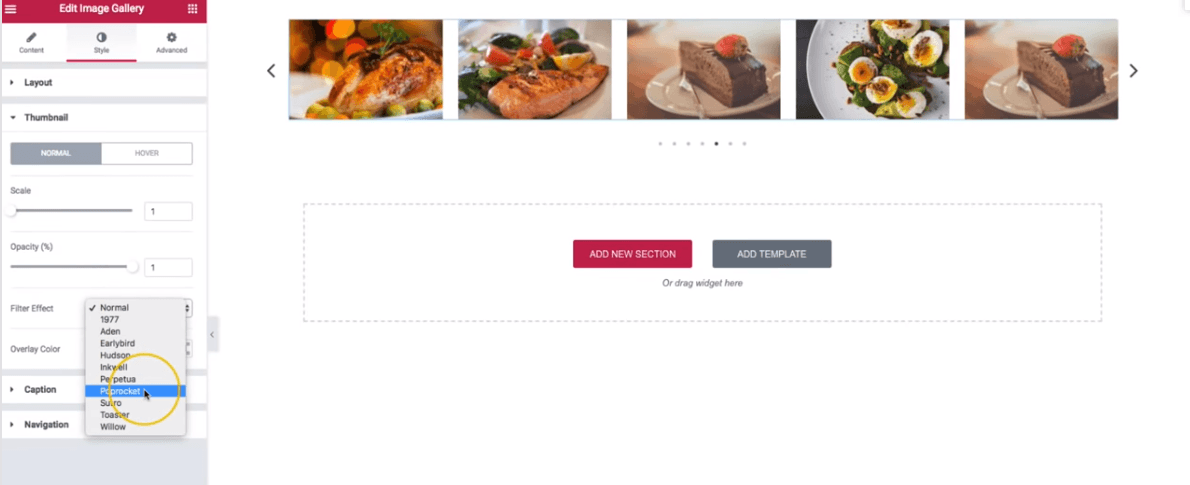 Willow

Captions Options
Once you add pictures in the gallery you can also add caption to them explaining all your products. Captions are the titles of your products you want to sell; so be vigilant while allotting them a title.
It's the image they withhold. You can either place the caption at the end of the image or place it on top of the image with the hover effect.
The caption itself offers a wide range of customization options; alignment, HTML tag, and typography.
Within typography, you can adjust the size, weight, transform it, apply various styles, set the decoration, and adjust the line-height and even the letter spacing. You can also change the colour of the font and even the colour of the background.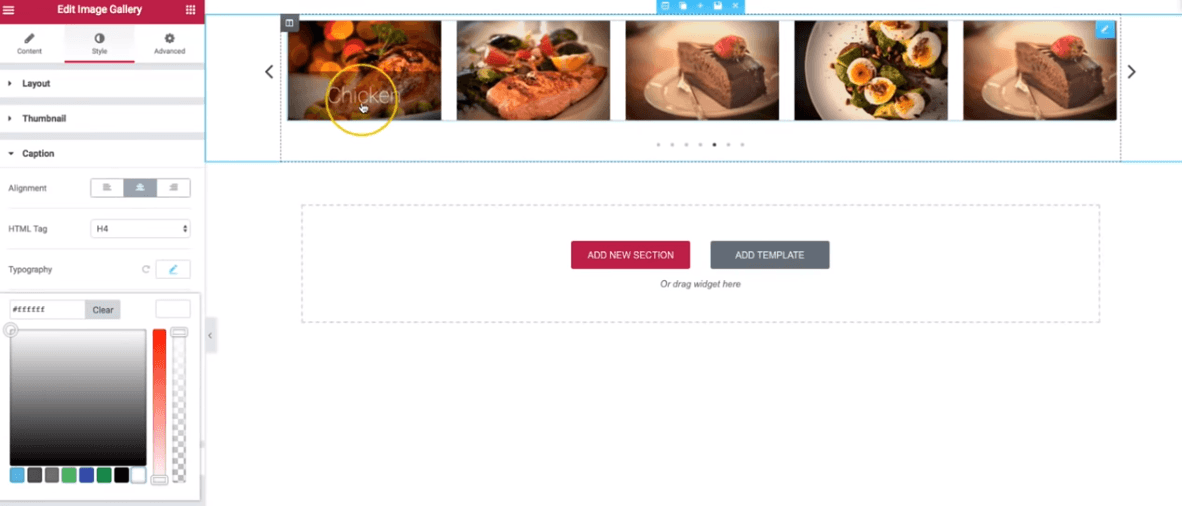 Conclusion
Ultimate Addons For Elementor Image Gallery Widget is an important widget/addon for a heavy image website. It will not only help you build a stunning gallery but will also provide you with a lightweight solution – never compromising on the speed and performance of your site.
It offers a quick and easy to use solution with numerous effective features, filters and high customization options.
What else do you need in a multidimensional addon; a strong and well-reputed addon is a must-try!