An image or a video can do wonders for an article. However, there's something about the media that goes right to the point. Choosing the correct photo or video is a difficult task, but as a website expands, so does the amount of WordPress maintenance required to maintain everything in order.
Unfortunately, WordPress does not excel at media management, and before you realize it, your perfectly ordered website has vanished unless you take precautions. But don't worry; that is precisely why media managers exist.
If you have a lot of material on your WordPress website, navigating through the native WordPress Media Library can be difficult. And if that's the case, and you have a lot of media, you've probably attempted to find a solution to make organizing, managing, and discovering your site's Media more accessible. As a result, today, we'll look at the WP Media Folder plugin, and Our focus is on how to import and sync organized web material from the WP Media Folder to the WordPress Media Library.
Before we get into the exact capabilities of WP Media Folder, let's look at what this fantastic WordPress material management plugin can accomplish for website owners who have a lot of Media.
WP Media Folder is a WordPress plugin that makes it simple to locate your site's current Media files. In addition, you may construct Folder levels much as you would with a desktop file browser by allowing you to create Folders from the original WordPress Media Library.
You may still use the standard WordPress Media manager with this plugin so that you won't lose any of your existing Media. Plus, you may select many Media at once and organize them however you want with a few simple clicks.
Here's a quick rundown of WP Media Folder's main features:
WordPress's native Media Manager is integrated.
Compatibility with third-party plugins
Placement of Media in several Folders
Support for WooCommerce
Regeneration of thumbnails
Bulk Media renaming and bulk Media removal
Finally, with the WP Media Folder Cloud Add-on, you can sync the WordPress Media manager with your Google Drive, Dropbox, or Microsoft OneDrive cloud services, ensuring that your Media files are preserved externally in the event of the unthinkable.

Have you ever attempted to upload files to your WordPress Media library uploads Folder using FTP? Because your server Media isn't indexed in the WordPress database, it accomplishes nothing. WP Media Folder is designed as a tool that will handle the procedure for you, and you'll be able to do things like:
Perform a Media Folder synchronization between your server Folders and the WordPress Media library automatically.
On another WordPress website, Import and export your WordPress Media library or a selection of Folders.
Import a single Server Folder with its subfolders, structure, and Media!
WP Media Folder comes with configurations that permit you to import, export, and synchronize your media files from the Media Folder to the WordPress Media Library.
Let get to look at the deal and see how we can exploit these options.
Import/Export of Libraries
The media import tool can be used to import the entire media collection. You can perform a global Import and export of the following items:
Only the folder structure of your media library
several folders
The entire media library, including files and folders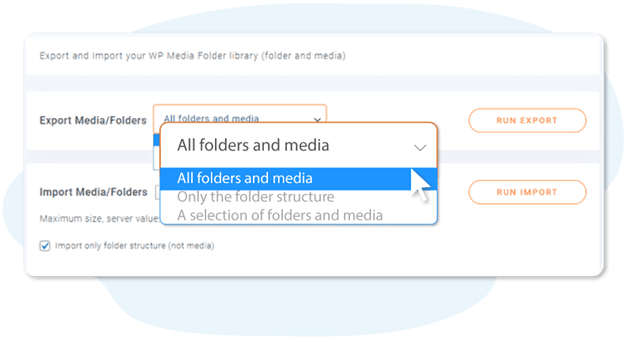 Exports
If you are going for exports only, go to Settings > WP Media Folder > Import/Export to backup or recover a database from the Media library.
library-import-export
There are a few options to choose from before exporting data via the Export Media/Folders feature:
All Media and Folders
The Folder structure is the only difference.
a collection of Media and Folders

After selecting the appropriate option, click the Run Export button, and an export file will be downloaded to your browser imMediately.
Importation
WP Media Folder may now import many images from a server folder into the native WordPress media management. Select a folder and a subfolder from the plugin options, click Import, and you're done! The tool will import the following data:
WordPress is in charge of all media (images, pdf, zip files, etc.).
Names of server folders
Structure of the server folders
If there are multiple imports, the importer will handle duplicate files. For example, under Import Media/Folders, you choose a backup file from the Exporting function. Then, if you want to import only the Folder structure without Media, select Import only Folder structure. Then press the Import button to start the process.

All of your data/structure Folders will be restored at the end.
Server Folder Import
This page also contains a tool for importing much material from a server Folder into the native WordPress Media management plugin. Please choose a Folder and subdirectory, then click the Import Folder option. Your native WordPress Media manager now has access to the entire Folder structure and Media.
It imports the Folder structure as well as all of the Media contained within.

WP Media Categories Import
By choosing the Import Now button on the same menu, you can import your current Media and post categories as Media Folders.

Synchronizing WP Media Folder Imports With WordPress Media Library
More than merely importing files from your server into your WordPress media library is possible with WP Media Folder. The changes to WP Media Folder turn your WordPress blog's contact with your server into a two-way discussion with automatic synchronization. In the server folder sync submenu, you'll find the workflow. You'll need to select one of two synchronization modes first.
Server Folder Synchronization
If you wish to prevent making mistakes, you can postpone synchronization for a few seconds, allowing yourself a window of opportunity to correct errors. The final step is to choose an external location on your server and a media library in WordPress. Then, when you upload or manage files, press adds to add the pair: the two folders will remain open for communication. You may do the same with various teams of directories.
If you wish to prevent making mistakes, you can postpone synchronization for a few seconds, allowing yourself a window of opportunity to correct errors. The final step is to choose an external location on your server and a media library in WordPress. When you upload or manage files, press adds to add the pair: the two folders will remain open for communication. You may do the same with various pairs of directories.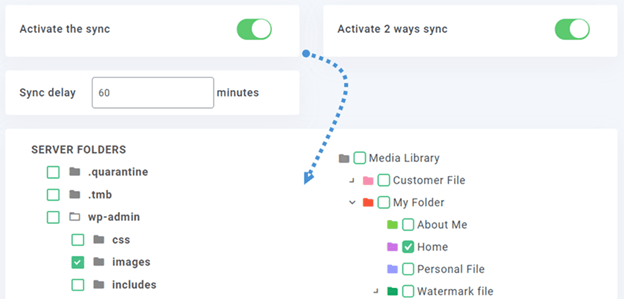 Methods of synchronization: from the server to the WP Media Folder and vice versa
The Folder source and destination are as follows: to the WP Media Folder directory on the local server
The sync delay is the time it takes for those Folders to sync.
To begin, choose the Folder synchronization options: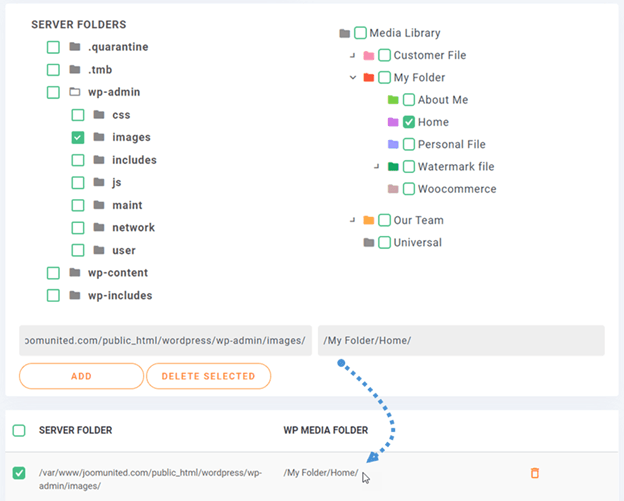 It's also highly customizable; choose the server Folder (source) and the WP Media Folder (destination), as well as the synchronization delay, and you're done! You can, of course, do this with many directories (the Folder list is at the bottom).
Folder-synchronization-list
After that, click Add and Save Changes and wait for the next sync.
That's two-way synchronization: the Media can also be synchronized in the opposite direction, from the WordPress Media manager to an external Folder; this is handy for sharing Media with a plugin or CMS that uses a Folder; other than the typical WordPress one: "/uploads."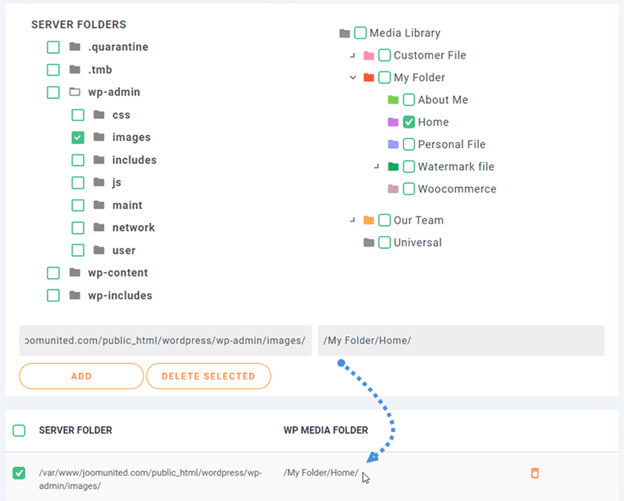 NB: It's important to note that you shouldn't import or sync files from the current upload location. If you don't, you'll end up in an endless loop.
The Server Folder Sync > Filters tab contains various options for this capability.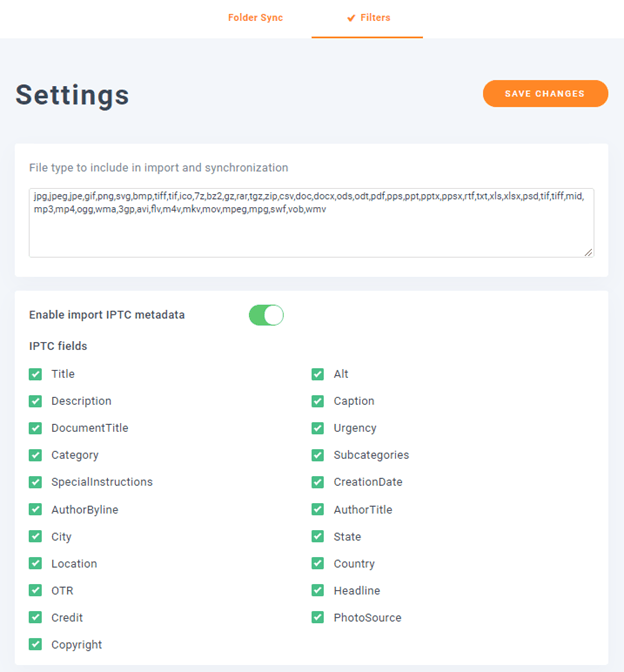 You can add or remove the file types you want to import during the import and synchronization process.
When a picture is imported, synchronized, or uploaded to the WordPress Media library, maintain the IPTC metadata linked to the image file.
If you want to avoid making mistakes, you can delay synchronization for a few seconds, giving yourself a chance to correct faults. The final step is to create a media library in WordPress and an external location on your server. Press add to add the pair while uploading or managing files: the two folders will remain open for communication. You can do the same thing with other sets of directories.
WP Media Folder has you covered regardless of your WordPress setup owing to its interoperability with third-party plugins. WP Media Folder, for example, is compatible with WooCommerce and can help you organize your online business.
There could be hundreds, if not thousands, of files on your computer. And you're undoubtedly worried about gathering them from all of your servers and properly organizing them, but file management doesn't have to be difficult. WP Media Folder is proof that media manager plugins exist to make your life easier.