Here comes another review, this time its Flywheel WordPress Webhosting. In this article, I'll introduce you to the Flywheels features, pricing and plans. Moreover, if you are interested in the lucrative business of reselling hosting for your client, thane Flywheel offers some incredible options to pick a reseller hosting plans for your clients depending upon their business needs. We'll discuss this feature in detail and discuss some key features which you should keep into account before picking a reselling host.
Flywheel WordPress hosting introduction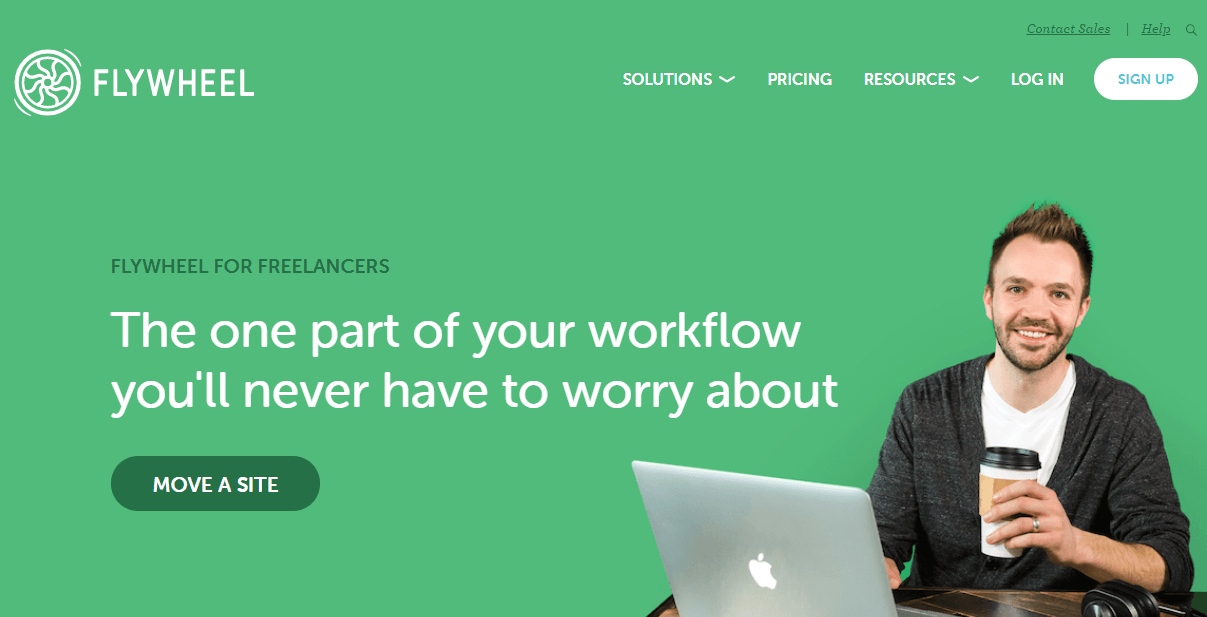 The flywheel was founded in 2012 in Omaha, Nebraska and it typically focuses on the needs of web designers who build websites on WordPress platform. Now client management is not a big deal while using Flywheel web hosting.
The flywheel is providing cutting-edge WordPress hosting with a user-friendly intuitive interface and powerful development tools. Now you can get a reliable WordPress managed hosting geared towards designers and developers with laser-focused speed performance and hi-tech security.
Flywheel WordPress hosting Key Features
The flywheel is packed with rich-features, which are pre-installed to host your site successfully.
Comes with free SSL certificate.
Daily backups
Pre-installed WordPress
Pre-installed caching plugin.
Free WordPress site migration service
All of these features come for free, and you can also add paid CDN services to experience better page load. Furthermore, if you are a dedicated WordPress developer or designer, then there are numerous handy features to streamline your workflow to help you in building multiple WordPress sites.
Some of the developer's intuitive key features we briefly discussed as follows;
Create a Blueprint
Blueprint is an extremely useful feature for designers and developers which help you in creating a "Blueprint" of your site where all of your standard themes, designs and plugins are saved for future use. So, when you build a new WordPress site, this Blueprint will instantly apply all of the pre-configured settings to this new build WordPress site and save your valuable time. Luckily, you do not need to install setup and this procedure can easily be done via your Flywheel dashboard.
Staging feature
Staging feature is ideal for developers to check the performance of anything newly added without facing any downtime. With this feature, you can easily create a copy of your live website and apply changes, then apply these new settings only to your copy website, and configure it to live website only when everything goes well.
Add collaborators or partners
With this exclusive feature, you can add your clients as collaborators to your websites, especially the freelancers and agencies may find it interesting by adding their clients directly to their project, and it helps their clients to find out if everything is working according to their demands.
Organize a team portal
Now you can organize your "team portal" on your dashboard where you can have an insight into multiple websites and collaborate with your team to stay up to date with each one's performance.
Clone your site
This feature may sound like the 'blueprint', but it is a distinctive standalone feature which can clone your site then you can use it as a template to build more sites or you can add it, 'as it is' as a part of any bulk website, while the blueprint feature allows you only to reuse the saved changes to your settings.
Better server performance with Flywheel Cloud Platform
Flywheel ensures better server performance with auto-healing websites, scaling, free global CDN and Flycache options.
Beginner-friendly interface
Flywheel provides an impeccable user-experience focusing developers and designers. You will experience smooth and efficient site management with visually-appealing themes and plugins that set a streamlined way to focus on a new project. You can access the Blueprint feature to build a new site instantly.
During the signup process Flywheel provides a free website migration option and if you go for it, it will take one or three working days or you can get it done early for some extra charges.
Once you sign up for Flywheel, you'll find the installation process ready for editing, and you can start right away with editing the template and content for your WordPress site.
The dashboard is designed quickly and painlessly to guide you through the process where the most important and frequently used features are highlighted to grab your attention instantly before you start looking for it.
WordPress Security
Flywheel provides free SSL certificate along with an intelligent IP blocking service. Furthermore, if any security issue is detected the Flywheel experts will handle the issue, they will detect the malware and fix it without any extra cost therefore; there is no need for extra security plugins and security concerns.
Another worth-mentioning security feature is "automatic nightly backups" that are stored for 30 days and can be restored whenever desired.
Speed boosting tech tools
Flywheel provides world-class speed, scalability, and security in collaboration with Google Cloud Platform.
Flywheel offers server-side caching solutions where you can speed optimize your site with a pre-built caching solution without any further need of caching plugin.
Flywheel in-built content delivery network (CDN) boosts your WordPress site's performance by putting the site's content closer to the visitor's location.
Flywheel hosting plan pricing
Flywheel comes with three categories of WordPress hosting: single-site WordPress hosting, multi-site WordPress hosting, and enterprise WordPress hosting.
Flywheel doesn't offer free trial plans, and the payment methods promoted by Flywheel are either by credit cards or by PayPal.
Now let's have a peep at the reseller hosting plan by Flywheel
WordPress Hosting Reseller with Flywheel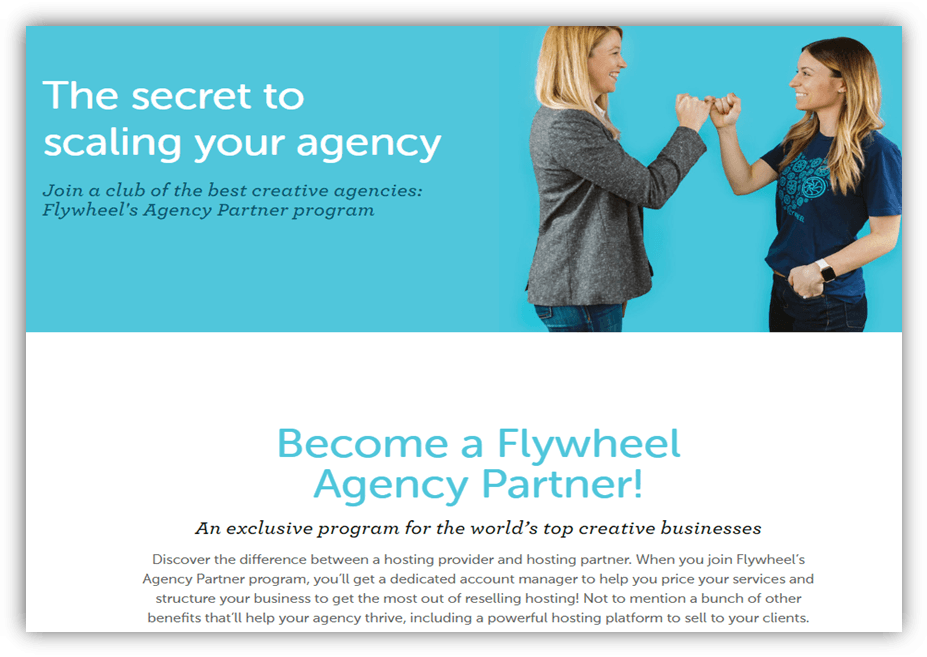 What is a Reseller Hosting?
Web designers often use reseller hosting plans and also the web developers who use to manage at least ten or more websites at a time. With reseller hosting, you can sell WordPress hosting as a part of your service, to your clients who want to get WordPress hosting according to their business needs. In this way, you can start your own hosting business where you buy the hosting plan for your client from the hosting company and then resell it to the clients on your own price.
Flywheel reseller hosting key features
Flywheel offers a perfect fit hosting plan for the agencies who are seeking a solution to put forward WordPress hosting as part of their services to the customers. Flywheel will take care of the clients of the agencies who are actually providing hosting services to their clients because the clients know you (the agency) as the host of their site, and if they see any downtime of their site, they will call you to resolve their issue. Therefore, you'll be responsible for providing them a day-to-day solution to their problem and for this hosting and management you will charge them accordingly, whereas they wouldn't know that Flywheel is hosting at the backend.
Therefore, the Flywheel will provide you with stealer support to provide a solution to handle any issues and server-related problems along with ample resources.
Moreover, with Flywheel fanatical reseller partner program you will get a dedicated account manager who will assist you in determining your service price and structure of your business furthermore, you will be entertained with some other benefits also along with the hosting plan to excel your agencies growth.
What are the perks of Flywheel reseller hosting plans?
Dedicated Account Manager
As mentioned earlier, you will get direct contact with Flywheel expert team, who will assist you by answering questions related to your client's site security, uptime or any other issue related to server setup.
Free hosting for your site
Flywheel will host your agencies' site free of cost, and you are allowed to create hosting plans with multiple happy customers to choose your hosting services for their businesses. To qualify for the Agency partner plan, you have to choose one bulk plan of at least ten sites with one free site.
Maintenance is backed by Flywheel
When you choose Flywheel Agency partner program, all of the client's WordPress sites are taken care by the dedicated Flywheel team, the WordPress updates, backups, caching and security monitoring all are under Flywheel's roof.
Sweet Swag
Flywheel exclusively design and print exclusive swag for their partners so they could show their specifically Agency partner status on their websites.
How to collect your payments with Flywheel reseller hosting?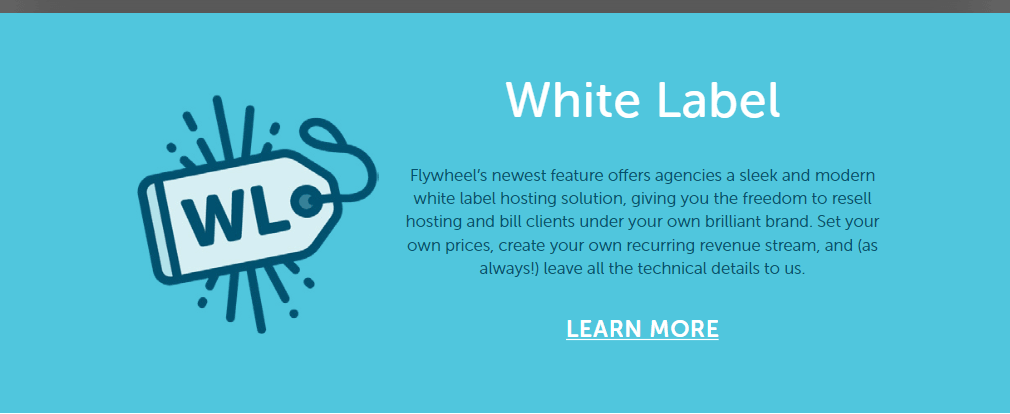 Flywheel has made billing collection as easy as a breeze with the 'Stripe' platform. The payment procedure seamlessly integrates with stripe gateway by using their checkout procedure payment collection is not a big deal.
Moreover, with another remarkable new feature "White Label" enjoy a sleek and modern white Label hosting solution, where you can resell the hosting and bill clients under your brand name. Flywheel allows its agency partners to set their own prices, and streamline their own revenue system while the Flywheel will take the responsibility of all other security and technical issues of your clients.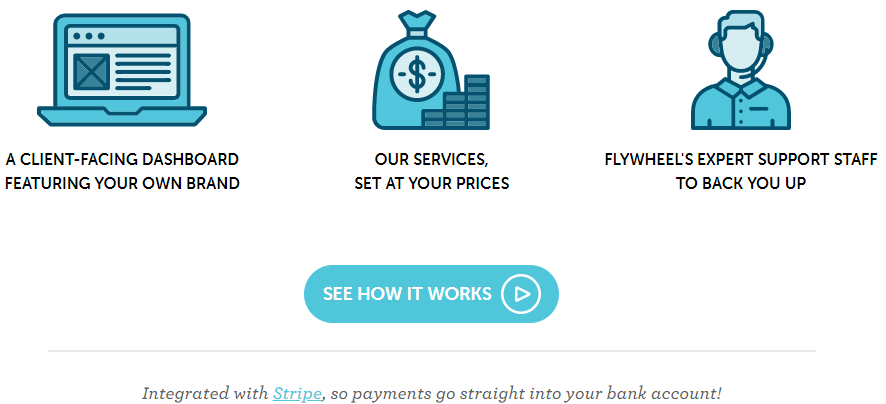 A branded client dashboard allows you to upload your own logo and choose the colour of your choice, which exhibits your brands.
Create and customize which services you are going to offer along with Hosting, security, WordPress updates, themes and designs, or whatever service you feel like to offer.
Generate a client subscription bill for monthly, every three months, six months or for annually.
Subscription emails are automated, and you don't need to worry about updating client invoices or tracking down payments, all of this payment system goes smoothly with Strip automatically and sent to your bank account right away.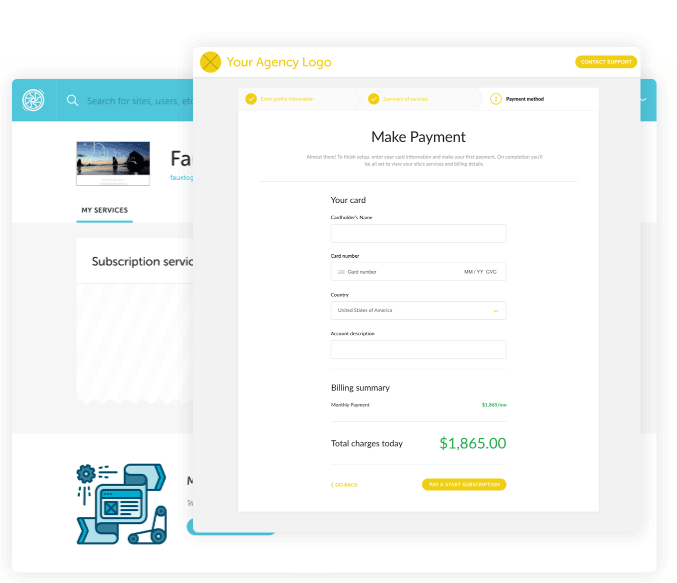 White Label add-on pricing
White Label is available as an add-on along with the reseller hosting plan, and its pricing starts at $99/ month.
Wrapping up
The flywheel is no doubt one of the tops managed WordPress hosting company with a stat of the art features, hi-tech security solutions and world-class hosting heap. However, a small downsizing can be lack of email hosting and domain services. Moreover, Flywheels reseller hosting is one of its own kind with exclusive "white label" feature which endeavors freedom of exhibiting your own brand with more dedicated user experience. So, overall Flywheel offers a solid hosting solution to its customers with good service and excellent performance.