If you are interested in finding a fast and reliable WordPress web host, then this review is going to help you in finding our best WordPress hosting for your website.
Kinsta, a cloud-based hosting, provides a managed WordPress hosting solution with exclusive management tools and a clean UX. Now you can avail all speed and scaling advantages at a premium price powered by Google Cloud Platform hosting, which is now easily accessible by anyone.
Kinsta is a fully managed WordPress hosting where a highly-skilled team of WordPress expert developers will handle everything related to management and security of your website, and you don't need to worry about managing your WordPress site.
Kinsta Managed WordPress Hosting
Kinsta is a relatively new web hosting company that was established in 2013. WordPress specialist initiated this hosting, and their prime concern was to provide a hosting solution to provide cutting-edge technology and expert support to enhance WordPress site functionalities.
Kinsta WordPress hosting Key features

Response time and site speed
Kinsta has introduced efficient features to ensure the blazingly fast speed of your site to load quickly and run smoothly without any interruption.
To speed optimize your WordPress site Kinsta uses LXD managed hosts and orchestrated LXC software containers for every single website. It shows that every single website is stored into a container along with all essential software that is needed to run a site like Linux, Nginx, PHP, MySQL. Any other site does not share these resources, and these are 100% private.
Moreover, Kinsta is power-driven by Google Cloud Platform, and Google Cloud officially recommends Kinsta for a fully-managed WordPress hosting solution.
Kinsta's scalable architecture feature is readily available to handle any surge in traffic, and your site will not face any downtime thanks to Kinsta's state-of-art technology.
Security and backup
Kinsta security features come with extraordinary security measures to provide you stress-free user experience.
Moreover, a free SSL certificate per site comes with each plan, which is highly recommended by Google to maintain a site's security because it provides an additional cover of protection to your visitors.
Kinsta provides fool-prove security measures to save your site from attackers and other security issues. For effective security measures, it implements tried and tested tools like DDoS detection, hardware firewalls, and uptime monitoring.
Furthermore, Kinsta put forward daily backups, along with system generated backups of all of your sites, which are stored on the MyKinsta dashboard.
Backups are crucial for your site's security to restore your data if any problems come about, therefore make sure to maintain a daily backup of your site's data to avoid any inconvenience.
Google cloud-based server hosting
The most distinguishing feature of Kinsta's managed hosting is its Google cloud-based server hosting, that is the fundamental difference between Kinsta WordPress managed to host and other shared or dedicated hosting of its competitors.
Users can enjoy the utmost speed, reliability, scalability, and flexibility because Kinsta utilizes virtual server space rather than relying on a single server in the data center.
Moreover, users can use any of 22 Google Cloud server locations from all around the world that are geographically closest to your visitors, which helps to keep the latency and quick load time.
Outstanding technical support
Another remarkable strength is the technical support, which is available 24/7 via live chat, ticket solution, and intercom widget.
The chat history window remains open and automatically saved even if you keep scrolling through different pages.
The technical staff comprised of WordPress specialist, developers, and Linux hosting engineers. This makes a distinction among many other web hosting companies. Moreover, the staff is highly efficient, helpful, and knowledgeable and answers the questions with a link to related resources if needed.
Quick and simple set up and Migration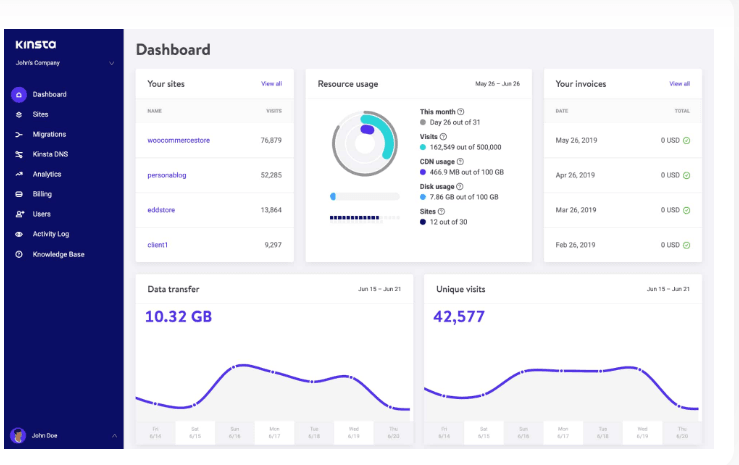 It's straightforward to set up and configure a web site. Once you create a Kinsta account using an email address and subscribe to the startup plan starting from $30/month. After that, you can log in and go to the dashboard to set up your site. And if you are adding a new website, then you have to fill out a short form before setting up your website.
Moreover, if you are migrating your site to Kinsta, the migration expert team will take care of your site by assigning a temporary domain to your website so that it may not incur any downtime, and everything starts working before going live.
Peace-of-Mind
Kinsta covers each step to deliver epic hosting services where you need not worry about managing your server and backups. It helps you in
Regular uptime check:
A regular uptime check after every 2 minutes checks the website's status to help you identify if any issue arises before visitors face any problem.
Backups:
Kinsta ensures your site's backup once in a day, so you might not face any hardship in backing up your data is lost due to malfunctioning.
Moreover, you can increase the backup frequency to 6 hours or every hour if you like to add.
Readily scalable:
With Kinsta's Flexible architecture, your site can scale up according to your needs at any time. Moreover, Kinsta can well manage if any unpredictable traffic surges with an authoritative server.
Kinsta WordPress Managed Hosting Pros
Here are a few rewards you can enjoy while using Kinsta hosting
Kinsta managed hosting comes with 30 days trial period with a money-back guarantee.
It offers one free premium site migration and unlimited migration of other sites without any extra cost.
Comes with Google Cloud Platform where you can choose the nearest location from 22 global location.
Automatically backup your site once every day or the backup frequency can be increased up to 1 hour or after every 6 hours.
Highly supportive technical staff for customer support available 24/7 can be contacted via chat or email.
Kinsta comes with top security solutions and automatic Hack and malware removal.
Supports up to  PHP 7.4
Offers a free SSL certificate even with the basic plan.
Kinsta Managed Hosting Cons
Price is a bit expensive for a small business website
No email service by Kinsta, and if you need any email service, then you have to integrate with GSuite, which also adds extra cost.
Kisnta has a relatively extensive list of banned plugins that may not integrate with their set up, but it can be troublesome if you rely on any of these plugins.
Kinsta Managed Hosting Pricing
Kinsta has one starter and one pro plan, while for business plans, there are four plans . all of the plans have access to the same infrastructure and also powered by Google Cloud platform.
Here is the detail.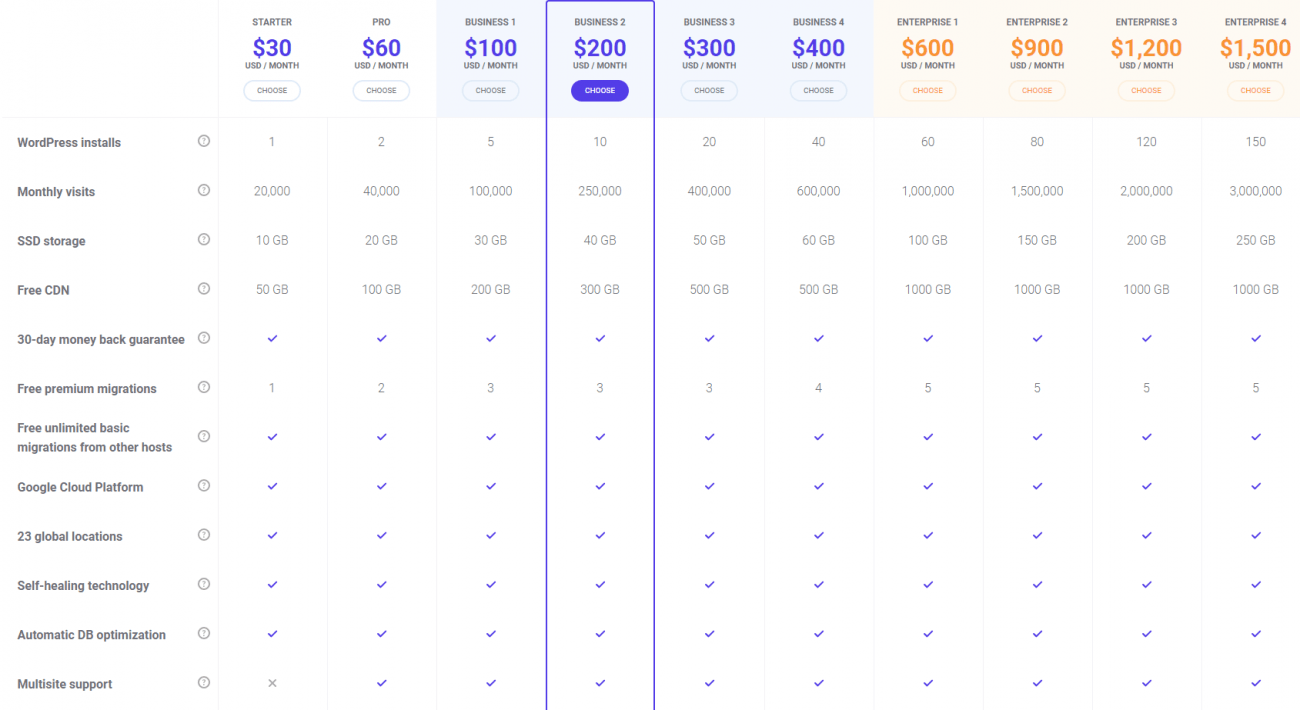 Kinsta vs. WP engine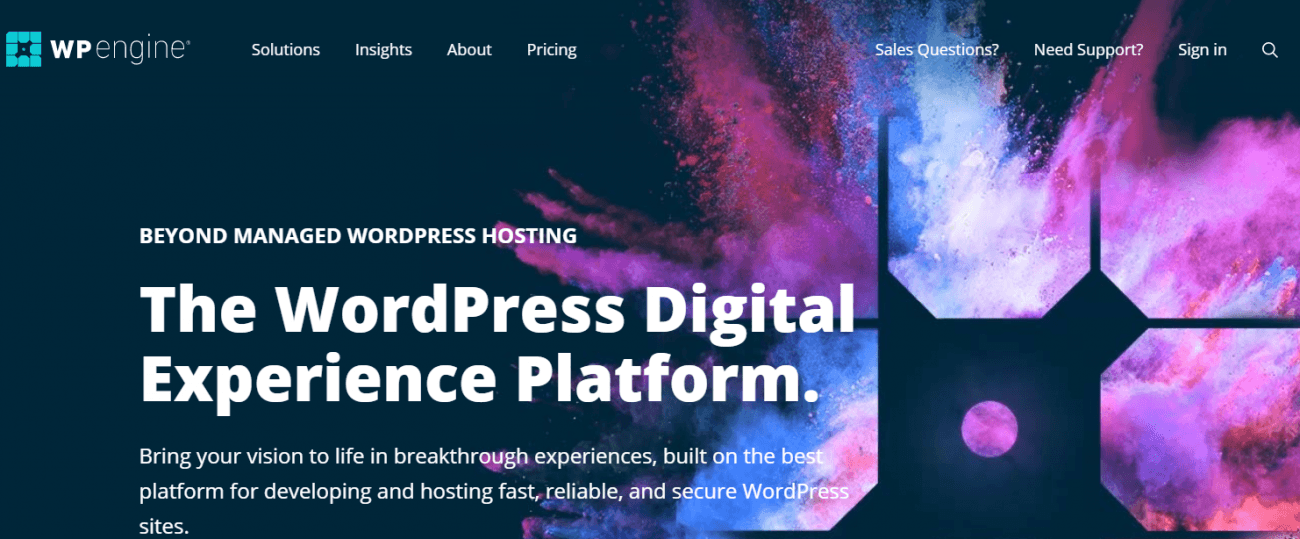 Kinsta and WP engine both are giant-tires in WordPress managed hosting industry. Both are providing excellent services and high-quality features to its users. However, Kinsta offers some advanced analytical features, developers tools, and top-notch security solutions as compared to the WP engine. However, uptime, speed and CDN services are almost identical. Furthermore, Kinsta offers a basic plan starting at $30/ month. On the contrary WP engine, the basic plan, starts at $35/month.
Kinsta vs. Siteground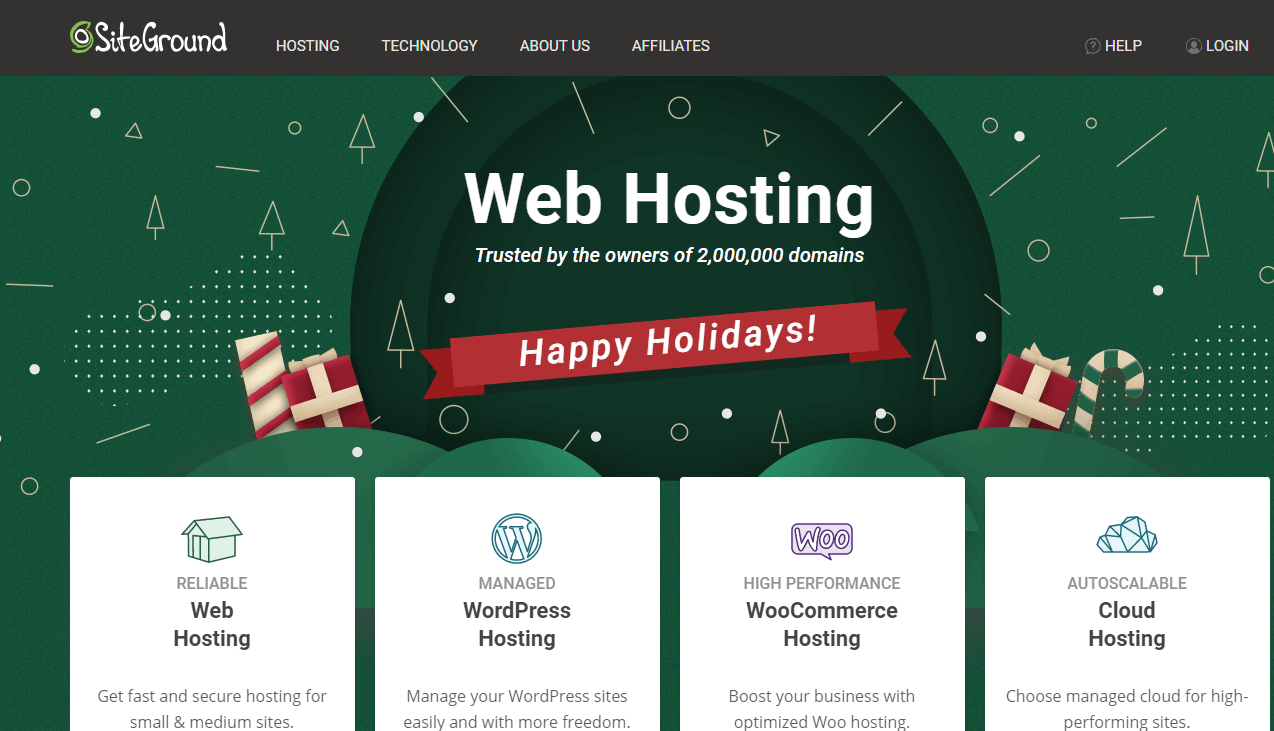 Siteground and Kinsta both offer high-quality premium WordPress hosting plans. However, Kinsta is a premium host starting at $30/month, and its highly competent services are suitable for intermediate to outgrown sites with visitors more than 10000 visitors per month. On the other hand, if you are a start-up and starting your website, then Siteground is much more economical than Kinsta that offers $3.94/month with multiple exclusive features. So if budget is your prime concern than Siteground is a better choice.
Kinsta vs. Flywheel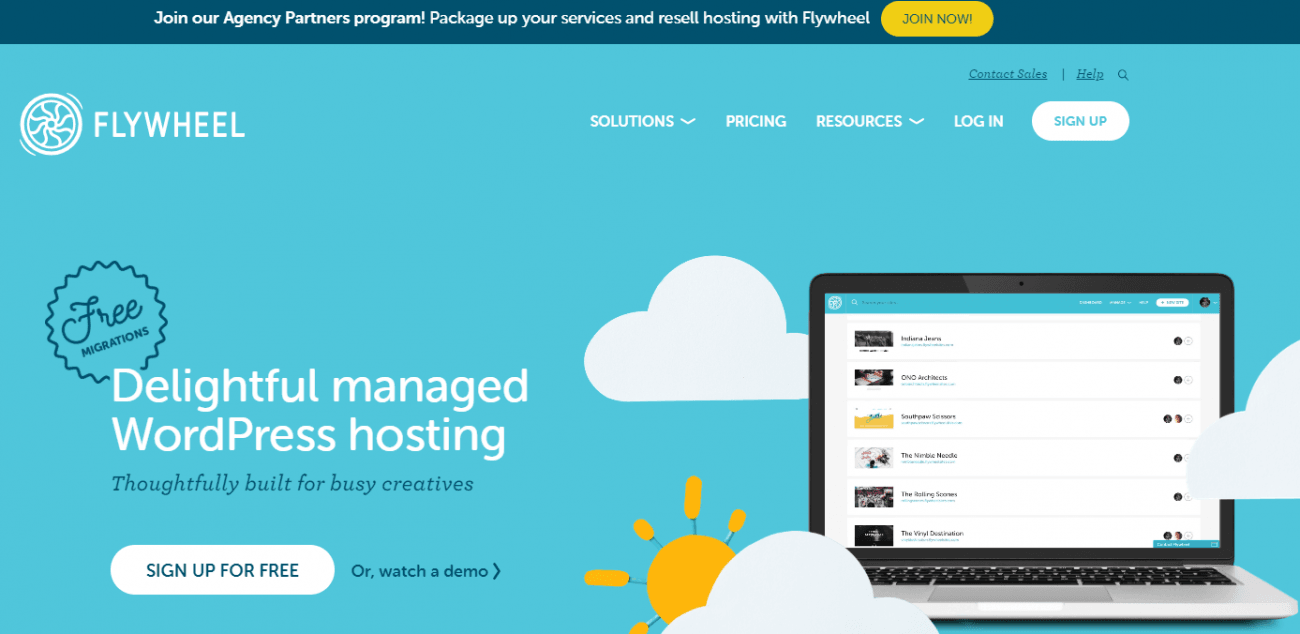 The flywheel was the first managed WordPress hosting that modernized a platform for freelancers and agencies with eye-catchy designs, however, they were facing downtime because of their inability to build developer-friendly features like SSH and WP –CLI, weak customer support and pitiable performance. Both Kinsta and Flywheel are cloud-based managed WordPress hosting, whereas Kinsta is primarily building for developers. On the other hand, Flywheel was made for designers. Therefore, Kinsta is a far better option to choose as a web host if you are a developer.
Best WordPress hosting company by CodeinWp
CodeinWp, every year surveys, to find out which hosting company is best. And the survey result for 2018 shows that Kinsta is a winner among all other hosting companies.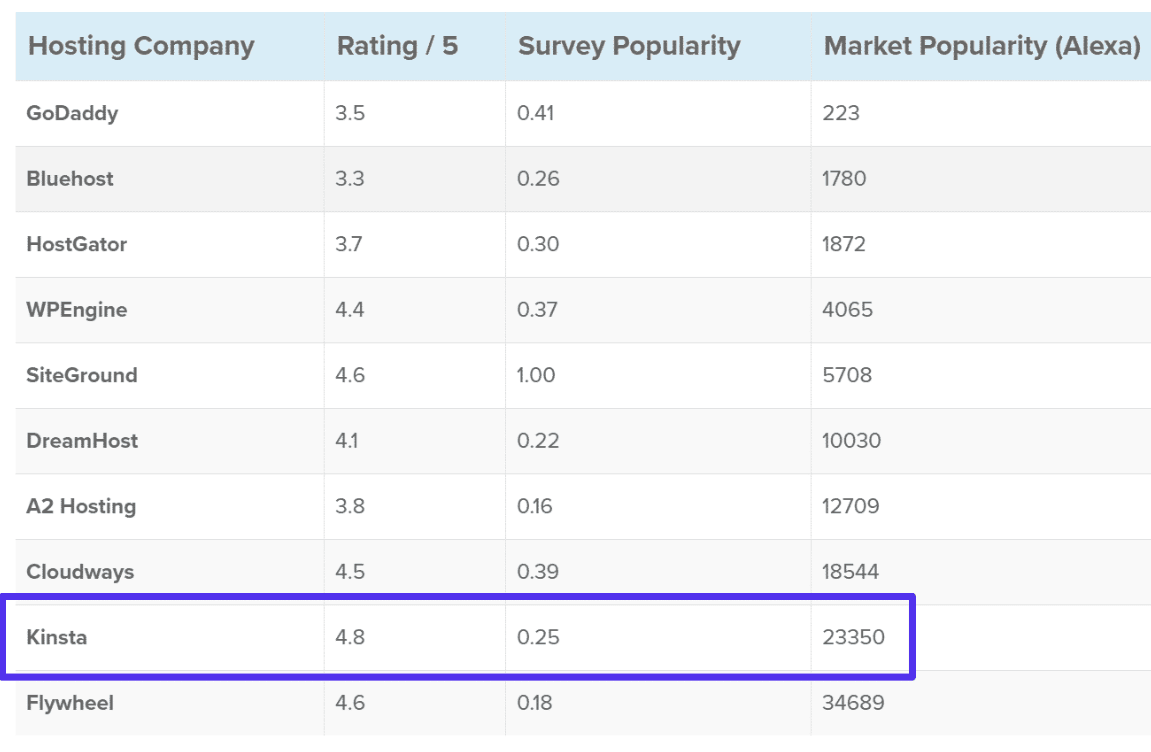 Here are some results from twitter surveys;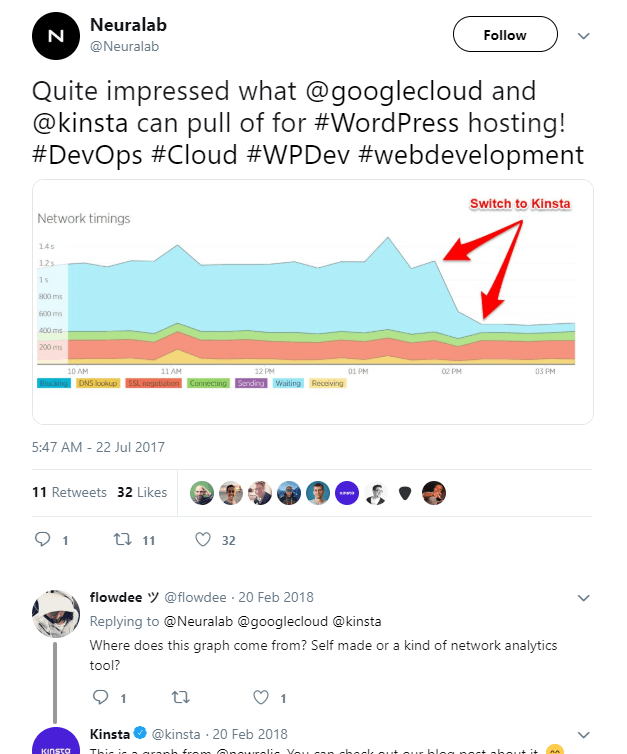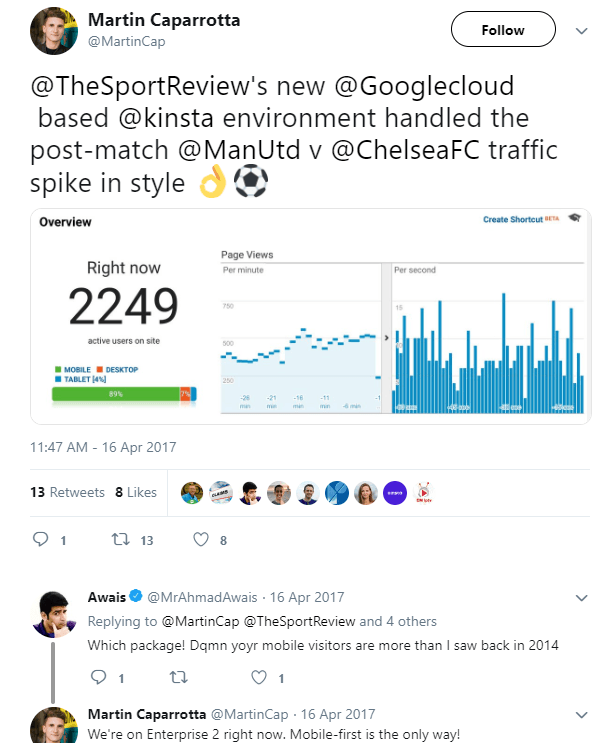 My verdict
Now its time to reveal my final decision whether I recommend Kinsta managed hosting or not.
To be honest, it entirely depends upon your needs; if you are a beginner with a limited budget and your site visitors are less than 10000 per month, than definitely Kinsta is not a great choice. However, if you are an owner of an intermediate or higher traffic website than Kinsta is the best choice.
Kinsta is a mighty host with a Google cloud platform, excellent customer support, and advanced management tools and security system. Therefore, keeping in view its functionality and performance Kinsta is a highly recommended hosting solution.