Managed WordPress hosting is a better choice to manage your WordPress websites, especially if you have to deal with many clients or run an agency. If you have already decided to choose managed hosting for your sites, it is time to select a suitable provider. Therefore, in this article, we will present you with a complete review of FlyWheel, which is now the most popular hosting provider.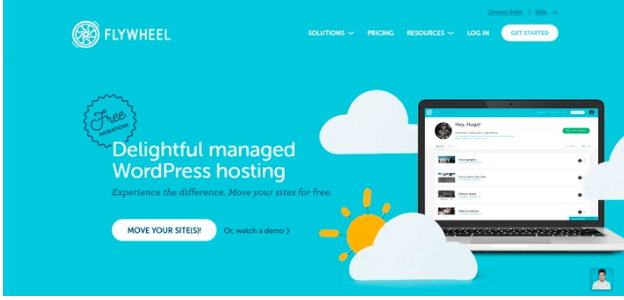 Before we get into an extensive review, take an overview of what features of WordPress-specific nature you can get with Flywheel
WordPress-Specific Features of Flywheel
Optimized Dashboard
Flywheel offers a dashboard streamlined for the WordPress websites instead of using a cPanel, which can get clunky.
Staging Sites With One-Click
Flywheel gives access to staging technology to test the changes on your websites of WordPress
Regular Backups
You can get backups for your WordPress websites every night with Flywheel and extra security for your data
Malware Protection
Flywheel also protects against the attacks and malware to meet hands-on security needs without installing extra security plugins.
Auto-Installations
Flywheel's attractive feature is the auto-installation of frequently used plugins and themes on the new websites by Blueprint's tool, which packs them into reusable configurations.
Best Features of Flywheel WordPress Hosting
Among the managed WordPress hosting providers, Flywheel stands out from the crowd by providing certain features that serve best to the web developers and designers. Here is our take on the best features of Flywheel WordPress hosting
Flywheel Cloud Platform
Flywheel has now partnered with Google Cloud to upgrade their hosting infrastructure to give a true experience of cloud hosting. Here are the advantages of using cloud hosting

Advantages of Cloud Hosting
Instead of the regular hosting where a physical server stores the website and allocates fixed resources to it such as the fixed amount of storage and memory, etc., the cloud hosting experience connects multiple computers to create a shared environment and unlimited resources
The regular hosting has low performance when it outgrows its physical server. It can also cause certain unavailable durations or slow times of loading. The problem can be fixed with a better server, but you will have to move your files and face downtime. However, cloud hosting can scale the resources automatically or with an instant touch without any speed reduction in loading times
The cloud hosting will also reduce your downtime and improve the redundancy. In the traditional hosting, if your website server goes down, the website will also become unavailable whereas, in the cloud hosting, there are a network of servers that host a website, and if one of them goes down, the website will still be available
The up-gradation in the caching technology of the Flywheel and being a partner of Google, you can host your WordPress website on a similar infrastructure as Google, simultaneously managing your account on the Flywheel dashboard
Demo WordPress Websites For Free
A time-saving and interesting feature of Flywheel is developing private demo sites that benefit the clients without the need to set up a new domain or make any extra payments. The Flywheel account will let you create these free sites which you can host on a Flywheel sub-domain.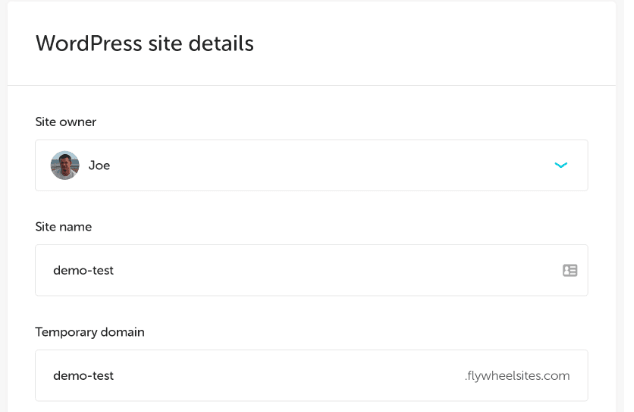 Advantages of Free Demo Websites
If you create the free Demo Websites, you will have access to them for 14 days
You can also share the free demo sites with your clients
These free demo sites are protected from passwords; therefore, unauthorized visitors cannot see your website before it is ready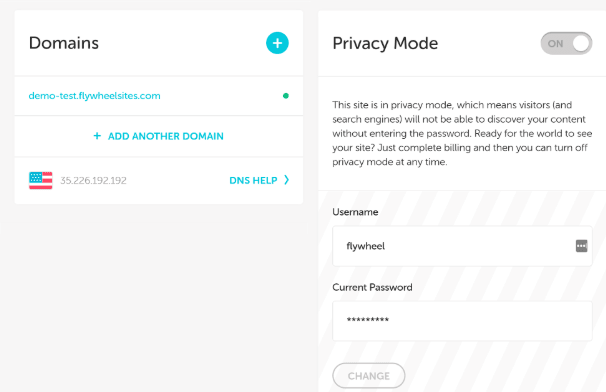 After the free access, time is over, and you are satisfied with the website, it is easy to purchase a Flywheel hosting plan and launch the site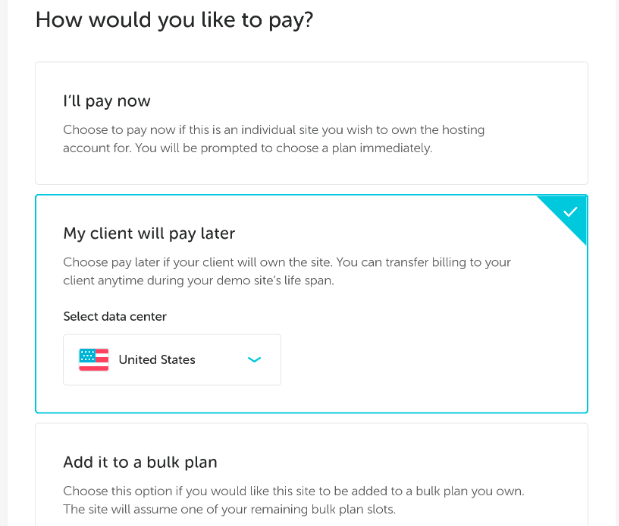 The Flywheel's referral plan allows you to get a commission when any of your clients opt for Flywheel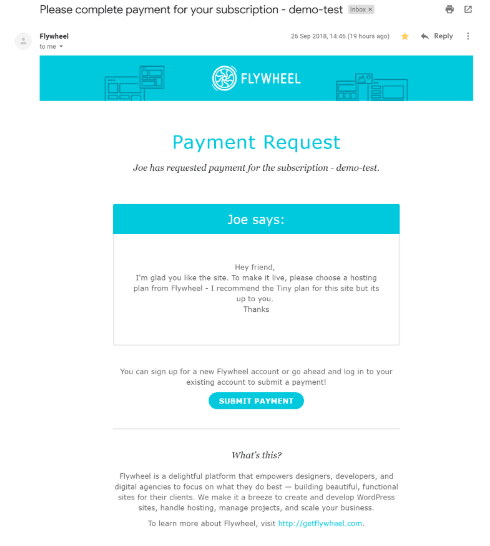 You do not need to move your free demo website to some other server when you launch it publicly. All you have to do is remove the password and alter domain DNS setting, and you are ready to go
Flywheel Local Tool
Flywheel's local tool brings simplicity to your local WordPress environment for free. After you download and install the software on your computer, you can get WordPress's local environment that you can work with through the tool. You will particularly appreciate this Flywheel local tool if you have ever faced debugging and wastage of time during the setting of the local WordPress environment.
Advantages of Flywheel Local Tool
Through Flywheel local, you will not have to upload your local website of WordPress. Flywheel local will create a link to the website that can be shared with the client and gain access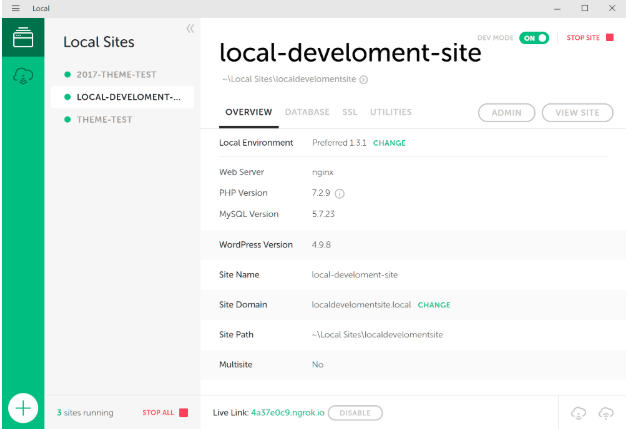 Flywheel local allows you to pull the flywheel-hosted websites into the local network in a matter of a click
You can work on your website and make changes through Flywheel local in the offline mode and then make them online whenever you are ready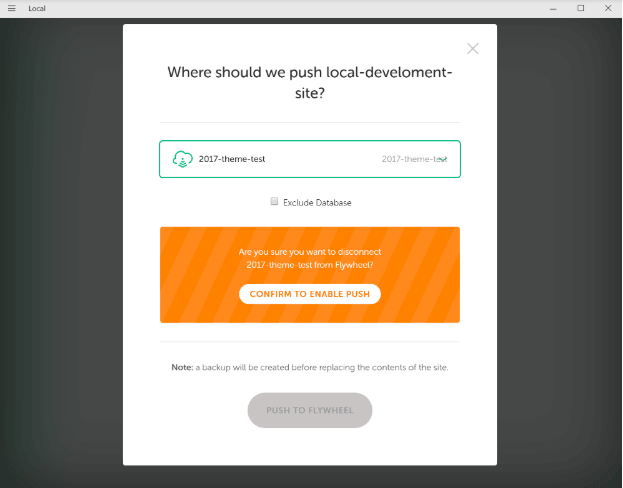 Flywheel WordPress Blueprints
Flywheel Blueprints feature is an essential and attractive feature that saves you time and energy. If you have to create multiple sites and realize that they utilize similar core pages, themes and the same set of plugins, you can create a blueprint of the setup. The Blueprint will then work as a foundation when you start a new WordPress website.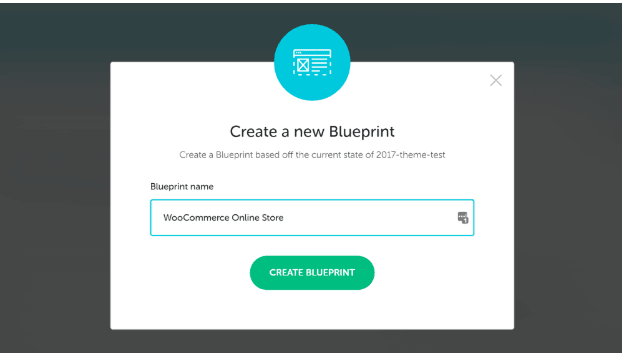 Advantages of Flywheel WordPress Blueprints
Blueprints will save the settings of theme and plugin configurations which you can deploy to a new site with mere clicks

Using the Flywheel Blueprints feature, you can avoid the repetitive tasks of permalinks, editing, backup schedules, contact page settings, etc.

The ability to share blueprints between the Flywheel account holders are also under discussion and can be implemented soon
Flywheel Account Collaborations
Another useful feature offered by Flywheel is the ability to add collaborators to the Flywheel dashboard. This feature will sound particularly important to the developers but will also attract website owners in general.
Advantages of Flywheel Account Collaborations
Through the Flywheel Account Collaborations, the collaborators can also manage the hosting of the website through Flywheel dashboard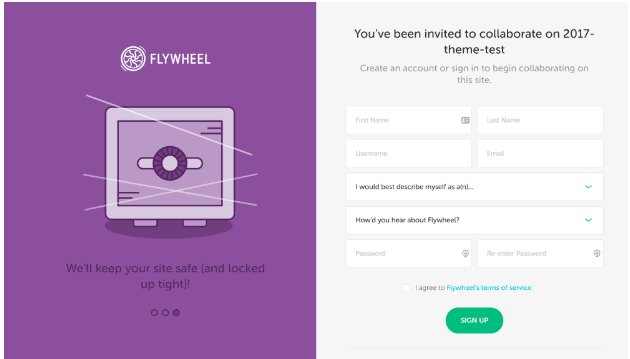 A collaborator can be added to the flywheel dashboard easily. You need to choose the site you wish to add collaborators to and then enter the email address. Flywheel will send the link as an invitation to collaborate that user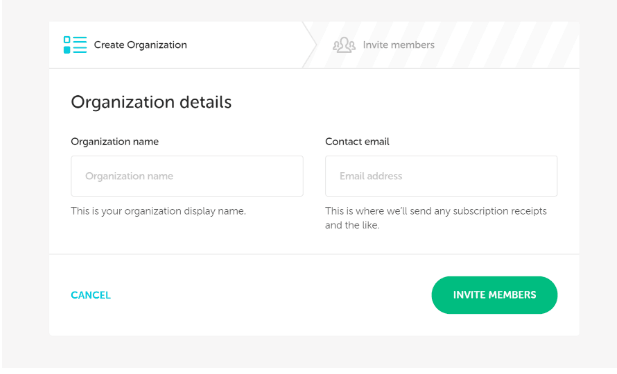 In case you wish to give the client access to their website in Flywheel, this feature makes it possible securely
Through the feature of Flywheel "Organizations," all the websites of the team members are easily managed through a single Flywheel dashboard
Flywheel Organizations can also transfer the existing plans within the newly formed structure and give new beginnings
Flywheel Support Options
Flywheel offers support options through multiple channels such as through social media, emails, live chat options and phone calls. They have over 100 articles that cover the frequently asked questions appropriately. Their support team responds 24/7 immediately, and a specialist answers the queries rapidly and in-depth. Overall, Flywheel provides excellent support services.
Flywheel Server Availability
The server of Flywheel is available throughout the world with fast loading times. The following locations are included but are not limited to the U.S, Japan, Singapore, Germany, U.K., and Canada.
Flywheel Pricing Packages
The Flywheel offers plans that suit freelancers, agencies and also business owners. Following pricing plans are available on their website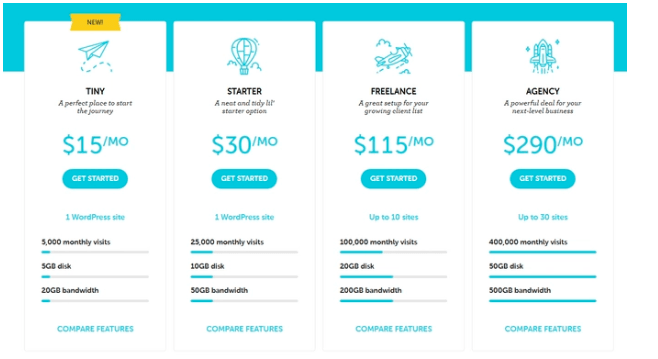 Tiny
$15 monthly, suitable for portfolio websites
Starter
$30 monthly, suitable for personal blogs, freelancers and small websites
Freelance
$115 monthly, suitable for online stores and medium websites
Agency
$290 monthly, suitable for established online stores and popular websites and blogs
Pros and Cons of Using Flywheel
Pros
A lot of WordPress-specific quality features and options
Excellent support service
Stable and Fast performance
Worldwide servers
Advanced features for agencies and business owners
Cons
The price of Flywheel is higher than other managed hosting providers
Bottom Line
Flywheel offers some most exquisite and advanced features for managed WordPress hosting suitable for freelancers, online stores, agencies and business owners alike. Moreover, Flywheel provides excellent support services and worldwide servers. Though there are some cheaper alternatives to Flywheel available in the market, they do not match Flywheel's quality and service.