Looking for a way to create a professional WordPress tourism website with attractive features? Like listings, bookings, packages, and profile details, then this Listeo WordPress theme review will solve your problem to a great extent.
Listeo is a multifunctional directory and listing WordPress theme that comes with an advanced online booking system.
Listeo helps you in creating an ideal online directory or listing website no matter you are trying to enlist all the local businesses providing any particular services, or want to list all the favorite tourist destinations in your local area, Listeo could be the obvious choice for anyone.
Listeo WordPress Theme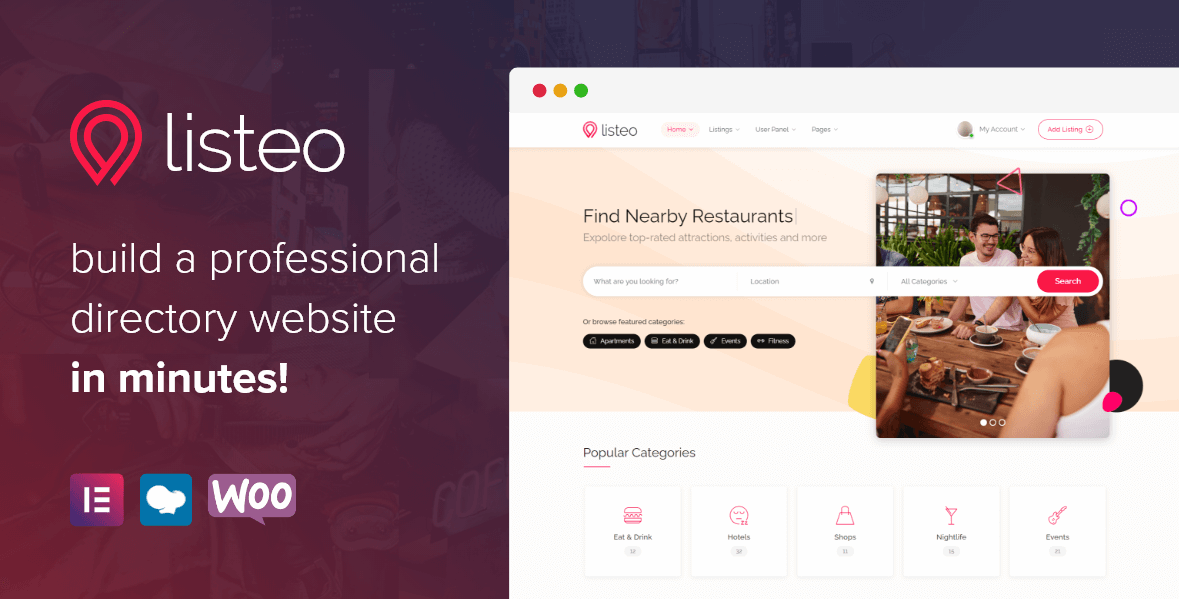 Listeo is an advanced fully-functional online directory or booking theme with all essential features to manage a listing website.
Listeo comes with six different modes of booking options, including one Airbnb-style accommodation booking option, however other listing demo sites are equally well designed and focused on creating an online booking and directory website.
Listeo's multifunctional features allow managing the listing bookings in your directory to a great extent, whether it's you or any user publishing listings in your directory.
Other than creating a listing or services related to tourism, you can also create a site for web developers to list their services, and then visitors can use your portal to book their services.
In this way, you can choose to accept one-time payment from the users or create a monthly membership fee to avail unlimited access to your portal. Alternatively, you can choose to offer free listing available to all and monetize your website by displaying adverts to the visitors.
Listeo WordPress theme Key features
Listeo offers an all-in-one solution to build a listing website for different niches related to local businesses, hotels, travels, tickets with an advanced online booking system.
The user-friendly front-end dashboard lets the users manage all the bookings, packages, and reservation efficiently.
Listeo is compatible with Google Maps and several other map providers to provide an accurate location on the website.
Moreover, Listeo is also compatible with the WooCommerce plugin, and you can instantly convert your website into an online eCommerce store and use its 100+ payment gateways to receive payments.
That's not all, Listeo comes with powerful WP Bakery page builder that lets the users create or customize any sort of web pages as per their needs.
Let's have a look at some of the key features in detail;
User-friendly Dashboard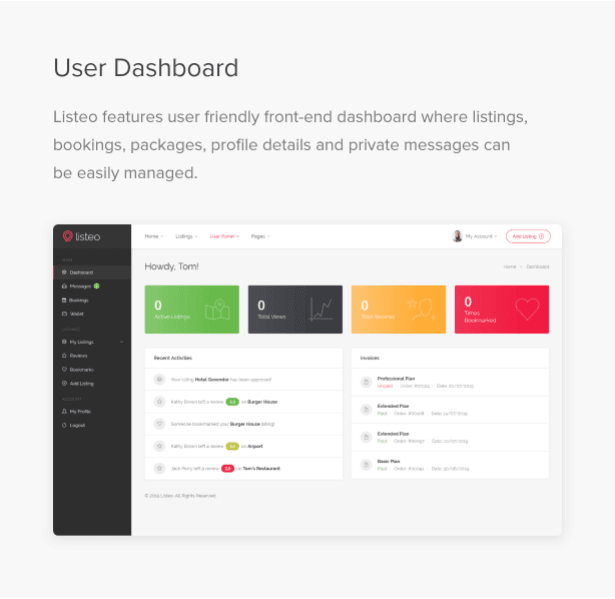 Listeo's theme has an easy to use front-end dashboard where users can easily manage their bookings, add listings, check reviews, and even create custom packages. It also gives users access to their profile details and private messages.
In-built advanced Booking system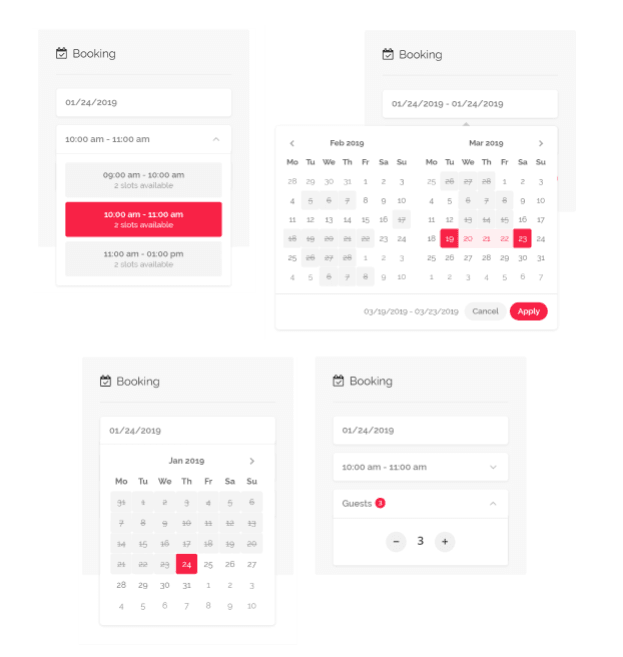 Listeo comes with an advanced booking system to manage online reservations and bookings. The integrated booking system comes with multiple powerful features and functionalities giving the users full control over how online reservations are made.
Here's a look at some of the core features of the listeo booking system to give you a basic idea of how it works.
Renting
Using the Renting feature, the webmaster can facilitate the users to choose their check-in and check-out dates, how many number of guests will be coming, and what services they plan to avail.
Once a user requests a booking, the host will need to accept the request after which the user may pay the renting fees directly from the website.
There's also option for the host to tweak/change calendar availability, set regular prices and special (custom) prices depending on holidays or weekend stays.
Services
Furthermore, the visitors can book services of any service provider on your portal along with specific dates, time, or specific hours. The listing manager has options to set the booking fees as well as the maximum number of guests per reservation.
Events
The webmaster here can add event listings straight on the website and also sell tickets to these event. There's a comprehensive system that will help you set a start and end date for the event, specify a ticket price, and also provide the number of available tickets.
Synchronize with Other Online Calendars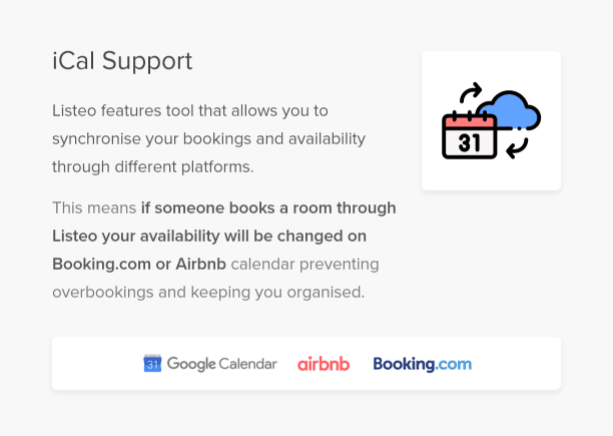 Listeo comes with iCal support which means it will synchronize the bookings and availability through different platforms. Current there is only support for Google Calendar, Airbnb, and Booking.com with more platforms likely to be added with future updates.
So if someone books a room through Listeo, the booking availability will get automatically updated in the above mentioned platforms. This will help prevent overbookings, and also help keep the users' schedule organized.
Compatible with multiple Map Providers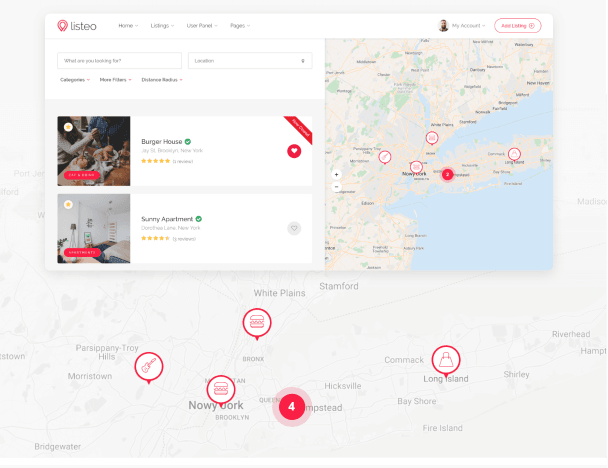 The cost of the Google Maps API can be a problem for small business that are just starting out.
Thankfully, Listeo provides free alternatives for the Google Map so you could give the exact location of your listing destination. The free alternatives of Google Maps are OpenStreetMap, MapBox, Bing Maps, Thunderforest, and many others. Also, using OpenStreetMap you get access to free address autocomplete feature, so you won't be missing Google API.
Moreover, you can customize the map settings and assign different icons to your listing destinations or enable any marker style without using specific icons.
WooCommerce integrated website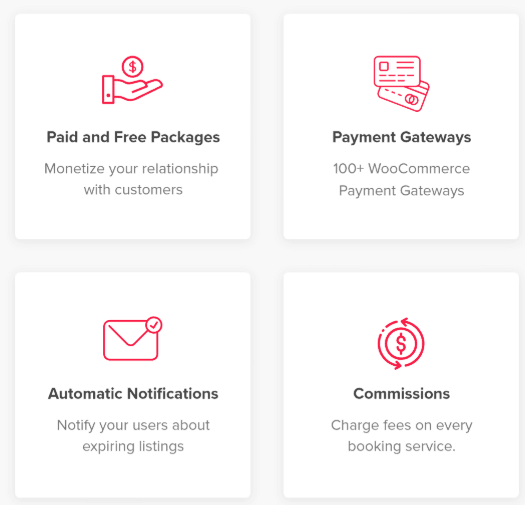 Listeo provides WooCommerce integration that enables conversion of the site into an eCommerce store where you can sell your services and receive payments from over 100 multiple payment gateways.
You can let users register their services on your web portal, and if they get bookings, you can charge a commission on each booking.
Suppose a user is renting out his apartment for $50, and you charge a 10% commission, then you'll receive $5 as commission, and the vendor will receive $45.
Manage payment in Wallet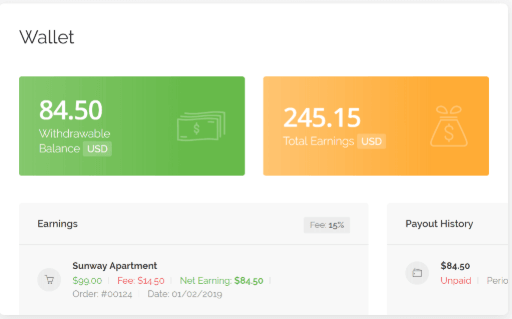 Each vendor will get a Wallet account where they can set their payment method. Moreover, they can also keep a record of their earnings through bookings, payouts history, and manage payments as per booking.
Smart private messaging service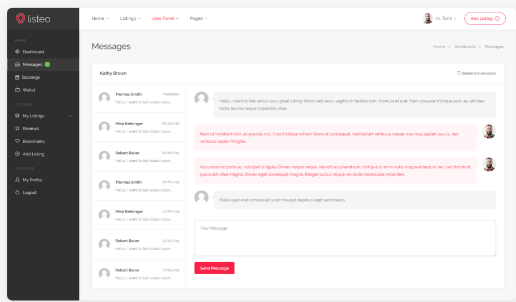 Listeo lets the user's and owners' interaction easy to go. Where the users can send direct messages to the owner and inquire about anything regarding their listings. In this way, the owners can keep a history of each user and offer them unique discounts or offers later on.
Manage Reviews by users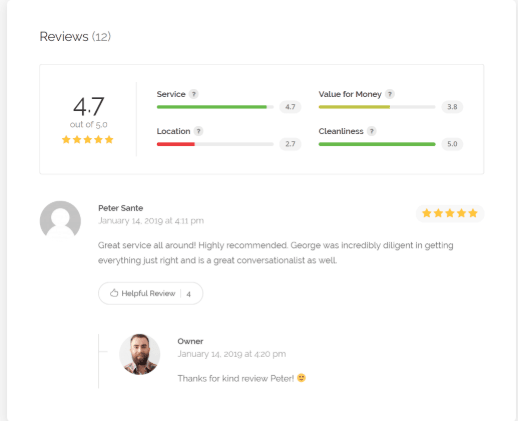 The users can add their reviews on listings by defined multi-criteria ratings. The users can edit all of the reports, and the same way the owners can reply to the reviews given by users.
You can easily configure Rating Criteria by users and add as many reviews as you want to.
Set-up automatic Email notification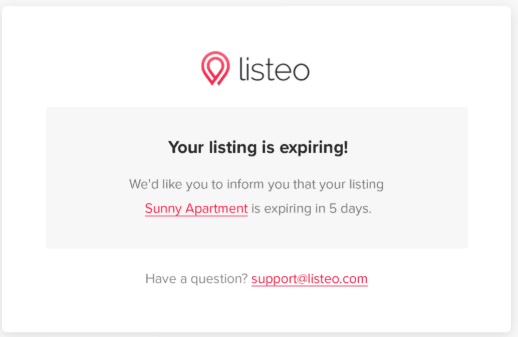 You can set up an automated email notification system about pending payments. The smart email notification system includes the following actions
Welcome email notification: when the user gets registered they will receive email notification
Listing publication: once the listing gets published the users will automatically receive a confirmation message
New Listing: when the listing gets submitted the confirmation email will be received
Expired listing: a reminder email notification when the expiring date is nearby. In the same way, many other automatic email notifications are also available.
User-friendly Search Form Editor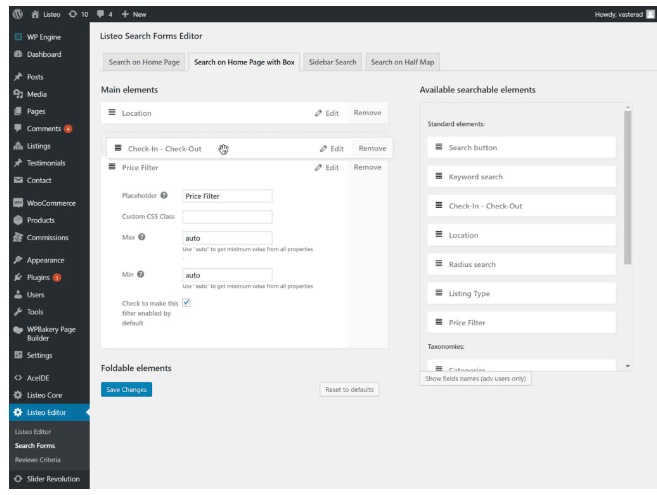 Listeo comes with a smart search form editor where you can easily add new search form fields, rename or rearrange any fields or customize any field as per your business requirements.
Message the vendors directly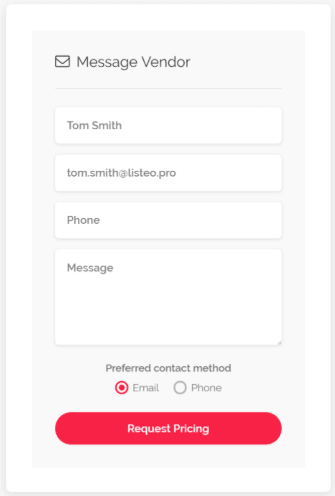 Another exciting feature of Listeo is that the visitors can directly contact the vendor and inquire about their listing that is handled by Contact form 7 plugin where the visitors can reach the vendors even without registering on the portal.
One-click Demo installer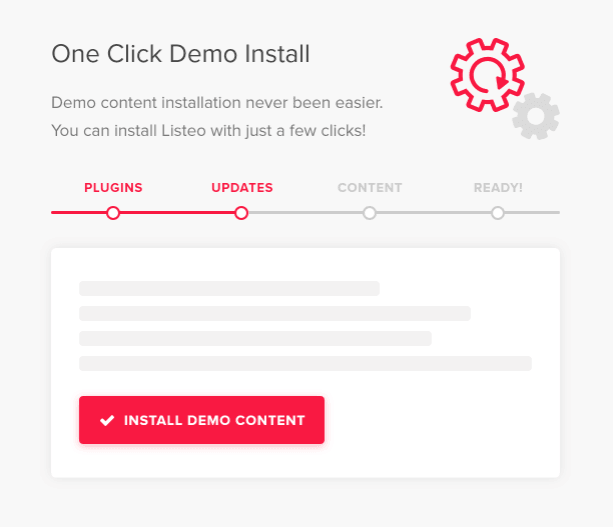 Listeo comes with a fantastic setup wizard where you can install all the essential features with a single click. Once you activate the setup wizard, it will automatically install all required plugins, import the content, and set up all the basic options.
WP Bakery page builder
Listeo is compatible with the WP Bakery page builder that lets you customize web pages as per your need. You can customize background, fonts, colors, and any other aspect with a simple drag'n drop option.
Listeo WordPress Theme Pros
Listeo offers multiple Map options and no need to buy any Google Map API.
There is iCal support which automatically synchronizes user nopokings with other platforms like Airbnb, Booking.com, and Google Calendar.
Built-in Revolution Slider plugin to give a parallax effect to your images and videos
More than six demo sites to create any style of listings website
An advanced messaging system where users and owners can directly contact each other
A sophisticated automatic notification system
Get search results with AJAX functionality
Keep your website content safe from malicious spam and bots with the Google Recaptcha feature.
Comes with Contact Form 7 plugin compatibility, which allows you to create any form for your website.
Woocommerce compatibility lets you start an online eCommerce store where you can sell products or provide services.
Built-in advanced Booking system where you can set up different payment and reservation options
A user-friendly Dashboard where you can easily manage your booking, reservations and user profile
WP Bakery Page Builder that lets you create any web pages as per your business needs
Over 2000+ Icons are available to style your web pages.
The users can add their reviews by using smart listing reviews.
Listeo WordPress theme Cons
You can only add a listing on homepage display and cannot add any promotional packages separately on the homepage
No option for live chat or support for vendors. The users and owners have to contact each other through messaging.
Listeo WordPress theme pricing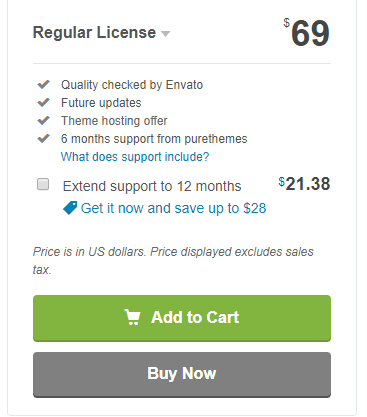 You can buy the Listeo theme for $69 with six months of support and all future updates. The support can be extended to 12 months at only $21.38.
Final verdict
Listeo is an exceptional WordPress theme with an average 5-star rating and 1529 sales just within a year, which is a considerable achievement. I have personally checked Listeo's customer services, and they are a really helpful and dedicated team of professionals with the fastest response and complete support.
More than just professional help, the theme is well equipped with all essential features needed to build an outstanding booking and listing website without employing any 3rd party plugins. So, you'll get a complete package of booking and listing websites rather than just a WordPress theme.