Creating an e-learning platform could be a hell of a task. Talk less of the grave and frustrating duty of beautifying and giving the platform its functionality. Plugins embed in them functionalities, enabling a website to display certain features that initially were not part of the website's display.
As concerns e-learning platforms, many premium plugins offer similar functionalities as that of the LifterLMS plugin like LearnDash and Sensei that one can use to achieve stunning decent feels of e-learning platforms. The major setback with using any of these other plugins in the price's weight can be unbearable. They also require hard coding, requiring lots of intellectual reasoning and taking up lots of time to achieve the required result.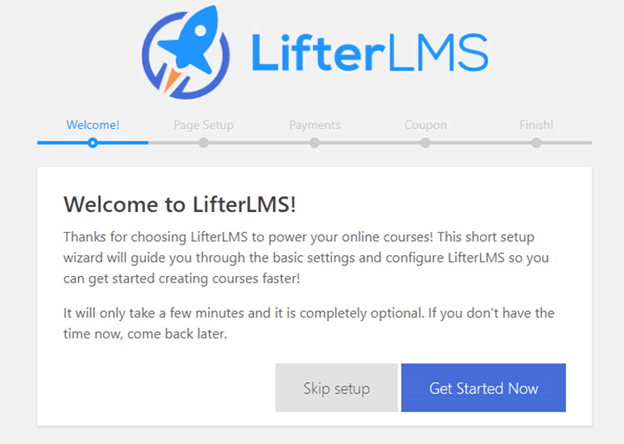 Nonetheless, they are useful and efficient plugins when it comes to e-learning platforms. But I'll go for the LifterLMS for excellent reasons.
Is it worth going for LifterLMS?
The LifterLMS allows you to host courses online with WordPress, deliver courses online and share learning materials with your students or visitors. It helps create an online student-to-teacher friendly learning environment for comfortable education. Its free version practically allows you to create an entirely free learning e-learning website which serves pretty nicely. It easily integrates with WooCommerce, allowing the user to purchase courses and products in the same transaction funnel. It already comes with an inbuilt membership level which saves you the time and money getting another plugin or hard coding to get that feature implemented.
It is mostly shortcode specific, giving the developer design freedom with minimal restriction when using page builders.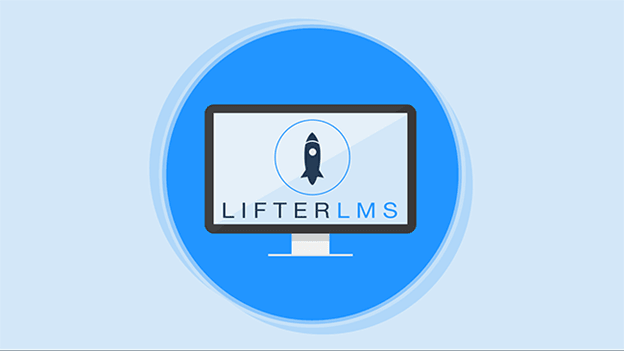 Features of the LifterLMS plugin
Some key features of the LifterLMS include multiple course creation, management of membership access, and collection of payments.
We can group the LifterLMS features into four main categories: the learning management system features, eCommerce, engagement, and membership features.
Learning Management Features
Since each course consists of multiple modules, the Learning Management Feature gives you access to deliver lessons online. You can add quizzes to test the learner's progress after each course module; create a question bank on your website where the learner can practice before taking the test. You can reuse questions from the question bank as a quiz question with stress.
Mark allocations for quizzes can easily be weighted as it pleases the course instructor, and quiz grading automated.
There is ease in attributing prerequisite materials to courses requiring prerequisites, automatically monitor course progression.
When preparing course materials, you can easily add audio and video files into the learning material; you can also make the course material downloadable.
Membership features
With the LifterLMS, there is no need to install a 3rd party plugin to manage membership. Using this one plugin, you can create multiple membership levels and decide which the user can access after fulfilling a specific condition. LifterLMS also keeps track of all user roles on your website; this includes teachers, teaching assistants, tutors, and students, making access to courses and their content lots easier.
You can also protect pages that are not part of the course and make them available only to clients with a particular membership level—using the membership feature, you can categorize course content for different membership levels.
User Engagement features
To keep students awake to studies, you can award badges, certifications and other honoraries for completing some aspects of the course, which adds the student's enthusiasm to give his/herself more to the course.
Using these features, you can send out emails on course progress or completions. One interesting thing is that user engagement features work on an automated basis.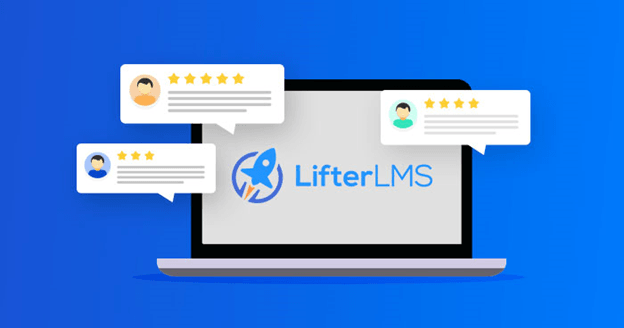 Ecommerce features
With the LifterLMS, you can monetize your courses to generate passive income for your website; create discount coupons to attract more interest in courses.
When setting a course price, you can set a regular price and a sale price for a time determined by you; you can also set trial periods and payments in installments for courses.
Putting these tools together in one plugin gives you one toolbox with everything needed to create and deliver courses online, sell and monetize course contents, and reduce reliance on multiple plugins to handle these features.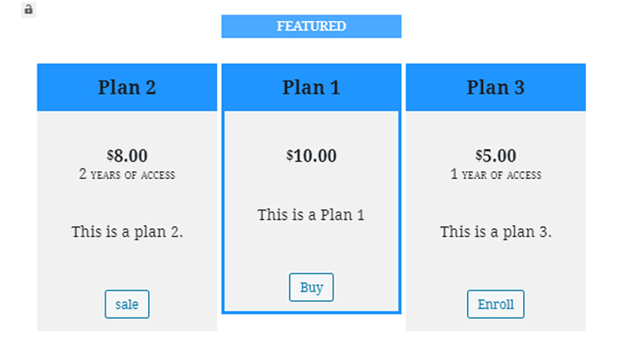 Reasons why LifterLMS is the core for your E-learning platform development needs
I understand that choosing a plugin for an e-learning platform development is a difficult task given there are many WordPress plugins to serve the same purpose, but the question remains, which is best and most reliable?
In a nutshell, LifterLMS is a complete e-learning system build in WordPress. It englobes every feature needed for the development of an e-learning platform.
After having discussed the features of LifterLMS above, it may sound like it's still like the other plugins. But we are going to look at the things that make LifterLMS unique.
Its speed-up Course Creation
LifterLMS has a clear, easy-to-understand interface, with a logical flow of step-by-step setup. LifterLMS Course Builder allows you to place and write out course modules in order.
LifterLMS comes with an in-built shopping card option and a native payment gateway that allows you to start selling your courses without the need for another e-commerce plugin.
Should you need to use e-commerce extensions, LifterLMS has a list of them waiting for you to choose one.
Drip content gives your students the ability to add courses one after another instead of the all in one go addition method; this gives your students time to think, making them keep visiting your courses more often.
Social Network Integration
Unlike WooCommerce, LifterLMS also comes with addons for integrating social network functionalities through BuddyPress and bbPress. BuddyPress creates student accounts to import to the platform system and bbPress, to create student-teacher communities for discussions.
Grade Management and Detailed Reporting
LifterLMS offers a student grade tracker to track course registration progress down to the student's progress in each course module. Students can see quiz results, feedbacks (peer reviews), comments, and pending tasks.
LifterLMS also provides student membership status and student report to download the data needed by the student.
Email and Message Personalization Options
LifterLMS provides the option to customize and personalize Messages and Emails for each student concerning their membership status and quiz and assignment updates; this keeps them engaged and glued to the platform.
Rock-Solid Documentation and Support
LifterLMS has well-elaborated documentation with screenshots, video tutorials covering every stratum of its use.
Teams also host online webinars and training sessions on using LifterLMS, and all these completely FREE.
Since no transaction runs on the LifterLMS plugin, transaction fees do not exist in the LIfterLMS plugin; this makes a clear cut of the LifterLMS with other plugins.
User Interface and Ease of Use
LifterLMS has a user-friendly interface; it allows you to test the reports regarding your enrollment, membership, quizzes; you don't get this option with other LMS plugins. It encompasses everything you need for your e-learning platform to be fully functional.
LifterLMS Pricing
The best news ever is the fact that the Core LifterLMS is FREE. The free plugin allows you to add courses, create basic quizzes, and much more, which is already more than enough to start up a free e-learning platform.
LifterLMS Premium features also come to you at a cheaper rate and in three folds:
Individual Add-Ons: $99
Universe Bundle: $299
Infinity Bundle $999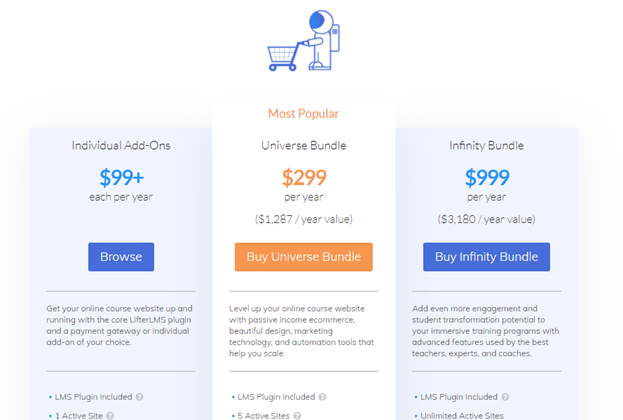 which is cheaper than other plugins of the same standing. It doesn't end there because LifterLMS is a unique plugin that allows you to pay only for plugins that are of use to you, other than another plugin where you ought to pay for the whole package before you can access any premium feature, isn't this incredible? If you wish to try the premium features first, a unique no risk money-back guarantee of 30-day is in place.
Frequently asked questions
LifterLMS has a free version called the Core LifterLMS which already has enough material to help you build an e-learning platform capable of serving al desired purposes well.
Which is the best WordPress LMS?
After thorough research and use of different cloud LMS plugins, LifterLMS has stood out to be one of the best options available amongst the multiple plugins with a user-friendly interface and easy website integration of its features.
Do I need to know coding to be able to use LifterLMS?
No. LifterLMS functions as a drag and drop page builder. It uses a logical flow for creating courses, adding modules and creating module contents.
Conclusion – should I go for the LifterLMS plugin?
LifterLMS is a powerful plugin standing out amongst its rival plugins, very easy to grip, offers straightforward course creation methods.
You can bet on the use of LifterLMS to monetize your knowledge, website and create paid online courses with an engaging audience. There is nothing to brainstorm about concerning your next e-learning platform plugin; its design is perfect with excellent finishing and reliable. It would be a dilemma not to recommend it.
LifterLMS is a premier plugin for course development that performs exceptionally well, delivering everything needed to build an excellent e-learning platform.