The Newspaper theme is one of the most significant WordPress themes designed by tagDiv, an Envato author. If you want to develop a content-rich news or magazine website or start a blog, you can utilize the Newspaper theme.
This theme is created to accommodate a significant volume of content needed for a news/magazine website. So, the Newspaper theme is a superb versatile WordPress theme.
The Newspaper theme can be used for any form of blog /website. For example, the Newspaper theme can construct a personal blog, review site, magazine site, etc. This theme includes many templates that you can load as per your demand.
It is one of the top WordPress themes for Blogs and is an ideal alternative for news, periodicals, publishing, or review websites.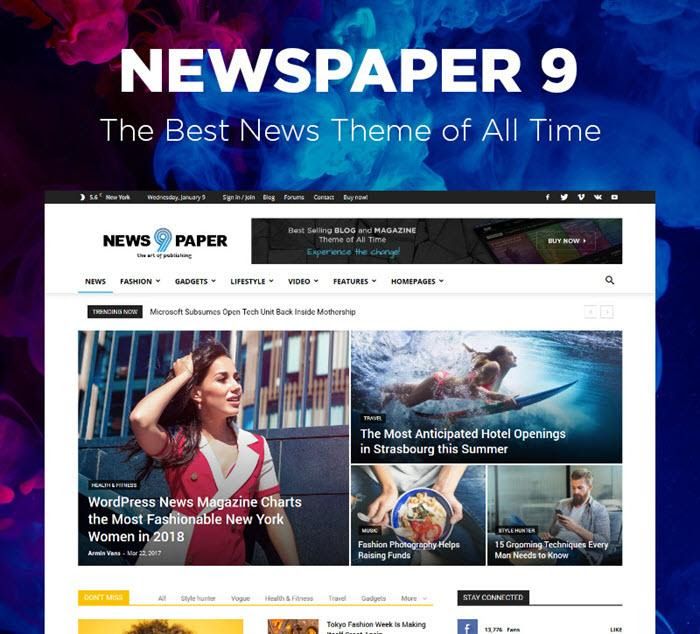 The following are some of the most notable characteristics of the Newspaper Theme:
Over 35 unique post templates that provide a comprehensive toolkit to write, show, broadcast, and publish are available in various styles.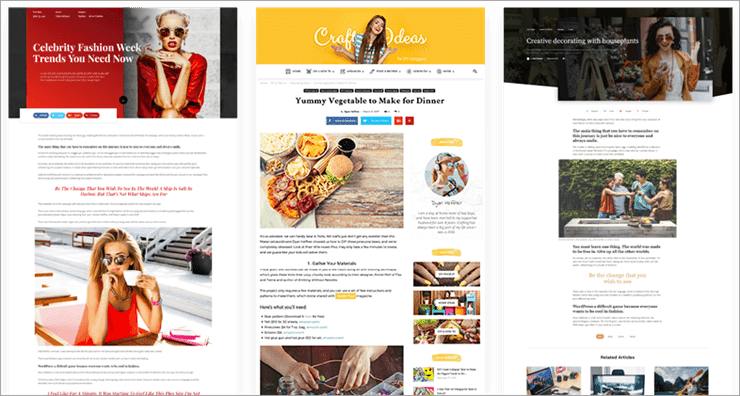 TagDiv Cloud Library contains a large number of category templates that are fully customizable and professionally designed.
Pre-built demo designs totaling more than 450 are available in the cloud library.
Various header styles have been specifically designed for branding.
Hundreds of pre-built pages can be created with a single click.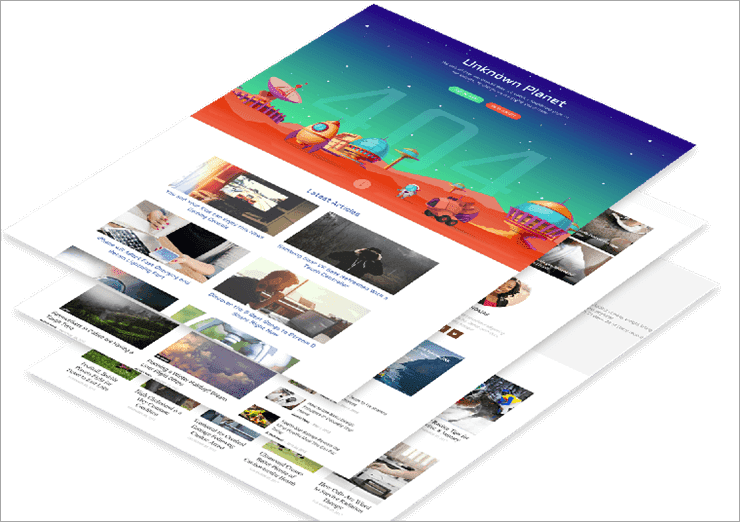 There are approximately 120 pre-designed blocks that eliminate the need for a web designer's assistance.
The front end is driven by the tagDiv Composer, which is a fully customizable page builder.
Large, eye-catching grids that draw visitors' attention to the actual content on your website at first glance.

Author page templates can be accessed with a single click.
Includes an entirely new mobile theme that automatically adjusts pages and content to fit mobile devices.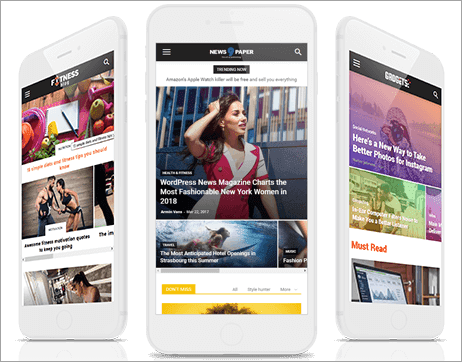 The Social Counter Widget is a flexible social network activity indicator that quickly becomes popular.
Weather Widget that is both attractive and functional.
Instagram Widget that can be placed in the website's footer or sidebar for easy access.
Widget for the International Exchange Market.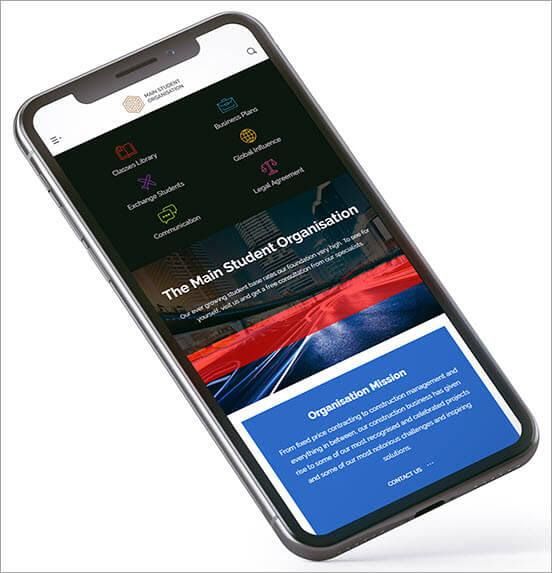 tagDiv is a custom gallery for displaying images in a collection.
The Popular Categories Widget allows website visitors to see the most popular categories displayed in a visually appealing manner.
A mobile menu that can be customized, as well as a user-friendly interface for registration and login.
Effect of a lightbox on an image.
The Author Box Widget displays a list of authors who have contributed to the site, sorted by the number of posts they have made or by their names.
Ad Box Widget is a widget that displays advertisements.
Video playlist with the ability to autoplay.
Support for video playlists with autoplay functionality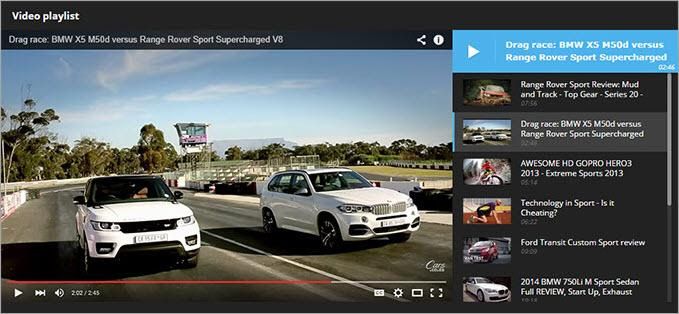 The news ticker, also known as the "Trending Now" block, helps display breaking news and attract visitors' attention.
There is a built-in translation panel that supports more than 90 languages.
Sticky menu for devices with small screens.
More than 60 single-click demos covering a wide range of topics such as cryptocurrency, sports, luxury, food, home décor, gaming, travel, technology, music, animals, architecture, and much more can be found in this collection.
All-in-one theme control panel that is easy to use.
Panel with a newspaper theme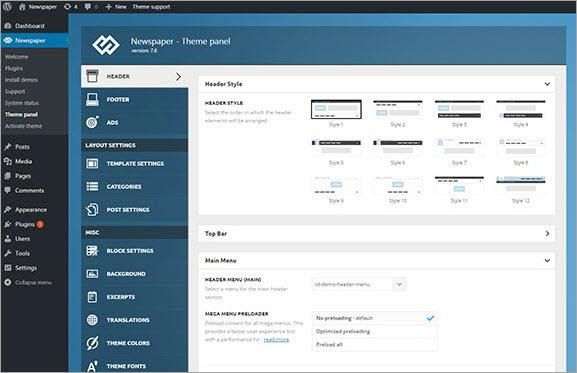 Adaptive sidebar that automatically shifts the column to accommodate any number of elements and widgets across any number of screen sizes
One of its smooth scrolling features, infinite loading for single posts, allows visitors to spend more time on your website, increasing the amount of time they spend there.
Combine and contrast elements to achieve eye-catching results.
Everything on the front end can be customized.
The newspaper theme provides the ideal balance between the various elements that appear on a page. In addition, it includes a frontend page builder, which is referred to as tagDiv Composer. This tool, which is lightweight and quick, allows you to edit your pages simply by dragging and dropping elements where you want them. For even greater convenience, you can create complex CSS customizations in a matter of seconds with only a few clicks.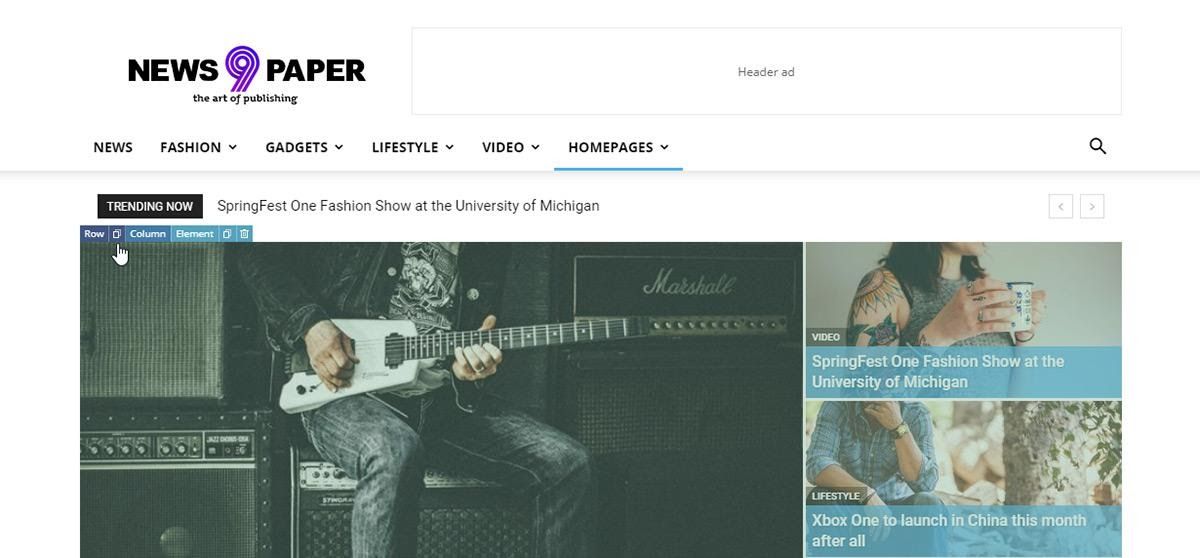 Making each element look good and arranging them is no longer difficult. It is not necessary to have any coding skills to realize your dream. With this powerful tool, you can create genuinely remarkable pages. The Newspaper WordPress Theme includes 22 multipurpose shortcodes that can create landing pages, presentations, and business websites, among other things. tagDiv Composer transforms your website into an infinite playground where you can experiment with different ideas while pushing your creativity to the limit.
Create layouts that are as close to a glove as possible to your content.
The most recent version of the Newspaper theme introduces an entirely new way to build your websites. Faster and more convenient! You can also create content quickly using elements designed by professionals, such as the frontend tagDiv Composer page builder and drag and drop functionality provided by the tagDiv developers.

The tagDiv Cloud Library contains over 810 elements, layouts, sections, headers, footers, and homepages, all of which are ready for you to use. First, select a single post, 404 page, author, category, fancy footer, or search page from the tagDiv servers, then import the ones you want from their servers. Of course, you must first register your theme license to gain access to this section.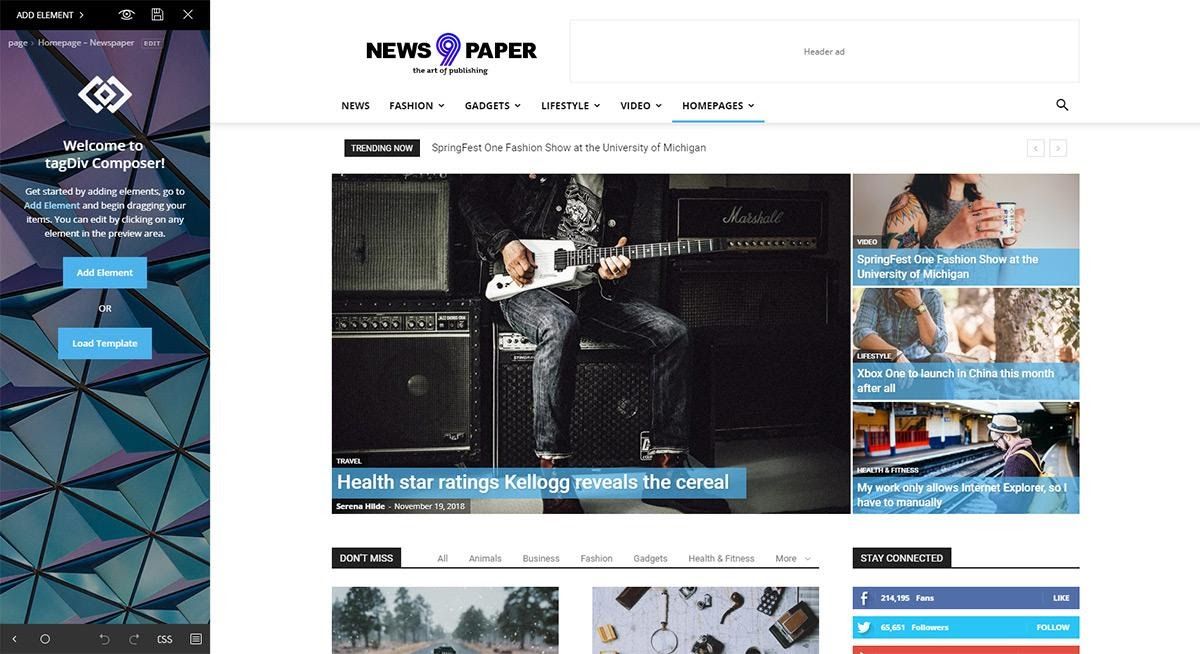 Customizing NEWSPAPER using TagDiv editor
The tagDiv Composer is the frontend page builder for Newspaper Theme. Each module and element has its settings that may be changed with a few mouse clicks. See its remarkable characteristics below.
The tagDiv Composer and WPBakery page builder should not be used together.
Please do not alter a page produced with another page builder with tagDiv Composer.
TagDiv Composer Basics
With our theme, you can utilize the tagDiv Composer to construct pages and update templates. In addition, this custom page builder features drag-and-drop capability for easy use.
This page builder allows you to style your pages using custom content blocks and grids. When modifying a page, click the "tagDiv Composer" button:

The theme enters frontend edit mode: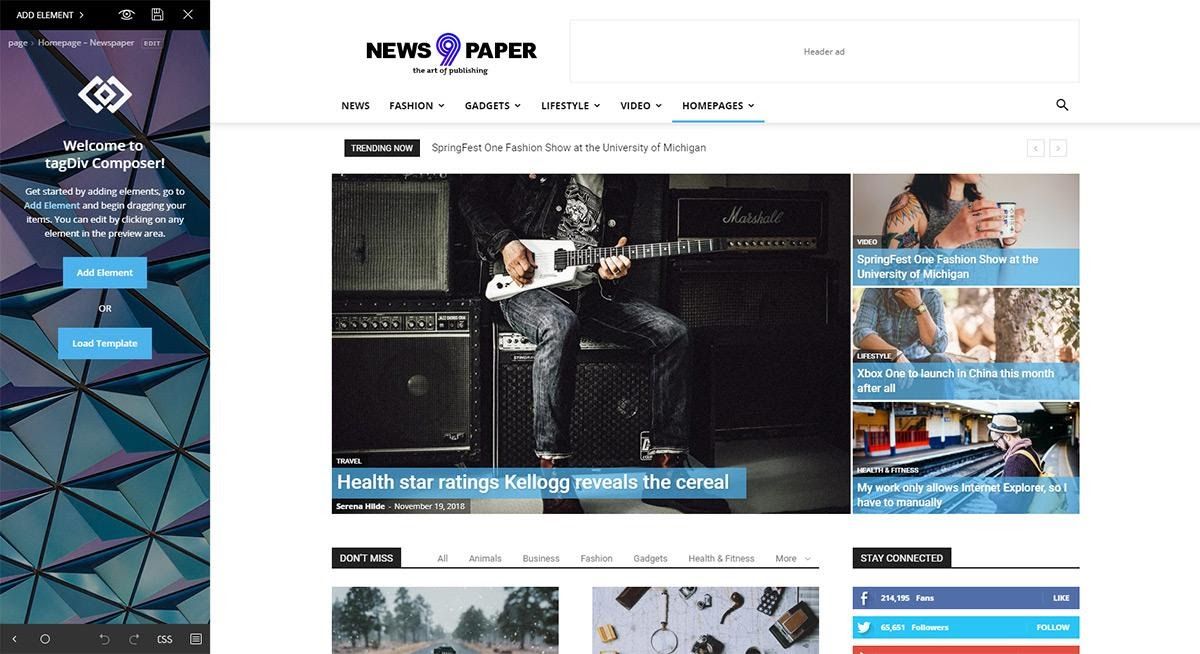 On the left is the frontend preview of your page and the tagDiv Composer. Its top control panel provides the following options: View Page, Save Changes, and Close.
The title of the page can be modified by clicking the edit button next to it.
D&D (Drag and drop)
First, the Add Element button. When you click the button, a list of all elements appears. Make your choice for the homepage.
Drag and drag these elements to create your desired layout. However, the Composer works with rows and columns. Drag the row icon into the page space to add a row. The first row appears by default.
When you click on the page row, a settings panel displays on the left. Non-row content or structural elements can also use this feature.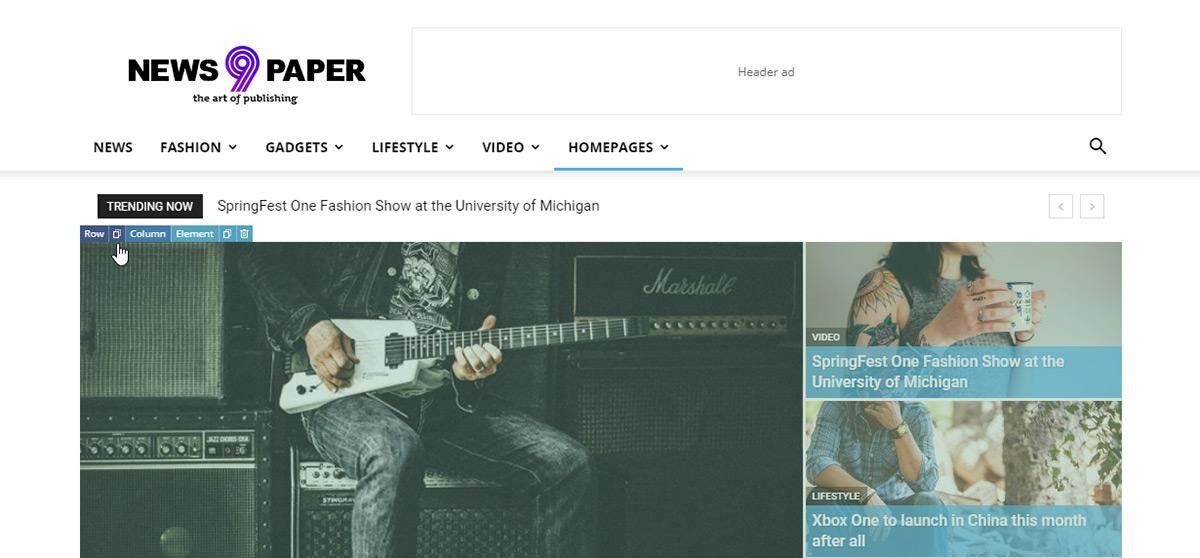 After dropping the element on the page, access the row settings in the top left corner: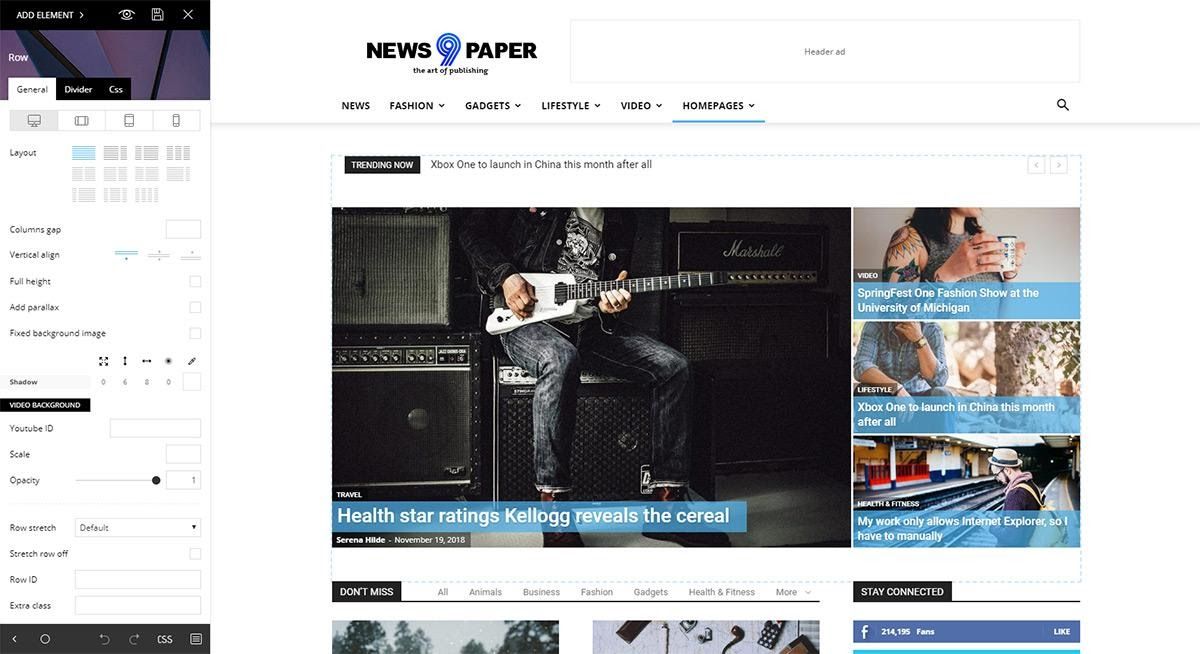 The row settings allow you to choose the number of columns and their styles. The row can be broken into 6 column layouts for creative page styling.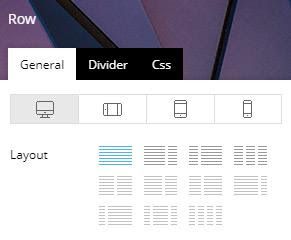 Row stretch is an option in the General row settings.
The General tab also provides viewport options, which let you customize the user interface. Set up distinct settings for each device.

The second tab under row settings lets you style dividers between rows. You can customize the dividers' width, height, colors, shadows, and more.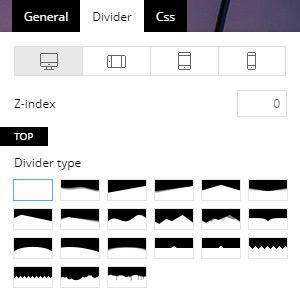 The CSS tab allows you to edit the row's margin, padding, and border. You may also set the background image, shadow, color overlay, and conceal a row for specific viewports. Use this to reveal or conceal elements on a device.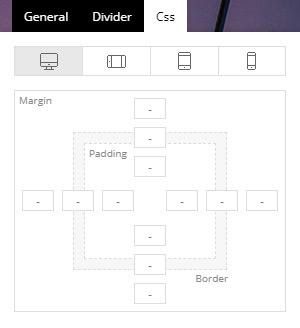 Delete parts
To delete a row or element, click the "Row" button in the top left. You can also select the row and press the delete key on your keyboard. The right-click menu also allows you to delete components.
An inner row can be used if you wish to design a more sophisticated row and column layout to control your content better.
Block components should be used to show material within rows.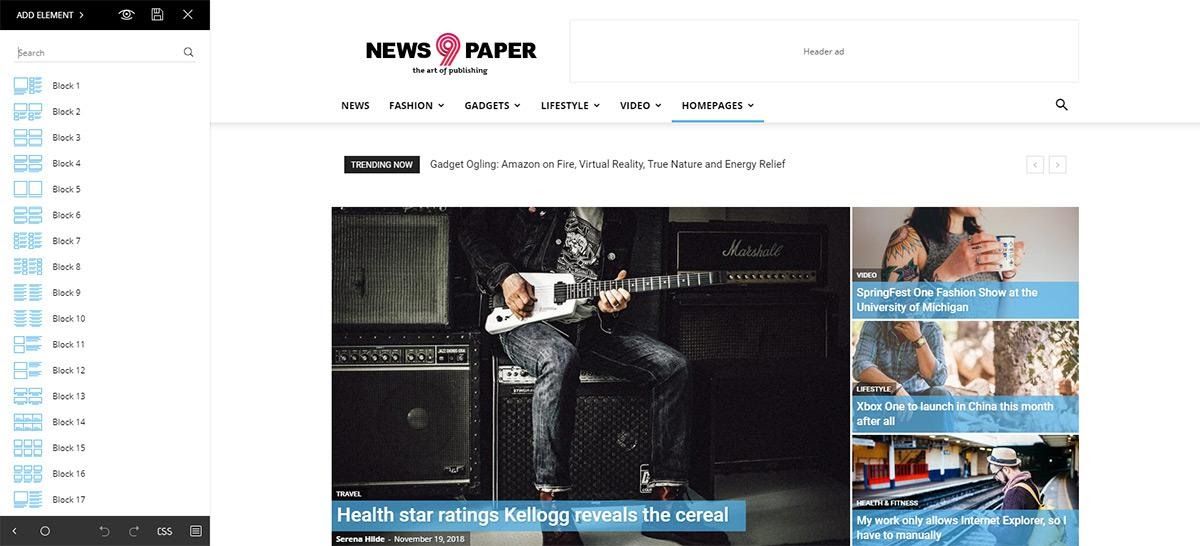 You may view the material rendered live after adding a block to a row/column; This allows you to consider what each setting does without having to refresh the page.
Delete an element like you would a row. Drag the element to the bottom right of the screen or tap the delete symbol on the block element's top right.
Necessary: Because shortcodes and adverts are not rendered in the Composer's live preview, you must save your page and view it on the frontend to see them.
Wide Content
Suppose you need to widen your material to give your website a more fashionable look. The stretch row option allows you to adjust the row width to make your content full width or a set width: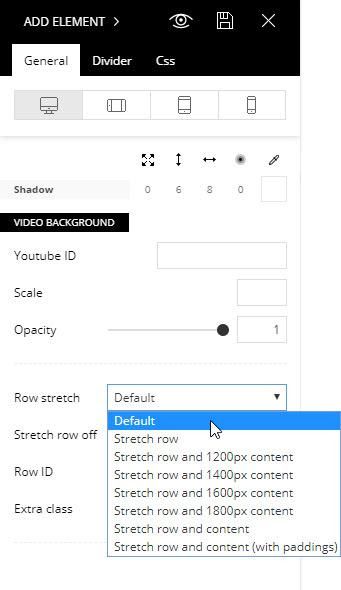 Sometimes you need to design a site that is only a company presents without several pages and articles. You only need one page to explain your company objectively and concisely. The multipurpose elements allow for creative styling of different content parts.
Homepage
WordPress sets the blog page as the main page by default, but most want personalized pages. It is necessary to:
Step 1: Add a new page (Pages -> Add New).
Step 2: Edit the frontend tagDiv Composer to set the page title. Add items and choose a page template.
Go to Settings -> Reading and make the new page your homepage.
LANDING PAGE
A landing page is a dedicated marketing web page. It's where a visitor "lands" after clicking on an ad on your site. For this purpose, the theme allows you to create a blank page without headers or footers. Instead, the page template area has a blank template.
The Newspaper WordPress theme is excellent for creating practically any form of news-related website powered by WordPress. Thanks to the freedom to personalize almost every aspect of the posts and pages, you can make the website of your dreams without having to worry about codebase or plugin-level conflicts. Furthermore, there are numerous ready-to-use demos available to help you create a stunning website quickly and easily if you are not experienced with using a page builder at this time. In addition, the cloud templates function allows for virtually infinite customization possibilities.