Every freelancer dreams of creating an appealing portfolio to win more business.
To pull it off, you need a multipurpose WordPress theme with all essential portfolio-building capabilities.
A robust portfolio WordPress theme needs to cover a lot of bases; rather than just showcasing your work, the text alongside each image, the font, and color scheme should present the right level of context without shifting people's attention away from your work.
The theme should come with versatile, customizable branding features rather than just including homepage with galleries to display your work.
Most of the time, we come across with different portfolio sites that are tailored with 'factory-made' portfolio designs, a few pages displaying the owner's pictures, their work, and a contact us page, and that's all.
Fortunately, Bifrost is the ideal portfolio theme that can help you in breaking the mold, and you can showcase your work in a way that stands out your brand from competitors. You can use its pre-built elements or customize them according to your unique brand's needs. The high-quality elements include header and footer designs, backgrounds, logos, and icons to create an attractive portfolio design.
Bifrost –simple Portfolio WordPress Theme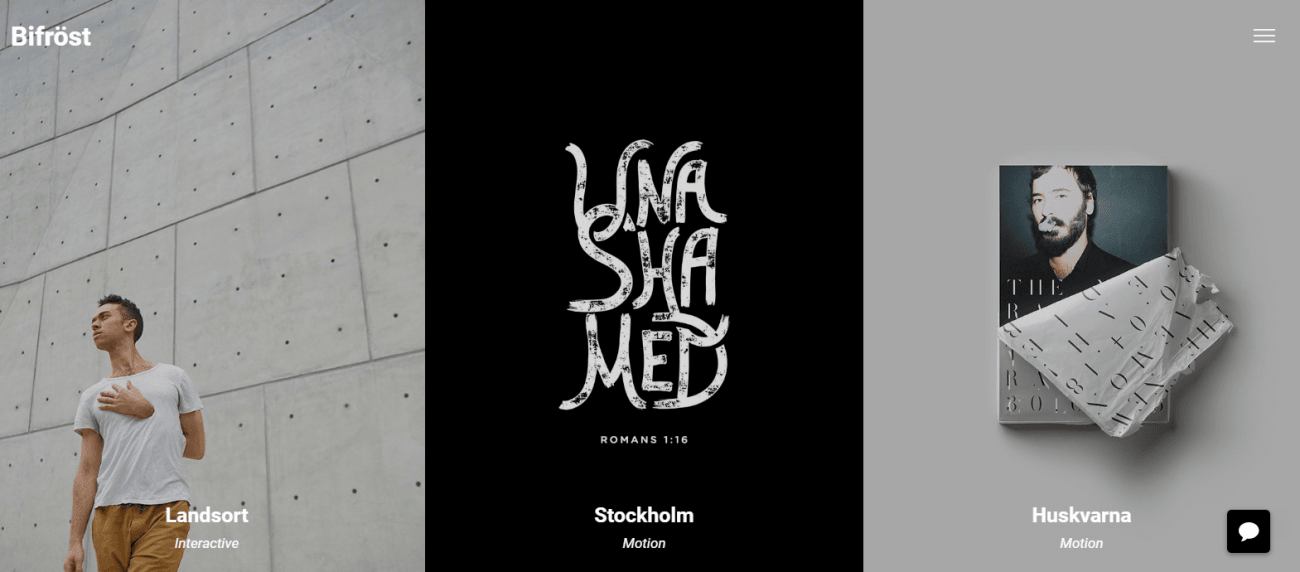 Bifrost is a well-crafted, modern theme with Scandinavian minimalistic features. The stunning plethora of portfolio styles offers much more than head-turning impressive layouts.
Bifrost would be 'just another theme' if it doesn't have an exclusive Elementor page builder plugin that offers more flexibility to recreate any section of your site rather than working on just specific sections. With this fundamental page builder tool, you can easily drag and drop any element on the front-end without getting on coding. Moreover, Elementor comes with a powerful header and footer builder with more than 30 options to choose from.
Bifrost offers an all-in-one solution to professionals, freelancers, custom shop-owners, designers, Agencies, and professional bloggers.
Bifrost WordPress theme key features
Bifrost is a multipurpose theme that comes with an incredible combination of user-friendliness and flexibility. The users can choose from a wide range of portfolio templates with enough customizable options to create a unique and appealing portfolio website.
The Elementor page builder enables the user to create unique portfolio with simple drag and drop option instantly.
Another handy tool is 'Slider Revolution,' which is one of the box slider plugins that display the content amazingly, and it comes for free of cost, thus saving you $26.
Moreover, Gutenberg editor compatibility provides comfort to write in blocks and save it timely.
Furthermore, Bifrost comes with multilingual compatibility, so your portfolio website becomes readable in many languages.
Let's discuss some of its exceptional features in detail;
Amazing portfolio demo templates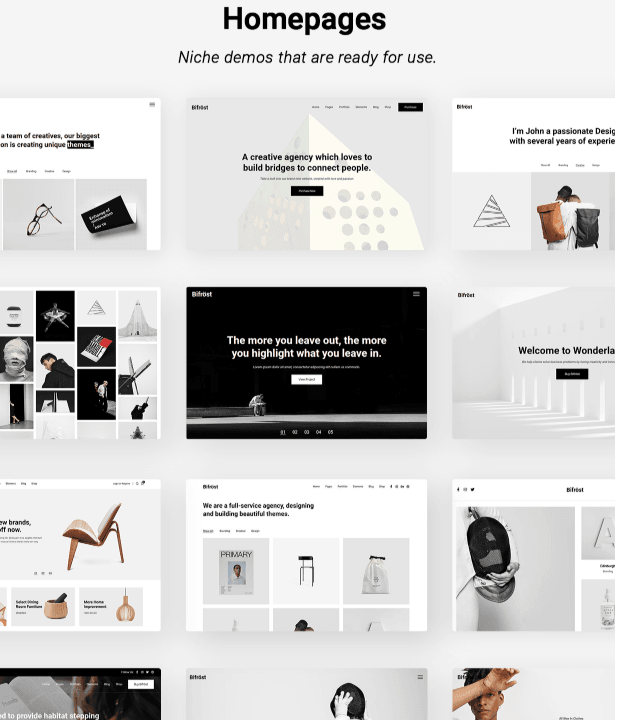 Bifrost comes with amazing portfolio templates for freelancers, agencies, designers, shops, studios, and many others with incredible layouts and customizable features. You can set up key structural elements like backgrounds, slider animation, sizing, positioning, logos, and designs as per your brand's compatibility.
Elementor the powerful page builder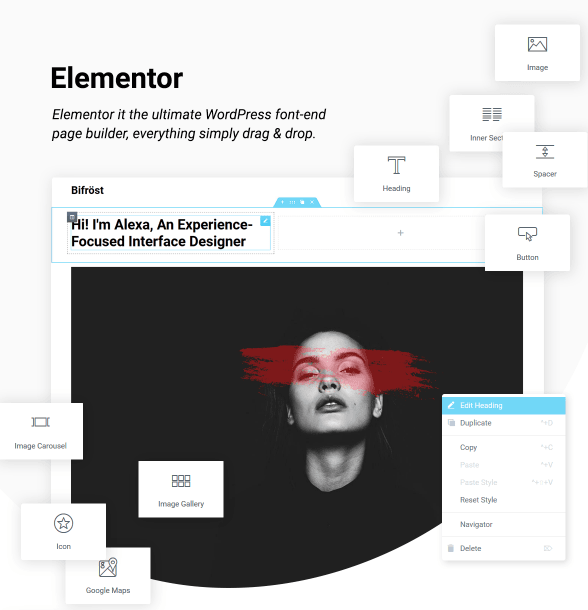 Elementor works as a front-end site editor, and you can watch a live preview of changes made by you. Moreover, its powerful drag'n drop tool lets you edit any section of your site conveniently.
Elementor is s live front-end editor that replaces the basic WordPress editor, so you could create designs visually, without swinging between editor and preview mode.
Elementor comes with 50+ elements some of them are as follows;
Portfolio widget: The pre-built portfolio widget is used to create amazing layouts of different portfolio pages.
Visual Editor: The visual editor help you visualize live changes made to your site or your content with flexible functionalities.
Template Library: the template library consists of different layouts for multiple webpages of your site. You can import any of the templates with a single click, and after that, you can also customize its features
Advanced Typography: Advancedtypography feature allows you to use crisp and beautiful fonts from Google fonts directory.
Grid Layout: you can easily modify any editing option like resizing, styling, or any other feature without any need for CSS.
Gutenberg compatibility
Bifrost is highly compatible with the Gutenberg editor, so you could quickly write in different blocks and format your content wisely.
Moreover, the Gutenberg editor is compatible with many other plugins and allows you to organize components of different editor options and display them
You can easily organize your content writing in different blocks to get a crisp and eye-catchy look ending up saving lots of time on editing the content.
Advanced slider support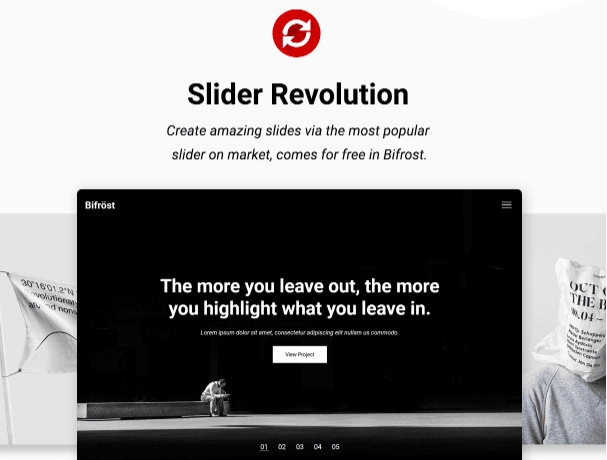 Bifrost comes with Slider Revolution plugin integration. That helps you displaying web content appealingly and innovatively. The Slider Revolution will let you view your content beautifully, no matter it is a slider, carousel, Hero image, or any video Scene. You can priorities images with the visual drag and drop editor to display your stories. The responsive WordPress slider plugin is available for free with the Bifrost theme, and you'll save $ 26.
Powerful Header and Footer Builder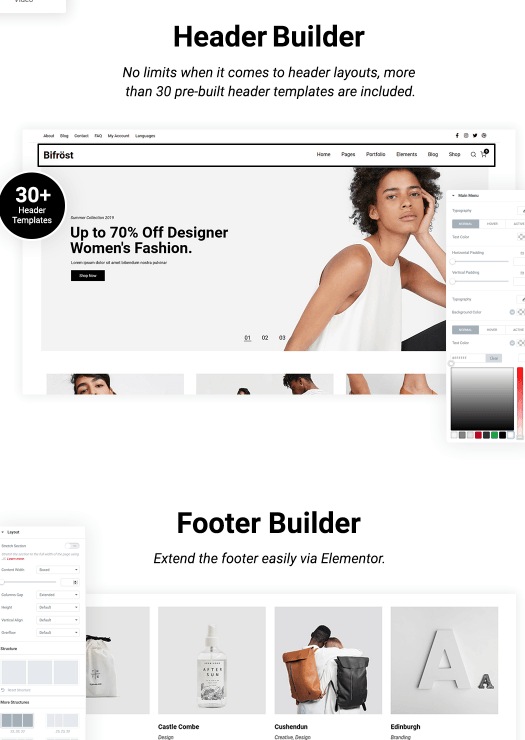 Elementor comes with 30+ powerful Header and Footer layouts to style your homepage. You can easily add any pre-designed Header style into your site with a powerful demo importer.
You can change the following elements of any Header layout.
Skin: the skin color of the Header can be changed, and if you choose any lighter color for the background, the elements will automatically switch to dark color.
Position: the header position is by default stands at static version, and if you change the position of elements, it will still stay onto it.
Transparency: this option of transparency is needed for many websites, and if you choose this option, then you'll have a fixed header once you scroll down.
Autohide: if you have chosen the sticky transparent header option, then you can also decide whether or not to hide the Header when scrolling down.
Container: The Header can be displayed in a beautiful 'container,' and it will stay inside the box once you start scrolling.
Moreover, some other options include; Enable/ Disable the visibility of;
Search bar
Top Header
Sliding Bar
Shopping cart
Footer options
You have multiple choices for the footer section, as well as the header styles. You can change the skin color of the footer or choose to display the footer in a container. Moreover, you can add widgets to each sidebar, or you can select widget columns.
Make your content readable with Multilingual support
Bifrost comes with multilingual support, so your web content could be translated into multiple languages. These plugins are Polylang, WPML, and Loco translating plugins.
Integrated WooCommerce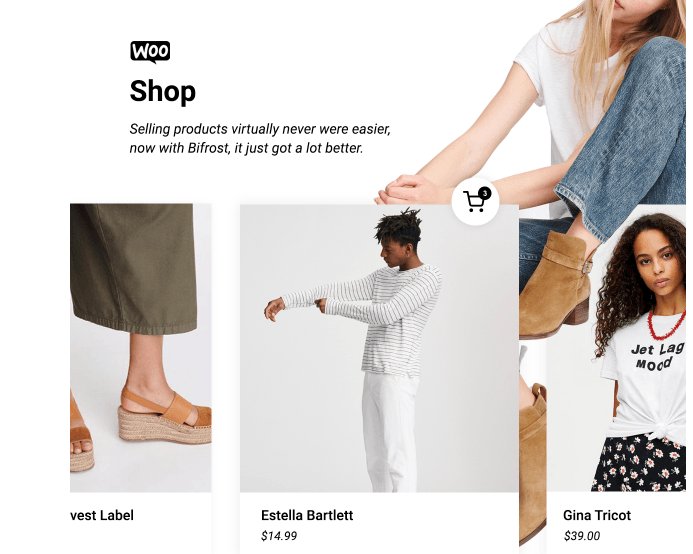 You can quickly start an eCommerce store with the Bifrost theme, which comes with WooCommerce integration. Bifrost lets you start an online eCommerce shop where you can sell, purchase digital products, manage inventory and shipping, and take secure payments from clients.
Create a Template Library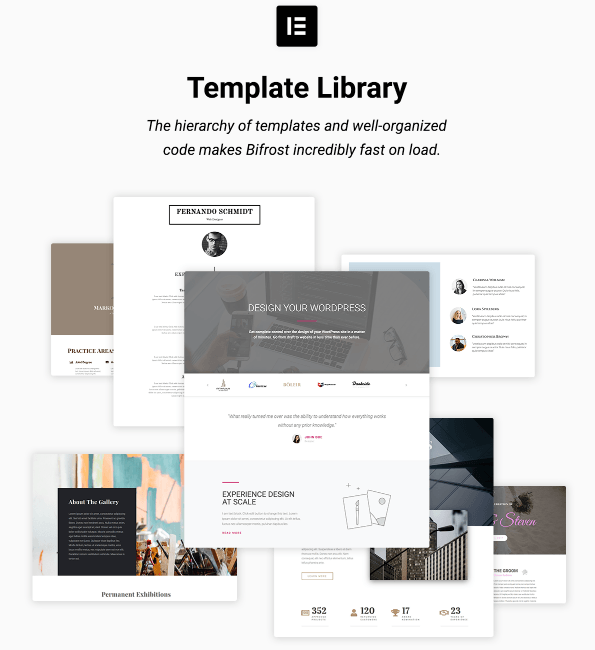 Another outstanding feature of Bifrost is that you can create a template library of your designed pages and save them for later use. In this way, you can speed up your workflow and export these templates on other websites to save your time.
Retina ready responsive layouts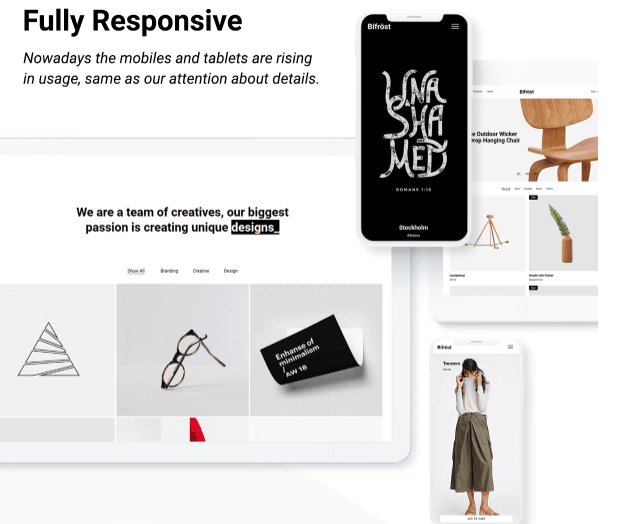 Bifrost's designs and elements are exclusively built for mobile screens and fit perfectly on all screen sizes. Therefore, your site looks great on any screen size.
Bifrost WordPress theme Pros
User-friendly interface with Elementor page builder. You can conveniently drag and drop any element.
With a live customizer panel of WordPress, you can visualize live changes and editing.
30+ header template options are available with the unlimited customizable facility.
You can save your page designs as templates and import or export them to other websites
Comes with full support for multilingual plugins like Polylang, WPML so your website could be translated into other languages
Bifrost theme comes with an innovative WordPress slider plugin for free so that you could display your content beautifully.
The one-click demo importer will let you import any element or page which you like to.
Bifrost comes with WooCommerce compatibility so you could sell any kind of stuff online.
The advanced typography feature lets you choose different fonts from more than 600 Google fonts.
Fully responsive layouts with a pixel-perfect display that fits on any screen.
Support is excellent to cope with any issues regarding theme installation or any other questions.
Bifrost WordPress theme Cons
Documentation is not as much detailed as it should be. You have to sort out things by yourself, or you can contact the support team for assistance.
Bifrost WordPress theme pricing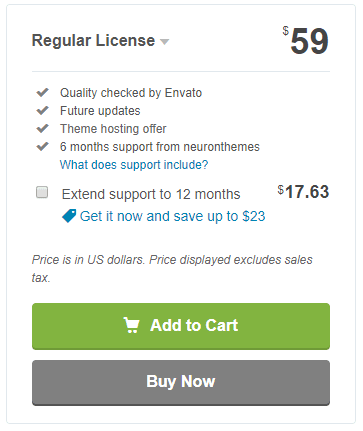 Bifrost can be purchased for $59 with all future updates and six months' support. This support can be extended to 12 months at only $17.63.
Wrapping up
If you are trying to create a portfolio website that stands out, then only presenting the portfolio is not essential, and the presentation of the whole site is also vital so you could offer your work outstandingly.
Bifrost will not only enhance your performance but also its stunning design and head-turning plethora of portfolio styles will be ideal for creating a professional-looking dazzling website.