Every entrepreneur strives to great lengths to get a paperless office, which is absolutely not possible without a powerful file manager that could manage files conveniently for Joomla.
Now, you can easily create files and files categories and add them directly into your content conveniently with a drag'n drop option with Dropfiles extension for Joomla.
Apart from that, Dropfiles is a rich-feature tool that is packed with enormous functionalities to manage files and documents on your Joomla sites.
If that's not enough, the Dropfiles is a file management extension that comes with Google Drive and Dropbox integration that allows its user a flexible file management system by providing two- way synchronisation for your files.
Moreover, Dropfiles AJAX interface is a time-saving feature that allows its users to manage multiple files and categories within no time.
Dropfiles File download Manager for Joomla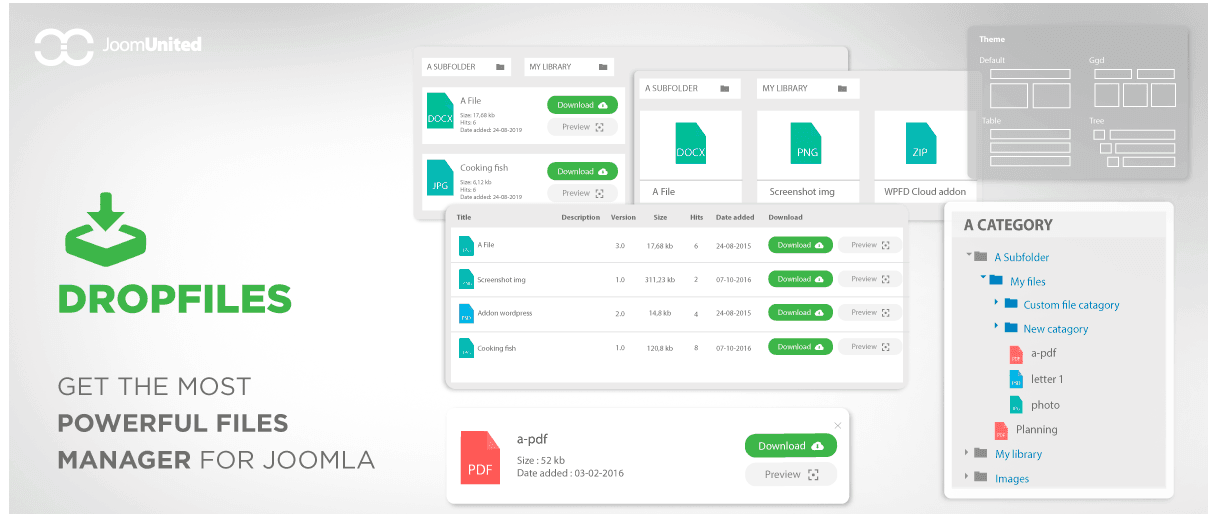 Dropfiles is a powerful file download manager for Joomla with a user-friendly intuitive interface. This rich-featured extension can be used to create an online file management area for different businesses where you can restrict access to individual staff members as well.
Apart from this, the users can create libraries and files to show in their articles as well as Google Drive integration enables the user getting the files from Google Drive and manage them directly on the site.
Another incredible feature of Dropfiles manages is that you can assign differentiated access rights to each user where they can access to their files only.
Along with all of these exclusive features, there are some other remarkable features as well to manage the files.
One-click ordering
Four responsive themes
Advanced search and filtering
Download statistics
File backup and file restriction options
Works best in all editors
Both frontend and backend control
Two-way synchronisation with Google Drive and Dropbox integration
Here is a quick video demo of how Drop files file Manager Works.
Dropfiles file Manager Key Features
Dropfiles is an easy way to manage files, categories and file options directly from the text editor, without any need to in the component. Now you can easily upload and display files in 3 clicks which will automatically open on the editor button.
Moreover, you can apply four different types of themes in each category and set the category level by using a simple drag'n drop option. Likewise, you can import any file from other components or server folder and choose to show or restrict file display as per user.
As well as, you can download and upload files from the mobile phones with its exclusive mobile interface support.
Let's discuss some of the distinguishing features in details.
Four flexible themes per category
Dropfiles comes with four elite themes options for your files and categories. These themes present your files in an exquisite way to your users. These four themes are
Standard file listings
Google Drive like
Table
Accordion file Tree
Moreover, you can apply whichever color you like to display with the color picker tool and also can display or hide file info.
Super-sleek File management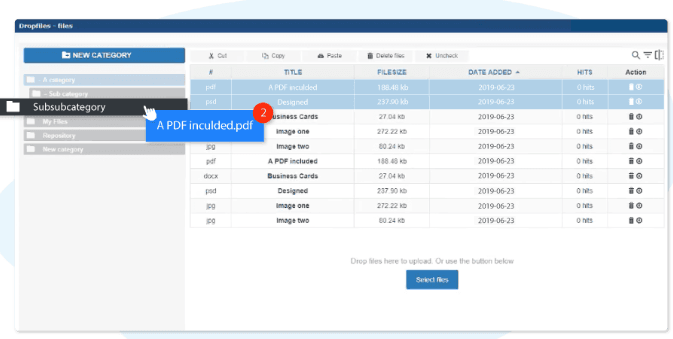 Managing files are as easy as you do on your desktop file browser with Dropfiles where you can quickly change the order of files, level of file categories or move the files up or down with easy drag'n drop option and AJAX support.
A powerful search engine with advanced functionalities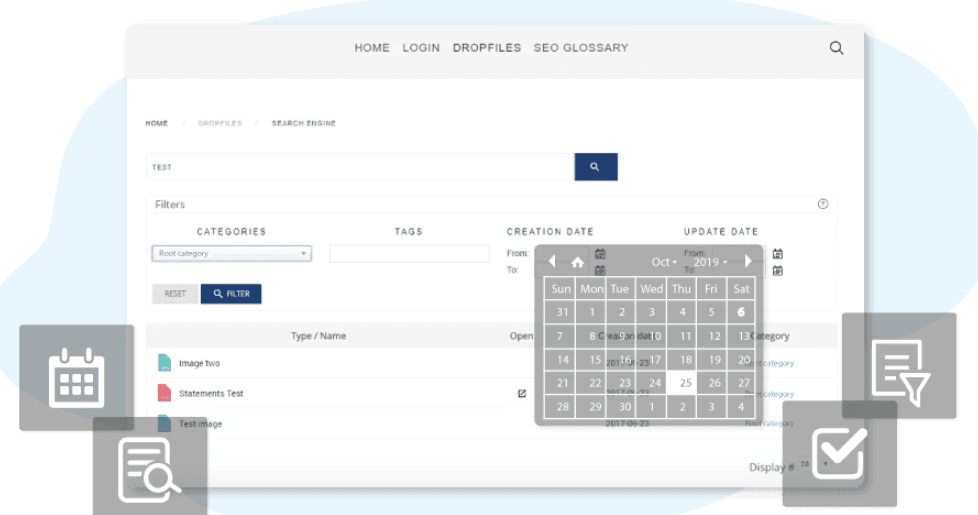 A robust search engine is much needed when managing a massive amount of files. The unique file searching tool enables the users to search through the menu or module where they can choose custom view by selecting filter by categories or tags, dates, date range of file upload or file update. With Dropfiles, you can create multiple custom search engine filters like
Set full-text search in documents where all the new documents uploaded are auto-indexed.
Create a category of files filtering
Show or hide search filters
All the searches can be done with AJAX
Google drive search option
Smart file access control via native ACL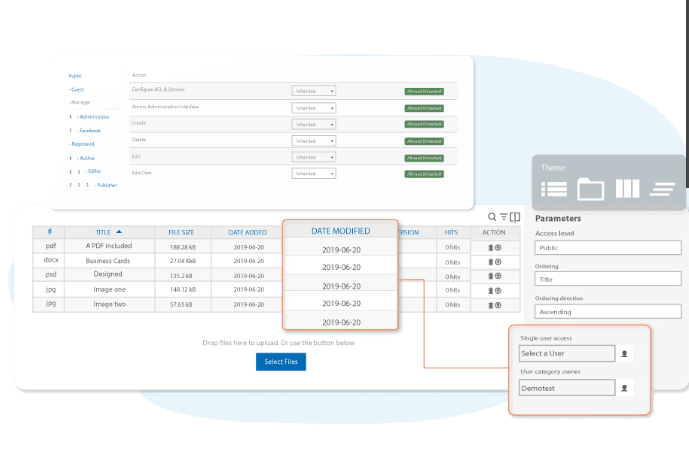 Now setting file access control for each user is no more a difficult task where the Dropfiles has used Joomla native ACL smartly to manage files. You can easily manage file visibility with a single click either from the category or from the file and set the file management rules by defining actions like who can delete, edit, update or download the file. Moreover, you can allow or restrict access to any file or file category to individual users.
Comfortable Frontend File Management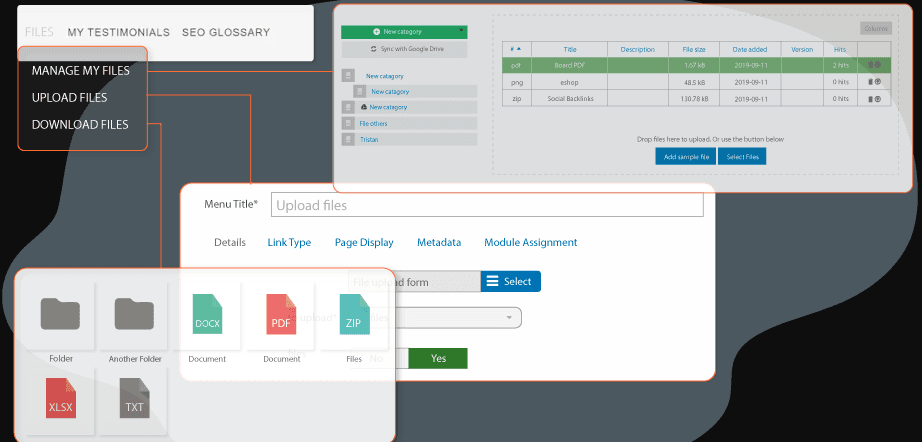 Dropfiles comes with fanatical frontend file management where you can manage files from frontend as per user's access and add an upload form. Apart from this, you can use a frontend dedicated template for file management conveniently.
Import files faster than ever with file importer
The smart file importer tool lets you import any file more quickly from your server through FTP. To import any file select a file category first on the left then select the file which you want to import from the right and click import and you are done with your files.
File importer tool for Docman, jDownloads, Edocman, Phoca Download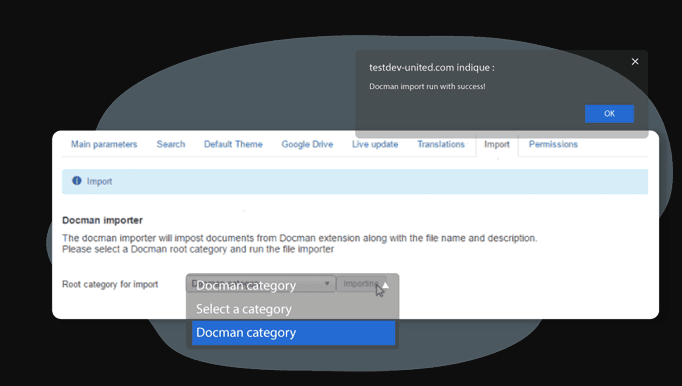 Dropfiles has another amazing, dedicated importer tool for Docman extension and other Joomla extensions like jDownloads, Edocman, Phoca Download that can automatically import files from these extensions.
One-click update/ replace or backup any file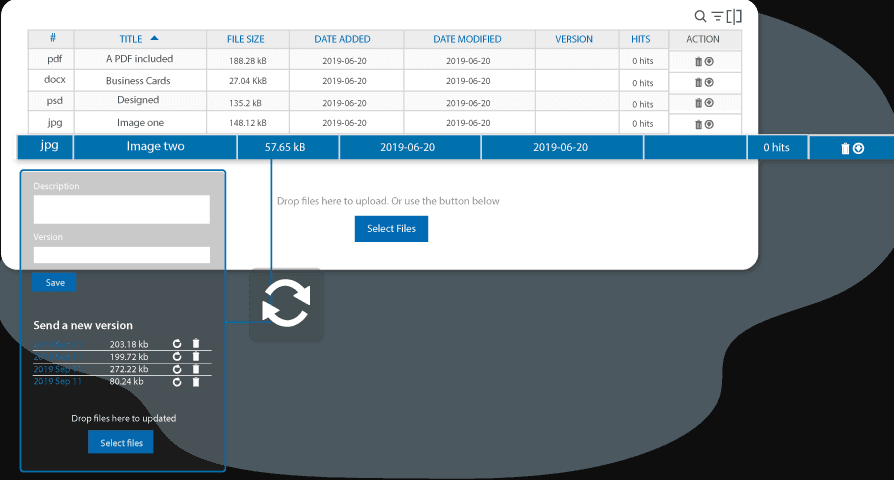 Update or replace your existing files with a single click and keep the backup of the previous file as well of the old version. Alongside Dropfiles allow uploading one file and adding it in several other categories as well.
Create and view download statistical from Joomla admin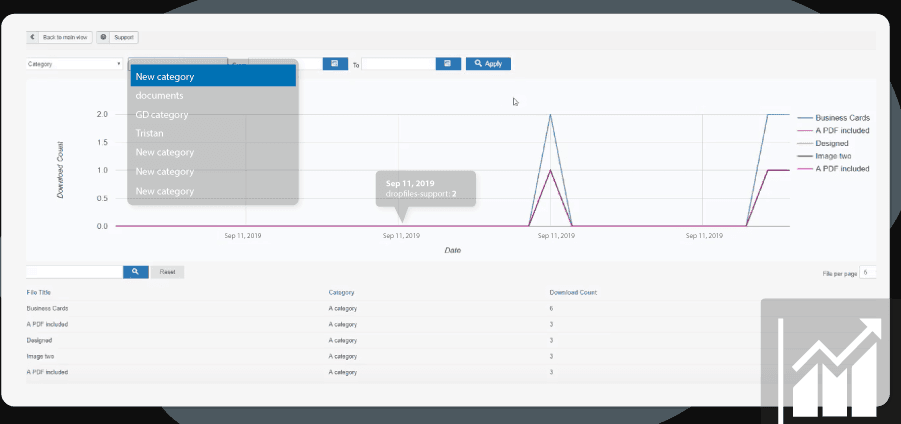 A detailed download statistics dashboard can be seen from the Joomla admin. Now you can create graph and details by using filters like file categories, single file selection and date range of the downloads.
Email notifications as per action on files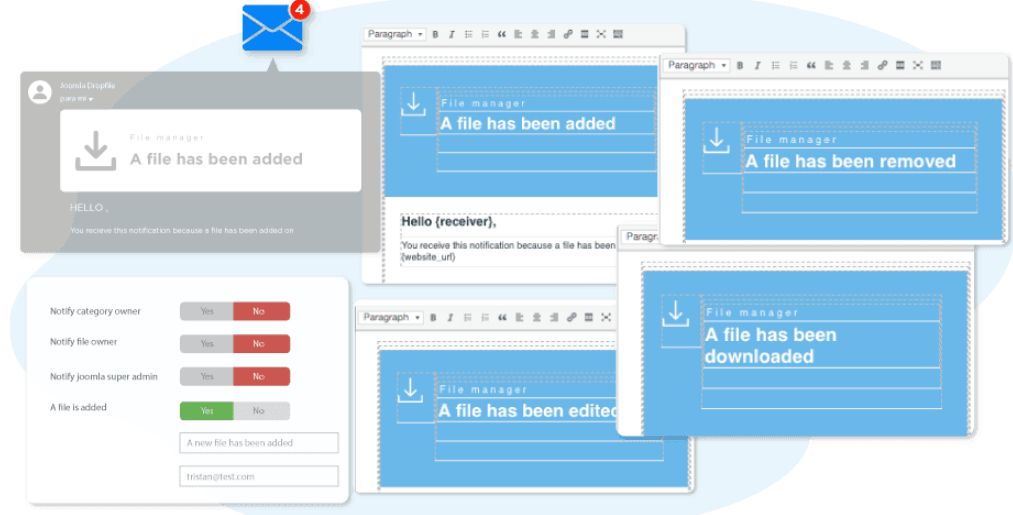 An advanced email notification system comes with Dropfiles where the file owner, or file category owner or Joomla admin will receive an email notification regarding actions on files.
You can activate email notifications for the following tasks
New file upload
File edition
File removal
File information addition
File downloaded
Two-way synchronisation with Google Drive, Dropbox and OneDrive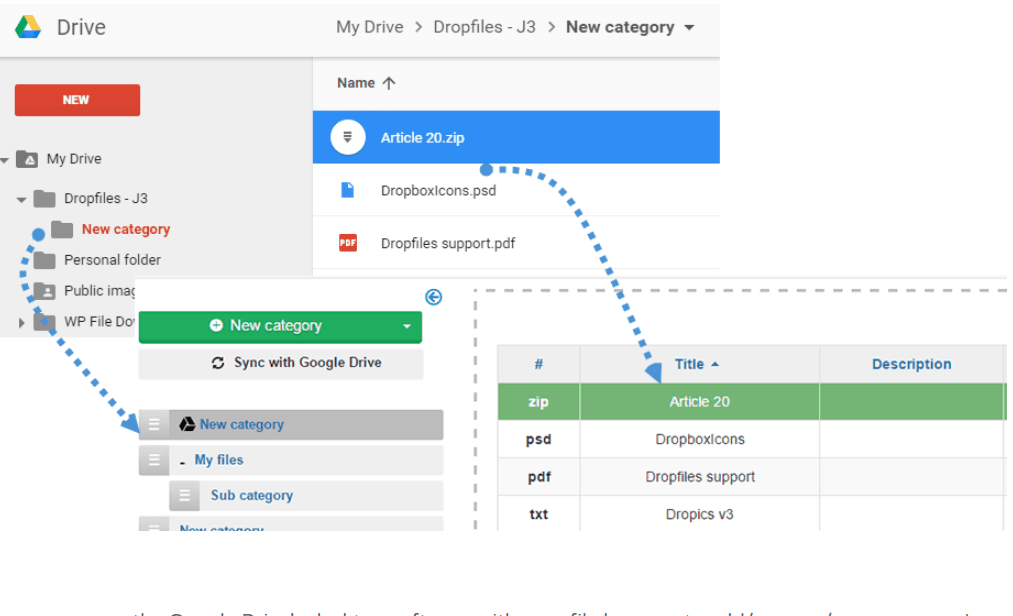 Dropfiles lets two-way sync with Google Drive, Dropbox and OneDrive and the user can manage files from Google drive to Joomla site or from Joomla site to Google, Dropbox or OneDrive. Furthermore, Dropfiles allows full Dropbox, Google Drive, and OneDrive integration also.
Dropfiles File Manager Pros
Manage vast numbers of files easily with AJAX interface.
Manage all of the files and categories right from the text editor without using components
Four themes options are available which can be applied separately on each category
File importer tool allows the users to import files from the server folders
Order files and categories with drag'n drop option
Allow the user to restrict or show files to specified Joomla users
Transfer files from one category to other without using copy/paste/cut with the drag'n drop option
Smart order tool lets the users to order files by types/ titles/description/ file size/ date.
Preview files with AJAX filtering in the file listing
Send email notification to the admin or file users on specified actions like file upload, file modification or on file download
Mobile compatibility allows the users to upload or download any file right from their mobiles
Download files from the server folders by using file importer tool
The file importer tool comes with integration Edocman, jDownloads, Phoca
Manage files while using the frontend file management system.
Filter the files by defining categories, tags and dates.
Two-way synchronisation with Google Drive, OneDrive and Dropbox integration
The users can download bulk files or a file category with just a click, or you can provide them with an option to download complete file category with a single click by providing them with a single click option.
If a new version of the file is created, then the old version will be stored in the file history automatically so you could restore it again in future if needed.
Dropfiles File Manager Cons
Solid documentation is available covering each topic fairly well. However, the vocabulary is a bit difficult at some places and users may get frustrated.
You cannot access any subfolder on the shared Google
Lack of thumbnails on image files is another drawback.
Dropfiles pricing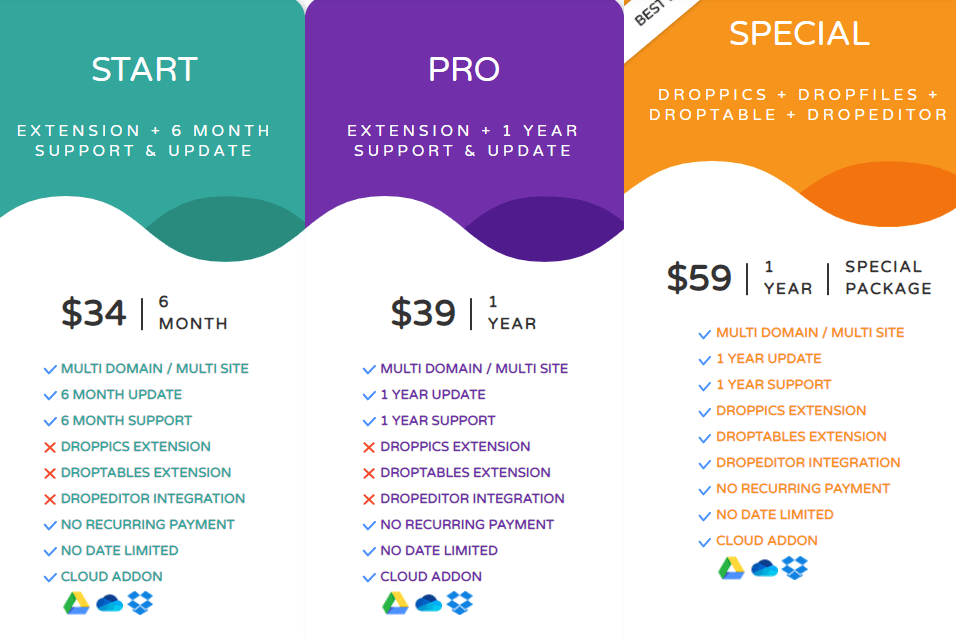 The regular license pricing starts at $34 with a six-month update and support. The best deal comes with $59 with one year support and update and many other unique features like droppics, Dropfiles and dropeditor.
Final verdict
Dropfiles is a highly recommended extension for Joomla users because of its outstanding file management system which handles integrated files incredibly. If you are looking out to get the best value of your money, then try out Dropfiles for its easy to use file management system and flawless support.