If you are looking out to display your web images stunningly with a more organized and professional look, then you must try out some Joomla gallery extensions.
But before locking on best photo gallery extension, you should consider essential features such as image margin, border, and drag'n drop functionality, animation speed and user-friendly gallery features.
Droppics is an excellent addition in Joomla image Manager and Photo Gallery extensions. Droppics comes with some incredibly cool features that can turn your simple web images into a stunning photo gallery with lightboxes, slideshows and animation effects.
Let's dive in to get more knowledge.
Droppics – Joomla Image Manager & Photo Gallery Extension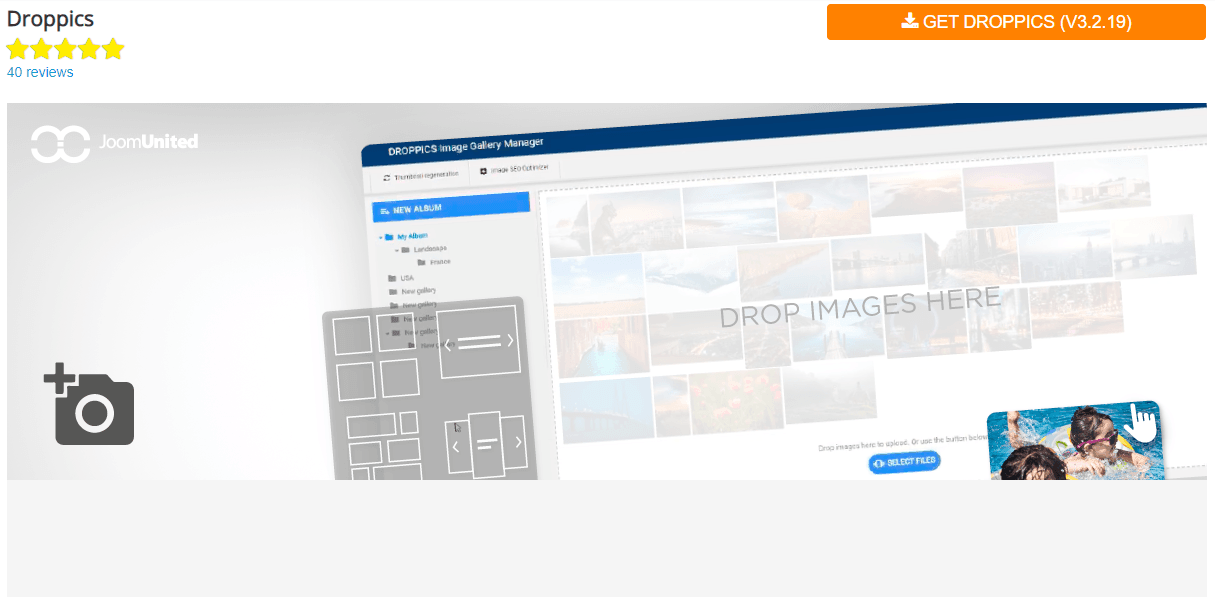 Droppics is a simple and easy to use gallery component, where the users can use drag'n drop feature to create a photo gallery. Droppics works best with both frontend and backend. Moreover, Droppics comes with six stunning themes that are applicable with a single click.
Droppics Joomla image manager Key Features
Droppics offers a complete solution to your image gallery management and allows its user to manage all the images from the text editor or directly from the component. The SEO image manager helps Google find out the images and make the images visible in multiple search engines. You can easily create any numbers of image galleries and navigation is supported by AJAX.
That's not all, Droppics allows its user to quickly cut/copy/ paste any image from different galleries or you can simply drag the image and place it anywhere in other galleries with drag'n drop feature.
Furthermore, you can control and adjust every dimension of images, the width sizes and borders with one click.
Manage Joomla images right from the content

Now, you can easily manage your images directly from the component or any text editor without any obscurity. The photos are manageable both from frontend and backend. Also, a dedicated importer lets you import any image from Joomla or any existing media in the Droppics.
Dazzling themes for galleries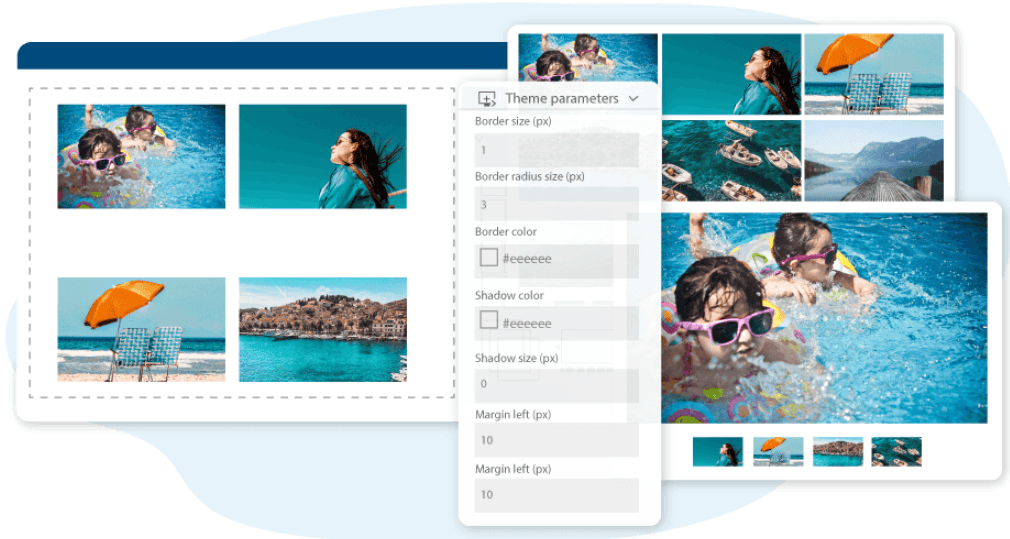 Droppics comes with six stunning themes for galleries. The themes are easily applicable with a single click; moreover, you can easily adjust the design of each image, image border, image margins, image shadow, and image caption. That's not all; you can also SEO optimize each image by editing file name, title and alt information.
Create galleries and sub-galleries with drag'n drop option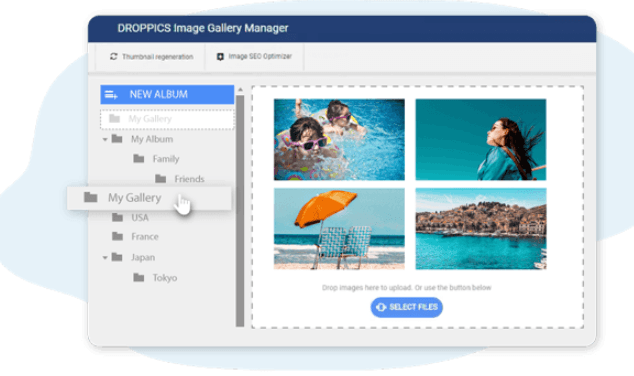 Droppics allows its user to create Multi-level galleries and sub-galleries by using drag'n drop option.
The users can easily use frontend gallery navigation which is also AJAX supported without reloading the entire page. Rearrange galleries, sub-galleries, videos and images with a single click.
Edit images size and create a custom size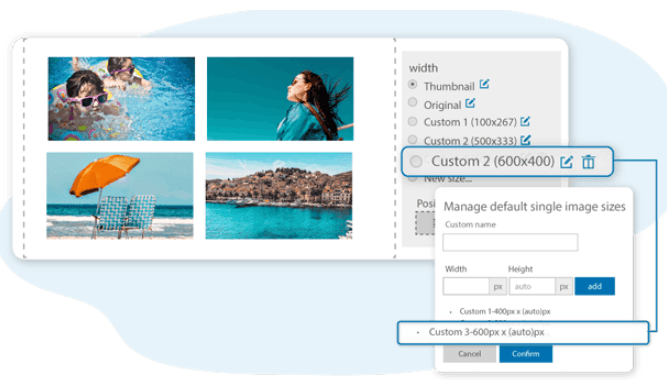 Droppics comes with three image sizes by default on uploading an image; original, large and thumbnail size. You can choose these sizes on uploading your image or even after uploading you can change their sizes while the original image size will be preserved.
Once the images are uploaded, you can edit (cut, copy, crop, resize) or apply effects. Moreover, custom sizes can also be created on upload.
Apply image protection with Watermark
Droppics allows adding image protection on all of the images. You just need to select a copyrighted image which you want to apply on each image, select the size of copyright image then Droppics will automatically regenerate all the images including a watermark.
The process is clear-cut and can be done on thousands of images at the same time in a few clicks.
Supervise Images and Galleries from Frontend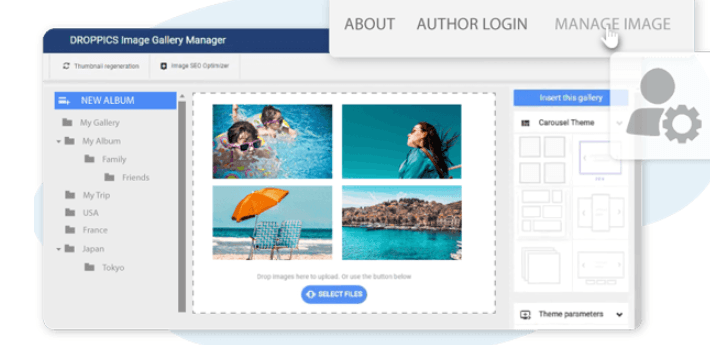 Droppics allows managing the images from the frontend by using two methods; manage with the text editor button as you do in the backend or you can also use a dedicated interface with a custom frontend template.
Droppics goes smoothly with Joomla ACL and the admin can define which user group is allowed to add/modify/remove images, galleries or sub-galleries.
SEO optimization for bulk images
Now, you can easily edit all of your images information by using a bulk interface, it's a fast and effective method to edit info of each image without opening a single item. Everything is quickly replaced and AJAX saved.
Moreover, you can batch copy information of any image to all other images with a single click. Image Information like file name, image alternative text, image titles and image captions can be edited to get your website indexed in Google.
Improved image SEO and Speed optimization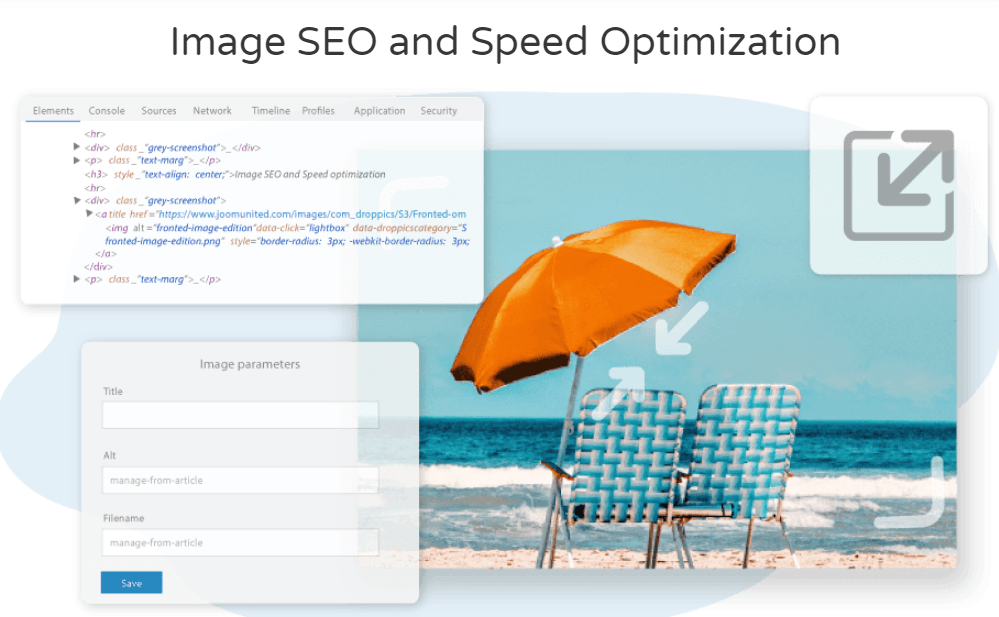 Droppics uses the swift and quick way to load images faster using HTML5 srcset property. This feature automatically loads the correct image size according to the screen size to speed optimize the image.
Moreover, some other key features that improve image loading speed and SEO are as follow;
Real image resizing
SEO information like file name, image alt and title
AJAX Navigation
Compressed images on upload
Add remote videos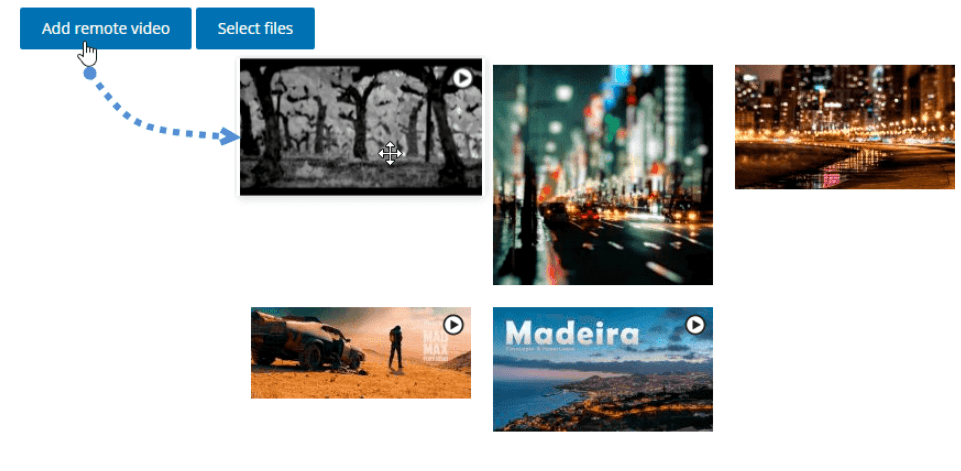 Remote videos from YouTube, Vimeo and Dailymotion, can be included in the images and separately in the galleries. For activation of this option
Go to; Component> Droppics>Options> Add remove videos.
The default width of each video can be included. You can load videos in Lightbox as well.
Import images from server