Here we will be doing an in-depth review of the Flatsome theme so that you can create your eCommerce website with WordPress. First, we will be downloading the theme; then, we will review the theme thoroughly.
Table of Content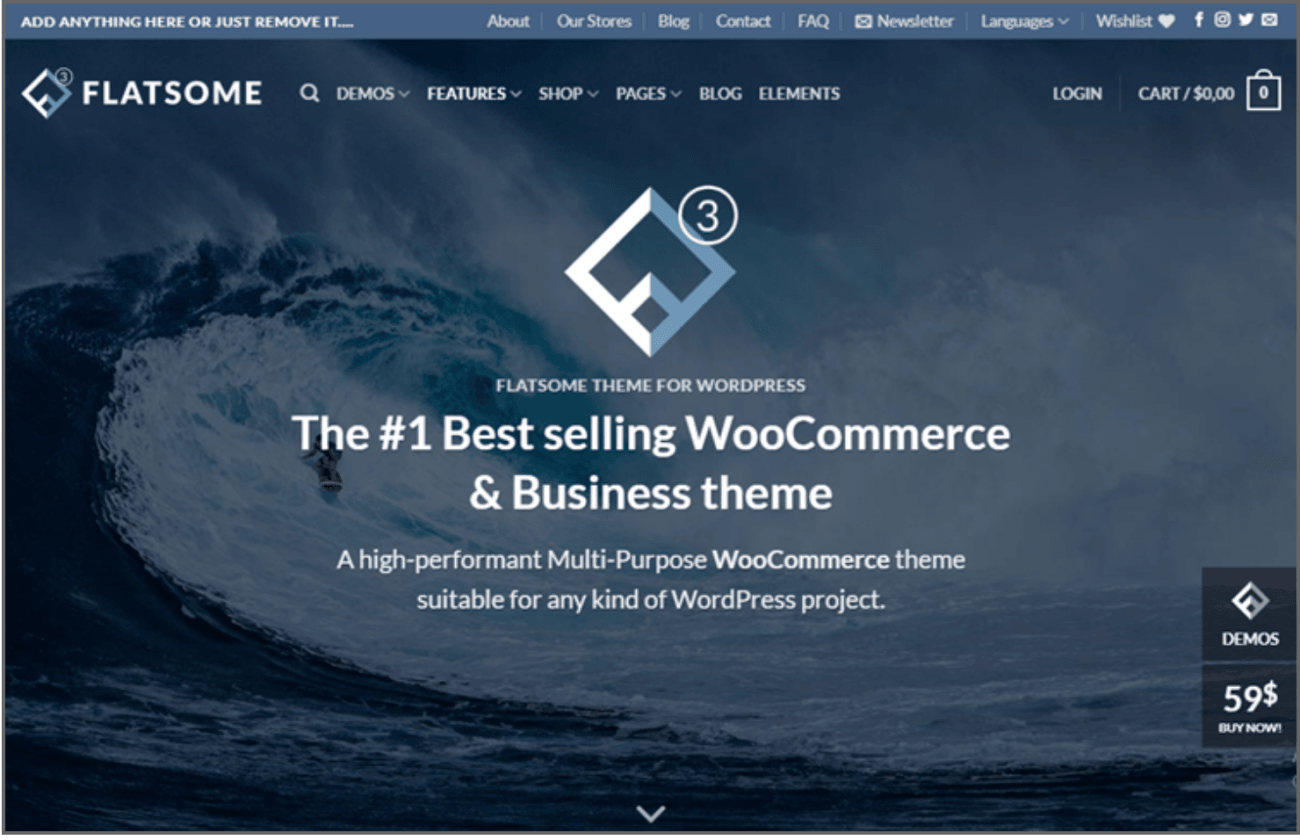 Flatsome is a multipurpose theme that is used for creating online stores without any help of technical labor. With the tremendous inbuilt drag and drop feature, you will be able to design any eCommerce business online without any prior design knowledge.
It comes with detailed theme documentation and numerous how-to videos you can easily create and manage your eCommerce websites without writing a single line of code. So let's get started and integrate the theme with our website.
There are very few WordPress themes that offer you so much flexibility for users. It is why Flatsome has been download for more than 300,000 times all across the globe.
Here is a look at some of the awesome websites built using the Flatsome Theme.
If you want to benefit from the fantastic features of Flatsome, then download here and get ready to be mesmerized because of these features.
Who is the Flatsome WordPress Theme For?
Everyone can use this theme to set up an online store. Since it is multipurpose, if you have a simple website, you can still use it. It is a highly diverse and flexible theme that you will enjoy integrating on WordPress even if you do not have WordPress experience.
Furthermore, this theme also enables you to create your website without any help from an external resource. The inbuilt page builder helps you create different pages. With the customization option, you do not need help from an outsider to upgrade your website or manage it.
While Flatsome users also get shop management options that enable you to manage the website. WooCommerce integration with Flatsome enables them to manage inventory and eCommerce transactions with ease. So, if you are eyeing to construct a website, then there is no better than Flatsome.
Flatsome Theme Demos
The Flatsome theme integrates with some of the fantastic designs. All these designs have demos to assist people in creating your website quickly. These demos are ready to use templates with sample data. These templates can easily integrate on your website by updating the sample data to the real data.
Using templates enables you to get professional designs in few minutes without any assistance from a web developer. There are numerous ready-to-use templates available online such as sports web stores, baby stores for kids, home décor stores, and many more. Just pick and choose the template that you feel the best, and you will be good to go.
You would want to have numerous additional features for your online store, such as discount sale alerts, countdown timers, etc. All these are available in the demos and can easily integrate into your online web store. All these design templates are highly flexible, and you can modify them as per your desire.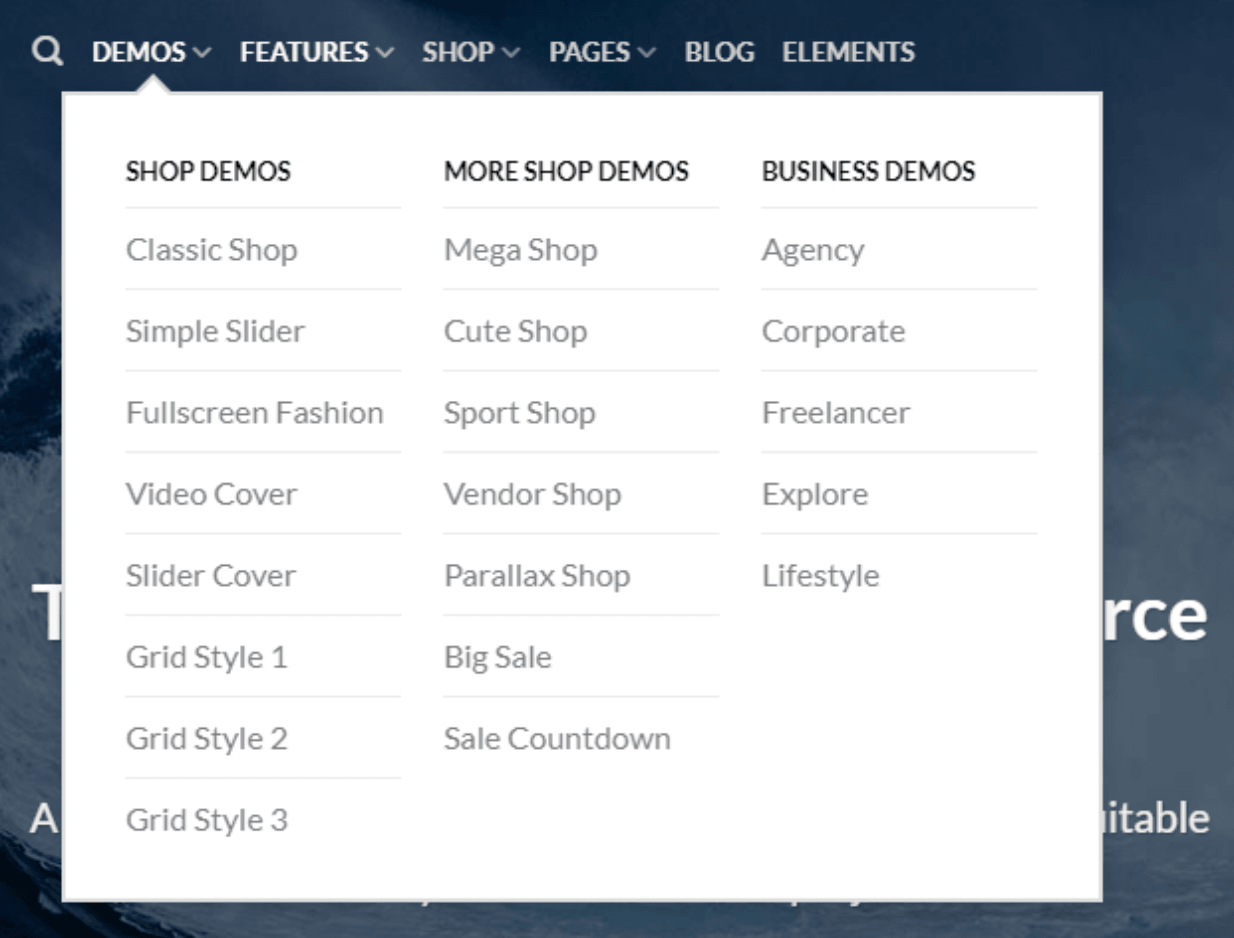 Other Theme Demos
Besides the shop demos, a few business demos are available to create a business agency website with and without the eCommerce feature.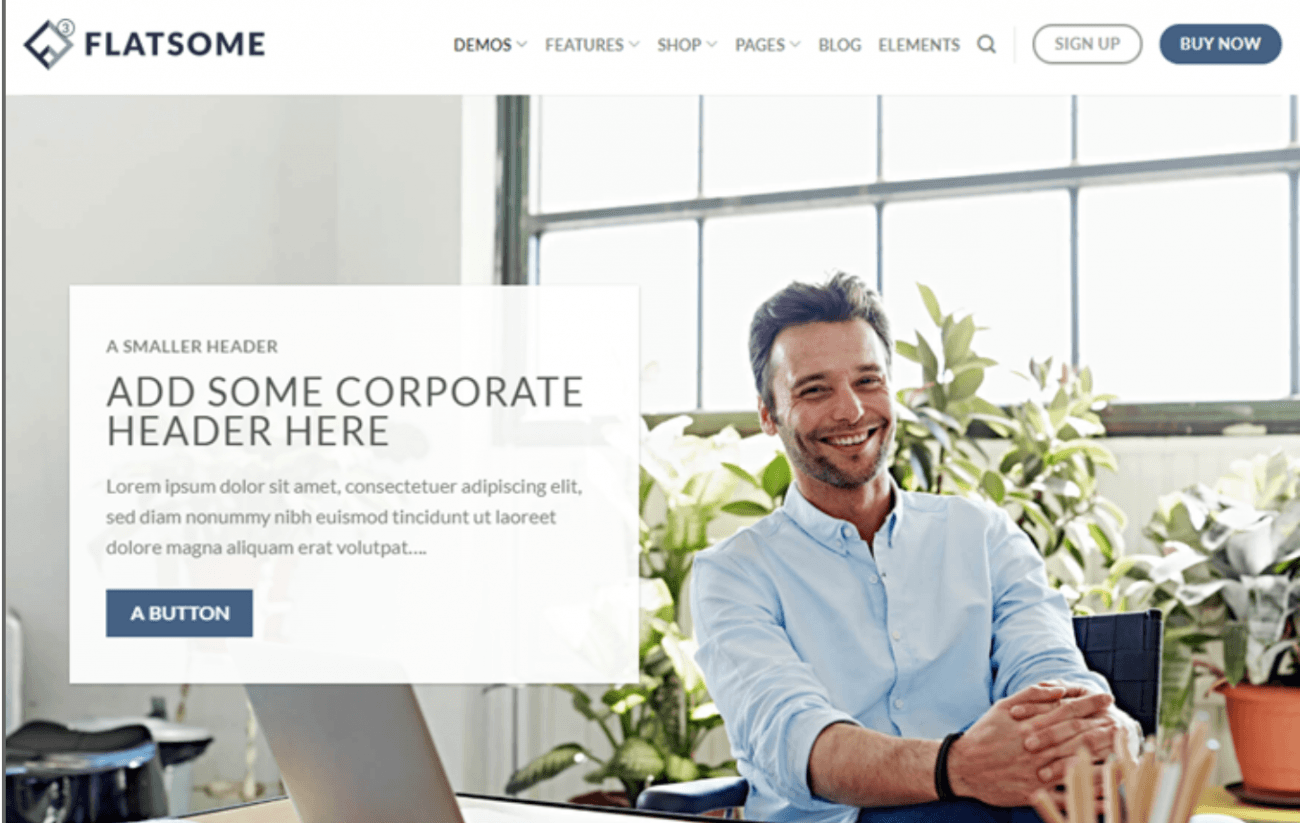 There are numerous demos, such as Corporate, Freelancer, Agency, explore, etc. to enable the user to create professional and corporate websites in just a few clicks. Thus Flatsome makes it easier for people to start a business website with different eCommerce store features.
Customization and Page Building with Flatsome
In this modern age, people tend to go for things that are user-friendly and easy to use. Page builders are highly famous in this regard. Flatsome also comes with an in-built page builder that allows you to create beautiful pages in just a few clicks.
Therefore, there is no need to have a look for an external page builder plugin with Flatsome. Inbuilt page builders prefer over external page builders because with inbuilt page builders, the integration issues removes. Moreover, you will not require testing for the external page builder.
Flatsome's inbuilt page builder comes with different elements such as introductory text to sections, countdown, banners, and a lot more. With the help of the following features, you can create any part that you want.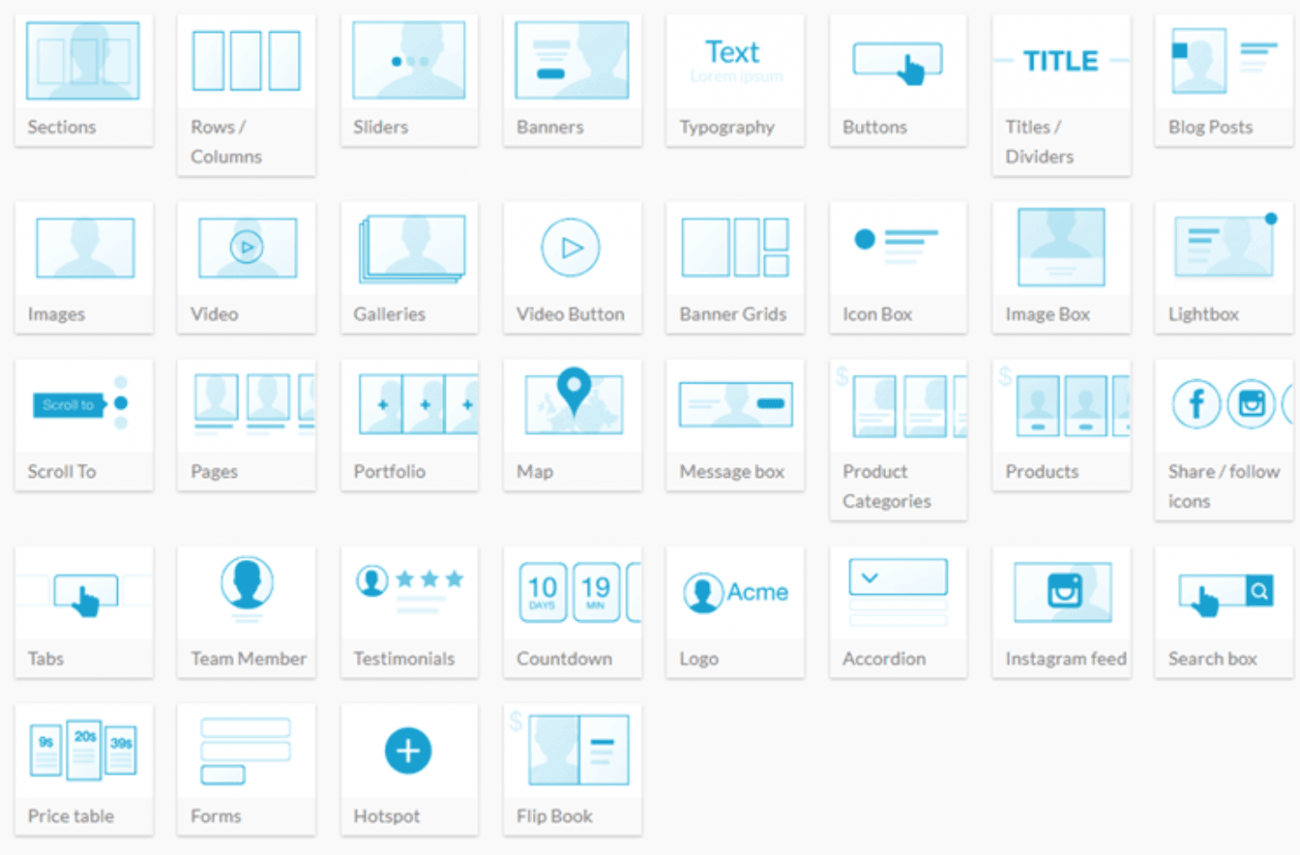 Drag and Drop Header Builder
The header has significant importance on every website, but with Flatsome, the title comes already built. A lot of the WordPress themes encompass a static header with little or no customization option, but with Flatsome, the customization options take it to a whole new level.
There are numerous header styles available you can choose one from the list. Below, the screenshot shows the headers available.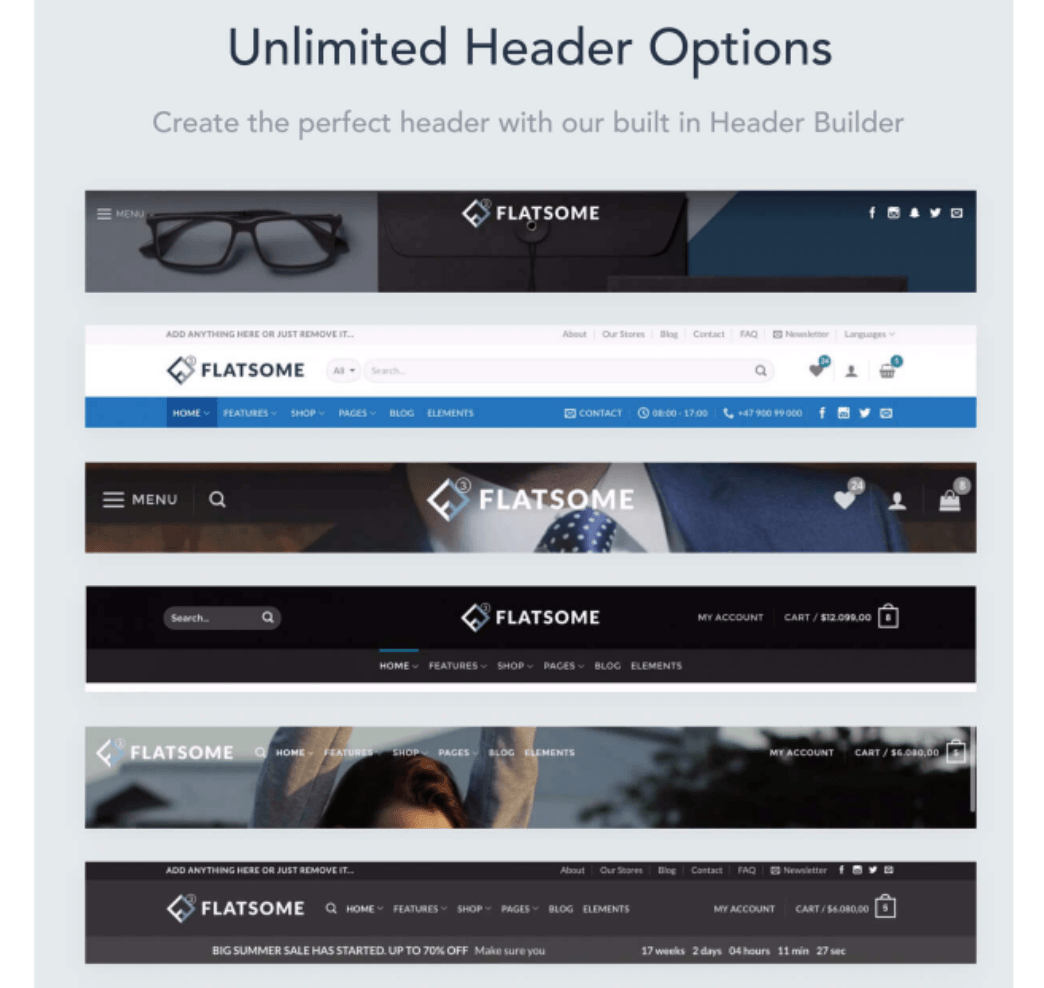 The theme also comes with a header builder that is efficient and uses drag and drop features to create a beautiful header for your website. It is a fantastic feature that you might not find in any other WordPress theme at the moment.
Slider and Banner Builder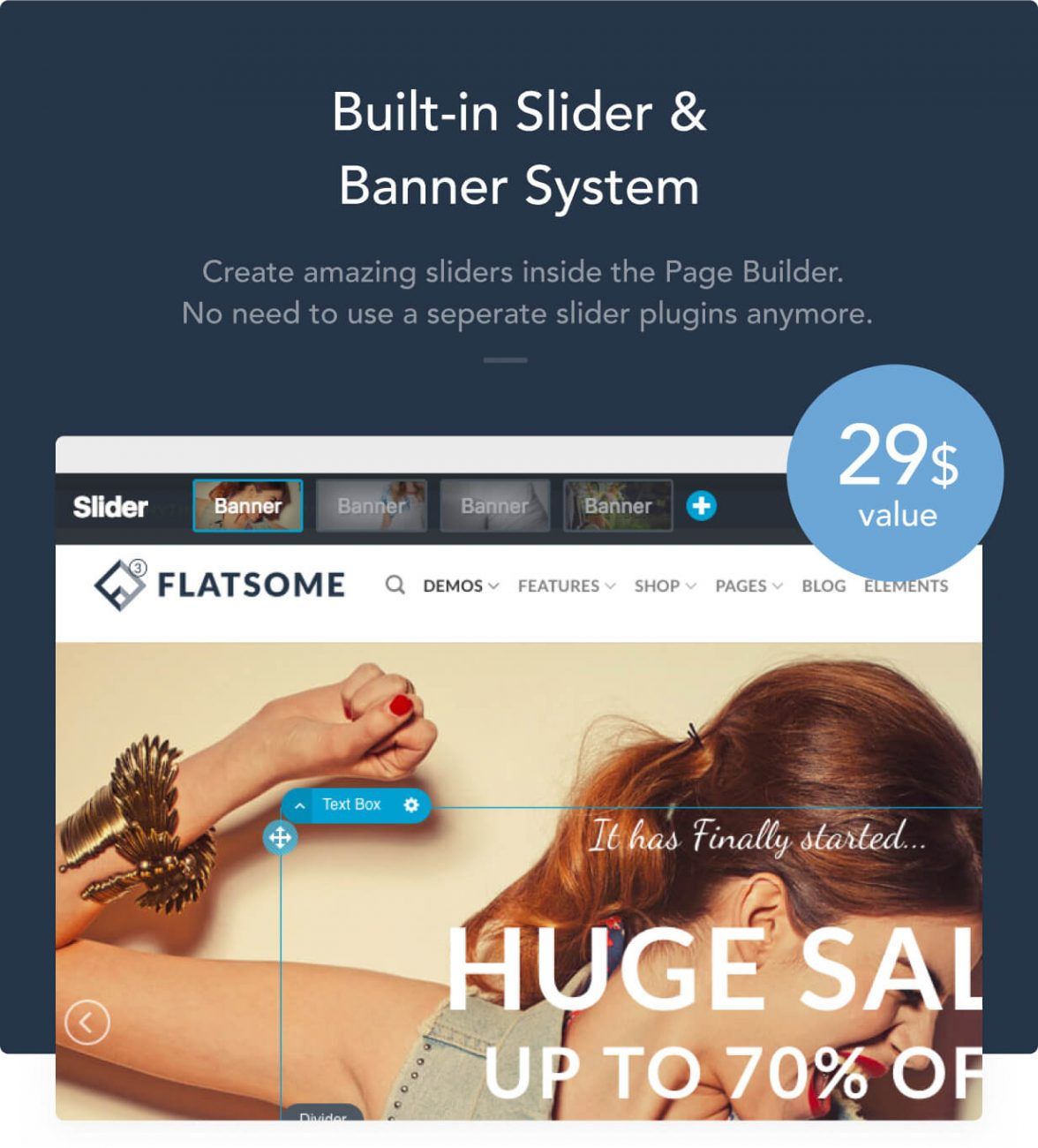 In most of the WordPress themes online, you use the inbuilt banner system and sliders by changing the text's images. However, if you wish to use fancy sliders and banners, you need to use different slider plugins.
It is not the case with Flatsome because it comes with an inbuilt feature that allows users to create sliders and banners as per your requirements. This option again saves you from integration issues that you might face with the external plugin. The inbuilt drag and drop feature is efficient and easy to use.
Drag and Drop Image Gallery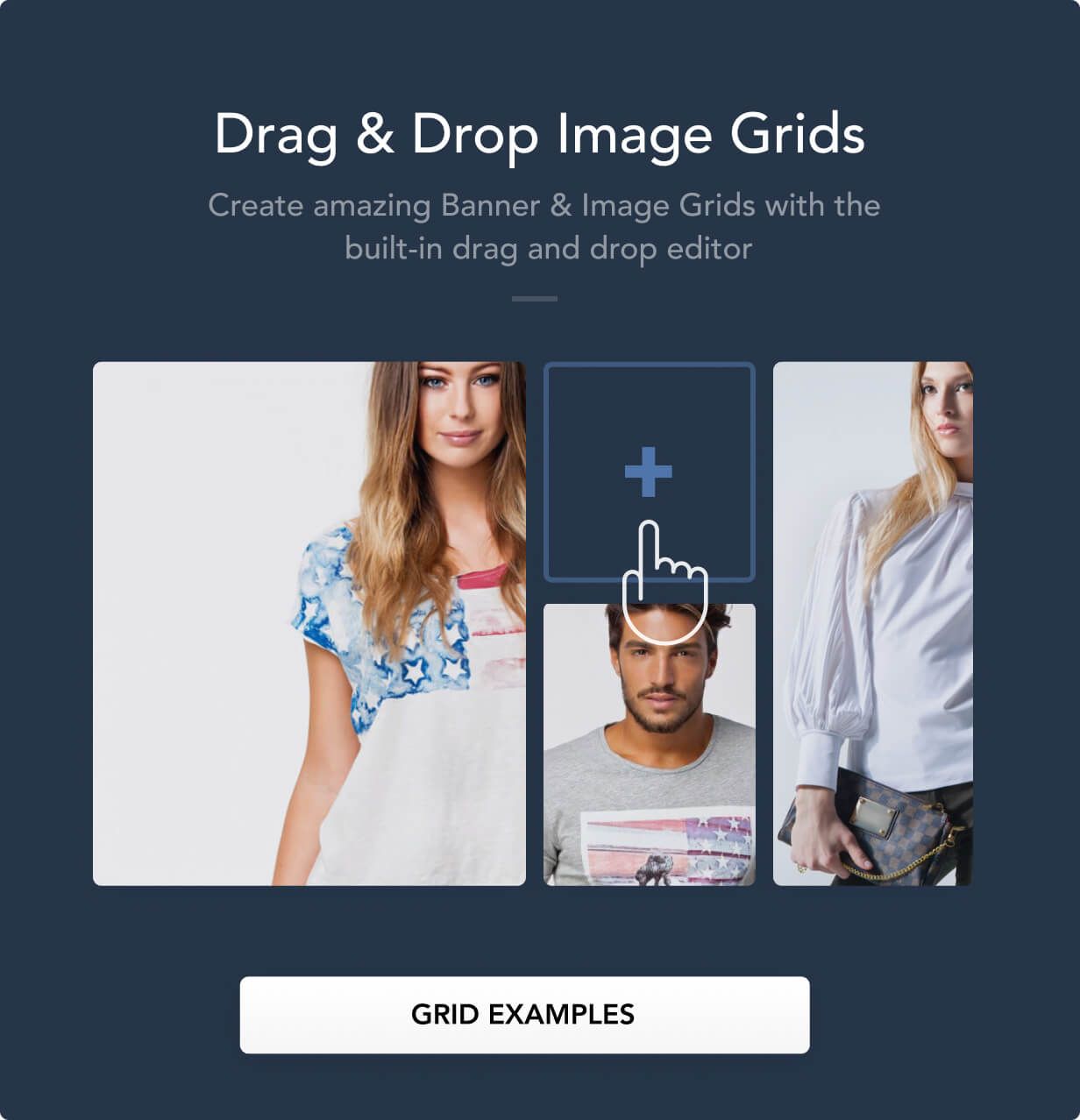 The image gallery is another fantastic option in an online store. Creating an image gallery with a Flatsome theme is no more a problem because the UX builder provides the user with an opportunity of creating attractive galleries in just a few clicks.
It means that once again, you are saved from integration issues and buying costly plugins to create unique galleries for your website. The inbuilt plugin has also provided drag and drop options to create galleries without any problems.
Live Customization Options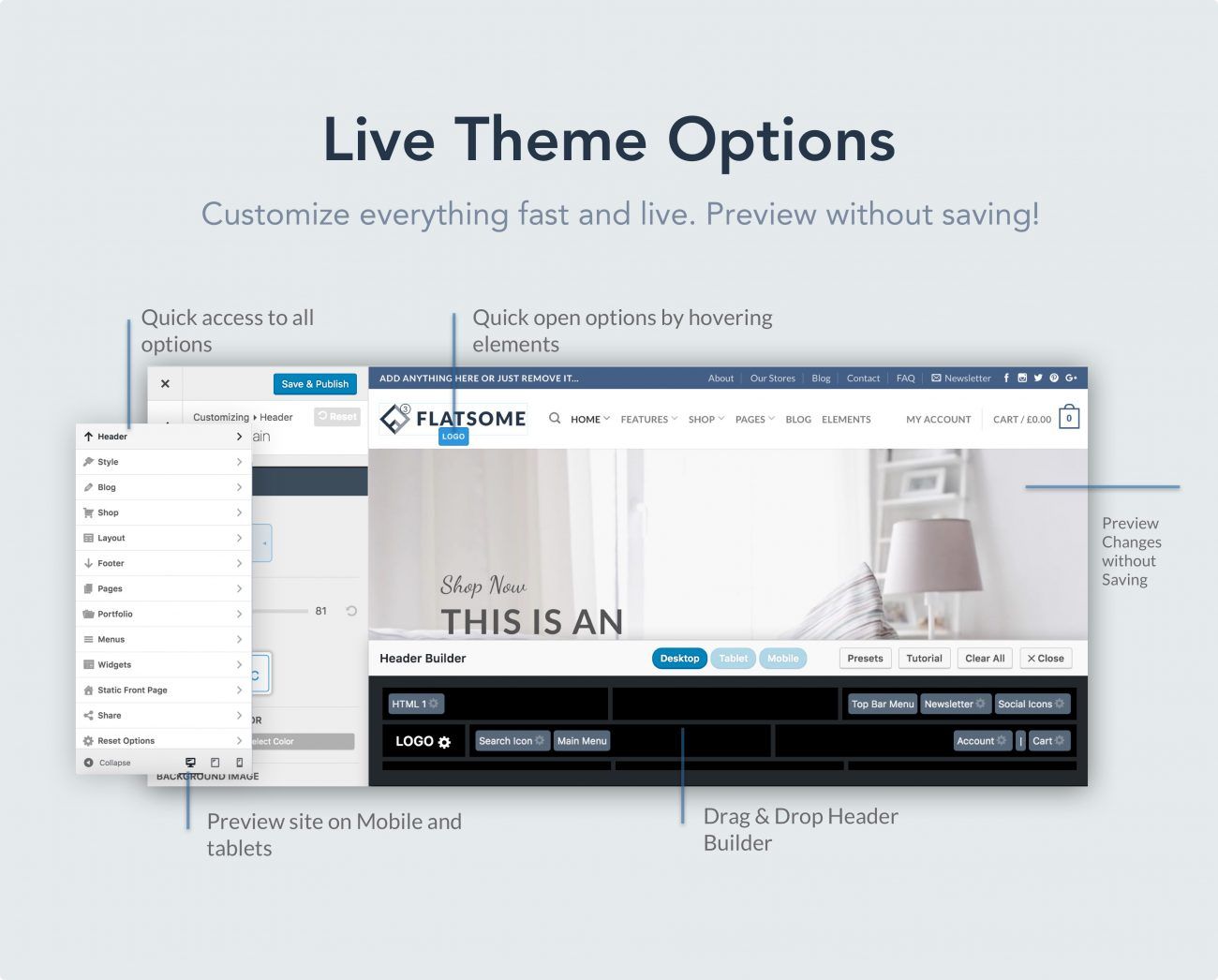 The major problem with backend editing is that you can see immediate effects on the go. But this live customization editing experience with the Flatsome theme is what it makes perfect for people who do not have prior design experience.
When you try diverse options and combinations for the WordPress eCommerce website, then you might want to witness the live preview of the changes on the go. Flatsome provides you this option to view the changes before going live. It saves your time from regularly refreshing the sites to view the changes.
WooCommerce Integration and E-Commerce Features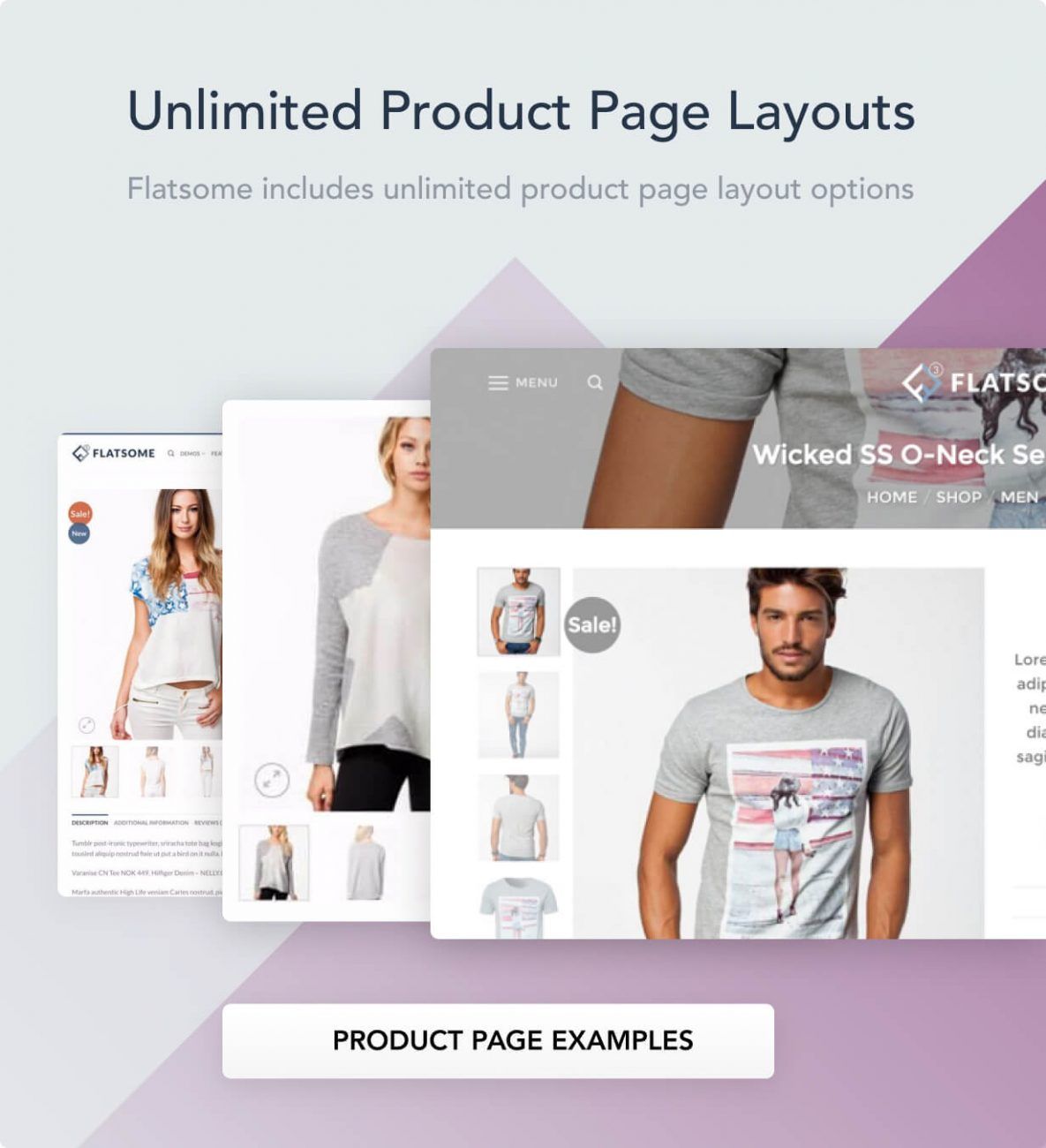 Now that we have covered all the basic theme features let's focus on its main USP – access to killer WooCommerce settings and options. With Flatsome you get the option to create stunning eCommerce store user interfaces and user experiences for your customers.
To get you started, you have access to a custom product page builder to create potentially unlimited and unique product page layouts.
This allows you to have a unique design that can help with site branding. Or you can use this to create a separate user experience for your various products. There's even an option to create different product grids to showcase your products in style.
Other notable features include the option to choose between an off-canvas cart or dropdown cart, a built-in wishlist, a quick-view option that shows the main product features on mouse hover, a dedicated catalog mode to only showcase the product and disable shopping functionality, and much more.
Apart from offering your customers a unique shopping experience, the theme also comes with a custom built-in My Account page. Signed-In customers will land on this page from where they can manage all their orders, see detailed summaries of orders, updated account details, and the likes.
Quick Overview of all the Key Theme Features
By now you should have a good enough understanding of all the different features and functionalities the Flatsome WordPress theme brings to the table. However, that barely scratches the surface of all the bells and whistles you get with the theme.
As such, just to keep you from getting overwhelmed, we have put together a shortlist showcasing the main theme highlights. Enjoy!
Powerful UI and UX builder. Drag'n drop support to create unique page layouts in real-time.
Dedicated wireframe kit with a huge library of mockups and starter page for backend page building.
Access to over 300 predefined layouts and sections. Also bundled with tons of premade UI elements and full-page layouts.
Advanced Live Theme Options panel with tons of settings and customization options.
Drag'n drop header builder with unlimited header options.
A built-in Banner System to help with promotion and lead generation.
Smart image lazy loading to help site load faster.
Contact Form 7 integration.
A built-in live search function. Users can easily find blogs, pages, or products on your website.
Mega Menu support – Option to create custom dropdown mega menus with powerful UX builder.
Seamless WooCommerce integration with tons of e-store building options.
Option to integrate and connect with your Instagram account.
Optimized for speed and fast loading time.
Responsive design.
Flatsome Pricing
You can get Flatsome off of the Themeforest repository at just $59. This includes access to all the above-mentioned features as well as 6 months of customer support and access to future updates.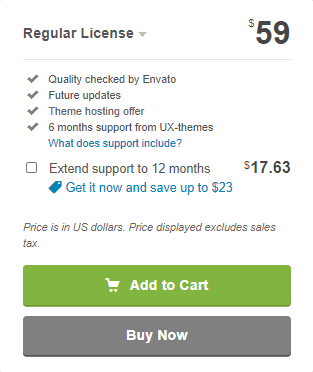 You can also extend the customer support to 12 months with an extra add-on that will cost you around $18.
It is advised that you renew access to theme updates and customer support once your plan expires. An out-of-date theme can lead to security issues and comprise your website's safety.
Wrapping Up
So this was our quick in-depth review of the Flatsome e-commerce theme and the different features it brings to the table. As you can see, it is a feature-packed WooCommerce theme that will help you create an amazing e-store jam-packed with tons of functionalities to woo your customers.
Let us know what you think of the Flatsome theme, and whether you plan on using it. Also, if you run into any sort of issue setting up the theme, then feel free to write to us in the comments. We will try our best to resolve your issue as soon as possible.